10 Things to Do in Lisbon in December
Take note of the best ideas to enjoy your December trip to the Portuguese capital.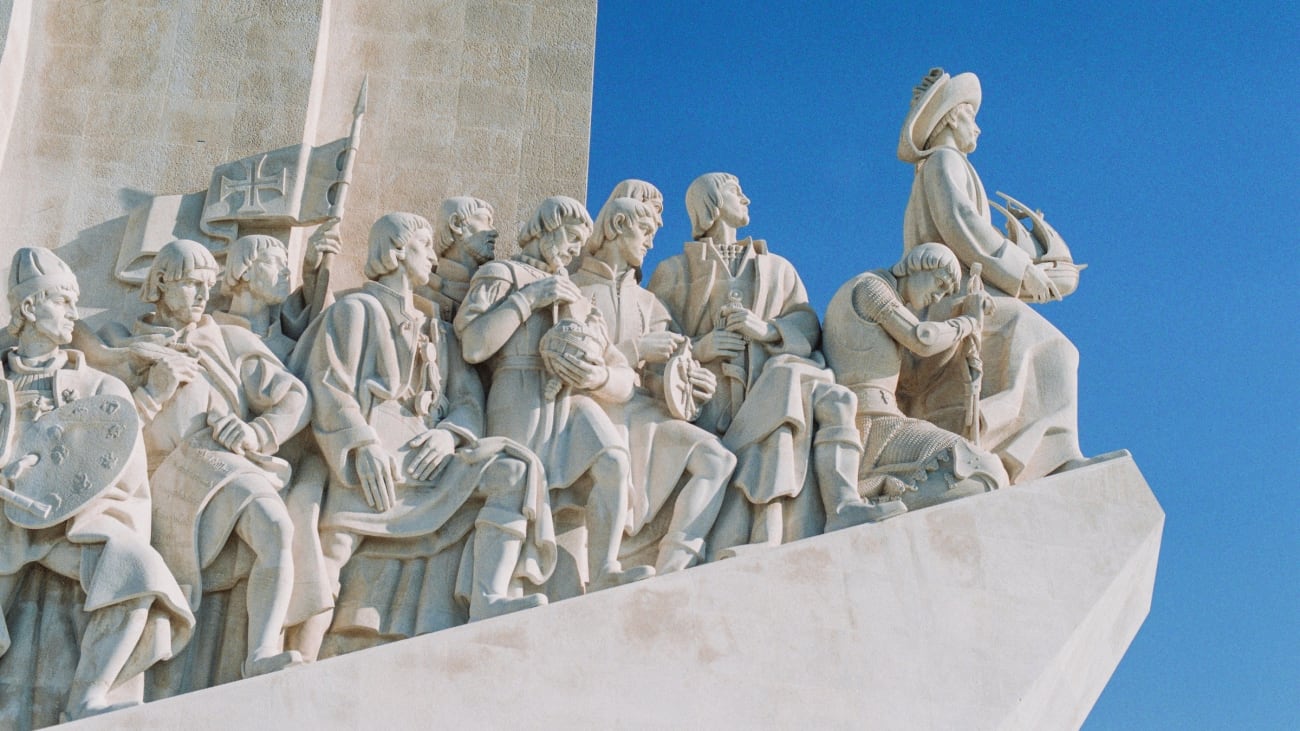 December in Lisbon is a great idea. The city prepares for Christmas: the streets are illuminated, the center is filled with craft markets, cultural activities for children and the smell of Bolo Rei and roasted chestnuts. It is the perfect time to enjoy the charm of the corners that make the Portuguese capital a unique destination.
In this post I tell you the proposals that you can not miss if you travel to Lisbon in December. In Lisbon there is always a lot to see, and although it is a month with more cold and rain than usual in the area, the mild climate allows you to enjoy all the activities that I have selected for you. Just don't forget your umbrella!
1 Enjoy the Christmas spirit on the street: Lisbon's Christmas Markets
December in Lisbon is the perfect time to stroll around the city. The streets are filled with lights and roasted chestnuts stalls. In addition, there are several typical Christmas markets that you can not miss: first, because they are in iconic places in the center of Lisbon and as you make your trip you will pass by them, and second, because they are full of little treasures.
They are the perfect way to visit the city and get into the Christmas spirit that conquers Lisbon throughout December. I'll tell you about the ones I like the most.
Campo Pequeno Christmas Market
There are almost a hundred stalls of handicrafts and local products. If you have Christmas shopping to do, here you can get really special gifts: there are wood crafts, jewelry, decorations...
The Campo Pequeno flea market is also famous for its emphasis on local and sustainable production of objects. If you want to take a break, there is an area where you can have a drink and rest.
Where to go? At Praça do Campo Pequeno.
When? The market takes place only four or five days in December. Check the calendar for the exact dates, because they change every year.
How to get there? You can take bus 736, 732, 207 or 783 to Campo Pequeno station or streetcar 811 to Entrecampos.
Is it necessary to reserve a ticket? No, you don't. The market organization charges a small entrance fee (approximately 2€) which is deducted from the purchases you make inside the market.
Santa Catalina Viewpoint Christmas Market
The viewpoint of Santa Catalina is a visit in itself for the views it offers of the port of Lisbon from the Barrio Alto. In December it hosts a flea market with stalls selling various products, especially handicrafts and sweets.
Where to go? At the Santa Catalina viewpoint (Rua Santa Catalina 1200) and in the surrounding streets.
When? Around Christmas, although the precise days on which the market is set up and dismantled change slightly each year.
How to get there? You can take the Bica elevator or go up Marechal Saldanha street.
Is it necessary to reserve a ticket? No! Drop by whenever you want. As it is so centrally located, you can plan to visit it by including it in your itinerary.
2 Be amazed at Wonderland
Wonderland Lisbon
is set up in December in Eduardo VII Park, the largest park in the city. The park is a must-see all year round, and at this time of the year you will find it highly decorated for tourism. The Wonderland market is first and foremost a market, with its stalls of Christmas products, but it also becomes a great plan for the whole family.
Why is that? I'll tell you: in addition to the stalls of gifts and Christmas products, in Wonderland you will find an ice skating rink and another for sledding, a giant Christmas tree inside a Christmas village, merry-go-rounds and entertainment shows. In addition, admission is free.
Wonderland is a perfect plan to do with children in Lisbon.
Interesting facts
Where is it? In Eduardo VII Park, next to Marques de Pombal Square.
When? The park is always open to the public. Wonderland is organized in the month of December, as Christmas approaches.
How to get there? You can take the bus 736 or 732 or the subway. In any case, the stop where you have to get off is called Marques de Pombal.
Is it necessary to reserve a ticket? No need, the park is an open space and you can visit it whenever you want. The stalls and attractions close at night, of course.
3 Stay with your mouth open at the Christmas Circus of Coliseu dos Recreios
The Companhia Internacional de Circo offers every Christmas a show that you can't miss if you travel to Lisbon in December. It is a very special circus show, as it has all the acrobatics, the laughter, the colors, but none of the cruelty to animals.
It is a show recommended for children from 3 years old, but can be enjoyed by the whole family. As an adult, you will be impressed by the choreographies, the light and sound effects and the acrobatics of the oldest show in the world.
Interesting facts
Where to go? At the Coliseu de Lisboa, Rua das Portas de Santo Antao, 96.
When? Throughout December. You can check the exact dates of the performances on their website.
How to get there? You can take the subway to Restauradores stop.
Is it necessary to reserve a ticket? Yes, tickets are sold out every year. The ticket costs approximately 18 ¤.
4 Be impressed by the illumination of the city
Lisbon is a city with a unique charm. Whatever time of the year you go, it is a delight to stroll through its narrow streets and be amazed by the views it offers without warning, when you turn the corner. And if you travel there in December, this unique scenery is filled with lights.
In December, the Portuguese capital is illuminated with a mixture of celebration and creativity: you can find something for everyone. Above all, it is worth taking the time to stroll through the most emblematic neighborhoods, such as the Alfama district to enjoy this view of the city that is only available for a few weeks of the year.
Where to go? The illumination of the city is all over the city. I recommend the one in the historic center.
When? From mid-December until after Christmas.
How to get there? You can enjoy the lights by taking a walk along the Baixa until you reach the Bairro Alto.
Is it necessary to book a ticket? No, it is a free show that is always available on these dates.
5 Visit the Christmas Fair: the Natalis Fair
At the beginning of December the Natalis Fair is held in Lisbon, with tasting products and handicrafts. It is a fair organized to prepare and enjoy the approaching Christmas, so there you will find gifts of all kinds: gastronomic products, books, decoration and fashion.
The Fair also has space to rest and for the little ones to entertain themselves. If you are in Lisbon during these dates, it is the perfect way to get ready for the holidays.
Interesting facts:
Where? At the Feira Internacional de Lisboa, on Rua do Bojador.
When does it take place? The fair changes its dates every year, but it is usually held in early December, over 4 days.
How to get there? You can go by car, there are parking lots available. Or if you prefer, you can use public transport and take the metro to Oriente station.
Is it necessary to reserve a ticket? No need, the entrance is free.
6 Don't leave without tasting the Bolo Rei
Portuguese pastries are a reason in itself to visit Lisbon. If you have a sweet tooth, be sure to try the Bolo Rei in one of its varieties: filled with candied fruit or nuts.
It may remind you of our roscón de Reyes, although the consistency is different: it is more like a plum cake than a sponge cake. What they do resemble is that they both raise passions and they are seasonal sweets. Bolo Rei is the Portuguese Christmas sweet, so you can find it in any coffee shop.
Of course, if you want to try one of the most famous confectioneries in Lisbon, you have to order them because they fly. I'm thinking of La Confeitaria Nacional ( in Figueira square) or El Califa, in the Benfica neighborhood.
Interesting facts:
Where? Bolo Rei is in every cafeteria at this time of the year. You can see them in the shop windows, so you just have to decide which one you fancy...and bon appetit!
When? You can enjoy this pastry delight throughout the month of December.
Is it necessary to make a reservation? In general, pastry shops are well stocked with this sweet at Christmas time.
7 Enjoy the Christmas atmosphere with the Christmas concerts
Lisbon has some ancient and monumental churches, which in the month of December open their doors to visitors to enjoy music. It is mainly a repertoire of baroque sacred music, which at this time of the year goes beyond the stone walls of emblematic monuments such as the Basilica da Estrelaand can be heard from the street.
and can be heard from the street.
Christmas concerts are a tradition in the city, with great public response. The churches fill up during the concerts, many of them free, so I advise you to check the programand make time in your tour to see the concerts.
and make time in your tour to enjoy chamber music in an impressive setting.
Some of the churches that organize free concerts in December are the Church of San Roque, the Church of Santo Domingo or the Church of Gracia, so you are spoiled for choice.
Interesting facts:
Where? In several churches in the city: the Basílica da Estrela, the Church of San Roque or the Church of Santo Domingo.
When? Throughout the month of December.
Is it necessary to reserve a ticket? No, the concerts are free and no tickets are sold. But they fill up, so go early!
8 Don't miss a Fado night
Whenever you go to Lisbon, you can't miss a good Fado concert. Although at this time of the year the streets and shopping malls are filled with carols, a visit to the Portuguese capital will never be complete without the melodies of the most famous saudade in the world.
And if you fall in love with this music as so many of us do, you can enjoy its history at the Fado Museum. It is the perfect place to enjoy the most genuine Lisbon, besides being a unique plan if you get caught on a rainy and cold day.
Of course, in times of high tourist influx such as December, it is necessary to book in advance if you want to enjoy a good concert, especially if you want an evening of fado that also includes dinner in Lisbon.
Interesting facts:
Where?: There are several mythical places in Lisbon to listen to fado, many of them in the Alfama district.
When? Fado in Lisbon is sung all year round. At this time of the year, with the influx of tourists, there are many venues available.
Is it necessary to book? Yes, it is better to book.
9 The Christmas counterpoint: Under The Doom festival
It has been almost ten years that Lisbon hosts in December an event for metal music lovers. The organization offers a different experience to the Christmas season that seems to fill every corner of the city at this time of the year.
The Unter The Doom festival has passed through different venues of the Portuguese capital with the best international bands and is a must if you enjoy dark sounds and amplifiers.
I advise you to check their official website to confirm the exact dates.
Interesting facts:
Where? The festival has changed location over the years: from the RCA Club to Lisboa Ao Vivo (LaV). I advise you to check the official website to confirm the venue.
When is it? Two days in early December.
Is it necessary to reserve a ticket? Yes, it is better to make your reservation before going.
10 Escape the cold with a trip back in time
If your December trip to Lisbon coincides with some cold and rainy days and you feel like doing something interesting under cover, I have the perfect plan for you. One of the museums I liked the most in the Portuguese capital was the Carris museum, a museum of public transport in the city.
Yes, as the name suggests, it is a museum focused on rail transport, because I 'm sure you've already realized how important streetcars are in the city of Lisbon, but beware, not only rail transport: there you can see the horse carriages and get an idea of what the city was like more than a hundred years ago. A unique experience.
Interesting facts:
Where? The Carris Museum is located at Rua 1º de Maio, 101-103.
When? It is open all year round (except Sundays), between 10:00 and 18:00.
Is it necessary to reserve a ticket? In general you can buy tickets directly at the ticket office, but in peak tourist months such as December it is best to book before you go.
Price: Children can enter for about 2€ and adults pay about 4€.
Lisbon temperatures in December
One of the attractions of Lisbon is its mild climate, but despite that Lisbon has in December a colder than usual and rainy weather. The average minimum temperature is around 9º and the maximum is 14º, which is not a bad temperature to walk around the city with the appropriate clothing. In addition, you can also enjoy sunny days or moments, especially at the beginning of the month. Temperatures are dropping as December progresses, and the possibility of precipitation also increases, but there are many things you can do in Lisbon in winter.
The sky is usually cloudy at this time of the year and the possibility of rain is high, although rain in Lisbon does not detract from the attractiveness of the Portuguese capital, quite the contrary. You just have to remember this information when packing your suitcase to have a hassle-free trip.
Lisbon's tourist flow in December
The high season for tourism in Lisbon is the summer (from June to September), but lately the influx of tourists has increased throughout the year. Portugal has a great claim for beach tourism in the hot months, but Lisbon has many attractions in addition to the climate.
Especially in December, as it is a city with many Christmas celebrations. It is a city much appreciated by travelers, so the demand for accommodation and transportation in Lisbon is constant. If you are sure that your destination in December is Lisbon, book in advance the activities that interest you so you do not miss any plan.
Lisbon prices in December
Lisbon prices in December are a little more expensive than in the low season because of the December 6 long weekend and the approaching Christmas season. Lisbon has offers for all budgets, but at this time of year there are plenty of options to treat yourself and scratch your pocket.
I advise you to book your hotel and activities in advance because prices can skyrocket and availability drops as these dates approach. If you plan your trip ahead of time, you can have lower prices and a wider choice of accommodations and activities.
What to pack to visit Lisbon in December
Temperatures in Lisbon in December are colder than the rest of the year, but you can go sightseeing without problems at this time because the general climate of the city is mild. Just remember to bring clothes for the rain and cold: a good coat, umbrella and extra clothes in case you get caught in an unexpected downpour.
And above all, if you plan to tour this city on foot, wear comfortable shoes, the city has many cobblestone sections and is full of hills.
Alternative plans to visit Lisbon in December
Do you already have a clear plan for Lisbon in December? Wait a minute! I have some other proposals to share with you:
-In Lisbon there are restaurants for all tastes and for all budgets. If you want to know everything that the capital of Portugal has to offer, I advise you to sign up for a gastronomic tour of Lisbon.
-Portuguese cuisine is a whole world to discover, as well as its wine. If the latter sounds good to you, treat yourself to a wine tasting in Lisbon. It is a very enjoyable and worthwhile experience.
-At this time of the year the city is decorated in a special way, so it is especially good idea to take a sightseeing bus tour of Lisbon. This way you can tour it comfortably and not miss anything.
-And if the weather is good and you want to live a unique experience, do not hesitate to take a cruise on the Tagus. Another perspective of the city that you will not be able to forget.
Now I've told you everything. Good luck with the rain and... enjoy your trip!