10 Things to Do in Tokyo in October
Want to see the most beautiful autumn you've ever seen? Then travel to Tokyo where you can also enjoy traditional celebrations, Halloween parades and much more.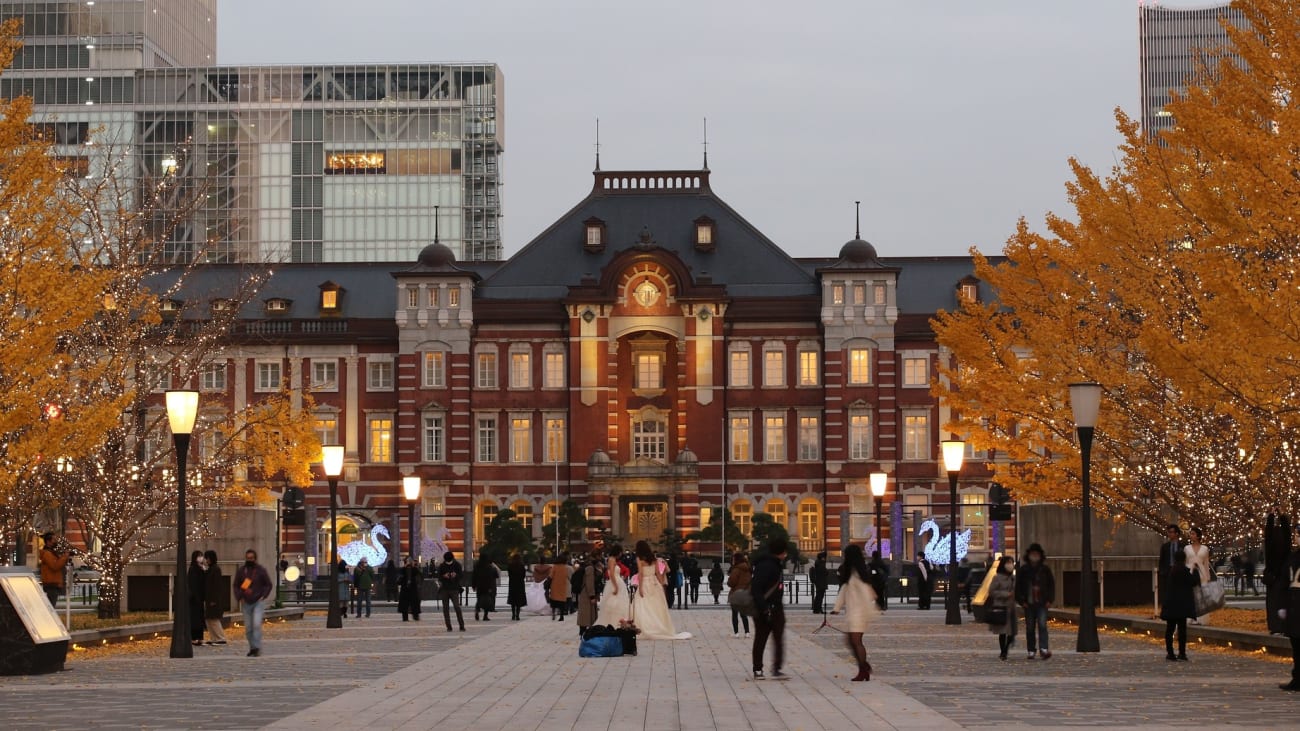 No doubt among the list of things to do in Tokyo you should add the celebrations that take place in the month of October. With the arrival of autumn, a traditional practice called momijigari, or hunting for autumn leaves, begins. Also, at the end of the month, Halloween celebrations are very popular, which despite not being a holiday originating in Japan, are very iconic.
Other celebrations are traditional in Japanese culture and are ideal if you are looking to learn about this oriental country. They include visits to Buddhist temples, food festivals and much more. Traveling to Tokyo, one of the most important urban centers in the world, is a special opportunity to learn about customs totally different from your own, especially if you go in October.
1. Enjoy momiji, the changing color of the autumn leaves
Autumn is a very popular season in Japan, especially because of the reddening of the leaves of the maple trees. This change known as momiji starts at the end of September and lasts until October. During this period, the Japanese often go on excursions and outings to enjoy the scenery. This practice is known as momijigari, which means "hunting for autumn leaves".
This tradition has its spring version when you enjoy the cherry trees, but if you go in October the maples will accompany you. Originally it was a custom of the nobility, but it became popular over time. One of the things you can do in Tokyo in autumn is to visit several places where you can appreciate the momiji in all its splendor.
You can go to Koshu Kaido Icho-namiki Street in Hachioji or Meiji Jingu Gaien Street in the Aoyama district. You can also go to Koishikawa Korakuen Park or Rikugien Park in Tokyo. Other great places to enjoy momiji are Ueno Park, Yoyogi Park and even downtown Tokyo. All are places where you can enter for free and take beautiful pictures with dreamlike landscapes, to which you can even dedicate a tour.
2. Celebrate Halloween in Tokyo
If you like Halloween you could celebrate it in a different way in Tokyo. In the Shibuya and Shinjuku neighborhoods every year on the night of October 31 there is a high concentration of people in costume. The authorities close the streets during the event to avoid accidents, but there is no major organization. If you like, you can go dressed up and take pictures with other people wearing Halloween costumes or go to a bar in the area.
If you are a fan of anime and manga, then you should attend the Ikebukuro Halloween Cosplay Festival that takes place between October 29 and 30. The entrance fee is about 10 € and you should prepare your costume at the festival site.
You can also attend the Kichijoji Halloween Festival, a family event, especially aimed at mothers and their children whose ticket costs an average of about 15 €. If you do not feel like going to a parade or festival, I recommend visiting shopping malls or stores. It is recommended that you take a guided tour to familiarize yourself with the area and find the best places and restaurants.
3. Taste the typical autumn food in Japan
The autumn season brings not only different festivals, celebrations and weather changes, but also the typical food of this season. If you are in Tokyo you will surely find restaurants where you can try this seasonal food. Keep in mind that on average a plate of food in Tokyo can have the value of 10 € or more, although this also depends on the place you choose to eat.
Among the favorite dishes of this season is oden, ideal for lunch or dinner. It is made with a dashi broth flavored with soy. You can also have boiled egg, Japanese radish, fish cakes and cabbage or tofu rolls.
As for drinks, it is mandatory that you try the sake of the season, which in this case are Hiyaoroshi and Akiagari, distilled in winter and aged for months until the arrival of autumn in October.
Rice is always present in Japanese gastronomy and autumn is precisely when the first harvest is obtained, so you cannot miss the opportunity to eat shinmai or new rice. Other foods you should try are nashi (Asian pear), kuri (Japanese chestnuts) and yakiimo (roasted sweet potato).
4. Celebrate sports and health day
The Japanese government decreed the second Monday of October as the National Sports and Health Day or Taiiku no Hi. This is a holiday that also commemorates the 1964 Tokyo Olympics, an event that popularized many foreign sports in Japan. Judo was also introduced as an Olympic sport at those games.
All around the country, sports and a healthy lifestyle are promoted. In addition to finding events related to this celebration, keep in mind that many people take advantage of the day off to do other activities. Hotels and restaurants can easily fill up from the weekend.
On this day you can take the opportunity to practice some sport in the parks of Tokyo, especially if it is of Asian origin. Many martial arts and even baseball may be available to you on this holiday. However, it is more of a celebration to share with the family. Schools and clubs are the ones that organize activities and friendly sports competitions to which you can go without inconvenience.
5. Celebrate Oeshiki festival and visit Ikegami Honmonji temple
In mid-October, the Oeshiki festival is held, an event commemorating the anniversary of the death of the monk Nichiren Daishonin. This is an important historical and religious figure for Japan as he was the founder of Nichiren Buddhism, one of the most important cults in East Asia.
The Ikegami Honmon-ji temple in Tokyo, where the festival is held, receives around 300 thousand people during these days. One of the most outstanding activities is the Rinmetsu Doji Hoyo service, in which monks and believers gather to pray to give thanks to Nichiren.
In addition to this activity, during the procession you can see street food stalls and enjoy the cuisine they offer. There is also the manto parade, held towards the end of the festival from 6 p.m. to midnight.
The manto are commemorative objects in the shape of 5-tiered towers that are decorated with flowers and roses made of washi paper. They are illuminated from the inside and are a typical object in Japanese celebrations. During this event about 3000 people carry 100 shawls through about 2 kilometers on the streets of Tokyo. It is a beautiful image.
Practical information
Location: Ikegami Honmon-ji temple, Tokyo.
When to go: mid-October.
Price: free admission.
Hours: held for 3 days from 8 am.
6. Attend Mori no Takigi Noh of Shinjuku Gyoen National Garden
At Shinjuku Gyoen National Garden every year in late October or early September an event called Mori no Takigi Noh is held. It is a performance that mixes traditional Noh drama and traditional kyogen or Japanese comedy.
The area where the performance takes place is decorated with lighted torches that come to life in the late afternoon. This is the ideal environment for this artistic and traditional act that aims to raise awareness among its audience about climate change and its effects on life on planet Earth. Ticket prices range from approximately 30 € to 60 €.
This garden also offers different spaces to the public such as the formal garden, a landscape garden and a traditional garden. It is undoubtedly one of the most important gardens in the country as it offers landscapes that can not be seen elsewhere in Japan.
Practical Information
Location: Shinjuku Gyoen National Park. 11 Naitomachi, Shinjuku City, Tokyo 160-0014, Japan.
When to go: late October or early September.
Price: between 60 € and 30 € approximately.
Hours: 6:00 p.m. - 9:00 p.m.
7. Celebrate the Tokyo Ramen Show
If you are a fan of Japanese food and even more of instant food, the Tokyo Ramen Show should be one of the celebrations to attend when you travel to Japan. This festival dedicated to ramen is held at the Komazawa Olympic Park and general admission is free.
However, if you want to try the ramen you must buy a ticket which has an average cost of 6 €. This festival has been held since 2009. It usually takes place in the last days of October and may coincide with the first days of November. It has an average duration of 2 weeks. Ramen stores from all over Japan gather here, so you can taste the best food.
As I said, it is the ideal event for you to taste Japanese food. During the event you will have the opportunity to try different types of ramen that you may have never tried before. If you like it, I also recommend you to take a gastronomic tour in Tokyo. Food is one of the best ways to get to know a new country.
Practical information
Location: Komazawa Olympic Park. 1-1 Komazawakoen, Setagaya City, Tokyo 154-0013, Japan.
When to go: 2 weeks at the end of October.
Price: free if you just go in to watch. To enjoy a bowl of ramen it is necessary to purchase a ticket with an average cost of 6 €.
Hours: the website announces these details annually.
Traveller Tip
If you have never tried Japanese food I recommend that you do some research before trying the dishes on offer. Some recipes may be spicy or a bit bitter. Always ask about the ingredients and have some medicine on hand to help with digestion. It is important to take care of your health, especially when you are on vacation.
8. Enjoy urban arts at the Tokyo Ramen Festival
For urban art fans, October is the best month to visit Tokyo. During this month is the Tokyo Festival, a comprehensive celebration of urban arts held in the Ikebukuro area of Japan's capital. The festival is held throughout the month of October and to attend each event it is necessary to purchase a different ticket whose price can vary between 10 € and 15 €.
The aim of this celebration is to connect with the world through the rich cultural scene of Tokyo. In this city the arts and culture are very varied, in addition to having very talented artists. Attendees will see a variety of plays, dances and other artistic expressions.
The events planned throughout the month include lectures on art in the global context. This may not be the event to attend as it is unlikely that there will be a translator. However, if you look closely at their calendar, you will find dances that you can enjoy and other events that are free. For those you will need to make a reservation in advance.
Each of the events takes place in different locations. To find out how to get there you can go to the access section on the festival's official website. Anyway, in the calendar I mentioned before you will find those details.
Practical info
Location: each event takes place in a different location.
When to go: during the whole month of October. It is necessary to check the website to know which events will be held.
Price: the cost of tickets may vary. Some are free and others can cost between 10 € and 15 €.
Schedule: the website announces these details for each activity.
9. Enjoy traditional dances at the Tokyo Yosakoi Festival
If you want to see the customs of Japan I invite you to the Tokyo Yosakoi festival. This event is held during October and is the second half of Fukuro Matsuri, the annual festival of Ikebukuro. To see it, you just have to find out which streets the dancers will pass through. These are usually streets in the Ikebukuro district, great for walking.
Yosakoi is a type of dance that has been practiced since 1954 and is a modern interpretation of another dance known as Awa odori. It is an energetic dance that combines the traditional with modern music. The dances are performed in large groups, which is why large shows such as those presented at the festival are organized.
This type of dance is so important that there is even a Yosakoi Cultural Association in charge of promoting this dance and its tradition. Do you dare to enjoy this traditional dance?
10. Bring the kids to celebrate Halloween at a parade for them
The Omotesando Hello Halloween Pumpkin Parade is an event that has been held since 1982 in which approximately 3000 children of 12 years of age or younger participate. Each of them must be in costume and accompanied by their representative.
In addition to enjoying the costumes and parades, attendees can sample the menu offered by nearby stores and cafes. All the locals decorate their facilities with the Halloween theme. Overall it is a very colorful, colorful and special event for the whole family.
No doubt this is one of the things you can do in Tokyo with children because it is designed especially for them. Please note that if you are traveling with children and want to participate you must register in advance, but to be a spectator will not be necessary. For more information and details, it is important that you check the official website of the event.
The parade takes place from 1:00 p.m. to 2:30 p.m. on October 31 along Omotesando Avenue in the Harajuku district of Tokyo. One of the most fun activities for children is that they can trick-or-treat at the stores marked on the Okashi Rally Map given to all participants.
Practical information
Location: Harajuku district, Tokyo.
When to go: held every October 31, on Halloween.
Price: around 15 €.
Hours: 1:00 pm - 2:30 pm
What the weather is like in October in Tokyo
Some people who have already traveled to Japan say that October is the best time to visit Tokyo as the weather offers warm temperatures of around 22°C. In addition, it is the month when autumn sets in in the country, so you can enjoy the beautiful changing colors of the leaves on the trees. This is perfect for taking the best pictures and selfies.
During this month it is not hot and humid and the nights are mild. This makes it much more comfortable to go out and visit temples, parks, shrines and other tourist attractions.
If you travel during this month it will be common to see families, young people and children on the streets enjoying the good weather. Many school children take trips to shrines precisely because of the good weather. If you like the culture of Japan, this is the ideal month to travel to Tokyo.
What to pack for a visit to Tokyo in October
When traveling to Tokyo during October, you should bring clothes that are easy to adapt to the changing weather. I tell you this because the temperature can vary between 13 and 24 °C during the month. Although it is a mostly sunny and dry month, unexpected rain or typhoons may occur. For this reason, I recommend that you wear simple clothes for the heat, but that you always have an easy-to-carry coat with you.
It is also important that you wear comfortable shoes that are suitable for walking for long hours. If you decide to participate in a festival or a parade, you will surely walk a lot. Comfortable and not so warm socks can also be of great help. Don't forget your umbrella and sunscreen either.
If you are planning to go to a cosplay festival in October for Halloween, you can pack your costume and makeup in your suitcase. However, in Tokyo you will find different stores where you can buy everything you need to complete your costume at a competitive price. It is all about enjoying this megalopolis in a fantastic month like October.