10 Things to Do in Tokyo in May
Are you ready to get to know the culture and traditions of Japan? Traveling to Tokyo in May is a great opportunity to do so. You will find numerous festivals and customs worth seeing to enjoy the spring.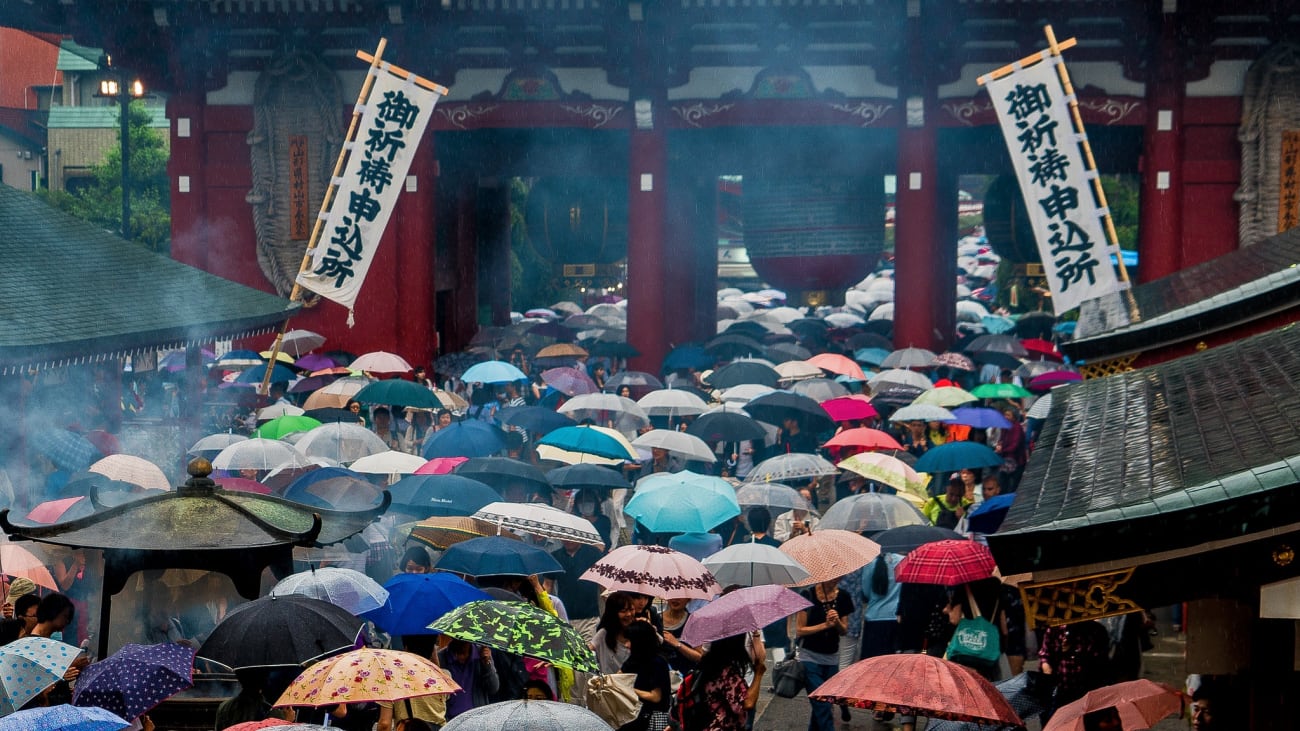 May is the ideal month to see and do many things in Tokyo, because thanks to the spring weather it is possible to go out to the parks, see the flowers and walk the streets. The days are usually sunny and cool, so you will always feel like going for a walk. Every day you will find some traditional activity to see.
Tokyo is home to numerous Shinto temples where important festivals are held. Each one of them is a great opportunity to learn a little more about Japan's culture. From medrugada parades, to festivals made by the Japanese mafia, are you up for discovering all that this month has in store for you?
1. See geishas in Tokyo's neighborhoods
If you would like to see shows performed by geisha then May is the ideal month to visit Tokyo. You can go to Tokyo' s Shimbashi Ward to see the May Azuma Odori dances performed by geisha. This is a type of dance that is performed during spring.
You can also see the traditional Kamogawa Odori dance performances if you visit the streets of Kyoto to see Geisha, more specifically in the Pontocho Ward.
These spring dances usually take place until the first half of May. Therefore, if you do not have time to see them, you can always count on other occasions. For example, you can go to other Tokyo neighborhoods such as Mukojima or Asakusa. There you will find different restaurants and temples where the geisha work.
2. Take a tour of Tokyo's natural parks
May is a private month in Japan, so if you go to Tokyo during this month, I recommend you to visit the natural parks of the capital. Thanks to the good weather of this season, you will be able to admire the beautiful flowers on the trees. Take advantage of the moment to take the best selfies and make a photo tour in Tokyo.
In your list of parks to visit you should add Ueno Park, a very nice place because it has beautiful Sakura or cherry blossom trees that you can admire. You can also visit Yoyogi Park where sometimes cultural performances are held. It is also full of Sakura trees perfect to see in spring. If you ever visit Tokyo in autumn, one of the things you should do is to visit this park, as it also has Ginkgo Biloba trees that are more beautiful at that time of the year.
Other parks that I would like to recommend are the Komozawa Olympic Park, one of the largest in the capital. You can also go to Kinuta Park which also has a baseball park, a bird sanctuary and an art museum. Admission to these parks is free.
3. Celebrate the annual Teppozu Inari Shrine Festival
The annual Teppozu Inari Shrine Festival is held from May 2nd to May 5th. During this celebration, there are processions and kabuki plays performed by children inside the shrine. You can come during these days and see all the customs of this tradition, admire the decorations and take some pictures.
On the first day of the festival, a procession takes place in which followers carry a Mikoshi from the shrine to the Ginza area and back. This is a portable temple that followers of Shinto believe functions as a vehicle for their deities. Sometimes the geisha also participate with their spring dance Azuma Odori which they perform at the shrine.
The following days are ceremonies such as pest extermination or Shinko, as well as Reisai Hohei ceremonies. The last day is Children's Day in Japan, so there is a special parade called Shintomiza Children's Kabuki. This show is performed by high school students. All people who wish can enter the shrine to watch the show.
Practical information
Location: 1 Chome-6-7 Minato, Chuo City, Tokyo 104-0043.
When to go: May 2 to 5.
Price: free admission.
Hours: activities are held during the day from 9 am.
4. Attend a sumo tournament in Tokyo
During the month of May, sumo tournaments are held from May 13 to 27. This traditional Japanese sport is not only very popular worldwide, but also in Japan. For this reason tickets are sold online by the Japan Sumo Association one month in advance.
In Tokyo these tournaments are held at the National Ryogoku Kokugikan Stadium. When buying tickets you can choose the cheapest ones which have an average cost of 30 €. These are usually seats a little away from the dohyo, where the bouts take place. On the other hand, the seats near the dohyo can be dangerous as there is always the possibility of a wrestler falling into the audience.
If you have enough budget, you can buy tickets for the masu-seki seats which are located in the grandstand and can seat about four people. However, you should keep in mind that their average cost is 200 €. If you go with friends this can be a good option, as you will also have access to drinks or food.
Before you go to a tournament of the favorite sport of the Land of the Rising Sun, I recommend you to read about the origins of sumo. I assure you that you will love to read about the training rituals of a sumo wrestler and above all to know the basic rules of the tournament. This way you will be able to understand much better the battle between the wrestlers.
Practical information
Location: Ryogoku Kokugikan National Stadium. 1 Chome-3-28 Yokoami, Sumida City, Tokyo 130-0015.

When to go: held in May, but also in January and September.

Price: between 30 € and 200 €.

Schedule: exact times are published on the Japan Sumo Association website.
5. Admire the Kurayami Matsuri or Festival of Darkness
If you are looking for something to do at night in Tokyo, you might be interested in the Kurayami Matsuri or the festival of darkness. This is a Shinto celebration held at Ōkunitama Shrine from April 30 to May 6. During this celebration you can admire the nature of the site and see the Shinto traditions.
Going to this festival is a very good opportunity not only to see the tradition of the festival, but also to see the Ōkunitama shrine, one of the oldest shrines in Tokyo. In addition, the road to this site is surrounded by vegetation and zelkova trees considered as a National Natural Treasure. The whole area is considered a place of relaxation and meditation.
On May 3, a big plant fair is held. Gardeners from different areas in and around Tokyo participate in this event. You can see their stalls inside the shrine and take some plants with you. On May 4th, due to Children's Day, there is a special parade for children.
However, the highlight of this festival is the procession that leaves the shrine at 6 pm on May 5th and returns at 4 am on May 6th. If you dare to watch the procession at night you will see the followers carrying the Mikoshi or portable temples for the deities.
Practical information
Location: Okunitama Shrine, 3 Chome-1 Miyamachi, Fuchu, Tokyo 183-0023.
When to go: from April 30 to May 6.
Price: free admission.
Hours: activities are held during the day, with the exception of May 6 when the night parade is held.
6. Celebrate the Kanda Matsuri, one of the biggest festivals in Japan
The Kanda Matsuri festival is held at Kanda Myojin Shrine, located in the Chiyoda district of Tokyo. Normally this festival is held on the weekend closest to May 15. This celebration originated as a commemoration of the victory of Tokugawa Ieyasu, the first shōgun, in the Sekigahara battle. After this battle, the Shogunate, one of the most important historical periods in Japan, began.
In this festival, the Houren Mikoshi Senzasai ceremony is performed, in which the god of Kanda Myojin is transported in a Mikoshi. It also features the Reitaisai, a dance performed by the miko priestesses. Normally this ceremony is held on Saturday.
I recommend that you be prepared to take pictures of the parade on Sunday as you will see about 500 people dressed in traditional Heian period costumes in a procession like Shinkosai. This leaves from the Kanda Myojin shrine carrying the regional gods Ichinomiya Houren, Ninomiya Mikoshi and Sannomiya Mikoshi on Mikoshis to purify the villages.
In addition to venerating the aforementioned gods, the celebration is held to ask for prosperity and wealth and the shrine is ideal for those purposes. In fact, inside the temple Ebisu, the god of fishermen and businessmen, Daikoten, the god of the harvest and the future of marriages and also Taira Masakado, a feudal of the tenth century, are venerated. You can take the opportunity to make some prayers for yourself and collect positive energies for the trip.
Practical information
Location: 2 Chome-16-2 Sotokanda, Chiyoda City, Tokyo 101-0021.
When to go: the weekend closest to May 15.
Price: free admission.
Hours: activities are held during the day.
7. Celebrate Children's Day or Kodomo No Hi
Children's Day or Kodomo No Hi is celebrated throughout Japan on May 5. On this date it is a tradition to hang tent-shaped flags known as koinobori outside houses, on rivers and in the countryside. In addition to seeing these beautiful decorations, you can celebrate this day with traditional activities and also by visiting various sites that children will love.
If you are traveling to Tokyo with children one of the things you can do to celebrate with this day is to plan a tour of the streets and see the koinobori that adorn the different ones and let the children be dazzled. I recommend going to Tokyo Tower and the Tokyo Skytree Solamachi shopping mall area.
You can also participate in the tradition by eating chimaki, a rice cake wrapped in bamboo leaves. Another option is kashiwa-mochi, rice cakes filled with red bean paste rolled with oak leaves. The leaves used in these dishes symbolize strength and a successful life.
After lunch you can continue celebrating Children's Day by going to Yomiuri Land, a fun amusement park to visit with the family. Another good option is to visit the Akihabara neighborhood, an ideal place for video game and technology lovers. There you will find stores where you can try out the latest consoles and buy the most popular manga of the moment.
8. Enjoy the peculiar Japanese mafia festival, the Sanja Matsuri
The Sanja Matsuri is a festival organized by the Yakuza or Japanese mafia during the third weekend of May in Tokyo's Asakusa neighborhood. Although it sounds a bit strange, this festival is awaited by Tokyo residents and even tourists. It is the only occasion when the country's dreaded mafia makes its presence felt in a celebration filled with a lot of noise and alcohol.
The name of the festival means festival of the three shrines and during it three Mikoshis are moved to the Sensō-ji temple. Each Mikoshi is supposed to represent the founders of the temple. To venerate them thousands of people come to the neighborhood and celebrate with dances to the rhythm of music made with the deafening noises of taiko or Japanese drums, whistles, people shouting, flutes and whistles.
One of the most striking things about the celebration is that the members of the mafia clans take off their attire until they are dressed only in a fundoshi, the garment worn by sumo wrestlers. They do this to show off the tattoos that cover their entire skin. The more tattoos a person has, the higher their level in the clans. Scary, but fascinating.
Practical information
Location: 2 Chome-3-1 Asakusa, Taito City, Tokyo 111-0032.
When to go: third weekend in May.
Price: free admission.
Hours: activities are held during the day.
9. Learn about Hanazono Shrine Festival
The Hanazono Shrine Festival is the main celebration of this shrine and is held on the weekend closest to May 28th. You can attend any day from Saturday to Monday, as different ceremonies are held on each day. Sometimes the celebrations start as early as Friday.
During the festival a carefully decorated float carries the portable Honsha and Raiden shrine. These sacred objects weigh about 1.5 tons and measure approximately 1 meter wide and 3 meters high. To see the parade carrying these shrines, you must go to the entrance of the shrine or on Yasukuni-dori, Shinjuku-dori or Meiji-dori streets.
In addition to watching the spectacular parade, you can enter the shrine and delight yourself with all the traditional food stalls displaying their dishes. You can buy whatever you want and take as many pictures as you can. If you like food, after seeing this festival you can take a gastronomic tour in Tokyo and taste the best dishes of Japanese cuisine.
Practical information
Location: 5 Chome-17-3 Shinjuku, Shinjuku City, Tokyo 160-0022.
When to go: weekend closest to May 28.
Price: free admission.
Hours: activities are held during the day.
10. Celebrate Kissing Day or Kisu No Hi
Every year on May 23rd, Japan celebrates Kissing Day or Kisu No Hi. It is a celebration that began after World War II when the population was trying to recover and there was still a lot of taboo around a simple kiss. Nowadays, many couples take advantage of this day to show their love in different places of the country.
It all started in 1946 when the movie Hatachi no Seishun or Youth of 20 years old, by director Yasushi Sasaki, was released. This film was the first to show a kiss in Japanese cinema, which marked the entire population. Before this film a kiss was considered something that was only done in the intimacy of a married couple.
If you travel to Tokyo on this date you can celebrate with your partner by having dinner at the Tokyo Skytree, while having an excellent view of the whole city. I also recommend visiting the Hama-Rikyu Garden, a beautiful natural site in the middle of a busy city. There you can enjoy a good matcha tea with your partner.
How is the tourist flow and prices in Tokyo in May?
May is one of the months with the best weather to visit Tokyo. If you decide to travel in this month, I advise you to be prepared to see many tourists in the streets of the capital. However, it is not the highest season of all, so don't panic.
Prices are neither too low nor too high. For example, a hotel room can have an average cost of 120 €. Also, it is a month where walking will be much more pleasant because of the temperature, so you could save some money on public transportation or cabs.
What is the weather like in May in Tokyo?
If you have not yet decided on a month to travel to Tokyo, I recommend you to do it in May. During this month you can enjoy spring-like weather and sunny days. The average temperature is 18 °C in the capital, so there are many festivals and outdoor celebrations.
Although the weather is usually very pleasant, some days it may rain, so it is better to be prepared. On the other hand, the days are longer as they have more than 13 hours of sunshine, more time to enjoy the city!
What to pack to visit Tokyo in May?
As I told you before, May is a spring month where the weather is perfect to go for a walk. That's why I recommend you to bring comfortable and light clothes that will allow you to walk quietly through the parks and streets of Tokyo. You can bring a light sweater, long sleeve shirts and maybe a raincoat as it can sometimes rain a little.
If you will be doing activities during the night, it will be better to bring a warm sweater that you can wear. Comfortable and ergonomic shoes should never be missing in your suitcase. Remember that the best way to get to know a city is on foot.