10 Things to Do in Tokyo in Spring
Spring is the ideal time to visit Tokyo, if you are thinking of traveling to this amazing city, do not hesitate. Here is my selection of the top 10 activities to enjoy in Tokyo in springtime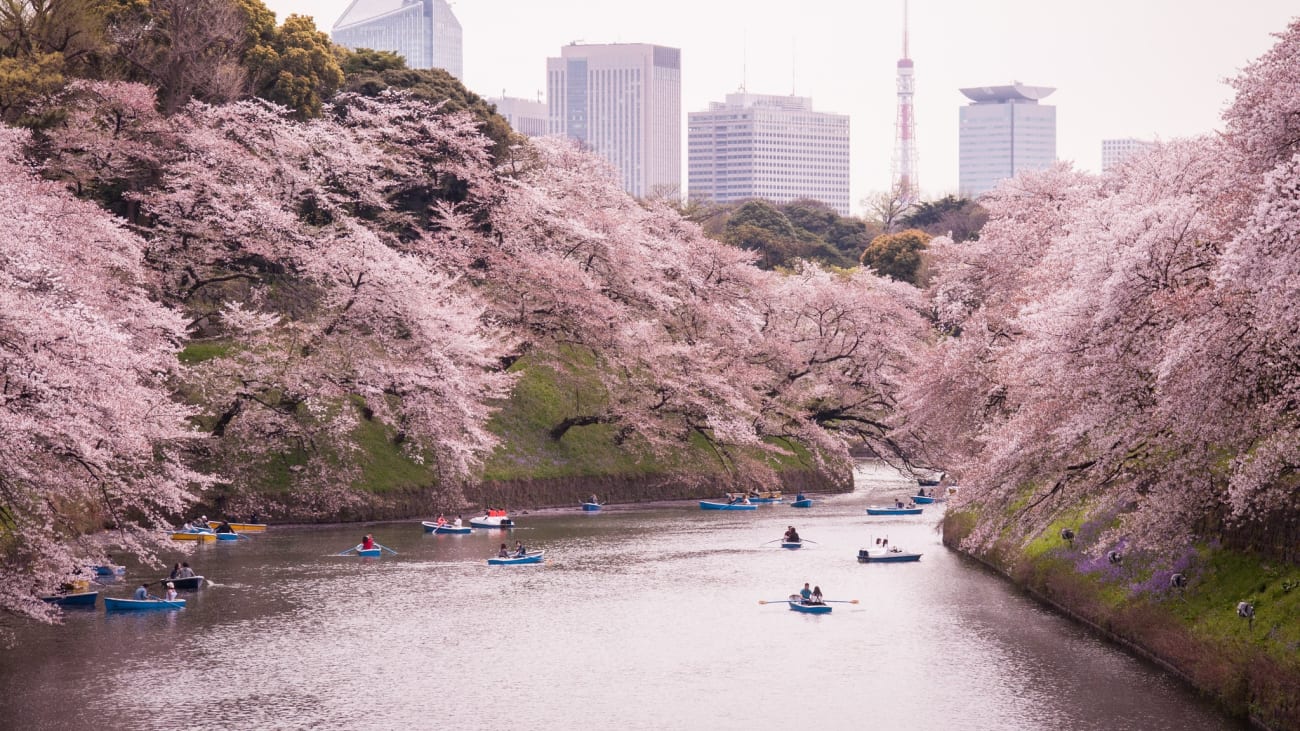 Japan is a country full of charm, and Tokyo is its most irreverent city. Here you can find practically everything, modernity, tradition, exotic flavors, the most beautiful nature and an endless number of attractions that will conquer you. In the spring months the city is full of festivals and colors, that is why this is an ideal time to visit.
There is truly so much to see and do in Tokyo. With its colorful festivals, stunning cherry blossoms and ideal weather, spring is the perfect time to visit Japan's capital. Here I have selected some of the best activities to enjoy on your visit to this, Japan's most wonderful city.
1. Enjoy the Kurayami Matsuri festival
If you are planning to visit Tokyo in spring you cannot miss one of its most important festivals. Known as the festival of darkness, this is a celebration part of the Shinto religion, very popular in Japan, and focuses on the night parade of numerous shrines carried in processional processions.
It takes place every year between the last days of April and the first days of May, and is held at the Ōkunitama shrine, located in Fuchu, about 20 minutes from the center of the city of Tokyo.
You will get to experience one of the oldest traditions in the Kanto region. You will have the opportunity to see and hear the classic ceremonial drumming, taste some classic Japanese foods and enjoy a horse race that has been going on for over 1,000 years!
The Ōkunitama Shrine, built in the 2nd century AD, is one of the most visited shrines in the Kanto region, as well as one of the 5 largest and most important shrines in Tokyo. With its paper lanterns and beautiful traditional architecture, visiting it during the Kurayami Matsuri festival is a great way to experience Japan.
Definitely, this festival is one of the best things to see and do in Tokyo at night, you will see all the beauty of one of the most interesting millenary traditions at its peak.
Interesting facts:
When it takes place: between April 31 and May 6
Price: free
Where it is held: at Ōkunitama Shrine in Fuchu, Tokyo.
2. Experience the Ueno Sakura Matsuri festival
As everyone knows, in late March and early April, cherry blossoms bloom all over Japan, offering a beautiful natural spectacle that attracts visitors from all over the world. The best way to enjoy it in the city of Tokyo is at the Ueno Sakura Matsuri Festival, which honors this flower and is one of the city's most popular celebrations.
This massive festival is held in Ueno Park, located on the Yamanote line. During the day you can enjoy the pink cherry trees, traditional food, music and a general party atmosphere, with yakisoba and takoyaki stands, and at night, the sakura are illuminated, offering a spectacle that I assure you will never forget.
Undoubtedly one of the most characteristic flowers of Japanese culture, the sakura (cherry blossom) is also used as a decorative object, in gastronomy, and in many other ways. During spring, everything in Tokyo seems to turn pink. If you want to enjoy this amazing festival, keep in mind that it is one of the best things to do in Tokyo with children, as families, friends and tourists gather in the park in an atmosphere of joyful celebration.
Interesting facts:
When: late April to early May
Price: free
Where: Ueno Park, Tokyo.
3. Sanja Matsuri Festival
If you are a fan of Japanese culture, you must visit the Sensoji temple in spring, since it celebrates the Sanja festival, also known as the festival of the Yakuza, the Japanese mafia. You can witness a procession with 100 mikoshi, a sort of portable altars, carrying Shinto deities.
As in the Christian religion, these altars are carried on the shoulders, so that good fortune is transmitted to all those who approach. Located in the traditional district of Asakusa, the Sensoji temple belongs to the Shinto religion, and this is one of its 3 most important festivals.
Why is it said to be the festival of the Yakuza? Traditionally the Japanese mafia is not easily seen on the streets, however every year at this festival they are seen celebrating with the rest of the community. Many brave people approach and take pictures with them, although it is not recommended.
Beyond the festival itself, do not miss the opportunity to walk through this beautiful neighborhood, one of those that still retain the essence of the most traditional Japan. Although this area is not included in the top 10 guided tours of Tokyo, it is well worth a stroll through its picturesque streets, full of stores and typical Japanese food places.
Interesting facts:
When: third weekend in May
Price: free
Where: at Sensoji Temple, Asakusa, Tokyo.
4. Enjoy Tokyo Rainbow Pride
Join one of the most colorful and inclusive festivals in Tokyo. Rainbow Pride is already famous around the world, celebrating diversity, respect for others and freedom. In Tokyo, this festival gathers a crowd that takes to the streets to parade, celebrate, be seen and heard.
Mainly recognized as a festival for the LGBTQ community, but open to everyone who wants to express themselves and celebrate, this is a very good opportunity to feel part of the city of Tokyo and its people. You will also be able to experience a real party in the streets.
Every year, the parade leads to Yoyogi Park, which welcomes thousands of people in a party of color, music, dance and diversity. Enjoy the Tokyo Rainbow Pride festival.
Interesting facts:
When: April 22 to 24
Price: free
Where: Yoyogi Park, Tokyo.
5. Enjoy the wonderful Roppongi art night festival
If you are an art lover, you can't miss the art night in Tokyo. The Roppongi Art Night Festival is an event where you can experience art in an incredible way. With immersive exhibitions, where you will have the chance to participate by co-creating or actively altering the works, this is an experience not to be missed if you are in Tokyo in spring.
The festival takes place in the Roppongi neighborhood, hence its name, basically in its three key points: Midtown Tokyo, Roppongi Hills and the National Art Center Tokyo. This massive art event celebrates the presence of art in our daily lives. Here you will also have the opportunity to enjoy musicals, live shows, films, design, performances and much more.
Tokyo is a city that never lags behind when it comes to innovation, and art is no exception. The Roppongi Art Night is a unique experience that you can not miss.
Interesting facts:
When: March 21, when spring begins in Japan.
Price: free
Where it takes place: at various locations in Roppongi, Tokyo.
6. Sakuras: try some seasonal flavors
As you may have already noticed, spring is undoubtedly the best time to visit Tokyo. The weather is ideal, without the humidity of summer and without the low temperatures of winter or autumn. In spring the cherry trees (sakura) bloom, and with this flower a lot of decorations are made, but also dishes, drinks, ice creams and seasonal sweets.
If you are visiting Tokyo during the spring, you can't miss a Japanese delicacy flavored with its beautiful sakura. From the famous Kit Kat chocolates to a Pepsi, everything in Tokyo seems to offer a sakura version. Of course, if you want to try some of these sakura-flavored products, keep in mind that you can only find them in spring.
And of course, if you are interested in the culinary and want to explore the flavors of this incredible culture, you must take one of the best gastronomic tours in Tokyo, you will not regret it.
7. Meet the samurai at the Yabusame Festival
Enjoy a trip back in time to the 12th and 13th centuries by attending the Yabusame festival. Every year, during the Japanese spring, a display of Yabusame, a Japanese martial art, is held on the banks of the Sumida River in Sumida Park. It is archery with bow and arrow mounted on horseback, a discipline of precision and great skill.
You can see the riders dressed in their traditional samurai clothing riding at full speed, while shooting at the targets, which are loaded with pink and white confetti, in clear allusion to the flowering of the sakuras.
A totally worthwhile experience if you find yourself in Tokyo in spring, you can see how the ancient samurai dressed and enjoy an afternoon by the river. And if you are attracted to everything that has to do with ninjas and samurai, I recommend you to take one of the ninja/samurai experiences in Tokyo, you will learn all about these ancient Japanese warriors.
Interesting facts:
When: mid-April
Price: free
Where: at Mukojima Sumida Ward, Tokyo
8. Enjoy an afternoon at Chidorigafuchi Park.
Spring is an ideal time to enjoy Tokyo and its green spaces. The city has many absolutely beautiful places worth visiting. With the cherry blossom everything becomes more beautiful, there are them on major avenues, in parks like Ueno, which has at least 1000 sakura, but there are also other parks and natural spaces that you should visit on a sunny day.
Chidorigafuchi Park is one of these places. With over 700 meters of greenery and the moat surrounding the Imperial Palace, it is one of the best places in Tokyo to enjoy sakuras. Located in Chiyoda ward, on the west side of the palace, here you can rent a boat and enjoy the majestic views of the entire park.
A few minutes from the Kudanshita Station of the subway, this is a place of relaxation and rest for many of the office workers in the area.
Interesting facts:
Price: access to the park is free, boat rentals vary according to the duration of the ride, for 30 minutes the price is around 4 euros.
Where: at 2 Chome Kudanminami, Chiyoda City, Tokyo
9. Take a photo tour of Tokyo
Let your artistic side out and take a photo tour of Tokyo. The capital of Japan is one of the most inviting places in the world to take pictures. With its spaces full of lights and color, its incredible buildings and its sakura everywhere, you will be able to get some unique images.
While you can go out with your camera or smartphone to take pictures on your own, many of these tours are a good way to optimize your time and discover some corners of the city that only a local can show you.
You will find this experience truly fascinating, Tokyo is a city that never rests, so everything, absolutely everything is photographable. Its people, its inexhaustible game centers, its technological advances, everything here is a colorful photograph.
10. Visit Mount Fuji in spring
Take an incredible excursion to Mount Fuji! One of the most representative sites of Japan, seeing Mount Fuji in spring is one of the things you can't miss during your visit to Tokyo.
Like the whole city, Mount Fuji is in bloom, you will find a carpet of color, with pink sakura and a landscape that will take your breath away. This natural wonder will be one of the jewels of your trip, I assure you.
We have all seen countless times the images of the mountain with its snow-capped peak and a cherry tree branch full of flowers. This is the typical postcard of Japan, the one that shows the delicacy of its culture, the beauty of its landscapes, the one that moves us again and again even if we know it by heart. Being there, in front of such a spectacle will not leave you indifferent.
Temperatures in Tokyo in spring
Spring is the ideal time to visit Tokyo, with its pleasant weather, little rain and almost no humidity, the months of March, April and May are optimal to organize your trip. With temperatures hovering around 15 to 20 degrees in March, and reaching 25 degrees in May, spring in Tokyo invites you to explore the city and enjoy its outdoor spaces.
Spring tourist arrivals in Tokyo
Spring is one of the busiest times to visit Tokyo, precisely because of the cherry blossoms and the great beauty of its green spaces. Keep in mind that, although it is a large city, it is almost certain that you will meet many other tourists who have come like you to enjoy the attractions of this incredible city, so be patient.
Prices in Tokyo in spring
The city of Tokyo has options for all budgets, so whether it's accommodation, food or transportation, you'll be able to find the one that suits your budget. In the case of accommodations, for example, there are luxury hotels, hostels, traditional Japanese hotels and even lodging in temples.
As for food, you can eat a plate of ramen more than abundant for less than 7 euros, a tasting of several pieces of sushi can be around 24 euros approximately.
What to pack to visit Tokyo in springtime
Temperatures in Tokyo in spring are very pleasant, so you don't need to think about bringing an extra coat. With a light jacket you will be fine. Rain at this time of the year is very infrequent, so there is no need to carry an umbrella or raincoat. I do recommend that you wear comfortable clothes and shoes, because you will be walking a lot.