Best Time to Visit Tokyo
Planning to visit Tokyo, but don't know the best time to do it? I tell you the best and the worst of each season of the year in the Japanese capital.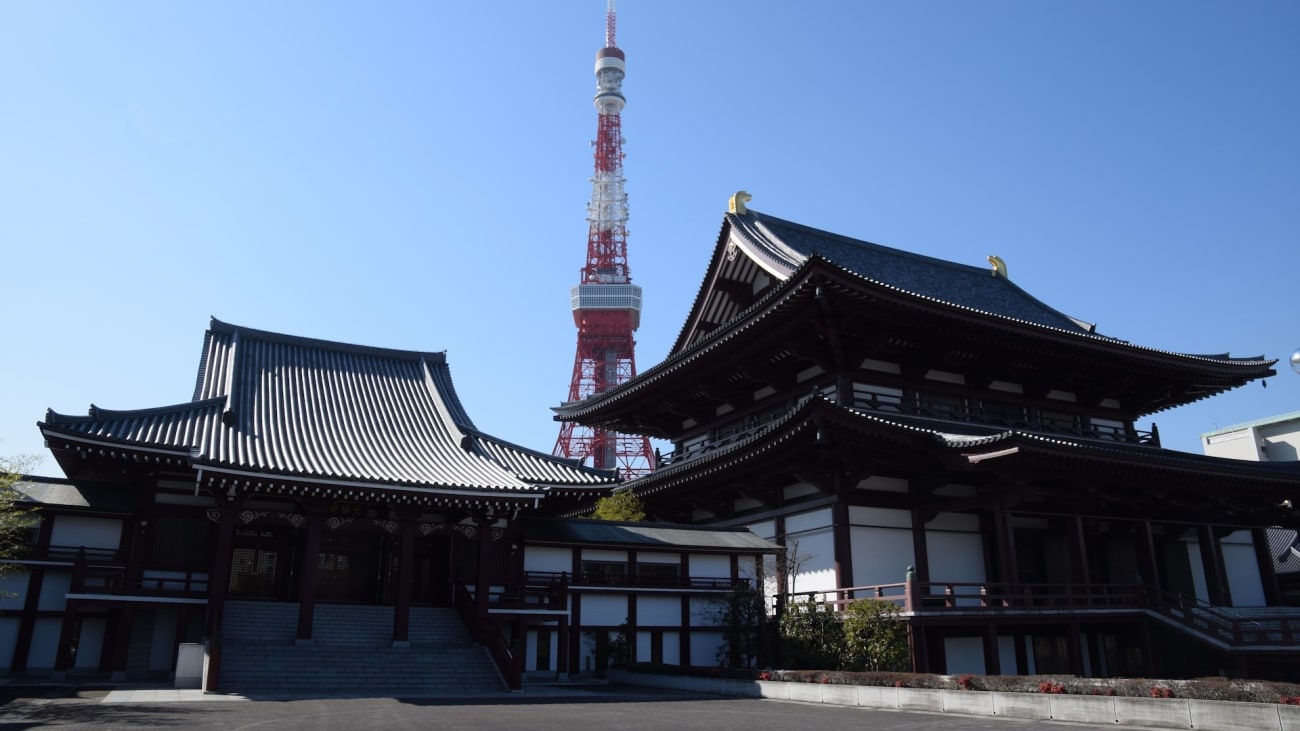 The city of the Rising Sun has so many tourist attractions and cultural activities that you won't know where to start, wondering what to see and do in Tokyo during your stay. However, in order for you to make the most of all the natural attractions and cultural events that the capital of Tokyo has in store for you, you'll need to be aware of what the city is like during the different weather seasons of the year.
In the capital of the Rising Sun you will find a varied climate. During the summer you will experience a very hot atmosphere, high humidity and typhoons, while in autumn you will enjoy a warm and dry temperature during the day, but quite cool when the sun goes down. In winter you will experience intense cold, snowfall and precipitation. Finally, in spring you will experience sunny days, warm nights and little rainfall.
1. When is the best time to visit Tokyo?
The number of attractions that Tokyo has to offer makes any time of the year a good time to travel there. Determining the best time to visit is not easy, as everyone has their own interests and budgets.
Some people may be enthusiastic about winter weather and scenery, while others may want to enjoy the cherry trees or summer festivals, despite the high temperatures.
It all depends on what you want to see and your budget.
Spring (March, April and May): you will make Hanami to the Sakura blossoms while enjoying pleasant sunny weather with little rainfall. However, the city is very crowded and the attractions are always full of tourists.
Summer (June, July and August): you will enjoy festivals, street parades and explore the famous Mount Fuji. However, you will find very high temperatures, high humidity, high prices and a large number of foreign tourists.
Japanese autumn (September, October and November): you will have warm days and cool nights, but you will eventually experience high winds and rain. In addition, you will notice a low turnout of domestic and international tourists on the city streets.
Winter (December, January and February): you will see a less crowded city with a beautiful snowy landscape. Prices are affordable, making it ideal for travel on a budget. However, low temperatures could be a problem to visit certain natural attractions.
Although each season has its pros and cons, it is also true that in any of them you will discover a different side of Tokyo. From the subtle colors of the Sakuras (cherry blossoms), through the variety of momiji (red leaves) to the imposing snowy landscapes.
All of them are amazing sceneries that you can walk through alone or by joining one of the best guided tours of Tokyo such as the photo tour of the city, which will allow you to get unique images of your trip.
2. Visiting Tokyo in the autumn months, the best option
The autumn months are the best time to visit Tokyo in terms of weather conditions. You are going to find a warm temperature, a low percentage of humidity and you won't have to worry about typhoons.
In addition, you will be able to enjoy the colorful natural scenery in the streets, which, by the way, can be walked through quietly due to the fact that the autumn period is a low touristseason.
During your stay you will find maximum temperatures of 22°C during the day, while the nights are cool, with a minimum of 15°C. Therefore, you will be able to wear sleeveless shirts, shorts and at night you just need to have a light coat at hand.
You will also have the opportunity to see the momiji (red leaves) of this Asian region. This is a variety of reddish, orange and yellow tones provided by the leaves of maple trees, Ginkgo Biloba and Chinese Sumac, which together create an amazing visual contrast.
Undoubtedly, Tokyo in autumn provides a warm and peaceful atmosphere to do Momijigari and get up close and personal with Buddhist and Shinto traditions.
It is also an appropriate time to participate in Tokyo's gastronomic tours, as there are a large number of seasonal products and foods to taste.
Holidays and special dates in Tokyo in autumn
During these months, activities take place that should be part of the things to see and do in Tokyo in autumn during your stay. Here are some of them:
Contemplate the momiji (red leaves) in the natural areas of the city. You can go to the Imperial Palace, Meiji Jingu Gaien Street, Rikugien Park and Koishikawa Korakuen Park.
Tokyo Game Show. An annual worldwide event, ideal for enthusiasts of video games and cosplay culture.
Visit the Toshogu Temple, to walk around it, enjoy the scenery and admire an impressive samurai procession.
Tsukimi or moon festival. It is a celebration with more than 500 years of tradition, held during the month of September. You can eat Tsukimi dangos, enjoy dances, musical performances and the hypnotic full moon of autumn, from any Shinto shrine, traditional garden, Buddhist temple or the viewpoint of the Tokyo Tower.
Tori no Ichi market in Tokyo's Asakusa district during the month of November. You will see many traditional objects used for the celebration of the Japanese New Year.
3. Visiting Tokyo in spring, the busiest time of the year
The spring season in the city, between the months of March, April and May, turns out to be the busiest time of the year.
Every year, the capital of Tokyo registers a large number of international and domestic tourists. All of them, ready to enjoy the scenic beauty of the temples, parks and forests, the traditional celebrations and the pleasant warm weather.
However, you should keep in mind that as spring is a busy time in Tokyo, prices for tourist activities, food and any general shopping will be higher than usual. In addition, you should plan any individual or group visits you wish to make, to avoid inconveniences regarding entrance fees.
In fact, the ideal is to book in advance the day and time of the activity, for example, an excursion to Mount Fuji and Lake Ashi, a Bullet Train tour in Tokyo or attending one of the more than 50 museums in the city, among others.
Regarding the correct way to deal with the warm weather, which varies between 18 and 24 ºC during the spring months, you should try, as much as possible, to wear light clothing, made of cotton, to keep cool. Also, wear rubber-soled shoes that provide a comfortable walk.
Holidays and important dates in Tokyo in springtime
Spring in Tokyo brings with it a series of well-attended traditional celebrations.
Here I summarize some of the must-do activities among the things to see and do in Tokyo in spring:
Hana Matsuri (flower festival): this is the commemoration of the birth of Siddhartha Gautama or Gautama Buddha. Every May 8, you can visit any of the Buddhist temples in the city to enjoy the folklore and religiosity of this important celebration.
Sanja Matsuri: this is one of the most popular Shinto celebrations in the city, held on the third Friday, third Saturday and third Sunday of May. Tourists and locals alike gather at Tokyo's Asakusa shrine to honor the founders of the Buddhist temple Sensō-ji. You will see traditional dances by Maikos (young geisha apprentices) and a series of performances.
Hanami or sakura (cherry) blossom viewing: this is a natural spectacle that you can observe throughout the city from mid-March to mid-April. You will have the opportunity to visit the city's temples, learn about the history of cherry blossoms and sit under these beautiful trees for a picnic while admiring the sakura and taking pictures.
4. Visiting Tokyo in winter, the time of low prices
Tokyo in winter is characterized by being an uncrowded city, since this period is the coldest season of the year.
Therefore, if you are a fan of low temperatures, you will have no problem visiting the Japanese capital during the months of December, January or February.
Traveling in winter brings you positive aspects to consider:
Low prices on accommodation, airlines and tickets to the different tourist attractions in the city.
Little influx of tourists in public areas, which is convenient, since you can walk more freely through the streets, get on practically empty public transportation, avoid queues at the ticket offices where you can usually stay up to an hour, as in Tokyo DisneyLand.
Currency exchange from euros to yen is favorable compared to other seasons of the year.
In addition, during the winter period you will be able to enjoy beautiful snowy natural landscapes: parks, public gardens, forests and a breathtaking view of Mount Fuji, among others.
Undoubtedly, you will know a different face of the city, which is very attractive to travelers, despite not showing the colorful sakuras (cherry blossoms) and momiji (red leaves).
Certainly, there are many things to see and do in Tokyo in winter. However, this season is usually the coldest of the whole year, especially from mid-December to mid-February, when temperatures drop to about 5°C and do not exceed 13°C.
In any case, you should wear winter clothing in layers: thermal pants, a T-shirt, a sweater, a scarf, a coat, a hat and gloves.
Holidays and special dates in Tokyo in winter
In winter, as in the rest of the year, you will be able to enjoy several millenary celebrations, which are part of Japan's traditional folklore:
Ako Gishi-sai Festival on December 14 at Sengaku-ji Temple you can join the commemoration of the sacrifice and loyalty of the 47 ronin who during the 17th century avenged their feudal lord. You will have the opportunity to light incense and help illuminate the path of these fallen samurai.
Emperor's Birthday, celebrated on December 23. On this day, you will live a unique experience, as it is one of the few times when you can see the Imperial Palace of the city open.
Shogatsu commemoration on the first days of January in all the shrines of the city. You can attend to perform the first prayer of the year and thus join the Japanese traditions.
Dezomeshiki or fire department parade on January 6th. You will be amazed by the acrobatic show along the streets.
Setsubun or separation of seasons. This is a celebration to bid farewell to winter, ward off spirits and attract luck. You will see children in the streets and temples throwing soybeans at people disguised as evil spirits, trying to scare them away.
5. Visiting Tokyo in summer, a very hot option
Visiting Tokyo in summer is certainly a very hot option, as temperatures reach an average maximum of 32°C during the day and 20°C at night.
In addition, the heat of these months is loaded with high percentages of humidity, making the city feel like a sauna, proving both annoying and physically exhausting.
In summer your budget will not be limited, because prices are usually high due to the high external demand of tourists. In fact, you will have to be very proactive regarding accommodation so that you do not have any inconvenience to find a hotel.
But not everything is bad. In the city of Tokyo you will enjoy a clear sky and festivals with beautiful fireworks, ideal to incorporate among the things to see and do in Tokyo at night.
In addition, you will have the opportunity to perform outdoor activities that are not accessible during the rest of the year. Such is the case of visiting Mount Fuji, which only in the summer months offers a safe ascent due to good weather conditions.
You will also see many people in the streets wearing their yukata (traditional Japanese clothing), which, thanks to its cotton fabric, offers great freshness during summer days. In fact, if you want to have a real Japanese experience, you can rent this outfit along with some pokkuri geta or Okobo (wooden sandals with platform) and walk through the streets of the city.
Holidays and important dates in Tokyo in summer
The hottest months of the year offer many celebrations and outdoor events, which have become a tradition for the Japanese and, therefore, activities that should not be missing on your list of things to see and do in Tokyo in summer:
Bon-odori July and August, during these months you will see in the streets groups of people (locals and tourists), spinning around a tower decorated with paper beacons and to the rhythm of drums.
Mitama Matsuri from July 12 to 15. For four days you will have the opportunity to see on the main street of Yasukuni Shrine a series of traditional dances, colorful floats, theatrical performances, food stalls and much more.
Sumidagawa River, the last Saturday of July. You will enjoy the oldest fireworks display, held since 1732.
Fukagawa Hachiman Matsuri, August 11-15. At the Fukagawa shrine you will see a colorful parade with thousands of attendees to whom you must traditionally throw water to please the gods.
Winter
December - February
Weather Cold and snowy
High 5°C
Low 13°C
Spring
March - May
Climate Temperate
High 24°C
Low 18°C
Summer
June - August
Climate Hot and humid
High 32°C
Low 20°C
Autumn
September - November
Temperate Climate
High 22°C
Low 15°C