10 Things to do in Tokyo at Christmas
In Tokyo, Christmas is celebrated in a very special way, without the religious significance it has in other countries, and with a lot of romanticism.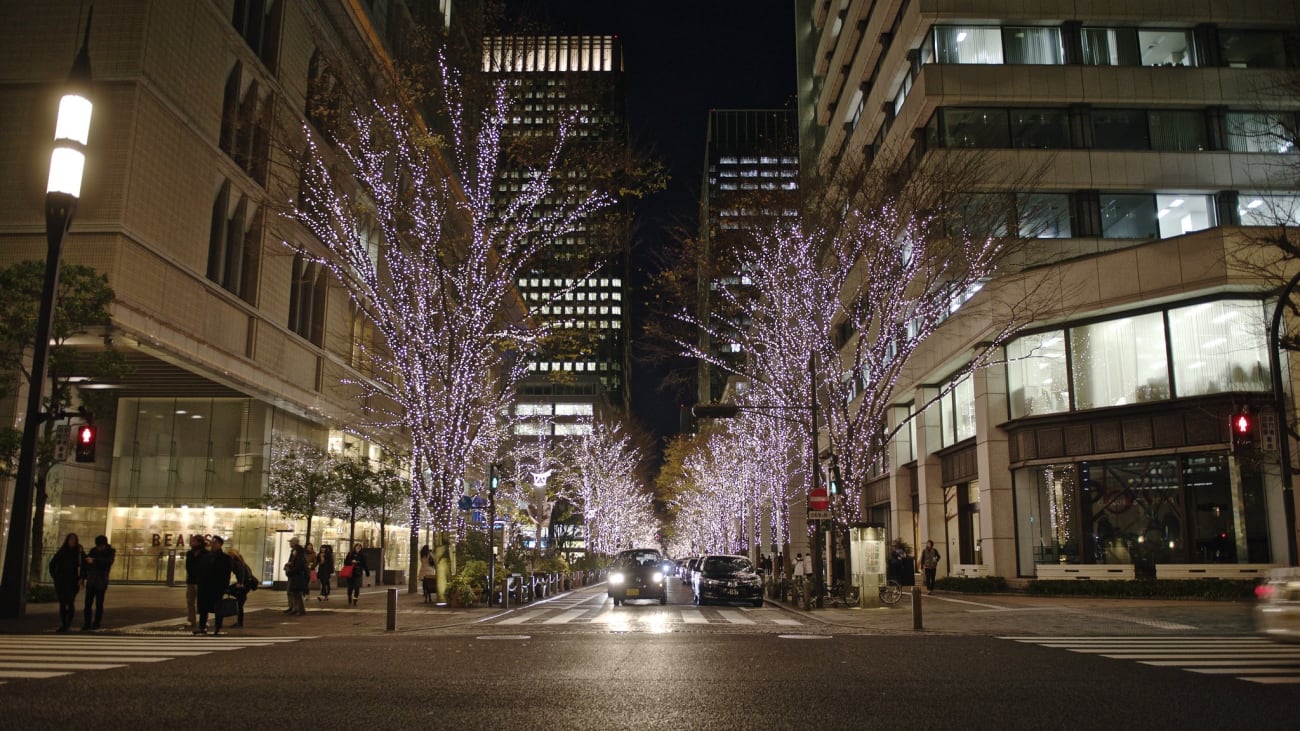 Celebrating Christmas in the Japanese capital is one of the most interesting things to see and do in Tokyo. In Japan, this holiday has become a very special celebration, without the religious significance it has in other parts of the world. This is because the majority religions are Shinto and Buddhism.
Also, in Japan, Christmas is not a holiday, that is, it is a working day, but it is a time to celebrate with your partner, and also with friends and family. If you arrive in Tokyo for Christmas, you can attend special shows, fairs and festivals, enjoy amazing Christmas illuminations and decorations, visit flea markets or taste Japanese Christmas specialties.
1. Celebrate Christmas the romantic Tokyo way
Japan has its own particular way of celebrating Christmas, different from countries with Western traditions. So, if you plan to travel with your partner, you will be happy to know thatChristmas in Japan is celebrated as a couple, as if it were Valentine's Day. For the same reason, gifts in that country are made for both of you.
In Tokyo, to celebrate Christmas, especially Christmas Eve, couples book tables in restaurants and rooms in hotels. So now you know, if you travel to Tokyo on those dates be sure to book in advance, as it can be difficult to get a table. And if you are not traveling as a couple, you can also celebrate with friends or family.
Christmas Day is not a public holiday in Japan, and people normally work. Although very few people profess Catholicism, as Tokyo and many other Japanese cities are cosmopolitan, Christmas has become a special day for the Japanese and so they have found their own way to celebrate it.
2. Attend a Tokyo Disneyland or Disneysea show
During Christmas, the Tokyo Disneyland Resort theme park dresses up in a special way that will make you not miss Christmas in your country at all.
Christmas decorations, special shows, rides, lights, giant Christmas trees and the magical environment that always characterizes Disney, will welcome you to celebrate a different kind of Christmas.
Visiting Disneyland and DisneySea is one of the best things to see and do in Tokyo with children and especially at Christmas, since it is a park where they are the protagonists.
There they will be able to greet and take pictures with their favorite Disney characters, and enjoy the incredible and fun attractions offered by the parks.
At Christmas, Tokyo Disneyland Resort presents special shows: "A Christmas Fantasy" and "Christmas Wishes" in its two parks, Disneyland and DisneySea, respectively.
These shows are performed from December 8 to 25 every year. Ideally, you should go one day to each park to best enjoy them, but it is also possible to see enough of both in one day.
If you do not know which one to choose, keep in mind that Tokyo Disneyland is built in the same style as Disney California and Disney Florida. DisneySea, on the other hand, is inspired by the sea and has attractions that you will only find in Tokyo.
Learn more
Location: Tokyo Disneyland, 1-1 Maihama, Maihama, Urayasu 279-0031 Chiba Prefecture
Hours: 8 am to 10 pm daily.
Admission fee: Around 60-70 EUR for adults; 48-60 EUR for teenagers; and 34-40 EUR for children. Prices vary according to date, season and time of visit.
How to get there: You can take the train, the JR line at Tokyo Hatchobori or Shinkiba station, and get off at Mahiama station, which is next to the park. There are also buses leaving from Tokyo.
Recommendations: Try to buy your ticket in advance, because in December many people will want to visit both parks. It is also ideal that you arrive as early as possible, to avoid delays and to be able to visit the park/s of your choice at your leisure.
3. Tour a Christmas market in Tokyo
In Tokyo it is customary to give Christmas gifts only to couples, as it is a romantic holiday in Japan. However, December is a good time for you to visit Tokyo's flea markets, which are inspired by the best markets in Europe.
One of them, and one of the most famous, is the Tokyo Christmas Market, which is usually in Shiba Park or Hibiya Park.
It is inspired by the markets of Germany, and is sponsored by the German Tourism Association and the German Embassy. There you will find everything from gifts to handicrafts, ornaments, typical German food and mulled wine.
At the Tokyo Christmas Market you can also enjoy live concerts and workshops, and see the 14-meter-tall Christmas tree brought from Germany.
Other interesting markets to visit in Tokyo are the Yokohama Red Brick Warehouse, which has a skating rink and is inspired by the Nuremberg market; the German-inspired Roppongi Hills; and Ebisu Garden, inspired by France.
4. Marvel at the Christmas and winter illuminations
At Christmas, you will find the streets, parks, stores, etc. of Tokyo spectacularly illuminated as only this Japanese city can do. It is not just Christmas lights, as it is a custom of the country to welcome winter with a special illumination.
You will find them in open and closed environments, but remember that it is always a good idea to wrap up warm to go out in the streets of Tokyo.
Caretta Shiodome
At Caretta Shiodome you will see a spectacular illuminated blue forest, with violin music and other sounds. Every 30 minutes a light and sound show begins that will leave you in awe. You can see it from November to mid-February, except on public holidays from January 1-3, from 5pm to 11pm.
Location: 1 Chome-8-2 Higashishinbashi, Minato City, Tokyo 105-7090, Japan
Old Shimbashi station and Shinbashi Space Train
The former Shimbashi Station operated until 1914 and was then destroyed. It fell into disuse for many years, until an excavation was carried out in 1995 which recovered many objects of historical value. Finally, in 2005, the original building was reconstructed and a museum dedicated to the history of the railroad was opened there.
An illuminated train can be seen in the museum's courtyard, and it is the place many couples choose to take a romantic Christmas photograph.
Another famous illuminated train is the Shinbashi Space Train, which is accompanied by the sounds of old trains. The latter is a light installation mounted on a 1972 vintage train outside JR Shimbashi Station.
Location: 2 Chome-17 Shinbashi, Minato City, Tokyo 105-0004, Japan
5. Traditional dinner at Kentucky Fried Chicken
In Tokyo, eating fried chicken at Christmas is a tradition, particularly Kentucky Fried Chicken. That is why many people reserve a table at their restaurants months in advance.
In addition, it is traditional to celebrate as a couple, because Christmas in Tokyo is celebrated as a Valentine's Day. Why would that fried chicken be so special? Maybe it's because of its breading.
The chain also offers a bucket of its traditional dish, which you can get on the Kentucky Fried Chicken website, in case you don't get a table at one of its restaurants.
It is said that the custom of eating fried chicken at Christmas was installed by foreigners living in Japan, since they couldn't get turkeys. The Christmas campaign promoted by the Kentucky Fried Chicken company, which presented fried chicken as a typical Christmas dish in the United States, also helped a lot.
Anyway, if you can't get this dish at KFC, you can also find it at Seven Eleven or FamilyMart stores.
And if you don't feel like fried chicken, or your diet doesn't include meat, you can take advantage of Christmas or Christmas Eve to try typical Japanese dishes and get to know their unique gastronomy, either on your own or by hiring one of the gastronomic tours around Tokyo.
6. Enjoy the traditional Christmas cake
It is traditional in Tokyo, during Christmas, to eat a delicious cake made of sponge cake, cream and strawberries and decorated with Christmas motifs. It is likely that this custom was also inspired by foreigners who lived in Japan.
It is believed that the Fujiya store popularized this tradition in the 50s of the twentieth century, so it is one of the most chosen when ordering this Christmas cake.
But there are also many bakeries that offer this dessert, such as Daimaru Tokyo, Patisserie Coco Ange or Patisserie Monte Rosa.
You can also find it in restaurants, which offer it as a dessert, or in konbini, which are stores open 24 hours a day every day of the year, such as FamilyMart or Seven Eleven.
7. Celebrate New Year's Eve in Tokyo
New Year's Day in Tokyo is a holiday, and even the celebrations continue for two more days: not only January 1st, but the 2nd and 3rd are days of celebration in Japan. Their way of welcoming the new year is also different, but very interesting to learn more about their culture.
One way to celebrate the New Year in Japan is to go to a Buddhist temple to hear the 108 chimes, the Joya no kane. One of the best known temples to go to hear them is the Zojoji Temple, located near the Tokyo Tower, or the Sensoji Temple, in the Asakusa district.
In addition, at the gates of some temples you can see the dance of the lions, which are considered protectors of the temples. It is said that it is good luck for lions to "bite" the heads of children.
But if you are looking for something more festive, in Tokyo you will find many parties in the streets such as at the crosswalk in Shibuya or in front of Tokyo Tower, where many people gather to see the change of date on the facade of the building. And if you go with children you can go to see the special New Year's shows at Disneyland or Disneysea.
8. Dazzle at a fireworks display
Every Saturday in December at 7 pm there is a fireworks show over the Rainbow Bridge in Odaiba Park, of truly amazing dimensions.
The show, which is accompanied by music, lasts only 5 minutes, but manages to light up Tokyo's winter sky. It may not coincide with Christmas or Christmas Eve every year, but it is an excellent plan if you are visiting Tokyo around that time.
The special illumination of the Rainbow Bridge nicely complements the fireworks that are launched during the month of December. It is a show of such large dimensions that it is possible to see the lights even from far away and from both sides of Tokyo Bay.
If you prefer, there are also many bars, restaurants or shopping malls in the vicinity of the bridge where you can sit and watch this show.
Learn more about
How to get there: Rainbow Bridge can be reached by car or by taking the Yurikamome or Rinkai line train. More information on the Odaiba website.
9. Attend a traditional Japanese festival
If you visit Tokyo in December, you can attend very interesting festivals that are held on the occasion of the end of the year celebrations in Japan. At these festivals you will have the opportunity to soak up the Japanese culture and buy special gifts to give as Christmas presents.
Some of these festivals are the Hagoita Ichi fair; the Akiha Fire Festival, held in Hamamatsu; the Chichibu Yomatsuri festival, very close to Tokyo, which includes a parade of floats, fireworks and a fair; and the Akō Gishi Sai, which is a tribute to the 47 ronin of Ako, and is held at the Sengakuji temple in Tokyo.
Hagoita Ichi Fair
The Hagoita Ichi fair is held between December 17 and 20 every year at Sensoji Temple in Tokyo's Asakusa district. There, hagoitas, kites, New Year's decorations and sacred objects are sold.
The hagoitas are amulets that emulate the paddles used to play hanetsuki, a traditional New Year's game similar to badminton.
These amulets, considered good luck charms, are hand-decorated and feature figures of kabuki actors, sumo wrestlers, athletes, cartoon characters, important events that occurred during the year, and even celebrities. These hagoitas are given as gifts to wish good fortune to the recipient.
Location: 2 Chome-3-1 Asakusa, Taito City, Tokyo 111-0032, Japan. More information on the Sensoji Temple website.
10. Enjoy the snow season
Japan is a country of long winters where it snows a lot, especially in February, although the snowy season is from December to March.
If you visit Tokyo at Christmas, you will probably have the opportunity to enjoy this beautiful spectacle of nature that makes Christmas so special.
The cherry trees covered in white or Mount Fuji covered in snow are postcards that you can marvel at during your stay in Tokyo. The city does not usually have heavy snowfalls, but there have been many in recent years.
If your stay extends beyond Christmas, you can go to villages such as Shirakawa-go, Ginzan Onsen or Koyosan, where you will find a dreamy winter setting of low houses and snow-covered temples. Of course, you can also take a trip to Mount Fuji from Tokyo.
You can also opt for snow sports, as you will find many snowy slopes, even as early as October.
Christmas weather in Tokyo
From December to February is winter in Japan, and very cold. So if you visit Tokyo at Christmas time, you are likely to see snow-covered landscapes.
Tokyo's weather is dry, with little rain or snow, however, there have been heavy snowfalls in recent years.
Temperatures in Tokyo average 12°C during the day and 5°C at night, and can reach -3°C on very cold nights and mornings. The days have approximately 6 hours of sunshine, so many places of interest close at 17:00 in the afternoon.
Ideally, wear layered, breathable clothing with a waterproof coat. Gloves, hat and scarf are a must. And if you plan to enjoy the snow more intensely in natural environments, where snow is more likely to fall, you will need specific clothing and snow boots.