Tokyo in 5 Days: everything you need to know
Thinking about Tokyo for your next vacation? If you are planning on a 5-day itinerary, here are some tours and attractions you can't miss.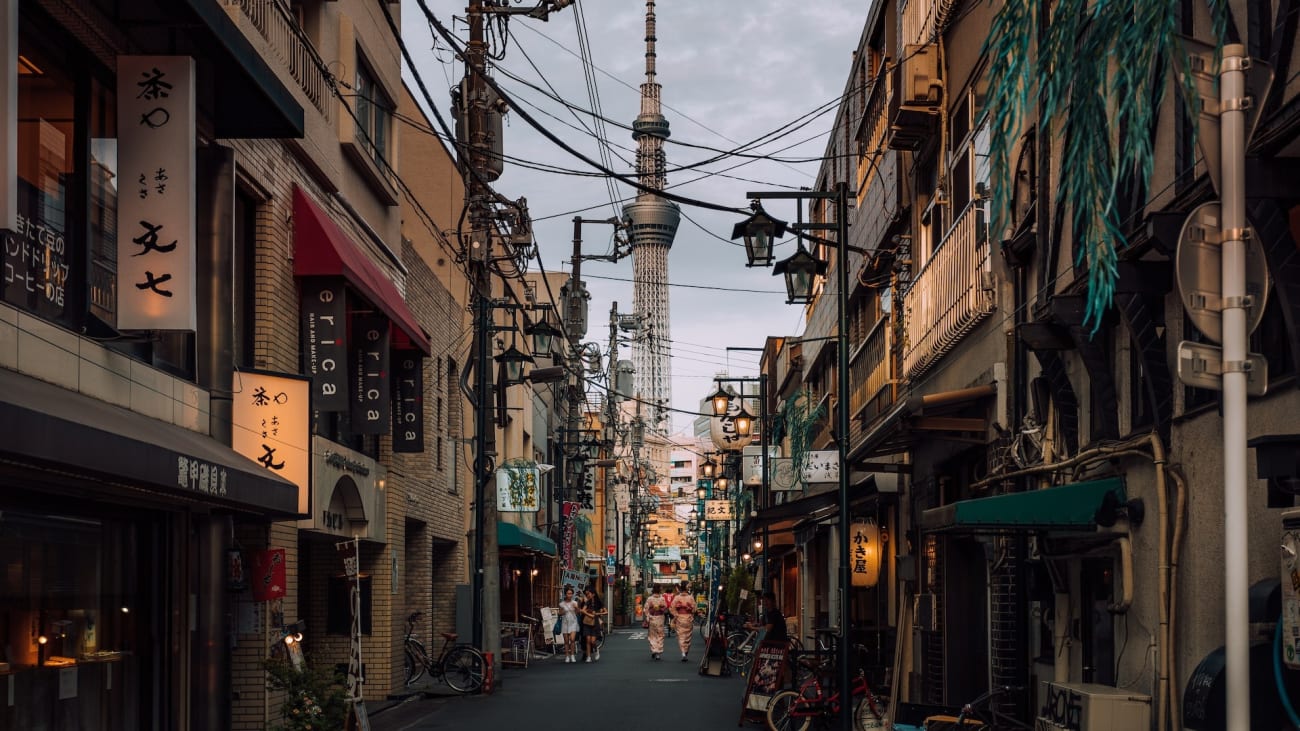 Tokyo is the largest city in the world, which can be intimidating for any traveler!...And if you add other boundaries such as language, rules of coexistence and many other things related to the culture, it can be terrifying.
Don't worry! You are not the first one who has had that feeling and, fortunately, there are many tools to "survive" as a tourist in the Japanese city and enjoy everything there is to see and do in Tokyo. In this post I leave you some recommendations of tours and tips to make the most of those 5 days. Let's get started!
1. Day A first ride through the city by bike and close the day with a well deserved dinner.
To start the first day in this mega city with all the energy, I suggest you start with a bike tour. The idea is that after so much pedaling, you will have enough appetite for a delicious gastronomic tour of Tokyo and end the day with a good taste in your mouth. What do you think?
Bike, helmet and pedal through the city
Although the Japanese capital is huge and intimidating, cycling is an efficient and very friendly way to get around. There is little hilly terrain, the traffic is very respectful and there are many landscapes that are best enjoyed without a window in between.
It will be easy to admire the city's iconic scenes on a bicycle, such as the giant skyscrapers looming over Shinjuku and Meiji-jingu, a famous religious site in the city.
Another place you can visit is the Aoyama cemetery, a very old place where you can find the grave of a famous and faithful Japanese canine, the beautiful Buddhist temple of Zōjō-ji and the Aqua City Odaiba shopping complex.
This tour departs a few steps from the New National Theater. To get there by public transportation, the best option is to take the Keio New Line to Hatsudai station, located in front of the theater.
By the way, all the visits and tours that I recommend in this post can be easily reached by public transportation. I will provide you with the easiest routes.
And afterwards... A delicious dinner
After almost 7 hours of exercise, you'll want to relax and fill your stomach. So get ready for a date where food will be the main thing.
I invite you to take a food tour of Tokyo to check out the most popular izakaya spots, a word that translates into English as "a place to have a drink and make yourself comfortable."
One of the classic stops is the labyrinthine Omoide Yokocho area. Here, many small traditional restaurants saturate the alleys to offer one of the most popular dishes: yakitori.
Also, less than 7 blocks away is Golden Gai, a neighborhood that will bring you the feeling of having gone back in time and is very popular in Tokyo's nightlife. The area is home to a multitude of small bars, food stalls and karaoke bars.
The meeting point for this tour is at Shinjuku Station, one of the busiest stations in all of Tokyo, served by 12 different train lines, operated by 5 companies. So if you plan to arrive by public transport, you will have plenty of options.
An easy way to get there is to take the Marunouchi line of the subway service.
2. Day A tailor-made tour during the day and a night escape to Shibuya
On this your second day in the world's largest city, you will take a more leisurely itinerary. Well, you will determine the pace, because you will be doing it at your own pace.
A private car with chauffeur guide is a very comfortable way to visit different attractions in a small group. Later, you will end the day with a nightlife escapade in Shibuya. You will love it.
You choose where and aboard a comfortable car
Just as you read it. The great advantage of this tour is that you will only have to worry about setting your schedule and the destinations you want to visit in Tokyo.
Although you will be provided with suggestions of pre-established routes, you decide whether to choose them, adapt them or take a totally different route. In addition, you determine how much time to dedicate to each of the attractions, something that more than once you have wished for in a tour, isn't it?
What do you want to visit? a Buddhist temple? the Imperial Palace Gardens? the Edo Museum? or a modern district? it's up to you! And don't forget to add places to shop, stop for lunch or whatever else you want to do to pass the time on the streets of Tokyo. It's all included in the tour, which can take up to 9 hours.
Simply a perfect option to make the most of the day at different attractions and adjusted to your schedule.
Visiting Shibuya district
On the way back, you will want to take a couple of hours of rest at the hotel because in the evening a neighborhood that will attract all your attention awaits you: Shibuya.
This is one of the special neighborhoods of Tokyo and is a must on the itineraries of those who visit the city.
You may have heard of it because of the Shibuya crossing, an intersection where, every time the traffic lights open, a massive human tide invades the asphalt. But with all the order that characterizes Japan.
It has been estimated that during rush hour, up to three thousand people can cross the intersection during a shift.
You can come and be part of the crowd that crosses it or, also, observe this scene from the heights in the Starbucks of the Tsutaya building, which is located north of this crossing.
You can easily reach Shibuya and this particular crossing directly from anywhere in the city via the Ginza, Hanzomon and Fukutoshin subway lines. If you don't know where you are when you arrive, look for the Hachiko statue and you'll know you're in the right place.
Being a very modern neighborhood and visited by tourists, here you will find plenty to eat, just around the station, there are several restaurant options.
Fashion and shopping
The night is long here. And if you like shopping, in Shibuya you can find many options walking a few blocks away. Enter the 109 shopping mall, located a few steps from the station to get an idea. If Japanese fashion doesn't quite convince you, nearby you'll find stores of many familiar Western brands.
Speaking of fashion, in this part of the city the new trends are cooked, placing this neighborhood among the most "fashionable" in Tokyo. With a short walk through its streets, you will find all kinds of proposals in clothing, hairstyles and everything that makes you stand out from the crowd.
Need to see more? Check out Harajuku
If you think you've seen it all, I invite you to its neighbor Harajuku, located one stop away (Harajuku station) taking the Yamanote line of the Japan Rail (JR). It won't take you more than 5 minutes to get there.
Everything you couldn't see in Shibuya, you will find here. From cosplayers to punk musicians, to gothic lolitas and many other urban tribes you didn't even know existed.
Feel the rhythm of this great city in one of its most modern and creative spaces, it will definitely be an experience you will enjoy from beginning to end.
3. Day Getting to know the surroundings of Mt. Fuji and spectacular night shots of the city
On the third day, you will spend a few hours in nature. It seems difficult with such a massive metropolis, but yes, it is possible and it is not far away.
The destination? The landscapes located at the base of Mount Fuji, an active volcano that is also the most revered sacred mountain by the Japanese. On your return to the city, if you bring a professional camera, even better, because you will take a night photography tour.
Mount Fuji and its icy caves
Many years ago, an eruption of the volcano (Mount Fuji) spewed boiling lava down the slopes of the Aokigahara forest and penetrated the ground creating caves. Then, the snow that covers this volcano half of the year entered through the caves and today they are fascinating caves that are well worth seeing.
The best way to visit these caves is with an organized tour to Mount Fuji, where you will be guided through the caves with professional instruction for a safe and fun tour.
To start this tour, one of the pick-up points is Kawaguchiko Station. To get there by public transportation, take the Japan Rail (RL) Chuo Line from Shinjuku Station(which you reach via the Marunouchi Line) to Otsuki Station.
Once there, transfer to the Fujikyu line which will take you to Kawaguchiko station. The transfer will be long, so at Shinjuku station you can either have breakfast or buy something to take away.
Trying your hand at photography in the city
When you return to Tokyo, you may want to rest a bit at the hotel before continuing your day's sightseeing. The world's largest city never sleeps...and it's quite a light show at night that's worth going out to look at through a photographic lens.
It doesn't matter if you are a beginner or a professional photographer, if you love photography and want to get the best night scenes of the city, you will love this tour.
This Tokyo photo tour takes you through iconic areas of the city such as Shinjuku and Shibuya to get the most out of your camera.
Although you have already toured these neighborhoods in previous days, with this tour you will be taken to off-the-beaten-path spots and receive the instruction you need to capture all kinds of urban scenes in your own style.
You'll have 2.5 hours to use up your camera's memory! Conveniently, the tour's departure and return point is Shinjuku Station, which is highly connected to the city's various train and subway transportation lines.
4. Day The traditions of Ningyocho and Nihonbashi by day, before jumping into the ultimate modernity at SkyTree by night
On the fourth day of your trip, how about starting with a relaxing excursion in a traditional neighborhood of the Edo period? Its quiet streets and stores that have been offering goods and services to the community for hundreds of years will captivate you.
In the afternoon, I suggest you move to SkyTree and the surrounding modern shopping area. You will be amazed at how these contrasts between modern and old are maintained in one city.
Discovering a few corners of old Tokyo
Ningyocho neighborhood belongs to the Nihonbashique district, during the Edo period, it was a prominent entertainment district where puppet theaters abounded (Ningyocho means "dolls"). Today, it is a very attractive historical area, as the locals have chosen to survive by maintaining the traditions and pace of life of several centuries ago.
It is a charming neighborhood. Carefully handcrafted typical objects and dishes that are prepared as if they were a work of art are what you will see here.
If you choose to take this tour with an expert guide, you will do some sightseeing to learn about the history of Ningyocho, but you will also hear the story of what some locals have lived through for generations. You will be amazed to see how there are warehouses selling the same product for almost three centuries.
The meeting point is usually very close to Ningyocho subway station, which you can reach via the Hibiya subway line.
Visit Japan's tallest tower: Skytree
You're almost at the end of your trip and, if you didn't include it in your customized driving tour, you're still in time to visit a Tokyo must-see: the Skytree Tower.
The advantage is that it is very close to your first walk, you will only have to enter again at Ningyocho station and take the Hanzomon subway line to the last station: Oshiage.
This tower is one of the most visited viewpoints in Tokyo. It was inaugurated in 2012 and, at 634 m high, was recognized as the tallest in the world. However, this distinction lasted a few months when the Burj Khalifa tower in Dubai was presented to the world with 828 meters high. That doesn't take away from the extraordinary nature of the Skytree, and it is a site that no tourist wants to miss on a visit to Tokyo.
You will find two viewpoints, one at 350 m (Tembo Platform) and another at 450 m (Tembo Gallery). The interesting thing about going up to the Tembo Platform, is that it has some areas with glass floors to add sensations to the experience. Although, definitely, you will have the most spectacular views in the Tembo Gallery.
Tickets for the Skytree and more things to see here
Going up to the first platform will cost you approximately 13 euros and, the package to enter both together, an average of 20 euros. It is really not much difference, so if you have the possibility, I would suggest you to buy directly the ticket for both. In this link you can buy the tickets.
The Skytree tower is the central part of a huge urban development called Tokyo Sky Tree Town. Its attractions include a shopping mall and an office building of almost 30 floors, although in my opinion, the most incredible thing is the presence of an aquarium and a planetarium as well.
5. Day And I hope you're a fan because... Anime is a must on a visit to Japan!
That's right, I had to dedicate a day to anime because few things are as Japanese and as well known around the world as this art form. In addition to the many stores and products that you will have already seen throughout the city during your stay, there are museums and spaces dedicated solely to anime.
I leave you three options for you to choose where to spend the day, because besides the fact that they are too far apart to visit all three (possibly two, adjusting), in each one you will find much more than you can imagine. Cheer up!
Get lost in the pop culture paradise of Akihabara
With its origins as a post-war black market, Akihabara eventually became the must-see showcase of Japanese technology, with thousands of stores selling all kinds of electronics and cutting-edge technology.
In recent years, it has earned its place as a haven and paradise for fans of video games, manga and, of course, anime.
In Akihabara, a must visit is the Akiba Cultures Zone, a 5-story building where you will find everything! about Japanese pop culture, from figurines and comics, to movies, collectible cards, toys and all kinds of costumes for cosplay.
Other stores I recommend you to visit are: Animate, the largest anime, video games and manga store in Japan with more than 100 physical stores in the country and, if you like to build and build the Kotobukiya store is an excellent choice and also has affordable prices regularly.
It's not all comics and manga in Akihabara
Although anime stores outnumber tech stores, there are still many stores dedicated to selling cables, circuits and other parts you may be looking for. It is also not hard to find stores offering used and repaired computers at very affordable prices. The same goes for cell phones.
Undoubtedly, one of the best places to buy souvenirs from Japan is Akihabara. And as you may have already seen, if anime or other elements of Japanese pop culture are not your thing, you may as well go here for other types of shopping.
To get to Akihabara by public transportation, a quick way is to go to Shinjuku Station, and from there take the Japan Rail (JR) Sobu line to Akihabara Station. All the stores I have recommended are less than 2 blocks away from each other.
Ghibli Museum
If you grew up with My Neighbor Totoro, Porco Rosso or Spirited Away... you probably already know what I'm talking about and your emotions are already running high. Yes! In Tokyo you will find a museum dedicated to Ghibli Studios, which produced these and other enchanting animated stories that stole the hearts of millions around the world.
One of the museum's goals is to show the entire process of making an animation, from the moment an idea is conceived until it is projected to the world. There are several rooms where inspiration, creativity, artistic talent and fun will steal your breath away.
Oh, and don't forget to stop by the Mamma Aiutosouvenir store !
This museum is located inside Inokashira Park. A quick and familiar way (yes, again, from Shinjuku station) is to take the JR Chuo line and get off at Kichijoji. Then walk three blocks south and you will soon be in the park. I recommend you not to be in a hurry, so you will better enjoy this beautiful park.
Nakano Broadway
The Nakano neighborhood is another very popular with manga, anime and collectibles fans. Here you will find Nakano Broadway, a huge three-story shopping mall dedicated to Japanese pop culture.
However, the difference with others I have recommended is that here you will also find temples and shrines immersed in beautiful parks, traditional alleys and other elements to contemplate.
Another advantage of visiting it is that it is very close to Shinjuku Station. You can get there via the JR Chuo Line to Nakano Station. Nakano Broadway is a five minute walk from the north exit of the station.
Some final recommendations
Before making reservations, check the language of the tour guide. English is still one of the first choices for sightseeing in this country, although Spanish is also gaining popularity.
For the customized driving tour, check calmly which places you want to visit on your dream trip to Tokyo and compare it with the standardized tours...but above all, be open to suggestions, they know their city best.
Possibly you should know that Tokyo and Japanese culture in general is very given to courtesy, order and respect, where following certain guidelines are necessary to avoid attracting (bad) attention.
I have left you some connections for public transport. In Tokyo, this is the basic means of transport and one of the most efficient in the world. Take advantage of it. Once you arrive for the first time at Shinjuku Station and make your first trip, everything will be easier.
The whole itinerary at a glance
Day 1
Bike tour of the city and izakaya gastronomic tour in the evening.
Bicycle tour: from 66 €. Night gastronomic tour: from 165 €.
Second day
Private car tour of the city and one night in Shibuya.
Tour by car: from 481 €. Shibuya night tour: suggestion to do on your own.
Day 3
Excursion to the Mount Fuji region and a night photo tour of Tokyo.
Mount Fuji: from 55 €. Night photo tour: from 161 €.
Fourth day
Excursion to the traditional Ningyocho and SkyTree area.
Excursion to Ningyocho: from 47 euros. Visit to SkyTree: between 13 and 20 euros the entrance to the tower.
Fifth day
Museums, neighborhoods and shopping malls related to Anime and Japanese Pop Culture (several options)