Best Snorkel Tours
It is not only the valleys and beaches of Hawaii that are home to amazing nature. Under its crystal clear waters there is a whole paradise of coral reefs, craters and lava tubes where turtles, fish and manta rays live waiting for you to discover them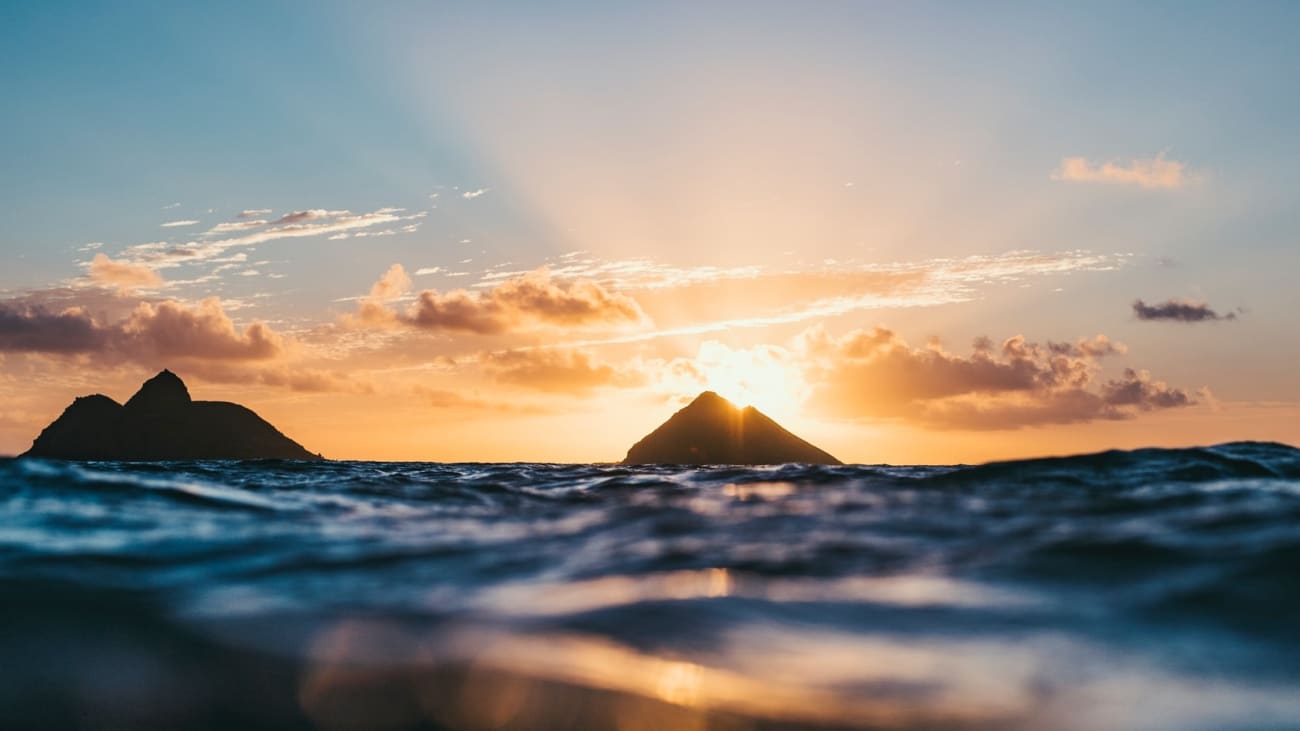 Because of its underwater topography, Oahu is the perfect place for beginners and experienced divers to enjoy an unforgettable day of snorkeling exploring the waters of this Pacific Ocean island. This is one of the most exciting experiences you can have on Oahu, so don't miss out and join a snorkeling tour.
1. Take a catamaran ride to dive in the middle of the ocean and snorkel
With this 3 hour excursion you will sail along the coast of Oahu aboard a luxury catamaran to Turtle Canyon, the best place on the island to see green sea turtles.
Along the way, you'll take in the magnificent views of Waikiki and Diamond Head from the water while listening to music and sunbathing on the deck enjoying a refreshing beverage. Keep an eye out for spinner dolphins and migrating whales!
After a few minutes, you will arrive at Turtle Canyon where the captain will moor the "Honi Olani" for the dive in the water. Before diving into the sea all participants in the excursion will receive a safety briefing and then you will be able to dive in the water to snorkel for approximately one hour and a half.
During this time you will have the opportunity to see, together with your snorkeling guide, beautiful coral reefs as well as colorful fish and huge green turtles that you will be able to swim with up close.
For this Turtle Canyon catamaran tour, you can choose between a morning tour of 2 hours or a noon tour of 3 hours with lunch on board. I recommend you to choose the midday tour because you will have more time to sail the boat, snorkel and after the activity, have a snack before returning to shore which is always good to recover your energy.
Recommended... If you are a beginner diver. On this tour, the guides help you with the snorkeling equipment so you can focus on enjoying the activity and the marine life.
2. Snorkel with turtles after an island tour
With this 8 hour tour of Oahu you will have the opportunity to explore some of the island's highlights (Dole Plantation, Diamond Head, Halona Blowhole, Kualoa Point, Makapu'u Beach...) as well as take a trip to Waimanalo (a town known as "turtle town") to snorkel and watch the beautiful Hawaiian green turtles in their natural habitat.
Thanks to this full-day tour of Oahu you will discover much of the island's nature and a beautiful variety of jaw-dropping landscapes, not only on the surface but also underwater! You will even have time to see a pineapple plantation and a family farm where macadamia nuts are grown. These are two very typical Hawaiian products that you will be able to taste.
This tour is done in a minibus with a small group of 20 people (or less) and a local guide making the experience much more exclusive and personalized.
Recommended... If you are looking to get an overview of the island of Oahu and its lush nature by land and sea. This tour has plenty of stops to see incredible scenery and sites.
3. Sail aboard a catamaran to observe marine wildlife and snorkel
Another excursion you can opt for if you want to live a memorable adventure in the waters of Hawaii is this Catamaran tour with snorkeling and Hawaiian buffet where you will spend 3 and a half hours getting to know the nature and fauna of Oahu.
A bus will pick you up at your Waikiki hotel to take you to the harbor, where you will board the catamaran "Kai OliOli" for a trip north along the west coast of Oahu to sight dolphins and whales while listening to the crew's stories about Hawaii and the Waianae Coast.
When the time comes, the captain will stop the ship so you can jump in the water and snorkel. You won't need to bring anything with you, not even sunscreen, as all the snorkeling equipment is provided by them.
During the activity you will be accompanied by guides and also by a professional photographer who will take pictures of you underwater, swimming with the fish and turtles. Afterward, when you return to the boat, you will enjoy a delicious Hawaiian buffet with drinks, the perfect ending to an incredible day!
I like it because it's a pretty flexible excursion as you can choose from three available times (morning, afternoon, or sunset) and adapt this outing to the rest of your schedule if you plan to do other things during the day.
Recommended... If you want to go on an excursion in Hawaii to explore unspoiled landscapes, away from the more touristy sites, and snorkel in a unique and peaceful environment.
4. Take an all-inclusive boat tour to see cetaceans and snorkel
The smaller the group you go on the tour with, the more premium and personalized the experience becomes.
If there is one thing that makes this snorkeling tour in Oahu worthwhile, it is that only a maximum of 6 people participate, which makes it an almost private excursion. In addition, you will sail away from the crowds, you will have closer contact with the guides of the activity and you will enjoy nature to its fullest.
But that's not all. This boat tour also includes food and drink so you won't need to carry any snacks in your backpack to replenish your strength after the activity.
Enjoy a 2 hour cruise along the coast of Waikiki to see dolphins, whales and swim in the crystal clear waters of Oahu with tropical fish and green turtles - it's a magical experience not to be missed in Hawaii!
Recommended... If you want to take a cruise in Oahu without the cost of renting a private boat, this is the best option to take a cruise in Oahu. This is the best option for an intimate tour of Hawaii's waters in very small groups.
5. Snorkel with dolphins and turtles
Seeing wild dolphins in their natural habitat is a thrilling experience. Take advantage of your trip to Hawaii to take this 3 hour catamaran cruise along the coast of Leeward on Oahu, famous for its picturesque villages and beautiful unspoiled beaches, where you can also snorkel to see dolphins, humpback whales, fish, turtles, and other marine species.
In addition, this cruise includes breakfast and lunch with beverages that you can take on the way to and from shore while resting and watching the beautiful scenery around you.
The captain will choose a quiet spot on Leeward Coast to moor the ship and start the dive. Before the dive, the crew will give you some basic notions of snorkeling and the necessary equipment. During the activity, you will have the help of a guide with whom you will be able to swim among schools of tropical fish and beautiful coral reefs.
Recommended... If you would like to see dolphins up close and you feel like joining a quiet and familiar plan to enjoy nature.
6. Take a comfortable cruise off the coast of Oahu to see dolphins, whales and snorkel
If you want to see dolphins at sea and are looking for the convenience of cruising Oahu in a small group, this Waianae shore tour is perfect for you as you'll share the boat with a maximum of 10 people.
Plus, you won't have to worry about anything as the crew will take you directly to the shallow and calm snorkeling spot. During the 3 hours you will have time to spot dolphins, green turtles, and humpback whales as well as to snorkel (you will be provided with the necessary equipment on the boat) in the crystal clear waters of Hawaii and among coral reefs.
At the end of the activity, you will return to Waianae harbor for lunch. The lunch includes hot dishes, sandwiches, and a selection of drinks - the best way to end a fun-filled day on a high note!
Recommended... If you want to join a small tour, away from the crowded boat trips, where you can enjoy the connection with nature and wildlife to the fullest.
7. The best island tours, with aquatic activities and snorkeling
Bring out your adventurous spirit with this 8-hour snorkeling tour of the island of Oahu to discover by land and sea this idyllic place in Polynesia.
During this activity, you will see some of the most beautiful corners of Hawaii such as Diamond Head, Kahala, Halona Blowhole, Eternity Beach, Sandy Beach, or the viewpoint of Makapu'u Point, among many other spectacular sites. You will also stop at the spectacular Haleiwa Alii Beach to snorkel and swim among fish, turtles, and other sea creatures.
This Oahu island tour also includes a visit to Dole Plantation and Kahuku Farms, where you can taste some of the typical products produced there, such as pineapples and macadamia nuts. DoleWhip ice cream and Kona coffee are two classics you can't miss!
In addition, this tour will bring out your funniest side as the guides will sing typical songs, play the ukulele and tell curious stories about the island and the culture of Hawaii. If you are traveling with your family, the kids will have a blast.
Recommended... If you are looking for dreamy landscapes to take fantastic pictures of your trip, delve into the local culture and live an exciting experience on a boat sailing through Hawaiian waters.
How much does a snorkeling tour in Oahu cost?
The offer is very varied and in general, the price depends on factors such as the type of boat, the number of people on board, the duration of the activity, the number of places visited during the activity, or if lunch is included or not.
To give you an idea, if you want to spend a full day excursion snorkeling in Oahu the price can be around $ 117 but if you are looking for something more economical you will also find options for 80 or 90 dollars.
Whatever your budget is, you are sure to find the option that best suits your trip. In Hellotickets you can compare prices, schedules, ticket availability, and guided tours.
Where to snorkel in Oahu: best snorkel sites
Some of the best snorkeling sites on Oahu are Hanauma Bay, Turtle Bay Beach, Waikiki Beach, the Waianae coast, Turtle Canyon or Waimea Bay.
Snorkeling to see dolphins in Oahu
Swimming with dolphins is one of the favorite activities for tourists to do in Hawaii - an encounter with these friendly animals is always an unforgettable memory!
The best way to see them in their natural habitat is by joining a snorkeling tour around the coast of Oahu, as the crew knows the best places on the island to enjoy their company such as Turtle Canyon, Waikiki, or the Waianae coast, among others.
Snorkeling in Hanauma Bay
The Hanauma Bay nature reserve, southeast of Oahu, is considered one of the best places to snorkel in Hawaii because its shallow waters are suitable for all ages and it is home to a diverse marine life, unique in the world.
Did you know that Hanauma Bay is the caldera of an ancient extinct volcano? When one of its sides collapsed due to the erosion of the sea, the water broke through and filled the caldera, creating a perfect ecosystem, home to hundreds of species of fish, turtles, and corals.
Being such a popular site, to ensure its protection and conservation, the government declared it a natural reserve and regulated the entrance of tourists, so that to enter Hanauma Bay you must pay a $ 25 entrance fee.
Snorkeling Cruises
These are some of the best snorkeling cruises in Oahu but if you are looking for more options, in Hellotickets you can find more ideas to enjoy the underwater paradise that Hawaii treasures.
Frequently asked questions
Is snorkeling around Oahu safe?

With Hawaii featuring some of the world's most exciting yet deadly waves, its important to take into account both your swimming skill and the beach conditions. That being said, there are many places around Oahu that are perfect for snorkeling, among them is Kuilima Cove, Makaha Bay and Turtle Canyon.

What's the difference between a Snorkel Cruise and regular Snorkeling?

Most Snorkel Cruises take you further out to sea, so you can snorkel among the native marine life and experience the live coral.

What can I see while snorkeling around Oahu?

Among some of Oahu's most popular wildlife are the spinner dolphins and green sea turtles, however there is also a menagerie of fish, squids and if you're lucky octopi.