Shark Diving
Are you ready to swim with sharks? Seeing these animals up close is an unmissable experience you can't miss in Oahu, you won't regret it!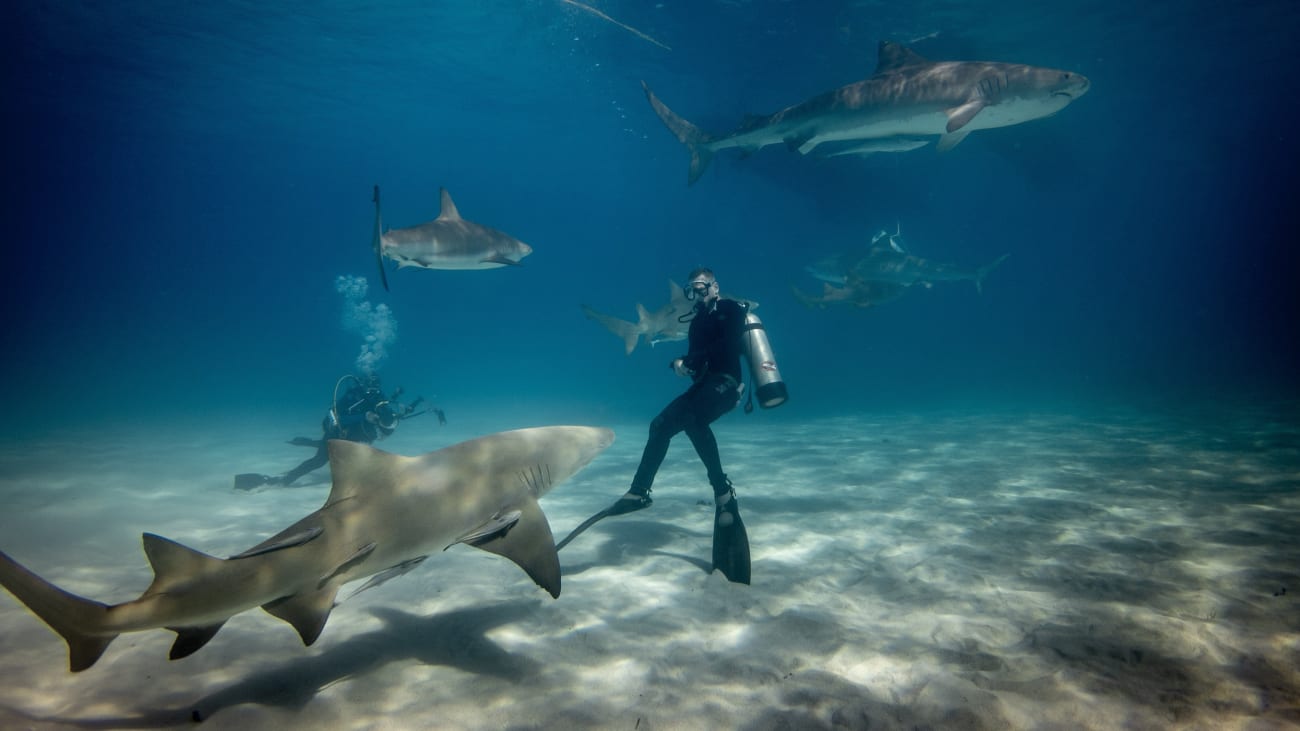 On numerous occasions, movies have shown us the most fearsome side of these creatures. Their size and fierceness indeed command great respect, but they are also fascinating animals with a very important role in the care of the ocean.
What better idea than diving with sharks in Hawaii to get to know them better, expand your knowledge about these animals, and live a unique and unforgettable experience while you're at it? After this day, you might even want to do it again, I must say it's quite addictive!
1. Dive in a shark cage in Oahu
Diving with sharks in Oahu you will have the opportunity to see these fierce predators face to face in their natural habitat. Normally you will depart from the North Shore of Oahu heading to the depths of the Pacific to see them and along the way, you may see other marine creatures such as dolphins, turtles, or humpback whales in winter. This, together with the views of the surfers and the coast of Oahu that you will have in the water from the boat make the journey something very entertaining.
In a short time, the boats arrive at the open ocean viewing area. Before the dive, the crew gives the group some indications on how to act in the cage and information on safe practices. They are professionals who know very well the behavior of these animals.
Adrenaline rushes when you enter the cage. It is hard to contain the excitement of seeing several sharks swimming around it just a few inches away from you, but there is nothing to be afraid of. The floating cage used in this shark diving activity in Oahu is totally safe.
However, if you are apprehensive about sharks, you can always watch them from the boat and record videos of the excursion. You will have a blast!
Recommended... If you like sharks and want to live an exciting adventure during your trip to Hawaii. Swimming with them is a unique experience that you will remember forever.
2. Underwater scooter adventure in Oahu
We've all snorkeled at one time or another, but have you ever ridden an underwater scooter to dive among the fish? It is one of the most original and fun activities to explore the waters of Hawaii, so you have to try it during your stay in Oahu.
During this 2 hours tour, you will first sail in a motorized catamaran through the Diamond Head crater in Maunalua Bay. Take your time to admire the scenery and take pictures of the Koko Crater, the Koolau Range, and the other places mentioned above - they are a marvel!
Once you arrive at the dive site, before you dive into the water the guides will brief you on how the underwater scooter works and give you some safety instructions. The procedure is very simple and you will immediately dive underwater on board the underwater scooter to see all kinds of sea creatures (green turtles, colorful fish, etc.), corals, and many other surprises.
The experience is fun and highly recommended. Even children can participate as long as they are accompanied by an adult (minimum age 10 years old). At the end of the dive, you will return to the boat for a small snack of snacks and drinks while the guide tells you stories about the island and Hawaii.
Recommended... If you want to make an original and fun excursion during your trip to Oahu using these peculiar underwater scooters, the kids will love the idea!
3. Discover the Atlantis submarine in the depths off the coast of Oahu
If you've never been on a submarine before... now is the time! Ride the Atlantis Submarine Oahu Adventure to explore the depths of the Pacific Ocean and feel for a while like Captain Nemo himself from "Twenty Thousand Leagues Under the Sea".
You will descend 100 feet into the water and in the 2 hours that the tour lasts you will see all kinds of coral reefs, fish, turtles, manta rays, and other marine creatures in their natural habitat while the guide explains everything about the fauna and flora that live here.
Another exciting part of this Oahu Atlantis submarine adventure is that you'll get to see the wrecks of aircraft and shipwrecks up close. If you are traveling with your family, the kids will have a blast seeing them and imagining that they are the protagonists of a legendary expedition to the bottom of the sea.
The great thing about this tour is that it is very flexible. First of all, you can choose between a morning or afternoon schedule and secondly, you can choose between a normal or premium experience on the Atlantis.
The difference between the two is that the personal space and windows are much larger on the premium version than on the regular one, where the submarine is smaller. But fear not, there is plenty of room, the seats are comfortable and the feeling is not claustrophobic.
Recommended... If you've never taken a trip to the bottom of the sea in a submarine before. The experience is breathtaking.
4. Swim with sharks (without cage)
If you are looking for a more authentic and natural experience in your encounter with a shark with a plus of action, this shark dive without a cage is the perfect option. You will be able to swim with sharks in freedom! Have you ever dreamed of something like this? It will be an unforgettable memory of your trip to Hawaii.
You will depart from the port of Haleiwa, on the north shore of Oahu, heading to the open sea where the sharks are waiting for you. Once there you will have 40 minutes to swim with these ferocious animals as well as dolphins, whales, and other sea creatures.
I like this experience because it feels very natural, as if you were just another fish in the ocean, since during this activity you will not be enclosed in a cage and you will be wearing light snorkeling equipment. In addition, during the activity, a safety diver will accompany the group into the water to make sure everything goes smoothly and from the hand of the guides you will learn a lot about life in the ocean, which will open your eyes and at the end, you will see sharks from a different perspective.
Recommended... If you want to brag about meeting sharks up close, without barriers, to banish the myths about them and live an adventure under the sea that you will never forget.
Where to dive with sharks in Oahu: The North Shore
The North Shore of Oahu or North Shore is the place to go to dive with sharks during your vacation in Hawaii, as it is the area where the largest amount of cetaceans are concentrated around the island.
Several companies organize these excursions offshore with all the safety measures and guides, who will not only help you with the equipment and give you instructions to see the sharks but also accompany you and tell you interesting information about their characteristics as well as their importance to maintain and take care of the ecosystem in which they live.
Price and duration of diving with sharks
Shark diving excursions on Oahu last about 2 hours and cost around 117 dollars depending on what is included in the activity.
Is it safe to dive with sharks?
Shark behavior, like that of any other wild animal, is unpredictable and zero risk does not exist when we go into their natural habitat.
However, acting with common sense and prudence, generally diving with sharks is a safe activity because the necessary measures are always taken to make it so.
In addition, you will be assisted by professional guides who know a lot about shark biology and behavior, so you will be in good hands and should not worry. Always pay close attention to the instructions of the safety diver and remain attentive to what is happening in the water at all times.
The important thing is to leave your preconceptions about sharks behind and live this adventure with an open mind.
How to book a shark swim in Oahu
It is best to book in advance and online your place on the tour before you travel, especially if you are going to Oahu in high season as these are very popular activities that sell out quickly.

Choose the date, the number of travelers and book your tour. You will need to pay at the time of booking to secure your spot.
Dive in a cage with sharks in Oahu
Usually, the most popular option for shark diving is to dive into the water inside a floating cage, as it allows you to watch these creatures at close range as they swim by. Some of the most fun excursions are the Oahu Shark Dive and Shark Cage Diving In Oahu.
Now, if you want to live an epic and absolutely thrilling adventure with these animals (to be the great anecdote you will tell your grandchildren for years to come!), then I recommend that you take the opportunity of your trip to Oahu to swim with them in the wild without cages in between.
I recommend the option Swim with sharks (without cages), the feeling is indescribable! It feels like something more authentic and natural since you will be in the water next to them as if you were just another little fish. You have to experience it! It will be you, the safety guide, and the shark face to face. Who said fear?
Without a doubt, diving with sharks in Oahu is a must-do experience during a vacation in Hawaii.
What kind of sharks will you see in Oahu?
In the waters surrounding the island of Oahu, the most commonly seen sharks are gallant sharks, hammerhead sharks and chunk sharks, which measure from 5 to 30 feet depending on their age.
However, during these excursions in the waters of Oahu, you will also be able to observe dolphins, manta rays, tropical fish, turtles, or humpback whales in winter as well as beautiful coral reefs.
To learn more about the aquatic fauna of the archipelago I recommend you to read the article Hawaii Marine Life.
How to avoid seasickness on the boat
It is common to get seasick during a boat trip, so it is advisable to take some anti-nausea medication before starting the activity.
Another option is to book an early morning tour as the sea tends to be calmer and you will avoid getting seasick on the boat.
Frequently asked questions
Will I get to see anything else beside sharks in these experiences?

Yes! You can spot turtles, dolphins and humpback whales on your way to your shark-viewing spot.

Is diving with sharks dangerous?

These experiences are perfectly safe since you will be diving in a cage with a transparent poly glass, so you will see the sharks up close without any risks.

Anything I should know before diving with sharks?

They are hungry for tourists! But in a good way. Galapagos sharks and Sandbar sharks are both very curious and come quite close to the cage, so expect them to move around you and get friendly. Also, bear in mind that most experiences require you to reconfirm booking 24-48 hours before the date of the diving.