Honolulu Airport Transfers
After a long flight to Hawaii, you want to get to your hotel in Honolulu as soon as possible. Here's the quickest and most comfortable way to get there!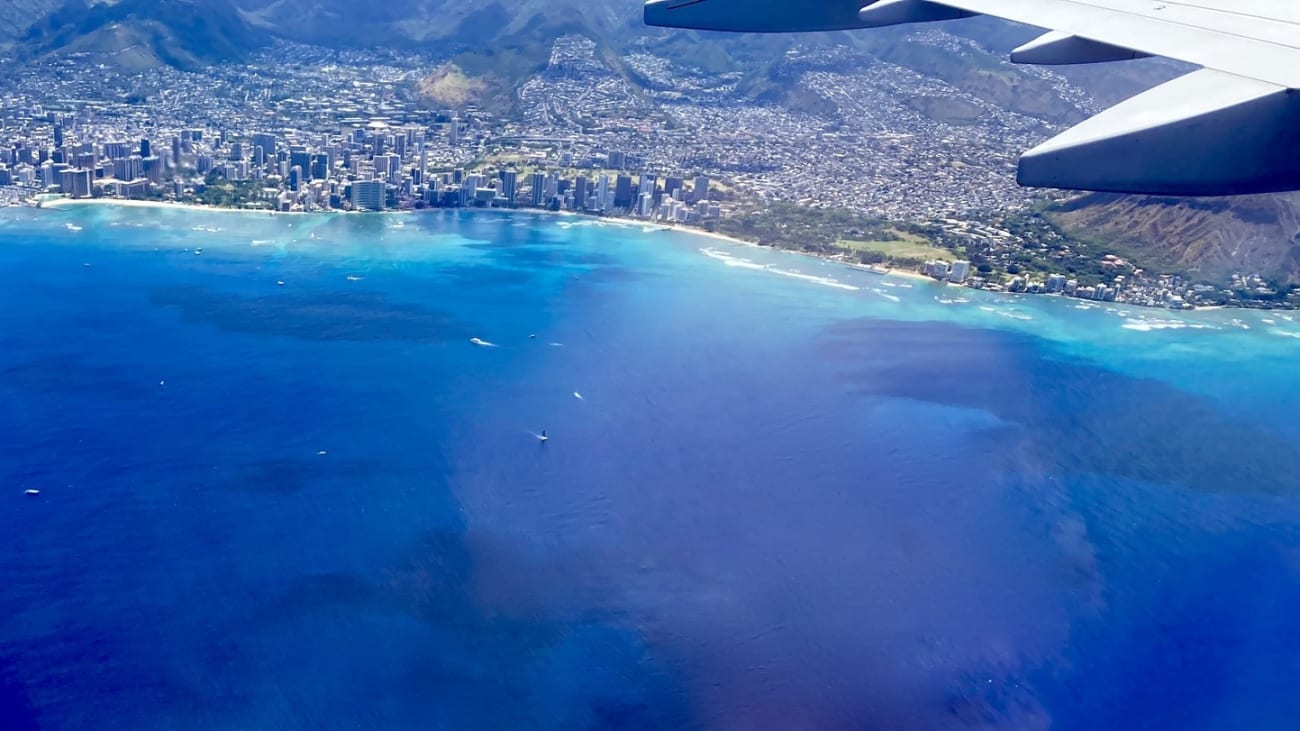 The main airport in Hawaii that serves as the gateway to the archipelago for most travelers is Honolulu International Airport (HNL) on Oahu.
The fastest and most convenient way to get to your hotel from the airport (or vice versa) is to hop on a shared or private transfer. I'll tell you the options so you can choose the one that best suits you.
1. Shared transfer to and from Honolulu airport to the hotel or cruise terminal
When you arrive at Oahu airport, in Honolulu, after a long flight that leaves you exhausted, the last thing you want to do is to have to walk around the terminal carrying suitcases to find a free cab or look for connections in public transport to get to your accommodation.
The best solution is to book a shared transfer from Honolulu International Airport (HNL). It runs 24 hours a day, every day of the week, and is a fairly inexpensive option, which is great if you are on a tight budget for your trip.
On the day of your arrival at the airport, the transfer will pick you up along with the rest of the travelers and if you choose the lei option you will be welcomed Hawaiian style with a necklace of fresh flowers. They have a fleet of air-conditioned Mercedes vehicles with a maximum capacity of 12 passengers and enough space for luggage.
After a smooth and comfortable ride with a professional driver who knows the island inside out, you will alight at the door of your hotel ready to begin your vacation.
The shared transfer round-trip service is available for airport and cruise terminal pick-ups.
2. Private transfer to Honolulu airport and Waikiki hotels
Another very interesting option to consider is private transfers. Unlike the shared ones you will not have to wait for other passengers at the airport to take you to the hotel but you will have at your disposal a vehicle and a driver just for you and your group.
The private transfer is a simple, comfortable, and fast way to get to your hotel on the island. In case you are traveling with your family or a group of friends, this is the best option if you are going to fill the 5 seats of the vehicle, since it will cost you a similar price to the shared transfer and you will be able to go together and in company.
It is also a good alternative if you are looking for the privacy that gives a vehicle just for you and the day of your arrival on Oahu do not want to walk around the airport looking for a free cab or if you are not familiar with the public transport network and prefer not to make transfers because you are afraid to get lost and do not speak much English.
---
How much does it cost to book an Oahu airport transfer?
Regarding shared transfers you can find basic options from almost 18 dollars but for a little more, I recommend upgrading to this service to be greeted at the airport with a lei necklace of fresh flowers in the purest Hawaiian style. Let it be noticed that you are in Hawaii from the beginning!
As for private transfers, the price is usually higher compared to shared transfers in Oahu because it is a faster service, the driver will be entirely at your disposal and you will not have to share the vehicle with anyone.
How does the Oahu airport transfer service work?
As soon as you know your flight details to Honolulu you can book online one of these airport transfers to take you from the airport to your hotel from the airport. At the time of booking you will have to indicate the date of the transfer and the number of passengers who will travel in the vehicle.
You will also be asked for the name of the airline, the flight identification number, and the destination address. In this way, the operator will have the information of your flight in real-time and will be able to monitor it to inform the driver of any unforeseen event or delay so that he can wait for you at the corresponding departure gate.
When you land and have collected your luggage, the transfer driver will meet you and your group and place your luggage in the luggage compartment. You will then be driven to your hotel in a comfortable air-conditioned vehicle.
In the case of departure transfers you will have to provide similar information and the driver will pick you up at your accommodation to arriving at the airport well in advance.
What is the difference between a shared and a private transfer?
The big difference between a private transfer versus shared or public transportation is that it is the most comfortable and fastest option to get to your hotel in Honolulu as soon as possible because you will not have to share the vehicle with anyone or wait for other passengers.
In addition, the driver will give you exclusive attention. In exchange, the price is usually higher than a shared transfer, which costs less money.
How much luggage can I carry?
In principle, each passenger can carry 2 suitcases and 1 carry-on bag to make sure there is enough space in the vehicle, especially on shared transfers. If you have special needs for bulky luggage such as musical instruments or surfboards, it is best to write an email to make sure this is taken into account.
In private transfers, there is usually more flexibility when it comes to carrying more luggage, as long as you let us know in advance so that the space on board the vehicle is foreseen.
At what times is the transfer available?
Both shared and private transfer services are available 24 hours every day of the week. When you make your reservation you will be asked for your flight details and the driver will take into account your flight status to calculate when you will land on Oahu.
As you can see, you have nothing to worry about and the transfer services are especially interesting when you are traveling in the early morning and there is no public transportation service available.
What happens if my plane is delayed?
At the time of booking, you will be asked to provide certain information about your flight so that the service operator can monitor your flight and be aware of any delays or unforeseen events to notify the driver.
Frequently asked questions
How long does it take to get to Honolulu from the airport?

Expect an estimated time of 25 minutes to get to Waikiki if you take a cab or a transfer, and between 45 and 75 minutes if you take a shuttle bus.

How can I customize my transfer?

You can choose between private and shared transfer services, and also combine them with a panoramic Honolulu tour or a USS Arizona Memorial small group tour. There are also regular and express options to better suit your travelling needs.

How early should I arrive to the airport of Honolulu before my flight?

The Daniel K. Inouye International Airport advises at least 90 minutes for interisland flights, and 2 hours for overseas flights.