Best Atlantis Submarine Tours in Oahu
There is no doubt that Hawaii's landscapes are a marvel, but beneath the surface, within the Pacific Ocean, a mysterious and totally unknown universe is hidden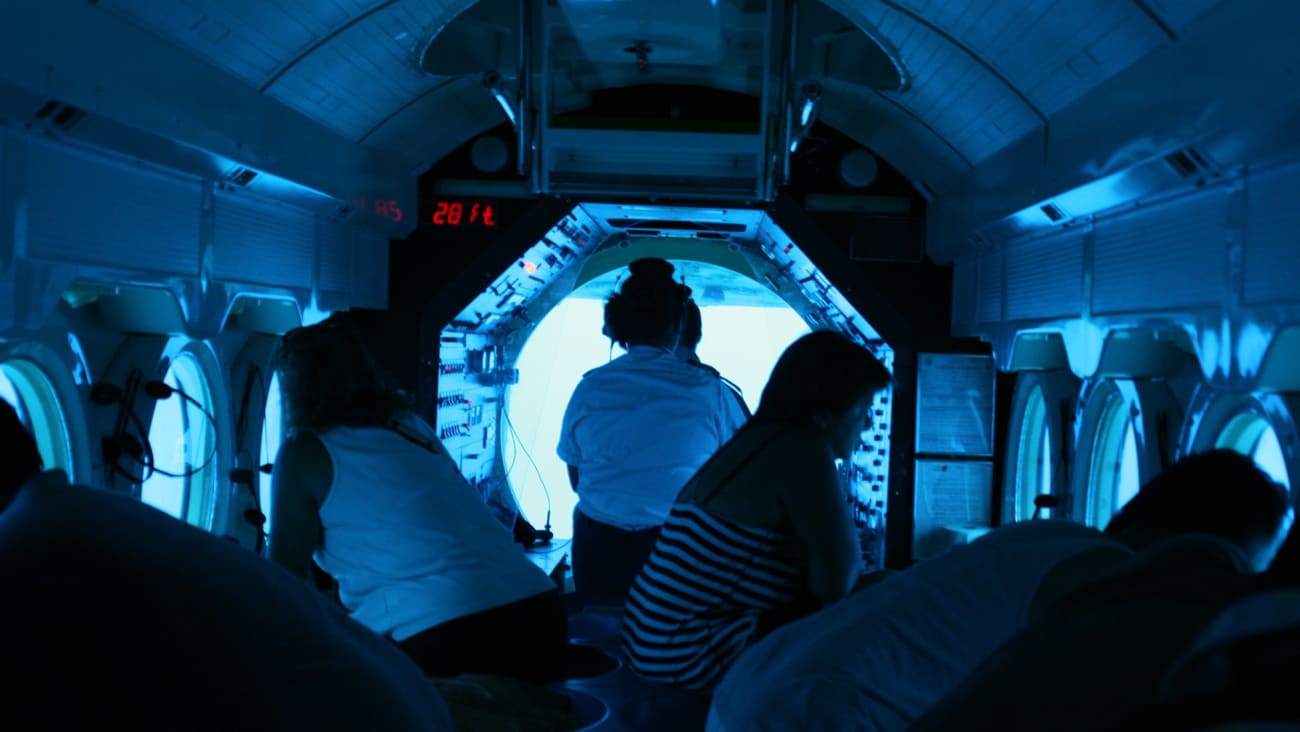 The seabed holds incredible treasures. Discover them by boarding the Atlantis Oahu submarine and feel for a moment like Captain Nemo himself from the novel "Twenty Thousand Leagues Under the Sea".
1. Sail the depths of the island of Oahu in a submarine
The beaches of Hawaii, with their turquoise waters, cliffs, and white sand, look like a little piece of paradise on Earth. A place whose beauty will surely leave you spellbound.
Most people know the underwater charms of Oahu while snorkeling, but with this trip on the Atlantis Oahu Submarine, you will discover an exciting new world as you descend 100 feet into the water to contemplate the rich underwater life that inhabits the waters of the island and that normally remains out of our sight.
With the Atlantis Oahu Submarine, you will take a tour in which you will see all kinds of coral reefs, green turtles, tropical fish, manta rays, and other marine creatures in their natural habitat while a guide explains in detail a lot of curiosities about the flora and fauna that lives on Oahu.
Another reason why I recommend you to take this excursion on the Atlantis Oahu submarine is that it is an exciting adventure that will take you to discover the wrecks of airplanes and sunken ships on their journey through the bottom of the sea.
If you've never done this type of tour before, it's definitely something you have to do on Oahu during your vacation. It's a truly amazing experience because it's not every day that you get the chance to experience something like this.
If you travel with your family, the kids will be amazed watching the remains of these ships on which the corals grow and imagining that they are the protagonists of a legendary expedition to the bowels of the planet. They won't forget it!
This is a flexible tour so, depending on availability on the selected dates, you will be able to choose standard or premium schedules and options to suit your tastes or needs.
How much does it cost to take a submarine tour on Oahu, are there any discounts available?
Submarine tours to see the depths of the ocean cost around 120 dollars.
However, if your budget is a bit tighter and you just want to see a bit of what's in the water without spending a lot of money, a cheaper option is snorkeling. You can find options for 80 or 90 dollars.
For more information, I recommend you take a look at the post Snorkeling in Oahu.
How to book the submarine tour
It's very easy! I recommend that you book your submarine tour online and well in advance** of your travel date. This way you will have your spot secured before you leave for Hawaii. These are very popular activities that sell out quickly, especially if you travel to Oahu in the high season.
To book just choose the date and the number of travelers. You will need to pay at the time of booking to secure your spot.
Is it worth taking a submarine tour in Oahu?
Absolutely. Unlike the snorkeling tours where you dive to observe the underwater life at water level, joining this excursion on the Atlantis Oahu submarine you will dive into the depths of the ocean (no less than 100 feet!) to contemplate in all its splendor all the fauna and flora that lives there and that normally escapes our sight.
You will also see airplanes and sunken ships that are shrouded in a ghostly halo of mystery.
How to take a submarine tour in Oahu?
Easy as pie! At Hellotickets you can compare prices, schedules as well as ticket and tour availability.
What will I see on a submarine tour?
The clear waters of the island of Oahu are the perfect setting to enjoy a tour like this.
You will have the chance to ride a submarine (something that doesn't happen every day) and sail into the depths to see all kinds of tropical fish, green turtles, manta rays, eels, yellow tangs, sharks, and beautiful coral reefs in their natural habitat as if you were one of them! I recommend you to read the article Marine life of Hawaii to learn more.
You will also be able to observe some airplanes and sunken ships on which corals have grown, becoming a natural refuge for these creatures that also contributes to the conservation of the aquatic flora and fauna.
Is the interior of the submarine spacious?
That's right, inside the submarine there is enough personal space to be comfortable during the tour and the windows are large so you can see everything without losing detail.
If you have never ridden in a submarine before, you may be a bit apprehensive about the claustrophobic feeling you might have inside the ship, but you will see that this is not the case. The company that offers this activity has new-generation submarines approved by the Coast Guard and have air conditioning for the safety and comfort of all passengers. You have nothing to worry about!
Frequently asked questions
How long will I be underwater?

The submarine experience will consist of a 50-minute ride underwater, while the underwater scooter ride will last for 1 hour.

Will I be riding an actual submarine?

Yes! You can choose the Oahu Atlantis Submarine Adventure to ride an actual submarine and enjoy all kinds of sights of local fish, coral and other marine animals with a live commentary. You can also ride a submarine scooter in the Oahu Submarine Scooter Adventure for a closer look at the island's sealife.

What is included in the submarine experiences?

For the scooter adventure, wetsuit top, snorkel gear, equipment, drinks and snacks are provided, as well as the catamaran ride to the place where you will dive under water. For the submarine adventure, a complete live professional narration in English and audioguide available for other languages, and a shuttle boat ride to the submarine dive site.