10 Things to Do in Venice in February
February is the month of Carnival in Venice, but I warn you that there is much more waiting for you in this city. Do you dare to discover it with me?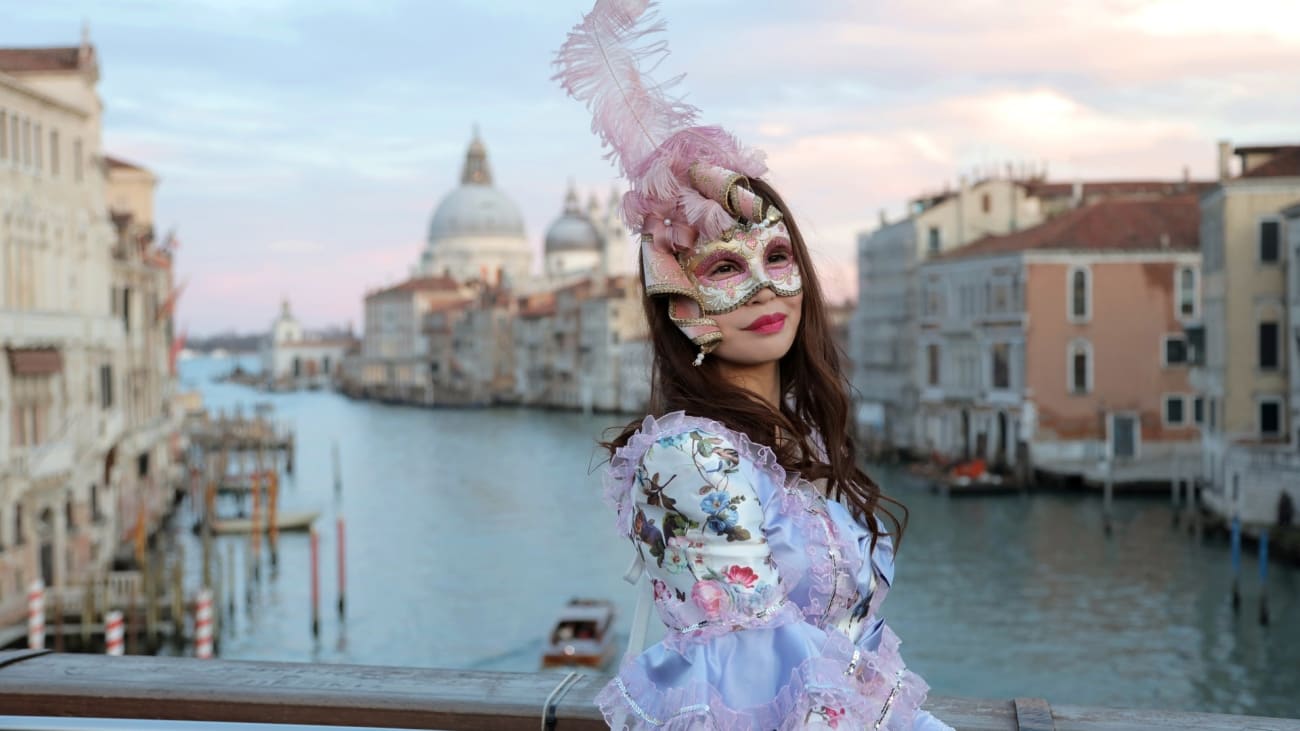 If you are planning what to see and do on your trip to Venice in February you have surely noticed that there are many plans and events related to the Carnival, which is not surprising considering that it is one of the most important in the world. However, during this month there are many other activities awaiting you in Venice, such as romantic gondola rides to celebrate Valentine's Day or craft workshops that will bring out your creative and cultural side.
February is a month that has weeks with more tourist influx than others, so you will have to take this into account when you start booking and planning your trip to Venice. To that end, I have compiled for you some plans that you should include in your agenda.
1. Experience the opening of the Carnival of Venice
If you are going to Venice in February, you will have the immense luck to experience the Carnival. This event begins in mid-February and lasts until the end of the month, covering the city with color, masks, music and lots of costumes. Yes, just as you have always imagined the Venetian Carnival. One of the most important moments of this festivity is undoubtedly its inauguration with the one known as La Festa Veneziana sull'acqua.
The Festa Veneziana sull'acqua marks the beginning of the Carnival and it does it as tradition has been doing for centuries. Floats parade along the canals and all the Venetians take to the streets to celebrate the beginning of masks, period costumes and carnival merriment.
My recommendation? Go to the Cannaregio canal, where you can best see the parade, and do it in good time, because there are usually crowds.
2. Choose your favorite costume during the Masks Parade
Will you be able to choose the most beautiful mask? Because that's what the Most Beautiful Mask Contest is all about. This event takes place during the Venice Carnival in February and ends on the last day, so you can go to Piazza San Marco during your trip to Venice and, every evening, see the people and groups that participate. You will be amazed by many of the costumes, as they are often authentic, priceless period costumes.
Participation is open to the public, so you too can present your proposal on the large catwalk that is installed in the Plaza as long as you fill out the registration form. Or if you prefer, you can contribute your vote and take part in the final decision. Just be sure to take your place on the last day of the Carnival to find out which costumes and masks are the winners.
Undoubtedly, what is most surprising about this parade is how, no matter how many days go by, the atmosphere, creativity and magic never wane and new proposals parade every day.
3. Watch the Flight of the Angel over St. Mark's Square
The Flight of the Angel is not only one of the first events of the Venice Carnival, which takes place in February, but it has a symbolism and a history behind it that is worth knowing. When you join many other tourists and Venetians in St. Mark's Square to admire the descent of the angel, you will be surprised to see that even TV cameras are recording the spectacle.
The tradition behind the Flight of the Angel
That angel coming down to St. Mark's Square from the heavens is none other than last year's "Maria". Don't you know this legend? Years ago the Doge of Venice would gather twelve of the poorest and most beautiful maidens of the city to endow them with jewels, money and dresses. Today, this tradition is still maintained but it is like a great beauty contest. Thus, the most attractive woman is crowned as that year's Maria and, in the following Carnival, has the honor of being the angel that flies over the Plaza.
Beyond the angel's leap, on that day Venice is once again filled with medieval dances and music, alluding to the origin of the tradition. It is a very special thing to experience, as music plays a very important role in Venetian culture.
4. Come and enjoy the Masquerade Dances
Every February Venice is full of Carnival and with it comes the dances. The institutions of the city organize different events where music is the main protagonist. Some of them you can access if you buy a ticket in advance, but others are private parties that can only be attended by invitation.
As you can imagine, these balls are in great demand and are attended by very important people in Venetian society. For this reason, prices can range from 100 € to 500 €, approximately.
What makes these events so special? They are an essential part of Venetian history and culture, so every evening of Carnival there are many halls where musicians, dancers and visitors gather to dance to the sound of music while wearing their costumes and masks. Be careful, if you want to enter, you must wear a period dress and a mask, as this is the only requirement.
5. Celebrate Carnival with a mask of your own making
On your trip to Venice in February there is something that you will not carry in your suitcase but that you cannot miss in your day to day life in the Italian city: a Carnival mask. During the second month of the year, when this festival takes place, it is normal to come across masked and costumed people that will make you feel like in a period film. Why not get into that same atmosphere? To do so, not only I propose you to enjoy the many carnival events, but I encourage you to create your own mask.
The art of mask making is highly appreciated in Venice, so learning from a Master Artisan is a privilege. In a one-hour workshop you will learn all the secrets about this craft and the history of Venice's most traditional accessory. In addition to a wealth of knowledge, you will leave this class with a beautiful souvenir to wear on the streets of Venice during Carnival.
Isn't it a great plan? If you travel with children to Venice, it is even more so, as they will enjoy decorating, painting and giving life to their masks as much as you do.
6. Fall in love with Venice on Valentine's Day
Every February 14th the whole world is filled with love for Valentine's Day, but Venice, being as it is one of the most romantic cities, makes it even more so. If like me you have been to Venice on this date, you know how magic and love run through the city. A perfect plan to celebrate this day is a gondola ride with serenade. The gondoliers are always encouraged to sing, but on Valentine's Day it is even more common that the canals are filled with their voices singing some romantic song.
Just strolling around Venice you can enjoy a unique and special day with your partner, but Valentine's Day in such a city should be celebrated in style, so I recommend you to organize a romantic plan that includes an idyllic gondola ride. This way you will not only enjoy an essential experience that will take you through places and under emblematic bridges of the city, but you will do it on a special day.
I can't help but think of the thrill and excitement of being able to experience Valentine's Day in Venice, and like me I know there are many others. For this very reason I recommend you book the gondola in advance and also consider if you want to extend the experience with a dinner.
7. Celebrate World Pizza Day in Venice
I'm sure that like me, when you think of any Italian city, pizza comes to your mind. Well I have the pleasure to inform you that, if you are in Venice on February 9 you will have even more reasons to eat it, because on that date is celebrated the World Pizza Day. This day commemorates that UNESCO considered this food as a World Heritage Site in 2017, so take this occasion to honor the social and culinary role of pizza in its birthplace, Italy.
While it is true that in Venice food can be expensive, the pizzas in particular are usually very well priced and, as expected, very tasty. Still, I know it's hard to find good restaurants with so much on offer, so I haven't hesitated to list my favorite restaurants in Venice; celebrating Pizza Day doesn't have to be expensive, but it does have to be tasty.
8. Escape the cold of Venice with a cup of the best hot chocolate
I'm not going to kid you, February is a rather cold month in Venice. Temperatures hover around 6 degrees, so there may be times during your visit when all you feel like doing is sitting in a typical Italian cafe and warming up with a hot chocolate. Well, you're in luck because Venice is home to high-quality chocolate. And don't think that there is only one type, because there are many varieties of hot chocolate that you can order and taste.
If you've got a sweet tooth and a craving for something hot during your walk through Venice, don't worry because there are plenty of chocolate shops around you, especially if you're in St. Mark's Square. If you're up for it, you can also sign up for a chocolate tasting to taste the different varieties and how the way the cocoa is grown and processed influences the final flavor.
If you let me give you one last tip, now that we are talking about sweets, you have to try the traditional Venetian cookies with your hot chocolate. They are made from flour and butter and flavored with vanilla. I'm sure you've seen them before: they are in the shape of an "S" and are a real addiction.
9. Take some great photos of foggy Venice
Do you like to take pictures? Then remember to bring your camera well charged and with space in your memory, because in Venice you will take a lot of pictures. Its historic center full of monuments, its canals crossed by beautiful bridges and its intricate streets are certainly sceneries that deserve a photo, but if there is something that makes them even more magical is the fog. February can be a rather cold month in Venice (highs of 4º), but if there is one positive thing we can take away from it is that all the surfaces of the city are covered with a blanket of fog that gives them a special look and light.
The Venetians call this fog "caigò" and on the coldest days of winter it delicately covers the surfaces of the lagoons and the large squares of Venice. This misty blanket gives a different nuance to the city and, if you have a good eye, you are sure to be able to capture it with your camera.
10. Visit Venetian museums in the off-peak season
Although Carnival brings a lot of tourism to Venice for a couple of weeks in February, the rest of the month is quite quiet and the atmosphere of the city is more relaxed, without so many crowds. My recommendation is that you take advantage of this time to visit museums, which are also a warm refuge for those days of your trip when the Venetian rain gives no respite.
Venice could be considered a city of museums, since among its galleries and historic buildings are some of the most recognized pieces of art in history. Since February is a month with little tourism, you will be able to see each work in peace and quiet and without hundreds of heads in the way.
Venice's renaissance art
The artistic period of the Renaissance, with names of famous painters such as Titian, plays a big role in Venetian museums, so don't hesitate to visit the Galleria dell'Accademia, where you will find many paintings by this painter and his contemporaries.
A journey through the history of Venice
If you feel like learning about the history of the city through centuries-old objects, don't forget the Correr Museum, which also houses the Archaeological Museum.
A museum for modern artists
In case you are an admirer of contemporary art, don't let the Venetian buildings fool you, inside one of them is the International Gallery of Modern Art, with magnificent collections of Picasso or Kandisnky.
Venice temperatures in February
The Venetian winter is harsh and its minimum temperatures can drop to 0º, with its maximums rising only to 9º. Regardless of the number on the thermometer, Venice is a cold city that can be difficult to visit when the icy wind blows through its streets.
So as not to be caught by surprise, remember to bring warm clothes and thermal shirts, as well as a raincoat, as it can rain quite a lot and umbrellas, with the wind, are useless.
The number of tourists in Venice during the month of February
Although in winter tourism decreases in Venice, February is the month in which Carnival is celebrated, so many visitors travel to the city of the gondolas to celebrate it among masks, costumes and dances. This undoubtedly makes the prices of accommodations and flights go up, so I recommend you book your trip in advance.
Outside the days of Carnival or Valentine's Day, February can be a quiet month with little tourism, so it is a good time to enjoy the city and its museums with fewer people.
Venice is waiting for you in February with plans full of Carnival, love and culture, how many are you going to sign up for? I can't wait to hear about them when you get back.