Murano and Burano Day Trips from Venice
These two colorful little islands will complete your trip to Venice with extra charm and contrasting architecture. Here's how to visit them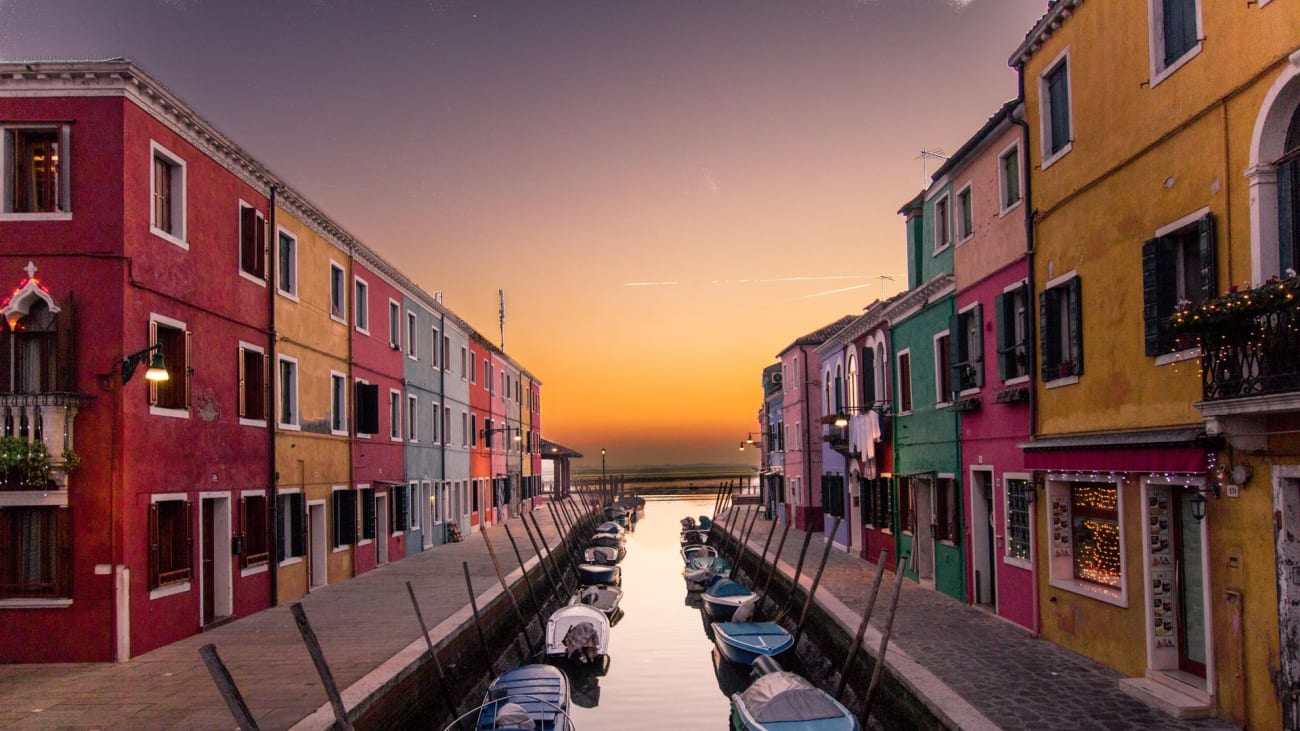 If you are staying several days in Venice, I strongly recommend that you set aside half a day to visit the other most important and beautiful islands of the Venetian lagoon: Murano, Burano and Torcello.
How to visit Murano, Burano and Torcello
You can reach Murano, Burano and Torcello from Venice with one of the many vaporettos that make the journey or enrich your visit with guided excursions to learn about the history of these enclaves.
Visit to a glass factory in Murano with glass blowing demonstration
This is the most economical way to discover how the famous Murano glass is worked. This ticket includes the excursion to Murano with glassblowing demonstration, half an hour long and in Spanish. However, you will have to get to Murano and then return to Venice on your own and aboard one of the many vaporettos that make the trip several times a day (you can check the schedules of the vaporettos and how they work on the official website).
What you will do in the factory
You will understand why the glass from the island of Murano is considered the best handcrafted glass in the world.
You will discover the history of this centuries-old art with a demonstration by a master craftsman who will reveal how molten glass is molded through a combination of heat, blowing and sculptural techniques.
In addition to seeing its origin, you will see works of art made from Murano glass in the factory's showroom.
You will enjoy a 20% discount to purchase an object made with authentic Murano glass.
You will take home a small glass souvenir.
Half-day guided tour of Murano, Burano and Torcello
If you have more time to visit the surroundings of Venice, I recommend this guided tour in English to see not only Murano, but also the wonderful islands of Burano and Torcello and for a really affordable price, From $ 32 With this half day tour(4 hours and a half) aboard a cruise ship and being able to leave in the morning or afternoon from Venice you will discover:
Murano. You will learn about the history of this beautiful town and enjoy a demonstration of the creation of various objects based on its famous glass during a visit to a traditional factory.
Torcello. On this ancient island you will visit the ancient Throne of Attila, the Devil's Bridge and the Church of Santa Fosca.
Burano. You will tour this photogenic and beautiful island dotted with colorful houses and charming stores with handmade lace.
Private excursion on a typical Venetian motorboat around Murano, Burano and Torcello
This is the most complete and personalized excursion of all, also the one with the highest price, as it includes a half-day private tour of the islands of Murano, Burano and Torcello with pick-up at your hotel and private cruise tour aboard a typical Venetian motorboat.
You will take a guided tour in English to visit the three most important islands of the Venetian lagoon: Burano, Torcello and Murano, with a visit to an artisan glass factory with a demonstration of how Murano glass is worked by a master glassmaker, the entrance to the Basilica of Santa Maria and San Donato and a tour of the exterior of the 17th century Church of St. Peter Martyr.
Vicky's Traveller Tip

If you want to get a Murano glass souvenir, compare prices among the stores or buy it in Burano, it is usually cheaper.
Private guided tour of Murano by water cab with glass blowing demonstration and hotel pick up
If you are interested in visiting the island of Murano in a more complete, comfortable and personalized way, choose this private tour with hotel pick-up and water cab ride along the Grand Canal. You will do the whole tour with a professional guide in English and you will know the most iconic of Venice in a totally exclusive experience.
What you will do in Murano:
You will walk through its historic center with your guide and see places like the Basilica of Santa Maria and San Donato, from the 7th century, with three naves and apse in Byzantine style, which houses the remains of St. Donato, bishop of Ebria, and the supposed remains of the dragon that killed him, plus several exquisite polychrome marble mosaics with allegorical depictions of animals and geometric motifs
You will visit a traditional Murano glass factory, the Vetreria Artistica Colleoni, with a demonstration of the making of two glass objects by a master craftsman, a tradition dating back to 1291.
You will enjoy a 20% discount and participate in a curious activity in the purest Cinderella style and in which you will try on a glass shoe similar to that of this fairytale princess. If the shoe turns out to be your size, you will take it home with you as a souvenir.
Please note that this tour ends in Murano, that is, it does not include the water cab ticket back to Venice, so you will have to take one of the vaporettos that make the trip from Murano to various points in Venice, such as San Marco, the train station and Fondamente Nove, among others (check how they work on their official website).
Itinerary
Grand Canal
Vetreria Artistica Colleoni
Duomo di Murano Santi Maria e Donato
Walking tour of Murano Island
How to get to Murano and Burano from Venice
Getting to the most beautiful and important islands of the Venetian lagoon, Murano, Burano and Torcello, from Venice is very easy thanks to one of the organized excursions I have told you about or on your own, through the city's public water transport, the vaporetto.
You can take one of the vaporetto that leave very frequently from Venice, every 20 minutes, and reach Murano, Burano and Torcello in about half an hour. The vaporetto depart from the Fondamente Nove stop and have several lines, although I recommend you take number 12, as it stops at Murano and Burano on the same route.
Prices of the vaporetto
The price of a single one-hour trip by vaporetto is 6.5 euros, so if you are going to use this means of transport to move around Venice and its surroundings, I recommend you to get one of the city's transport cards. I leave you a link to the official Venice transport website so you can explore prices, schedules and how it works).
These cards include access to all the vaporetto that run through Venice and its nearby islands, with night rides on the Grand Canal, others to reach interesting neighborhoods such as Dorsoduro and even all the buses to Lido included, for a much more convenient price, since you pay for full days of use and without limits. The prices of the Venice transport cards, which can be used from 4.30 am to 00.30 am, are:
1 day: € 20,00
2 days: € 30,00
3 days: € 40,00
7 days: € 60,00
Why it is worth visiting Murano, Burano and Torcello?
Murano
On the island of Murano you can stroll through a cozy and authentic town around wonderful canals, streets and unique stores, where you will discover the variety of glass objects that can get to make their artisans glassmakers.
Knowing precisely how they create these unique pieces in one of the many factories in the center of the island is one of the essential activities to do in Murano, thanks to the demonstrations of glass masters who preserve this tradition that made the town so prosperous between 1400 and 1500 as a hub of glassmaking in Europe.
You can go to Murano any day, although it is best to avoid Saturdays, which is when the glass factories are usually closed. In Murano are also a must visit the churches of Santa Maria and San Donato and St. Peter Martyr.
Torcello
In Torcello you will visit the oldest island of the Venetian lagoon, born between the V and VI centuries. This town has a great historical heritage, full of ornate buildings among which stand out its palaces, such as the ancient Throne of Attila.
Its famous Devil's Bridge preserves the appearance of the ancient Venetian bridges and its churches, such as the Cathedral of Santa Maria Assunta, founded in the 7th century, and the remains of the baptistery in the Church of Santa Fosca, a great example of Byzantine art and located in the main square of Torcello.
Burano
This picturesque town of no more than 4,000 inhabitants is famous for its cookies, its prized seafood, for having come to make the best lace in Europe, a tradition that dates back to the 16th century, and for its colorful fishermen's houses. Legend has it that the sailors painted each house in a different color to be able to distinguish them from their boats and in the distance during foggy days.
To admire Burano' s lace, go to one of the many local stores and craft stalls in its central square, Piazza Baldassare Galuppi, and visit the museum of the old Lace School. Burano has no major attractions, apart from the bell tower of the Church of San Martino Vescovo, which is somewhat inclined and can be seen from anywhere on the island, but just to get lost in its charming streets, the visit is well worth it.
Other interesting activities
If in addition to getting to know the small islands of Venice you want to explore the history and art of the main monuments of the city, you can not miss the entrance to the Doge's Palace and the visit to the Basilica of St. Mark. Also, be sure to visit the impressive St. Mark's Square or do one of the most iconic activities in the city: the gondola rides through the canals of Venice.
I leave you here my articles about it so you can check all the details: Doge's Palace Tickets in Venice: how to buy, prices and schedules, Saint Mark's Basilica Tickets in Venice: how to buy, prices and schedules y Gondola Rides Tickets in Venice.
Frequently asked questions
What is Murano famous for?

Murano's history revolves largely around glassmaking, and the islands can boast of being the birthplace of the Venetian mirror, the first mirror made of glass.

What is so special about Burano?

Burano's main fame comes for its colorful houses that line the canals, and it can also boast a very prolific lace industry.

How much time do I need to see Murano and Burano?

Since both are two relatively small islands, they can be seen in about 1 hour each. That said, you can stay a little longer and see the glass blowing and lace making, for which it is worth an extra 45 minutes to extend your visit.