10 Things you have to See Near Venice
If you fall in love with the canals and monuments of Venice, you should not miss the surroundings of this city. Lesser known but equally beautiful towns and villages.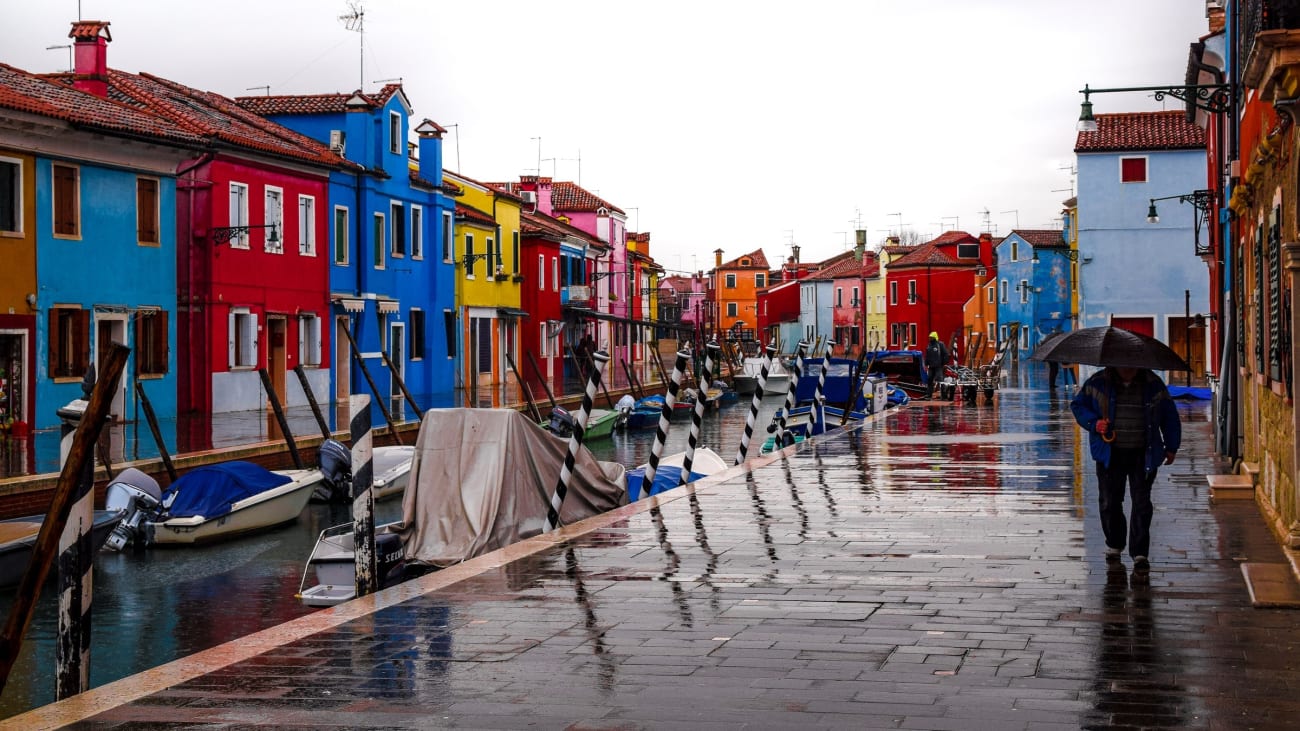 There are many things to do and see in Venice as this is a city with an immense heritage but concentrated in a few kilometers. Therefore, it is easy that if you visit the floating city for several days you will have time to do other things or simply visit it for the second time. In these cases the best thing to do is to visit the surroundings of Venice.
Within a radius of a few kilometers and between 30 minutes and 2 hours from the city of canals there are several towns, cities, monuments, islands and natural sites that are worth visiting. From islands whose craftsmanship is recognized worldwide to cities that are the scene of some of the most exciting stories written by man.
If you want to know what are the best places to visit near Venice just keep reading.
1. The island of glass. Murano
The most popular excursion from Venice, just over 1 kilometer from Venice, is the excursion to the island of Murano. The home of the world's most famous glass artisans. Everyone who visits the island does so to learn about the craft of these artisans and even discover how Murano glass is made and how the manufacturing process of glasses, lamps, vases and other items made with this famous glass.
In addition to visiting their factories, you can take advantage of your visit to see the Basilica of Santa Maria and San Donato and the Church of Santa Maria del Angelo which is one of the things to do in Murano on the same island. The good thing is that getting to Murano from Venice is very easy and fast.
How to get there: Take vaporetto number 4.1 from the San Zaccaria stop in Venice.
in Venice.
How long it takes: 40 minutes.
2. The island of colors. Burano
Another almost obligatory option if you are in Venice for 4 days or more is to visit the island of Burano which is the sister island of Murano. It may be less known but its streets are more beautiful thanks to its colorfulness. It is, according to many specialized magazines, one of the most colorful places in the world. Each of its buildings is of a different color which makes a simple walk through its canals a special tour.
Craftsmanship also plays an important role thanks to its fabrics and the art of making lace. You can visit the Church of San Martin whose bell tower, like the tower of Pisa, is inclined. Being next to Murano, it is common to visit the two sister islands on the same day.
How to get thereByvaporetto number 14 from the S. Zaccaria pier in Venice.
How long it takes: 1 hour and a quarter.
3. The old jewel of Venice. The island of Torcello
Torcello is the third of the islands that can be visited near Venice. Of the three it is the least known, however it was once the main island of the lagoon of Venice. It once served as a refuge from the invasion of the Huns, and in fact one of its main attractions is the Throne of Attila in the town square. A chair that, according to legend, occupied the king of the Huns in his invasion of these lands.
You can also visit the Basilica of Santa Maria dell'Assunta, the oldest building in the region, or the Church of Santa Fosca. It is an island full of history that can also be visited on the same excursion from Venice of Murano and Burano because of its proximity.
How to get there: With the Venetian vaporetto line LN from Fondamenta Nuove or San Zaccaria.
How long it takes: 50 minutes.
4. The beautiful city of San Antonio. Padua
Padua is a small city west of Venice and has a great beauty. It is known for being the city of St. Anthony, whose remains rest in the Basilica of St. Anthony of Padua in the same city. But the most impressive is the elliptical square of Prato della Valle, the largest square in Italy with 90,000 square meters in the center of which is an island surrounded by a canal.
The university, the Scrovegni Chapel, the Piazza delle Erbe and the Piazza della Fruta also stand out. Being less than an hour from Venice, this beautiful city is a must-see.
How to get there: By train from Venice station.
How long it takes: 25 minutes by high-speed train or 50 minutes by regional train.
5. The home of Romeo and Juliet. Verona
Who does not know the love story between Romeo and Juliet written by William Shakespeare? This story takes place in the city of Verona, a few kilometers from Venice.
a few kilometers from Venice. Considered one of the most romantic cities in the world, Verona has much to discover.
It has one of the most important Roman amphitheaters next to the Colosseum in Rome. In addition to the must-see Piazza delle Erbe, the Torre dei Lamberti, and the Cathedral of Verona. Of course you can not leave without seeing the famous Juliet's balcony where one of the most famous scenes of Shakespeare's tragicomedy takes place.
How to get there: By train from Venice.
How long it takes: 1 hour by high speed train or 2 hours by regional train.
6. "La Dotta, la Rossa e la Grassa. Bologna
Bologna is known as the city of "la Dotta, la Rossa e la Grassa" The Dotta or docta for its famous university, one of the oldest in Italy. The red for the color of its buildings and roofs and the fat for its splendid gastronomy. A combination that makes it a very attractive city to visit.
In its streets you can visit the Basilica of San Petronio, the Piazza Maggiore, or the Towers of the Asinelli. You can also stroll through its famous arcades and see its beautiful porticoes. A day trip from Venice is highly recommended.
How to get there: By train from Venice.
How long it takes: 1.5 hours by high-speed train or 2 hours by regional train.
7. The other city of the canals. Treviso
Thirty kilometers from Venice itself, we have another "Venice" that is somewhat different. The city of Trevisoalso grows between canals and, although it is not a floating city as such, it has a similar charm to the Venetian city.
A city full of palaces, churches and monuments of great beauty among which are the Piazza dei Signori, the Palazzo dei Trecento, the Via Calmaggiore, the Duomo of Treviso or Dante's Bridge.
How to get there: By train or bus.
How long it takes: 30 minutes.
8. The small and quiet Venice. Chioggia
Chioggia is located south of Venice and surprises all visitors with its similarity to Venice. If you don't like the hustle and bustle of Venice, in Chioggia you can enjoy its canals and bridges without so many tourists in the way.
It has no great monuments but its brightly colored houses and canals make for a very pleasant walk. It is a good option especially if you have a car because the train ride is almost three hours.
How to get there: By car.
How long it takes: 50 minutes. By train the trip is almost 3 hours.
9. A beautiful medieval town. Ferrara
If you are an inveterate lover of Italian renaissance and medieval cities you will enjoy your visit to Ferrara. This small Italian city is full of history being one of the small towns with the highest concentration of renaissance exhibits.
Most of the city's monuments are concentrated around Piazza Trento. The Cathedral of San Giorgio, the Palazzo della Ragione, the Loggia dei Merciai, the bell tower of Leon Battista Alberti, the Piazza del Municipio or the Torre dei Ribelli are its main attractions.
How to get there: By train from Venice.
How long it takes: About 2 hours and 10 minutes.
10. A hidden gem. Vicenza
The city of Vicenza goes unnoticed because it is among some of the most touristic cities in Italy such as Venice or Milan. However, it is part of Italy 's World Heritage Site and is one of the most beautiful cities in the north of the country.
It is a city conceived by the famous architect Palladio who had a remarkable influence on the city. Most of its monuments are his or he had a direct influence on them. The main ones are: Piazza dei Signori, the Palladian Basilica, the Basilica Palladiana, the loggia del Capitaniato and the Palazzo del Monte di Pietà.
How to get there: By train from Venice.
How long it takes: 45 minutes.
11. An ideal excursion for a morning. Rovigo
In the small town of Rovigo there are not many monuments but what there is has a special charm. It has several lively squares with markets and a beautiful old town with its Duomo and some palaces.
Little exploited touristically, it is an ideal city to visit one morning quietly and eat a good plate of Italian pasta at a reasonable price.
How to get there: By train from Venice.
How long it takes: 1 hour and 10 minutes.
12. A city with Venetian charm. Udine
Udineis less than two hours from Venice.
. An underrated city that hides a lot to see. If you liked Venice this is a similar place in terms of architecture.
The Piazza de la Libertà is its nerve center but you should also visit its impressive Duomo or the Palazzo Patriarcale. Gastronomy is also one of its "highlights". In Udine you can eat well and cheaply.
How to get there: By train from Venice.
How long it takes: 2 hours.
13. A postcard lake. Lake Garda
Very close to Verona is the largest lake in northern Italy. It is also one of the most beautiful. If you visit it by car you will have the freedom to move along its shores where you can visit castles, monasteries or picturesque villages.
Sirmione, Malcesine, Bardolino, Desenzano del Garda, Limone Sul Garda or Riva del Garda are some of the most emblematic towns around this lake.
How to get there: You can get there by train but it is better to do it by car to move more freely.
How long it takes: 2 hours approximately.