Venice's Vaporetto Ferries: prices, routes, and guidebook for using them
Get to know the most used means of transport to travel by boat around the island of Venice.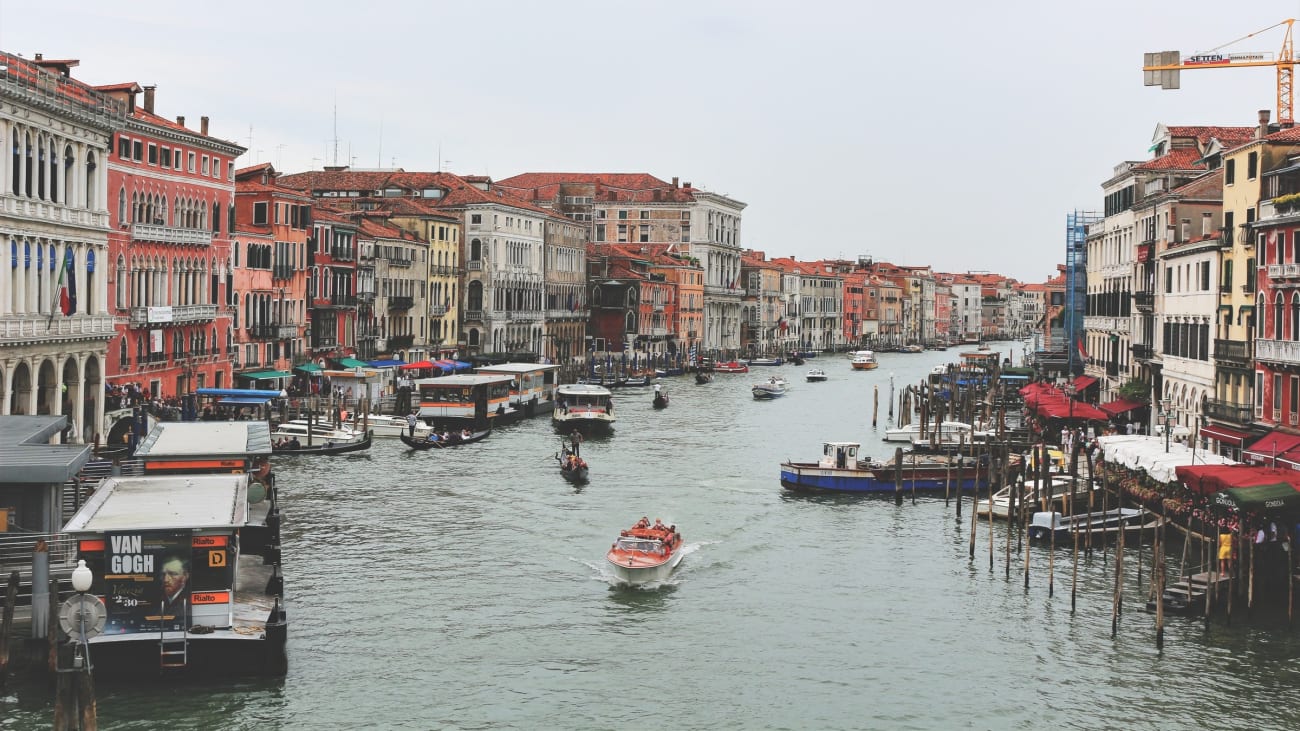 Gondolas may be the quintessential symbol of Venice, but they are also expensive. Fortunately, there is a way to see the floating city from the water without paying a fortune, simply by hopping on a vaporetto.
In this post you will learn how to get around Venice by vaporetto, the routes to take into account, how you can save with the transport card and several tips accompanied by useful information that will surely be useful for your trip.
The best option
Travel along the Venetian canals with the vaporetto and save with this transport title
The most convenient and flexible way to move around the city of Venice is to buy the transport card that allows you to travel by vaporetto or bus. Select the time of validity and start enjoying.
Using the vaporetto for your travels in the city of Venice is highly recommended, as it has a real network of practical little boats that take you from one point to another in a very comfortable way. If you also get this transport pass it will be even easier.
With the Venice transport card you can make unlimited use of the vaporetto with a single ticket valid for 24, 48 or 72 hours. Or even for 7 days. In addition, when booking it allows you to purchase the bus ticket that takes you from the airport to the center of Venice.
Recommended if... You are stressed by the transfers in the cities you visit, especially considering the peculiarity of Venice. Also, by booking in advance you will forget about having to look for ways to get there once you arrive at the airport, as you can also include the airbus.
How much does the vaporetto cost and is the transport card worth it?
Although cheaper than a gondola, public transportation in Venice is quite expensive compared to many other major cities. A single vaporetto ticket costs about 7 euros and is valid for 75 minutes, children under six travel free and people with reduced mobility get discounts.
However, if you are going to use the vaporetto all day to get around the city it pays to get a day pass. Also, when you book your Venice public transport card you can add the transfer to and from the airport to the city center for about 13 euros in total.
If you are in Venice for two or three days, buy a card valid for 24 or 48 hours from about 45 euros, so you will save much more than with single tickets, as it is very common to use the vaporetto. With your pass you can also save if you are in the city for seven days.
Where to buy vaporetto tickets
The best way to buy vaporetto tickets is to buy your transport card online in advance. You will forget about having to calculate the trips once you are there. On the Hellotickets website you can book it from 13 euros. Remember: you have many options, choose the one that best suits your trip.
If you prefer to do it "on the spot" tickets are also available for purchase in many of the main areas of Venice, not only at the water bus stops. Look for places displaying the Actv logo including kiosks and supermarkets.
However, be aware that some small shops only accept cash, so make sure you have some coins. You can also buy vaporetto tickets at tourist offices (such as those in Piazzale Roma), online or even through the official AVM Venezia app.
Why get on a vaporetto?
You are in Venice! This means you only have two ways to get around the city: on foot or by boat. Mind you, as much as you might like the idea of walking, constantly moving from island to island is something that will eventually wear you out, especially if you're determined to explore the more remote corners of Venice. Not to mention that a trip back to your accommodation can offer great relief to your irreplaceable feet.
Also, if you wish to reach the splendid San Giorgio Maggiore or other islands of Venice you will have no choice but to resort to the services of the vaporetto.
The vaporetto is the basis of the city' s water bus network. The word itself means "small steamer", although nowadays the vaporetti do not run on steam, but on diesel. You'll see them all over the city, cruising the Grand Canal, traveling from island to island and stopping at a few points to allow passengers to hop on and off.
Main routes and where they go
Vaporetto lines 1 and 2 are very touristy, as they stop along the Grand Canal. However, they are very busy during the tourist season. Vaporetto line 1 stops at almost every stop along its route, while 2 is more of an express. Both terminate at the Lido and both pass under the Rialto Bridge, one of Venice's most important bridges.

Lines 4.1 and 4.2 cover the same ground as the other lines, but counterclockwise and clockwise, respectively. These are ideal for touring the main islands of Venice including the interesting island of Murano.

Lines 5.1 and 5.2 are similar to 4.1 and 4.2 with the exception that the former do not go to Murano. It should also be said that lines (5) are faster than (4), the latter are perfect for a tour of Venice by vaporetto, as they also tend to take fewer tourists than line 1.

Line 7 runs directly from S. Marco S. Zaccaria to the north of Murano. However, it only operates during the tourist season.

Line 10 is a short ride between the Lido, St Marks and Zattere.

Lines 11, 12, 13, 14, 15, 20 and 22 are all local vaporetti used between the area east of the lagoon and northeast of the city and are therefore more for residents than tourists.
Vaporetto lines 1 and 2
These two lines run along the Grand Canal on a 4-kilometer route, and are the lines that you will use the most and that tourists use the most.
Waterbus line 1 stops about 15 times, travel time on the Grand Canal is about 45 minutes. Line 2 is a kind of direct line and only stops about 7 times on the same route. Travel time is only 30 minutes. If you want to enjoy the ride take line 1 and if you want to get ahead quickly, take the vaporetto line 2.
A vaporetto ride on the Grand Canal is one of the tourist highlights of Venice. The most important stops on these two lines are Ferrovia (the train station) and Piazzale Roma(bus area, streetcars, parking lots). These lines also stop at places of great interest, such as the famousRialto Bridge and St. Mark's Square.
In addition, vaporetto lines 1 and 2 have the advantage of being very frequent, every few minutes.
Useful information for vaporetto trips
To avoid confusion on your vaporetto routes, review these tips before boarding:
Vaporetto routes can go both ways except for the lines that carry a point, e.g. 4.1 and 4.2, as they are specific. Therefore I recommend you to look at the final destination shown on the vaporetto or, if in doubt, ask before boarding.
Carry your backpack in your arms on the vaporetto, never on your back. The locals hate this and even have signs telling people how to do it.
Watch out for rush hour, especially in the summer. Sometimes, especially in the busy tourist season, the vaporetti are full and crowded. Be especially careful if you have a specific train to catch, be calculating.
At night in Venice, all routes change, with fewer routes than in the morning. Not all stops are included in the night vaporetto routes, so be sure to choose the right stops after 11 pm.
The N night vaporetto service starts around 11 pm and runs until around 5:30 am.
You can tell if your vaporetto will stop at a pier or not by checking the map. If the route line passes over the stop, the vaporetto will not stop there.
Vaporetto schedule
The water bus system covers numerous routes on a fixed schedule. Most lines start running at 5 a.m. and end at 11 p.m., and with an average frequency of approximately 20 minutes between each trip.
Tips on vaporetto tickets
Here are some other recommendations and practical tips for using Venice's public boats:
Single tickets are valid for an hour and a quarter trip and cost 13 € with the airbus transfer included. If you are in Venice for one day or you are in Venice for two days, buy the 24 or 48 hour card, it will be more cost effective.
Remember that the tickets only start to work once they are validated, so you only have to validate the long term tickets when it is convenient for you, otherwise you will be losing money.
It is very important that you validate your vaporetto tickets before boarding, otherwise you will be committing fraud. To validate your tickets just wave them near one of the small validation machines.
Not all vaporetto stops have ticket booths, but they all have validation machines.
Another detail to note is that you will not be asked to show your ticket every time you board a vaporetto, unless there is an inspector on board.
How to behave on a vaporetto
While tourists are always welcome, Venetians would be much happier if everyone respected their city (hence the recent tourism campaign, #EnjoyRespectVenezia). While the city may seem like a paradise on earth, its residents tend to live a normal, routine life.
Most of the recommendations or rules you'll see on the vaporettos are the same ones you might see on other local modes of transportation. Among the rules are: Don't push, remove backpacks, be mindful of other people, don't get in the way of the vaporetto and, above all, be courteous and appreciative.
My personal recommendation is: Don't lean too far over the railing while trying to take that perfect photo as falling into the canals is not a great way to start your Venice vacation.