How to Get Around in Venice (gondola, vaporetto ferry, water taxi...)
If you are attracted by the idea of visiting Venice, you will need to know all the details about how to get around the city. I'll tell you.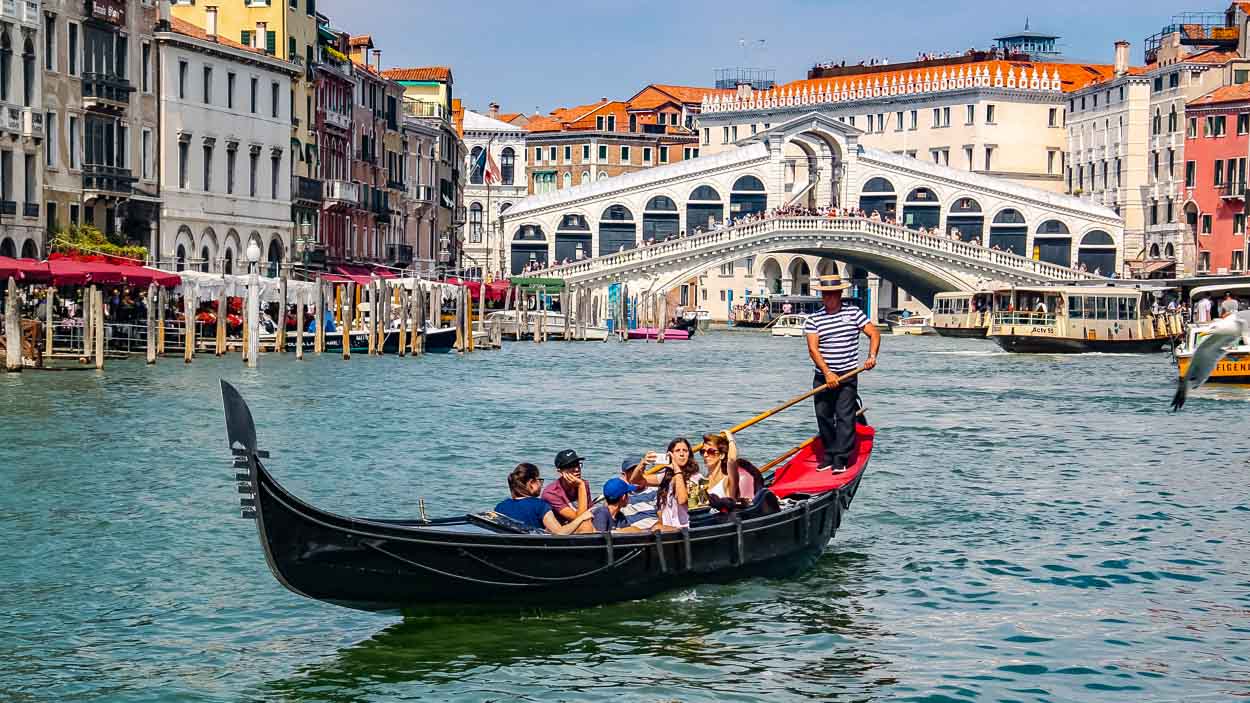 One of the most incredible experiences in Italy is stepping out of the Santa Lucia train station and witnessing the beauty of Venice. It feels like traveling back in time to an era before automobiles, where the only way to travel is by boat or on foot.
Of course, Venice's transportation is unique and very different from that of most cities; therefore, getting to know the different means of transportation in this city is synonymous with getting to know Venice. In this guide I will explain all the options you have to get around in this dream archipelago.
Getting around Venice on foot
Walking is probably still the best way to get around Venice's six sestieri (districts into which Venice is divided). The city of the Lagoon is relatively small. (Getting from the Santa Lucia train station to St. Mark's Square will take you only about thirty minutes on foot. To give you an idea, this is one of the longest walks). And its main sights are usually well marked and easy to find, although you should probably arm yourself with a good GPS and a good map to go more leisurely. Walking along the canals is definitely a unique experience in itself and will allow you to discover hidden corners and squares that would otherwise be impossible to reach. Following in that same line, it also gives you the possibility to see the small bridges and canals of Venice, to know better the atmosphere of each area, the culture of the Venetians and the habits from a closer perspective.You don't have to worry about the acqua alta either: the city deploys walkways in case the streets are flooded, although it would be advisable to bring some rain boots ready to use, especially if you go in winter to Venice or autumn to Venice. In any case I leave you this post about some tips for your trip to Venice.
Getting around Venice by vaporetto
If walking is not your thing the most recommendable and cost effective option is to move around by water bus or vaporetto, the public service runs 24 hours a day, 7 days a week, all year round. During the day, the water buses along the Grand Canal run less than 10 minutes a day, not bad for those of us who are used to the big cities! However, to reach the islands of Murano and Burano, the maximum frequency is every 20 minutes. And, during the night, the frequencies or waiting times are doubled.
The price of a single ticket is 7,50€, and it is valid for 75 minutes.you can buy water bus tickets in many places in Venice. First of all, you can buy tickets at the ticket vending machines in front of all the main bus stops. Secondly, you can also buy tickets at the ticket offices outside the train station, both in Rialto and St. Mark's. And finally, you can also buy tickets at the ticket offices outside the train station. Andfinally, you can also buy tickets at newsstands and tobacconists.
Sometimes there are long lines at the vending machines as well as at the ticket offices. Don't worry, though, in case you don't manage to buy your ticket in time, you can do it on board the water bus as long as you have cash.
Speaking of prices and tickets, you can also buy a 1-day ticket that lasts 24 hours after validation, at a cost of 20€. There are also 2-day, 3-day and 7-day tickets available. Of course, if you are interested in this means of transport I recommend the complete guide about the vaporetto, it will be very useful.
Bus in Venice
Buses do not run on the lagoon and their main function is to connect Venice with Mestre, and then also if you want to move around Mestre. Some lines, however, arrive in Venice and stop at Piazzale Roma, not far from the Santa Lucia train station. Single tickets cost 1,50 €, and you can buy a book of ten tickets for 14 €.
In Venice the bus can only get you from the Marco Polo airport to Piazzale Roma by taking bus 5 operated by ACTV. I have to tell you that this is the last part of Venice navigable by car, at this point you can only get around on foot or by water.
From the Airport to Venice by bus
The bus takes about 25 minutes between the airport and Piazzale Roma (the bus runs every 15 minutes). There are luggage racks in the lounge area, so you will need to take your luggage on board.
You can also take the buses operated by ATVO. These leave every 30 minutes and have storage so you don't have to worry about carrying your luggage on board the bus. You can buy tickets at the airport on arrival thanks to the ticket machines, or online if you know roughly when you will arrive. For more information visit the article on transfers between the airport and Venice.
Getting around Venice by Gondola
Honestly, more than a way to move around the city, the gondola is a means of transportation, experience and tourist attraction.routes and prices for gondola rides usually vary and are agreed on the spot and with each gondoliere. Not to leave you curious, you can expect to pay between 60-80 € for a half hour ride during the day and around 80-100 € at night.
Sharing a gondola is always a good solution to lower prices, although you can't transport as many people as a water cab, either.a gondola can carry up to 6 people, including the gondoliere.
You can find gondolas all over the city. The rides offer beautiful views of the surroundings, passing by the Grand Canal and some of Venice' s most important bridges and monuments. Undoubtedly the great advantage of the gondolas is that they give you the opportunity to explore narrow canals and beautiful areas of the city that you would not otherwise see. They may not be the best means of transportation to use; however, if you are looking for pleasure and sightseeing at the same time, then they are recommended.
Traghetto
The traghetti are very similar to the gondolas, but they are only used to cross the Grand Canal perpendicularly at the points where there is no bridge nearby. Therefore, the traghetti serve more as a means of transportation than the gondolas. There are traghetti stands along the Grand Canal and they carry passengers back and forth from one bank to the other continuously. These gondola drivers do not sing and are not dressed in striped shirts, making them a less artistic or touristy way of getting around Venice.
Remember that there are only four bridges spanning the Grand Canal, so instead of going a long distance in search of a bridge as a lifeline and then repeating the journey in reverse, I recommend you get on a traghetto as the Venetians do at one of the seven stops along the Grand Canal.
The traghetti are less elegant versions of the gondolas, and are operated by two people instead of one. You'll pay €2 in cash when you get on and watch as the locals stand rather than sit. So, if you're looking to take pictures, you should hurry as the ride is quite short and quick.
Getting around Venice by water cab
The cab service is usually used by tourists who are willing to experience more private transportation rather than by vaporetto (public sea bus); so remember that any luxury comes at a price. The price of a cab ride will cost you between 100 and 130 € each way for a maximum of 4 people. Up to 10 people can be accommodated in a cab; however, an additional fare will be charged from the 5th passenger onwards. The fare per passenger is around 15 €.
As you can see, cabs are much more expensive than public transportation, but they are also the only luxurious and private way to move on the water. In addition, a water cab will make your trip take much less time and not precisely because of the speed, but because it goes straight to the destination.
As a curious fact, locals in Venice almost never use cabs.
Venice Ferry
The ferryservice has two main lines, 17 and 11, which connect Venice and stop in the most important areas of each district. Line 11 starts at Lido and moves south to Pellestrina. While line 17 starts from the Cavallino beach area and heads north. The ferry is an excellent option if you want to move from end to end without stopping so much: Prices depend a bit on where and how far you want to go, although it must also be said that they are usually updated over time. However, as a reference, the minimum price to get on is 8€ per person.
Tickets for Public Transportation in Venice
The only boats in Venice for which tickets apply are the vaporetti, as all other boats require a direct payment that varies in price depending on the duration or distance of the trip. If you are interested in vaporetti tickets you can buy different tickets depending on your stay. Single tickets will serve you very well in case you are going to Venice for only one day; if you are going to be in Venice for 3 days or more I recommend the daily passes; and in case you are going to be in Venice for more than 7 days, you might be better off with the weekly passes.
After purchasing a ticket, you must validate it before boarding the vaporetto. The validation machines are usually located at the edge of the walkway leading to the actual vaporetto stop, and upon validation a time stamp will appear on your ticket. I recommend you not to cheat and validate when you have to regardless of whether you are asked to show your ticket or not.
How do Venetians move around Venice?
Most of the time, Venetians prefer to get around on foot. Most Venetians use public transportation only when necessary. An example of this is when they need to cross the water.
You will see how Venetians use rowing boats mainly for sports or for the simple pleasure of rowing, while motor boats are used more as a means of transportation, either to move around or to move their goods.
Getting around on foot is the fastest and most efficient means of transportation in Venice, as long as you know how to get to your destination, of course!
Recommendations for getting around Venice
Whenever possible I recommend getting around on foot just like the real Venetians do. In addition, by doing so you will be able to enjoy the most touristic areas and monuments such as the Rialto Bridge, the Bridge of Sighs or St. Mark's Basilica itself. In addition, you avoid the queues at the machines and the crowds in general. Not to mention that the most interesting places to eat in Venice are not exactly near the vaporetti stops.
I also recommend you to enjoy Venice from the water, regardless of the means you use, logically the gondolas are the most comfortable option, seeing Venice from the water will give you a completely different perspective of what life in the city is like!
In addition, walking and taking a tour in a rowboat are not only beautiful and fun activities, they are also ways that allow you to discover the city while helping you reduce your carbon footprint.