10 Things to Do in Dublin in October
Dublin in autumn has one of the most beautiful landscapes of the whole year. If you come to visit the Irish capital in October, I am going to give you 10 plans that will make you enjoy it to the fullest.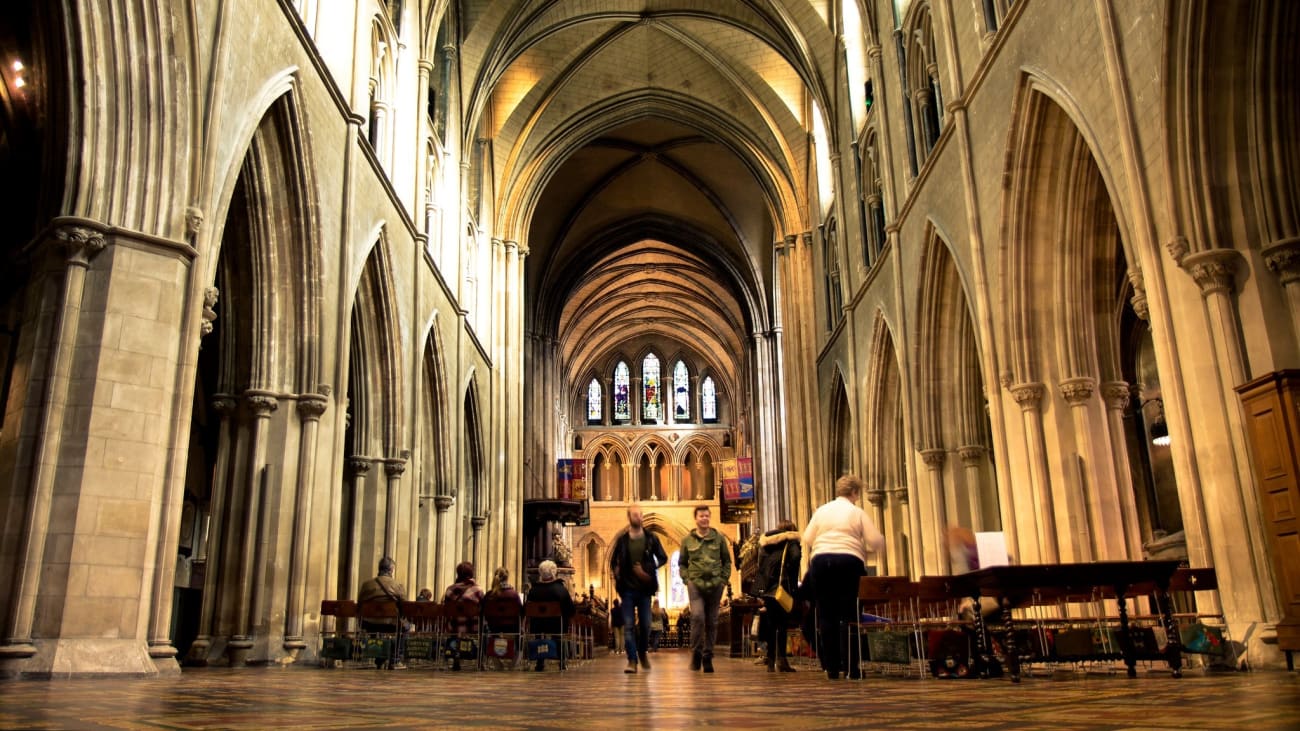 Ireland is history, culture and nature. The neighboring island of the United Kingdom has had a complex past that has given it a huge legacy, as well as a huge Viking and Gaelic influence that has formed an impressive cultural mix.
Without a doubt, Dublin has a lot to see and do but, if you have decided to come to know the city in October, don't worry! Dublin is adapted for the arrival of cold and rain and, with the 10 plans that I am going to propose, I assure you that you will have a great time. Let's start!
1. Celebrate the most Irish Halloween
As in many parts of the world, saying October means that Halloween immediately comes to mind. However, if you happen to be in Dublin around this time, I promise you will experience it in a much more special way because you are in the land of Dracula. This is where, more than 100 years ago, Bram Stoker gave life to the terrifying vampire that has terrorized generations.
If you are in Dublin during the last days of October, get ready to have a scary time, because, before the night of the 31st, the Bram Stoker Festival is celebrated for 4 days, a festival dedicated to the writer who is warming up for the most feared night of the year. During these days, you can attend concerts, themed parades and even the amusement park decorated for the night of the witches.
And, on the night of the 31st, you can find all kinds of bars and pubs with special offers and people in costumes to spend a terrifyingly fun night, or book a ghost bus tour of Dublin, a spooky tour that I recommend 100% for these dates.
Details of interest
Price: each of the activities of the Bram Stoker festival usually have a price but are around 5€ per session, concert or activity.
Tickets: you can secure your ticket to the festival by booking on their official website.
Venue: the activities and venues that celebrate both the Bram Stoker festival and Halloween night are spread throughout the city. I recommend you to check each year's program on the website.
Date: the night of October 31 and the 4 or 5 days before.
2. Experience the Theatre Festival
During the first half of October, Dublin hosts every year one of the most important cultural festivals in the country, the Theatre Festival. The capital of Ireland has a great artistic weight, having great references and writers like James Joyce and citizens know how to welcome this kind of events and enjoy them every year.
If you are in Dublin during these dates in October, I encourage you to check the agenda on its official website, because during all these days you can not only attend numerous plays spread over several rooms in the city, but you can also witness various exhibitions and cultural activities on the occasion of the festival both theater, dance and music. You can also decide to book tickets for a traditional music and dance show in Dublin, which is sure to surprise you.
Details of interest
Price: each activity has a cost. Some may be free and others usually cost between €5 and €10.
Tickets: you can buy tickets directly at the box office but I recommend booking in advance on the official website.
Venue: every year different halls and theaters around the city participate.
Date: first half of October.
3. Enjoy the autumn scenes on a day trip
In Dublin you should also take the opportunity to visit its surroundings, as less than 2 hours by road you can find authentic natural wonders such as the Cliffs of Moher or charming villages like Galway.
If you come to Dublin in October, you can not miss to book a day trip to the Cliffs of Moher, one of the most emblematic sites in Ireland, which, with the arrival of cold weather and the fall of the leaves, look much more bucolic and green.
These tours usually last all day and you can have a guide to explain everything in depth and transfers for about 50€. A great bargain to enjoy Dublin in October!
Details of interest
Price: around 50€.
Tickets: I recommend you to book your ticket for this type of tours through a tourism website. Although you can also arrange it in person when you arrive in Dublin but it can be more expensive.
Location: the Cliffs of Moher are located in the province of Munster.
Date: it is best to go in early October to take advantage of the last remnants of heat and enjoy the autumnal atmosphere of Ireland.
4. Take shelter from the cold in an Irish pub
October in Dublin is not yet the coldest time of the winter, but the nights are starting to cool down and it is not very pleasant to walk around when the sun goes down. One of the best things to do when the evening falls and you want to be under cover is to book a tour of the famous Dublin pubs.
Ireland has a great tradition and pride in its pubs, where you can not only drink all kinds of craft beers and national distillates, but you can also eat some of the most traditional dishes while listening to local music or watching an important hurling match.
Interesting details
Price: depends on your consumption, pints of beer are usually around 7€.
Tickets: no ticket required.
Place: one of the most famous neighborhoods to visit Irish pubs is Temple Bar.
Date: they are open all year round but especially in the months when it rains and the cold starts in October.
5. Visit the museums without so many people
October is considered low season in Dublin and, although there are times when the weather is not good, this can be a great advantage to visit the city because you can go sightseeing without having to be dodging so many people and, above all, enter the main museums without having to wait in long queues.
Some of the main ones you can't miss are: the National Gallery, where all the art samples of the country are collected from the Middle Ages to the present, the National Museum of Archaeology, where you can find samples of the history of Ireland with pieces that are even more than 7.000 years old, visit some of the many art galleries that populate the city or book tickets to EPIC, the Irish Emigration Museum in Dublin.
Both museums are free and, during this time of the year, are a highly recommended plan as you will learn more about Dublin with its almost empty halls.
Details of interest
Price: the national museums in Dublin are free.
Tickets: to avoid waiting in line at the box office, you can choose to book on their official websites.
Location: the National Museum of Archaeology in Kildare St. and the National Gallery is in Merrion Square W.
Date: these museums are open all year round but it is worth going in October as it is low season.
6. Take advantage of the autumn migrations to enjoy the birds in the bay
Although the best of Dublin is in its narrow streets and historic center, you should not forget that the capital of Ireland has numerous tours and excursions and, in addition, has an important bay that each year hosts all species of domestic and neighboring birds.
If you like the world of animals and you are interested in seeing them move freely, October is certainly a good time to go to Dublin, as it is the time when the last migratory birds arrive and, precisely, gather in Dublin Bay. Although we also suggest you to visit another of its most famous cities by booking an excursion to Belfast and the Giant's Causeway from Dublin, you will love it!
Details of interest
Price: it's free, just arrive with your binoculars and enjoy.
Tickets: not required.
Location: the best views are in the bay and on the beaches of Bull Island.
Date: early October is when it can be best appreciated.
7. Take cover on the tour bus
Dublin is a city that is used to cold and rain when autumn begins, but it is likely that if you go sightseeing during October, you will catch a rainy day that is not very pleasant for walking and touring the city. For this type of situation, I recommend that you opt for sightseeing and book a tour bus tour of Dublin.
This type of bus is designed for all seasons and, while in summer you can go sunbathing on the top and comfortably discovering the city, in rainy season like October, have a folding roof with which to be covered from the weather and enjoying its main attractions.
In addition, the price is very economical and for less than 30€ you will have a comfortable two-hour ride.
Interesting details
Price: between 20€ and 30€.
Tickets: it is best to book in advance on a travel website to ensure your place, but you can also buy it directly.
Location: each company departs from a place but they all go through the center in a tour of one to two hours.
Date: they operate all year round but it is advisable to use it when the weather is not good, such as in October.
8. Take a tour of the Guinness Storehouse without long lines of people
Did you know that one of the most famous beers in the world is brewed in Ireland? The Guinness Brewery is located in Dublin and is a great plan to do if you come in October to the city, because for a few hours you will be covered from the inclement weather and, moreover, you can do it without so many people because it is not high season...
For a whole morning and for about 30 euros you can visit and make a circuit throughout the factory, learning about the brewing process and knowing closely how this famous dark beer is created.
Finally, you can try some of the beer samples they make, as well as take some souvenirs from the official store. You can also take the opportunity to eat or have a drink at the bar, from which you can enjoy beautiful views of the city. Undoubtedly, an unforgettable plan for one of the many cloudy days in the capital.
Details of interest
Price: around 30€.
Tickets: you can buy tickets on the official website or through a tourism website.
Location: the Guinness Storehouse is in St. James's Gate.
Date: open all year round but it is ideal to see it in low season and when the weather is not good.
9. Celebrate the biggest Irish music festival
Dublin is a modern and cosmopolitan city, but one that is also strongly rooted to its origins and history. If there is a festival that best reflects this, it is Ireland Music Week and if you have come to Dublin in October you are in luck, as it is held during the first days of the month.
During this week, numerous artists perform concerts throughout the city of Dublin. This festival has been held since 2003, so it has earned a great national prestige and you can enjoy both new talents that emerge throughout the year, as well as established artists. You have the option to buy a general admission ticket for one day or choose the concert you like.
Details of interest
Price: depending on whether it is a general admission ticket for one day or specific for a particular concert. It can be between 10€ and 30€.
Tickets: I recommend you book your ticket in advance through the festival website to avoid being left without a place.
Venue: there are several concert halls in the city that participate in the festival and may vary each year. It is advisable to check the program before you go.
Date: the first week of October.
10. Another way to see Dublin: participate in its annual marathon
Dublin is a city committed to sport and health and that is why for years every last Sunday of October the big KBC marathon has been run all over the city. There are races for all physical conditions, from 8 kilometers to the half marathon of 20 kilometers.
If you look fit and want to experience the essence of Dublin at its best, you can sign up and run one of the routes, with a chance to win up to 15,000 euros if you win the overall marathon.
Otherwise, you can come as a spectator and soak up the atmosphere and people at one of the most popular and anticipated races in the city.
Interesting details
Price: registration for the race is free.
Tickets: no entry is required, just register and have a free credential.
Place: there are several races within this event but all go through the center of the city in different distances.
Date: last Sunday of October.
The weather in Dublin in October
If you have not been able to take your vacation during the summer season and you could only escape for a few days to Dublin in October, let me tell you that it was not by far a bad choice. It is true that it is not one of the most sought after dates by tourists but the weather is still not as cold as in the months of January and February and you can still make outdoor tours.
The average temperature that is usually perceived throughout the month is usually between 14º to 7º degrees, especially reaching minimums at night. With a good coat and comfortable shoes, you can visit the city without any problem. The inconvenience is that it is calculated that, on average, in October it rains up to 13 days, that is, half of the days of the month.
That is why one of the best tips for visiting Dublin at this time is to always have an umbrella or raincoat at hand and look for alternative plans under cover such as visits to museums, tourist buses, indoor tours such as the Guinness factory or snacks in one of its many pubs.
When is the best time to go to Dublin?
If you came to Dublin in October, I guarantee you will have a great time and discover the city in a special and bucolic way, which is one of its most famous faces. However, if you could choose any date on the calendar, I would recommend that you look for dates a little warmer. Above all, to avoid the rainy seasons that can ruin more than one plan or excursion.
My recommendation is to go to Dublin in summer, especially in the months of June or September, as temperatures will be warm, never dropping below 10 degrees, with little rain and, however, escaping the tourist crowds that usually have in the high season months like July or August.
However, if you like the cold and want a different experience, it could also be an option to make a sword at the end of December to live Christmas in the purest Irish style. You decide!
Ireland is a country full of panoramas and dreamy landscapes that are able to surprise at any time of the year. If you have decided to travel to its capital during October, I assure you that the experience will not leave you indifferent, Dublin always has something prepared to make your trip unforgettable.