14 Best Dublin Travel Tips
Having the opportunity to take a trip to Dublin is a unique experience. Enjoy every second of your stay by following the essential tips I share with you below.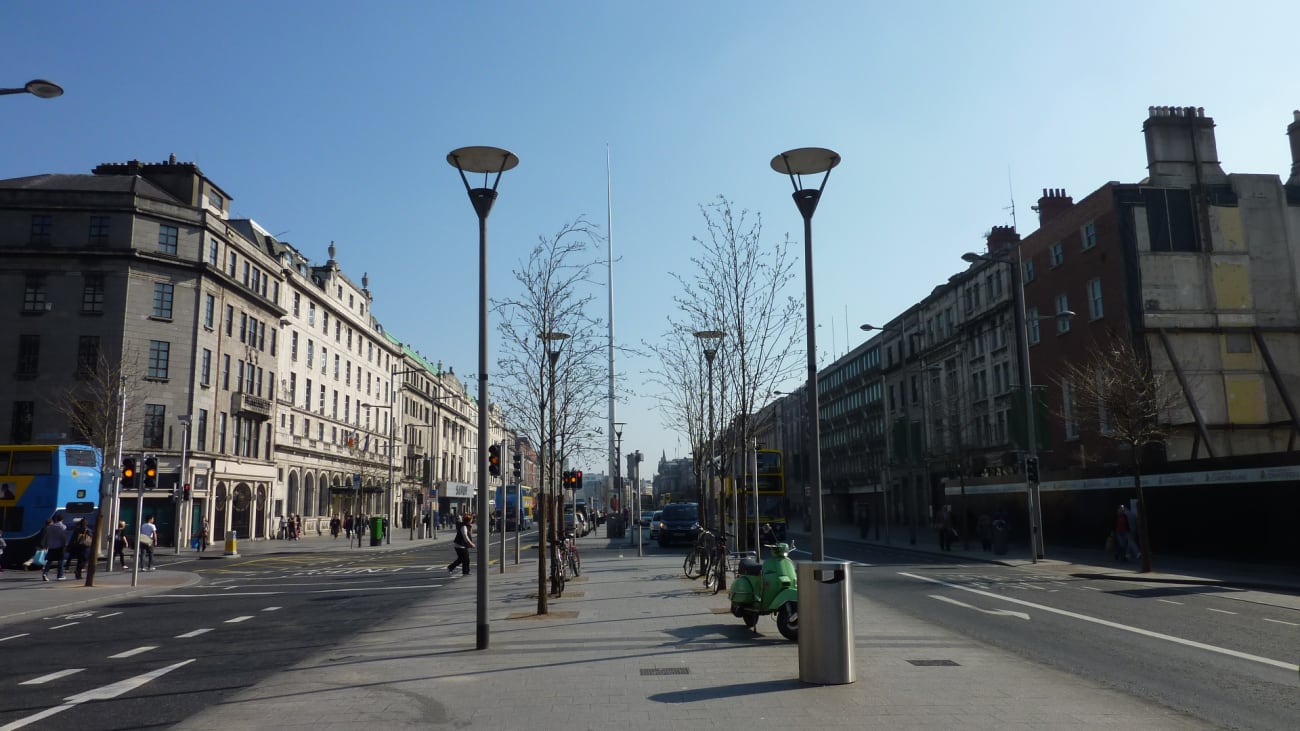 Planning a trip to see the wonders that Dublin has to offer, I'm happy for you! This destination, like any other city in the world, has its peculiarities that you should know before traveling in order to avoid unpleasant surprises and reduce unforeseen events.
You will find manyattractions to enjoy in Dublin and in this list I share with you everything you need to know to enjoy a perfect vacation.
1. In Dublin the weather can be unpredictable
By now you are probably aware that Ireland is a country famous for its wet and extremely unpredictable weather; you can wake up one summer morning on a sunny day and see the sun fade away before noon to give way to wind and rain.
Locals claim that there are days when it is possible to experience all four seasons in one day.
My advice? Don't let this overwhelm you and integrate this eventuality as part of the adventure of getting to know Dublin, although of course go properly prepared to deal with any weather situation by bringing what you might need to stay comfortable and dry: raincoats, umbrellas, rain boots, a light coat or winter clothes depending on when you travel.
2. Find out the best time to travel to Dublin
When it comes to Ireland in general, but especially Dublin city, tourism is highly seasonal. Find out about the low seasons, the high seasons and choose according to your travel objectives.
High season: Summerin Dublin, especially the months of July and August, are the peak months for tourists in the city. In these months visiting Ireland can be a bit more expensive and accommodation options fill up very quickly. Book as far in advance as possible.
Mid season: The months of April, May, June, September and October is a season of less tourism and good weather ideal for exploring the city in depth.
Low season: The low season is linked to the winter months in Dublin. In addition to the cold weather, some rural attractions on the outskirts of Dublin may be closed or operate on limited hours due to the short days.
3. Take the sightseeing bus to save time and money.
As you will realize when organizing your itinerary in Dublin, most of the attractions in the city are quite close. For example from Trinity College you can easily move to various points of interest such as Temple Bar, the Museum of Archaeology or the iconic Grafton Street.
However, other equally important attractions, such as the Guinness Storehouse or Kilmainham Gaol, are a little further away. You can take public transportation, but Dublin's tour buses are the most effective way to get around the city between the major attractions. The best part? You can buy a multi-day pass.
4. About tipping in Dublin and how to pay in Dublin.
In Dublin, and in Ireland in general, the tipping culture is not as ingrained as in other destinations and although service providers do not depend on it for a living, it is welcome. Take note of these tips on tipping in Dublin and apply them depending on the establishment you are visiting or the activity you are doing.
In pubs, bars and restaurants: A tipping range between 10% and 15% is totally acceptable.
Tour guides on paid tours: A range between 10% and 15%.
Free tours: Minimum about €10 per person.
Cabs: Tipping is not required or expected in cabs, but you can tip if you want to.
5. Purchase the Dublin Pass
The Dublin Pass is a wonderful resource that I highly recommend to anyone visiting Dublin for the first time and especially to those planning short stays in the city.
You can purchase the Dublin Pass service for one day and with it you get free access to the most iconic tourist attractions in the city. You can also use the Hop on and Off bus as many times as you like throughout the day.
Before paying, check the included attractions and confirm that the ones that catch your attention are included. The best way to purchase the Dublin Pass is to buy it online before your trip.
6. Taste the typical food of the country.
If you visit Dublin you can't miss the typical Irish food: from Irish stew, boxty pancakes, colcannon and the typical fish and chips, it's worth trying a little bit of everything. As for drinks, Guinness beer and Irish coffee are a must on any visit to the city.
Keep in mind that the best place to eat typical Irish food are the traditional Irish pubs. These places, besides offering good and high quality food, are very welcoming to tourists, so during your stay be sure to visit the best pubs in the city.
7. Don't just stay in the capital
Dublin is the country's most popular tourist city for a reason: from the architecture to the castles to its rich history and pub culture, the Irish capital is a city to fall in love with.
However, if you ask an Irishman for advice, he'll tell you to make the most of your trip and get to know the many other unique destinations the country has to offer. The best part? From Dublin itself there are all kinds of organized excursions every day that will allow you to experience Ireland without any major worries and without the need to plan.
Although there are certainly many dream destinations, here are a few ideas:
8. Learn how to get around Dublin
When moving around Dublin and the surrounding area it is important to take into consideration the transportation options available. All are valid but choose the one that best suits your needs.
Getting around Dublin by public bus
One of the most widespread and used services in the city, which is why the public bus service is quite good, punctual and efficient. Additionally, it reaches practically every corner of the country.
Getting around Dublin by train
Trains are very fast and pleasant, but do not reach all destinations. If the places you want to visit can be reached by train (or at least part of the way), don't hesitate for a second! Trains should be booked in advance, especially during peak periods.
Getting around Dublin by car
Considering the public transport alternatives and the many excursions available, I don't really consider it necessary to rent a car in Dublin but if you choose to do so anyway, remember that Ireland drives on the left side.
9. Save money with a Heritage Pass.
Interested in architecture and history? Consider buying the Heritage Pass when you arrive in Dublin. It consists of a special pass designed to see most of the country's cultural and tourist highlights, i.e., unlike the Dublin Pass, it is not valid only in Dublin.
The special pass includes a large number of attractions such as the beautiful Dublin Castles, various national parks, memorial gardens and many monuments inside and outside the capital. All this for a price of around 28 €. When you add up the individual price of visiting the attractions you are likely to end up saving.
10. Free internet connection in Dublin
If walking around the city you need internet connection, you should know that there are places in Dublin where you can get free Wifi such as pubs in the city and all Starbucks chain cafes.
Additionally, the Dublin City Council launched an initiative of free internet access points in selected locations within the city. In addition, numerous local establishments and businesses offer this service free of charge.
You can save the website showing thefree Wifi hot spots in Dublin before your trip and be prepared for any emergency.
11. In Ireland you will need a power adapter
When packing your suitcase for your trip to Ireland, keep in mind a very important fact: Irish plugs are three-phase, so in order to use your equipment you will need to purchase an adapter.
The best plan will always be to buy the adapter you need before your trip, but if for some reason you forgot it, you can buy it in the same city. The best thing to do is to go to the famous O'Connell Street shopping street, in the old town of Dublin, to get the utensil you need.
12. Discover the city with a sightseeing tour
Having just arrived in Dublin, one of the best ways to get acquainted with the city and get a quick glimpse of the sights is definitely a sightseeing tour of the city.
You will find many interesting alternatives, so I invite you to explore the available options and hire the one that best suits your interests. Historical tours of Dublin; gastronomic tours; walking tours; bike tours of the city; ghost and mystery tours; and many more. You will have plenty of options!
13. Language is important
Remember that Ireland is located on an island where the official languages at the constitutional level are English and Gaelic, so the streets and signs are always in both languages.
All inhabitants speak English, so if you can communicate effectively in this language you should have no major problems. In the tourist areas, you will also find staff able to communicate in Spanish or other popular languages.
Even if your command of English is excellent, don't panic if you find it a little difficult to understand the natives at first, especially in the regions beyond Dublin. The truth is that the Irish use a lot of slang, which added to the strong accent can make communication difficult at times.
14. Keep in mind the city's business hours
This advice is especially important when out and about in towns and cities beyond the capital: In Ireland, Sunday is considered a day of rest, and while many establishments and attractions are open, others may not be, or may work limited hours.
This rule also applies to national holidays. My advice? When planning your itinerary, check carefully which attractions or stores you will visit on Sunday and check the schedule for each of them.