Dublin Hop on Hop off Bus Tours
Don't let the rain ruin your trip to Dublin! There is a very comfortable and easy way to visit the city, and that is aboard a tourist bus. Read on and discover all its advantages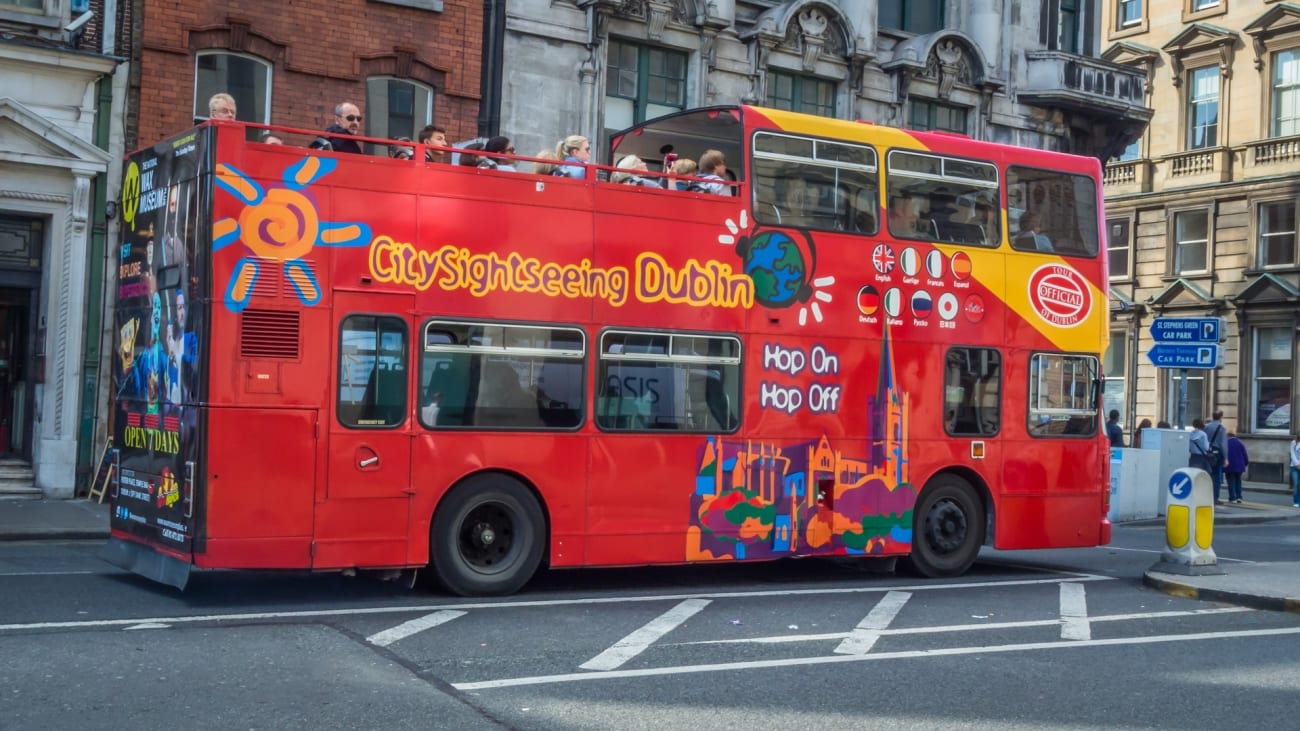 Walking is the most usual way to get around a city, but it is not always the most comfortable. If you want to shelter from the rain without giving up visiting Dublin or if you have little time and want to see everything the capital of Ireland has to offer, I recommend you to buy a pass for the tourist bus.
1. The tourist bus in Dublin
It doesn't rain all day in Dublin, but it does rain (almost) every day. Sightseeing and getting around the city in the rain can become quite cumbersome; that's why the use of the tourist bus is so popular in the Irish capital.
How the sightseeing bus works
The tourist buses in Dublin operate on a free-stop method; this means that, in addition to doing the whole tour as an excursion, you can use this service as an additional means of transport. During the time your pass is valid (usually 24 or 48 hours) you can take the bus as many times as you want getting on and off at the stops you want.
There are different tour bus companies operating in the Irish capital, but usually you can buy a 1 or 2 day pass for the tour bus depending on how long you are going to be in Dublin. It will be activated the first time you use it and its use time is counted by hours (not calendar days).
In the city there are different points of sale of each of the companies, but I recommend you to buy it online because you will receive it directly in your mail, you will have a period of twelve months from the purchase to activate it and you can cancel it up to 24 hours before the day you start your trip to Dublin.
2. Advantages of using the Dublin sightseeing bus
Personally, before using it for the first time on one of my trips, I was somewhat reluctant to the concept of a tourist bus. For this reason, now that I have used it, I think it is important to highlight what are the advantages or differences of this service with respect to the regular buses:
There is no limit to the number of trips during the time your pass is active.
It connects all the points of interest in the city; if you follow the whole route you will not miss anything in Dublin.
It is much faster and more convenient than a regular bus, since the route is designed according to museums, monuments and neighborhoods that are important in historical and cultural terms, eliminating detours or "accessory" stops that the regular buses do have
It has panoramic views
It has audio commentary in several languages
Its use entitles you to a number of additional benefits such as guided walking tours.
Children accompanying an adult with a pass travel free of charge.
3. 1 or 2 day pass for the free Dublin sightseeing bus with free stops
You will distinguish the City Sightseeing sightseeing buses by their red color and their double-decker structure. In Dublin they are available every day of the week from 11 am to 4 pm with a frequency of 60 minutes.
You can buy a pass for these Dublin sightseeing buses valid for one or two days. In a complete route of 1 hour and 45 minutes, the Dublin sightseeing bus covers places of interest such as Temple Bar, the Guinness Factory, the Cathedral or the Museum of Modern Art.
The Dublin sightseeing bus pass also gives access to a number of discounts and privileges. Among all of them, I have to highlight the guided walking tours through the city center that you can enjoy for free. Other advantages are a 10% discount on: the visit to the Irish whiskey museum, the rental of bicycles or selected excursions around Dublin.
Stops
Irish Whiskey Museum
Dublin Castle
Christ Church Cathedral
St Patrick's Cathedral
The Dublin Liberties Distillery
Guinness Factory
Pearse Lyons Distillery
Irish Museum of Modern Art
Kilmainham Gaol
Heuston
Parkgate Street
Collins Barracks
Smithfield
Temple Bar
The Writers' Museum
O'Connell Street Upper
General Post Office
Irish Emigration Museum
Dublin Convention Centre
Windmill Lane Recording Studios
Ballsbridge
RDS Hall 1 (Main Hall)
Simmonscourt Road
Morehampton Road
Leeson Street Upper
Merrion Square South
Merrion Street Lower
Saint Stephen's Green
Dawson Street
Ana's Traveller Tip

Activate your pass first thing in the morning to get the most out of your usage time.
4. Dublin Pass with the sightseeing bus pass included
If you are determined to make use of the sightseeing bus in Dublin, before you buy your pass I recommend you take a look at the Dublin Pass Tourist Card. With it you will have the opportunity to enjoy the Big Bus tourist bus service for 24 hours, but also includes many other advantages that may be useful during your visit to the Irish capital.
The first thing you need to know is that you can buy online the Dublin Pass + use of the Dublin tourist bus for 24 hours and receive it conveniently in your mail along with a guide to the city without having to go to a physical point of sale once you arrive in Dublin.
You have available this tourist card for a price of $ 81 and you can choose between the options of 1, 2, 3, 3, 4, 5 or 6 days depending on the time you are going to be in the capital and the museums and places you want to visit. To get the most out of it, I would recommend a minimum of two days.
In addition to the 24-hour pass for the Dublin sightseeing bus, this tourist pass includes discounts in stores, museums and other establishments and free access to more than 25 points of interest in the city. Read more about Dublin Pass.
What's included
Entrance to the Guinness Factory
Entrance fee to the Irish Emigration Museum
Entrance to St. Patrick's Cathedral
Entrance to Dublin Castle
Entrance to the small museum of Dublin
Visit to the Jameson Distillery
Visit to the National Wax Museum
Also, note that at many of these sites you will enter directly without waiting in line. You will be able to present your Dublin Pass in physical format or access it from their mobile app.
5. If you are interested in taking a sightseeing bus tour of Dublin, you will also be interested in
The ideal complement to the tourist bus tour is to take one of the many guided walking tours that are organized in the city center and its different neighborhoods. With your 24 or 48 hour pass you have free access to some of these tours, but if you want more I invite you to visit this article on Best Tours and Day Trips from Dublin.
On board the tourist bus you will enjoy audio commentary in several languages, but on the guided tours the guide's explanations have a completely different approach. In the tourist bus you will learn the official history, with a local guide the legends and customs of the city will be the protagonists.