Cala Pilar Beach in Menorca
Welcome to the north! The solitary and wild landscape of Cala Pilar contrasts with the colors of the southern coves, but its unique nature makes it a must-see during your trip.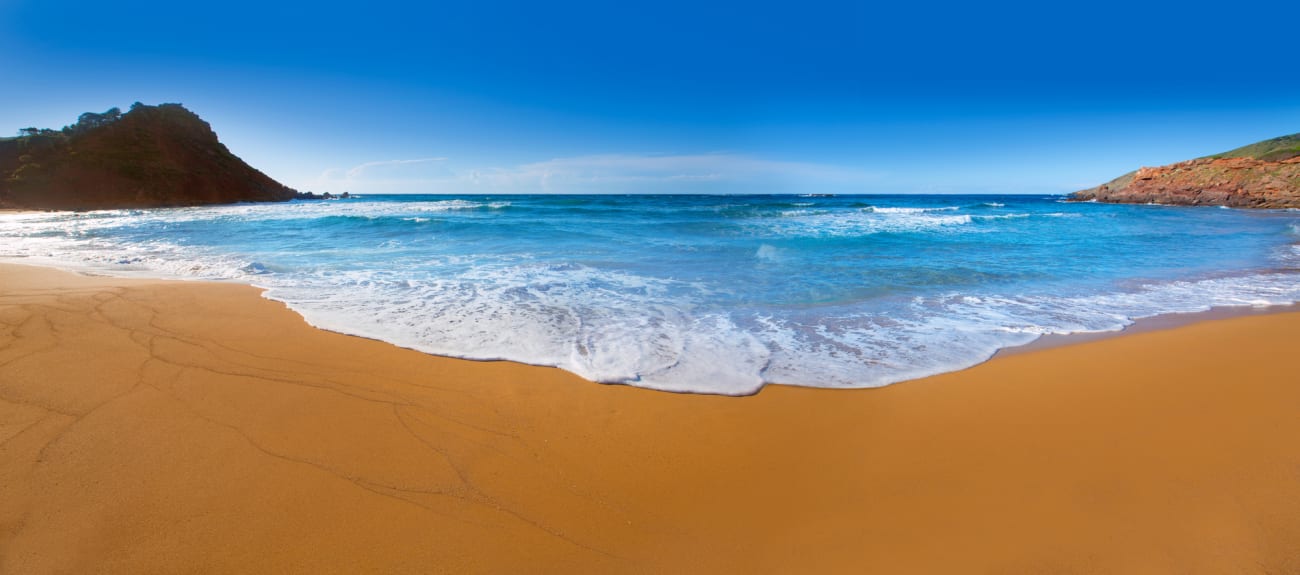 Cala Pilar is one of the jewels that the north coast of Menorca has prepared for you. With golden and reddish sands and even clay to repair your skin by taking a mud bath, you can enjoy its crystal clear waters if you go when the Tramontana wind is not blowing.
How to get to Cala Pilar
Like some of the best paradises on the island, this virgin and paradisiacal beach is not accessible by car. You will have to walk to it, but the walk will be worth it. I'll tell you everything you need to know to get there in the most comfortable way possible. See on Google maps.
By car
The nearest parking lot so you can park on your way to Cala Pilar is just over a kilometer from the beach, which results in a half hour walk. Check here for the location of the parking lot for easy access by car from your hotel or apartment.
Walking
It will take you about 30 minutes to walk from the parking lot: you will cross a stretch of the popular Camí de Cavalls along which you will also see a shady pine forest that you may find useful because there is an area to sit and have a picnic. The walk is not usually very long, especially if you decide to do it early in the morning, before the sun is too high and presses hard.
By bus
Nowadays it is not possible to get to Cala Pilar by bus, so you will have to have a vehicle (you can rent one at the airport) to get there by car and then walk to the beach.
Visit Cala Pilar on a boat excursion
Cala Pilar is one of the best beaches in the north and because its access is not too easy, a great option to visit the north coast of the island is to take a boat trip. To visit the northern coves you will have to embark on one of the boat trips that depart from the Bay of Fornells.
By catamaran or sailboat, you will sail the turquoise waters of the north coast following the direction of the wind and throughout the morning or afternoon (you can choose to do a half-day tour or spend the whole day on the boat) you will have the chance to snorkel, take a dip and get to know the rugged coasts and caves of the north.
What to do in Cala Pilar
If you go on a day when it is not too windy (which I recommend 100% to make the most of this beach) you can snorkel and enjoy its crystal clear waters with a good refreshing swim. On the way to the beach there is a picnic area, so you can eat in the shade under the pine trees and take a break from the heat.
Along its extensive sandy surface, you will find muddy areas where you can smear clay on your skin to experience the benefits of these mud baths. Afterwards, a good dip and that's it!
The best time to visit Cala Pilar
Considering that the cove is not very easy to access and requires a 30-minute walk, it is best to arrive early in the morning (before 10 am if possible) to be able to park without problems in the parking lot and start the 30-minute walk without being too hot.
If you are thinking of going out of high season, you can arrive at any time of the day: keep in mind that the north coast is less demanded by tourists than the south coast, so outside the months of July and August you should have no problem visiting Cala Pilar at almost any time of the day.
What services does Cala Pilar have
None. Cala Pilar is totally unspoiled, so you will not find bars, beach bars, restaurants or rental services for sunbeds and umbrellas. That is why it is important that you take with you an umbrella and food and drink to spend the day. Remember to bring sunscreen and comfortable shoes so that the walk to the beach is not too complicated.
Visit Cala Pilar with children
Cala Pilar with children is always a good idea, especially if you avoid days of heavy swell or Tramontana wind. So you can enjoy a calm sea and a stay on the beach where the wind does not tarnish the experience. The little ones can play in the sand, swim without any risk and stroll along the long coastline enjoying the scenery.
So if you are thinking of visiting Cala Pilar with your family, you can rest assured that it is a success. Just remember to bring enough food and drink for everyone, as there is no bar or cafeteria service to buy refreshments or food.
Snorkeling in Cala Pilar
In general, snorkeling in Menorca is a great experience. Its crystal clear waters and calm sea allow you to have a very good view of the underwater panorama and you will be able to discover some of the protected species that inhabit the stuff of Menorca. You only need to bring a mask and a snorkel and you don't even have to go far from the shore to see colorful fish, so it doesn't require any special fitness.
On the other hand, as you already know, avoid visiting Cala Pilar with Tramontana wind to be able to snorkel without many waves or currents that hinder the experience.