Cala Macarella and Macarelleta in Menorca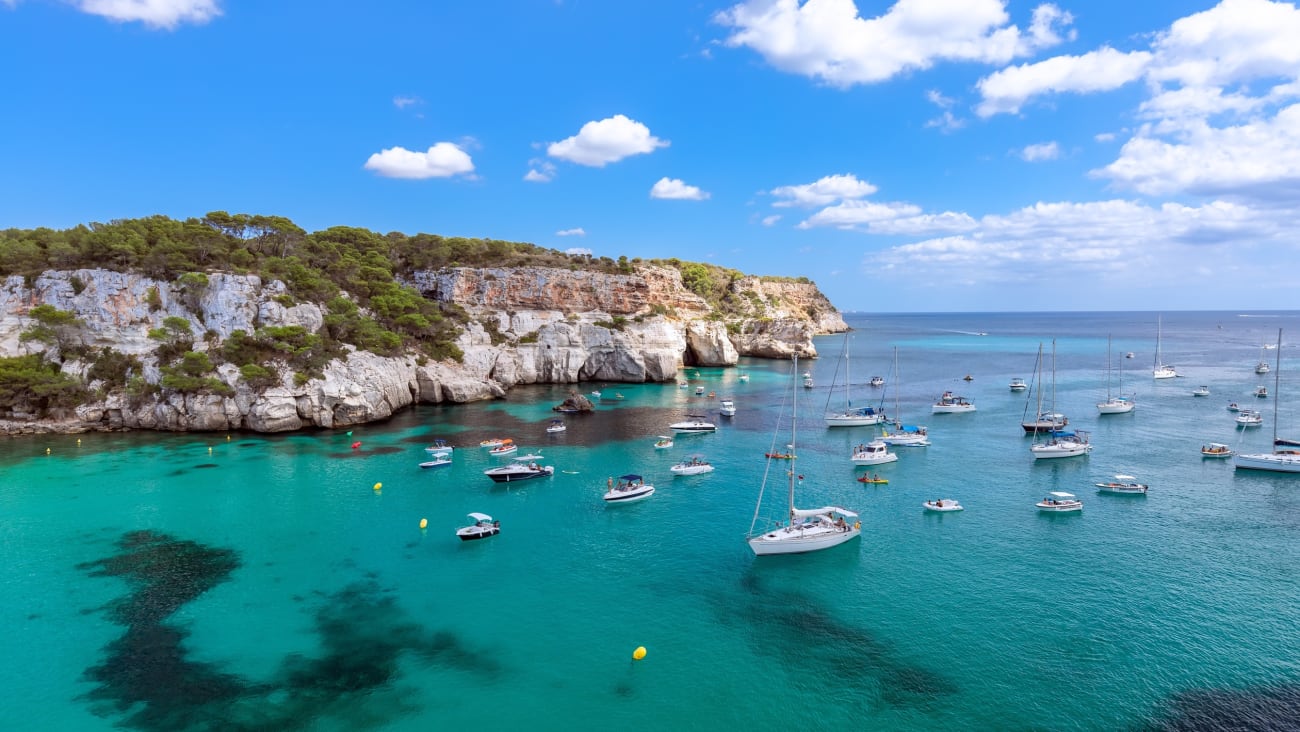 Cala Macarella and its little sister Macarelleta are the ultimate expression of beach paradise on the south coast of Menorca: fine white sand, turquoise waters and lush vegetation surrounding the two most popular coves of the island.
In high season they can be crowded, but so that this does not tarnish your experience, take note of the following tips to enjoy them (and consider the option of joining a boat excursion: to enjoy them from the water).
How to get to Cala Macarella
By car
In high season, the most practical way is to get to Cala Galdana and park there. Cala Galdana is one of the main tourist spots of the island, it has several hotels and restaurants, so it is very prepared to receive tourists and there is enough space to park (in high season it will be a little more complicated, but with patience you can get there). From there it is only a 30 minutes walk to Cala Macarella. During the summer, the parking and the access to this beach are closed to private cars to reserve your environment.
If you visit the island out of high season, you can go to the proper parking of the cove, which has 900 parking spaces and is only 15 minutes away from the beach. Remember that it is closed in summer!
Walking
Walking the way is quick and easy, besides it is very well signposted. From Cala Galdana you will only have to walk about 30 minutes and the path is totally natural and the views are worth it. You will go through a pine forest, so you will find shady spots and as it is not too steep, it is very easy to walk. This route is part of the famous Camí de Cavalls that crosses the island.
By bus
It is possible to reach Cala Macarella by public transport. Take any of the buses that stop at Cala Galdana and from there you will only have to walk about thirty minutes to reach the sandy cove. It is a short and pleasant walk and going by bus saves you the hassle of looking for a space in the parking lot, so make it a good option to get to Macarella. Consult the web of public transport of Menorca: to know schedules and bus lines from your accommodation.
Visit Cala Macarella on a boat excursion.
If you feel like taking a real relaxing day, enjoy the best coves of the island and take a bath in its deepest and turquoise waters, taking a boat trip will be a great idea. Doing a excursion through the coves of Menorca: you will discover Macarella and Macarelleta from the sea, without having to wait in the parking lot, walk to the beach or look for a place for your umbrella.
The tour departs from Ciudadela and takes you to the best coves in the south. It includes a traditional paella served on board and drinks. You will make several stops to enjoy swimming and snorkeling and return to port after a full day of sailing. The excursion costs about 50 € per person and is all inclusive, it's worth it!
What to do in Cala Macarella
The answer is very easy: enjoy! You can spend hours and hours there and it will be short. The color of the water invites you to take an endless dip and if you have goggles and snorkel, you can snorkel around the cliffs that flank the beach. In Macarella and Macarelleta there is a very varied underwater life and the clarity of the waters will allow you to have a great view of the seabed. Go for a swim!
We also encourage you to walk along the beach to get to Cala Macarelleta. It is only a few meters away and is smaller than Macarella, but it has a special charm.
The best time to visit Cala Macarella
If you go to Cala Macarella in summer you will have to organize well the schedules to try to flee from the peak hours where the beach has more affluence. It is always best to arrive early in the morning, when the parking lot is not yet full and the walk to the beach will be done without having to walk under the sweltering heat of midday. If you arrive later than 11 o'clock you will find it very difficult to park.
Another option you can try is to arrive around 14:00 or 15:00, when the early risers begin to leave the beach to go to eat or rest a while in the hotels. However, keep in mind that the intense heat will make the walk to the beach a little difficult. If you feel like enjoying it quietly and calmly, in the late afternoon you will be practically alone.
What services does Cala Macarella have?
Cala Macarella is a practically virgin beach, it has no toilets or lifeguard but it does have only one restaurant-bar, where you can eat or buy drinks. You'll find it right away, it's called Cafeteria Susy and has a pretty basic but tasty menu that will get you out of trouble if you are so comfortable on the beach that you don't want to leave even for lunch.
Where to eat in Cala Macarella
The Cafeteria Susy is the only restaurant-bar on this beach and you can eat there quietly, as well as have a soda or buy some ice cream or a drink. If you want to have more variety you will have to leave the beach to go to other nearby beaches with more variety, such as Cala Galdana. There you will find several hotels, restaurants and supermarkets.
Visit Cala Macarella with kids
image|url=https://res.cloudinary.com/hello-tickets/image/upload/v1624383431/post_images/minorca-210/Calas/limor-zellermayer-VLOVJl_mLCA-unsplash.jpg|caption=Children playing on the beach :: ©Limor Zellermayer:::
Visiting Cala Macarella with children is a good idea the way to get there is easy and not very long. The beach is fine sand and the children will enjoy the temperature of the water. If you have goggles for them to snorkel, they are sure to have a great time swimming in search of colorful fish.
Snorkeling in Cala Macarella
:
Cala Macarella is one of the best beaches on the island for snorkeling. In addition to its clean and transparent waters that will allow you to see meters away, you will find a very varied marine fauna especially around the stone cliffs that surround the beach itself. If you want you can do it on your own (remember to bring goggles and snorkel) or you can join a boat trip, as these excursions have stops in the area for swimming with enough time to snorkel (also in the boat they provide you with the necessary equipment).
If you like the idea of snorkeling in Menorca, there are also other coves in the south and north of the island where you can enjoy this sport and discover the underwater life of Menorca, which is very extensive. I tell you more in my article about the best places to snorkel in Menorca:.
Cala Macarelleta
image|url=https://res.cloudinary.com/hello-tickets/image/upload/v1623776843/post_images/minorca-210/paseo-barco/daniel-ferrandiz.jpg|caption=Bathing in crystal clear waters :: ©Daniel Ferrandiz:::
Cala Macarelleta is only a few meters away from Cala Macarella and its beauty has nothing to envy to its big sister. You will have to walk only a few minutes to enjoy the wonderful views of this cove. There are usually less people but also less space for visitors, so if you get there early take the opportunity and stay a while enjoying it.