Cala Blanca in Menorca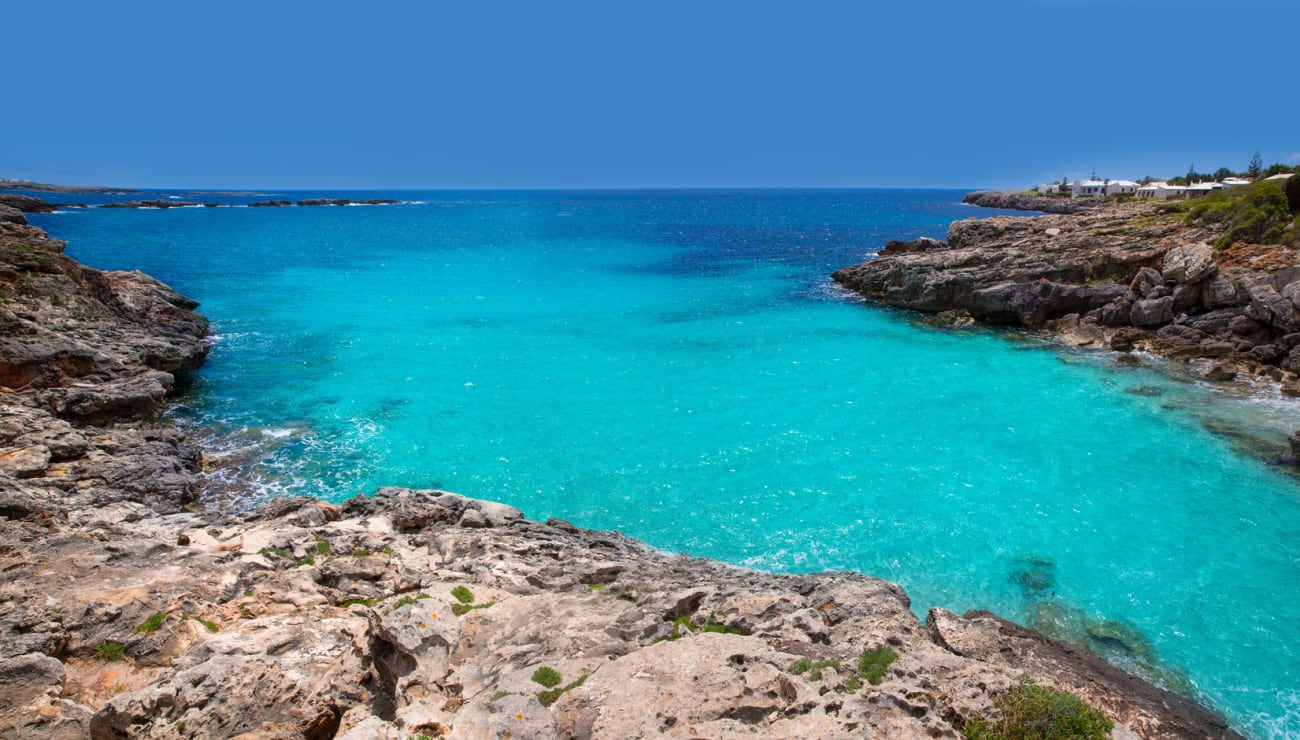 Although it is not the perfect destination for those looking for a day at the beach in solitude, Cala Blanca is a very comfortable beach, especially if you stay around it, as there are many options to stay. Do you want to know in depth all the options Cala Blanca has to offer? Keep reading!
How to get to Cala Blanca
Cala Blanca is in the west of Menorca, just 5 minutes drive from Ciudadela. You will reach it in a very fast and comfortable way. I tell you all the options that exist below:
By car
Less than 4 km from Ciudadela you will find Cala Blanca if you follow the road to Cap d'Artrutx. As it is a fairly urbanized urban cove you can quickly find a place to park in one of its parking lots.
Walking
If you are staying in one of the hotels or apartments, the best way to get to the beach is on foot. This beach is very comfortable and easy to access, which makes it very popular with families.
By bus
Thanks to its location, there are several bus lines that will take you close to the beach. I recommend that you consult the Menorca's transport website: to find out which line suits you best and what are their schedules.
Visit Cala Blanca on a boat tour
Cala Blanca is not one of the main tourist attractions on the island. Being an urban beach it doesn't have the charm of some of the unspoiled beaches found in the south of Menorca, so it's not as easy for boat tours to get here. My advice is to enjoy the beach, as it is easily accessible and that the day you want to take a boat tour, you do it to discover the best unspoiled coves in Menorca:.
What to do in Cala Blanca
In Cala Blanca you can enjoy a comfortable and relaxing day at the beach. It is usually very crowded but its proximity to the various developments and hotels in the area makes it usually quite saturated. Perhaps it is not the best place for snorkeling, because despite its crystal clear waters, the large volume of people makes the marine fauna is not particularly concentrated in this area. If you want to do snorkeling in Menorca it would be better to go in search of more natural pristine spots.
The best time to visit Cala Blanca
At Cala Blanca it is best to arrive early in the morning to find a good spot and spend the rest of the day quietly. It shouldn't cost you much to park (and if you are staying there you won't have that problem) but throughout the day the beach is usually very crowded, so you will be grateful for having arrived early.
What services does Cala Blanca have?
:
Cala Blanca has everything. It has several options for lodging in the area (if you want you can check availability at Apartamentos Cala Blanca:) and along the developments you will find green areas, playgrounds, supermarkets .... The beach has guard service.
Where to eat in Cala Blanca
Around the area you will find different options for all tastes and budgets. I would highlight Cas Safra Gastrobar, the favorite of visitors to the area, but you will also find good quality in other bars and restaurants such as Miramar or Cala Blanca.
Visit Cala Blanca with children
Visit Cala Blanca with the whole family is a great option if you are looking for comfort to spend a day at the beach, with all kinds of services nearby. Access to the cove is very easy and the little ones will appreciate staying in the area.