Best spots for snorkeling in Menorca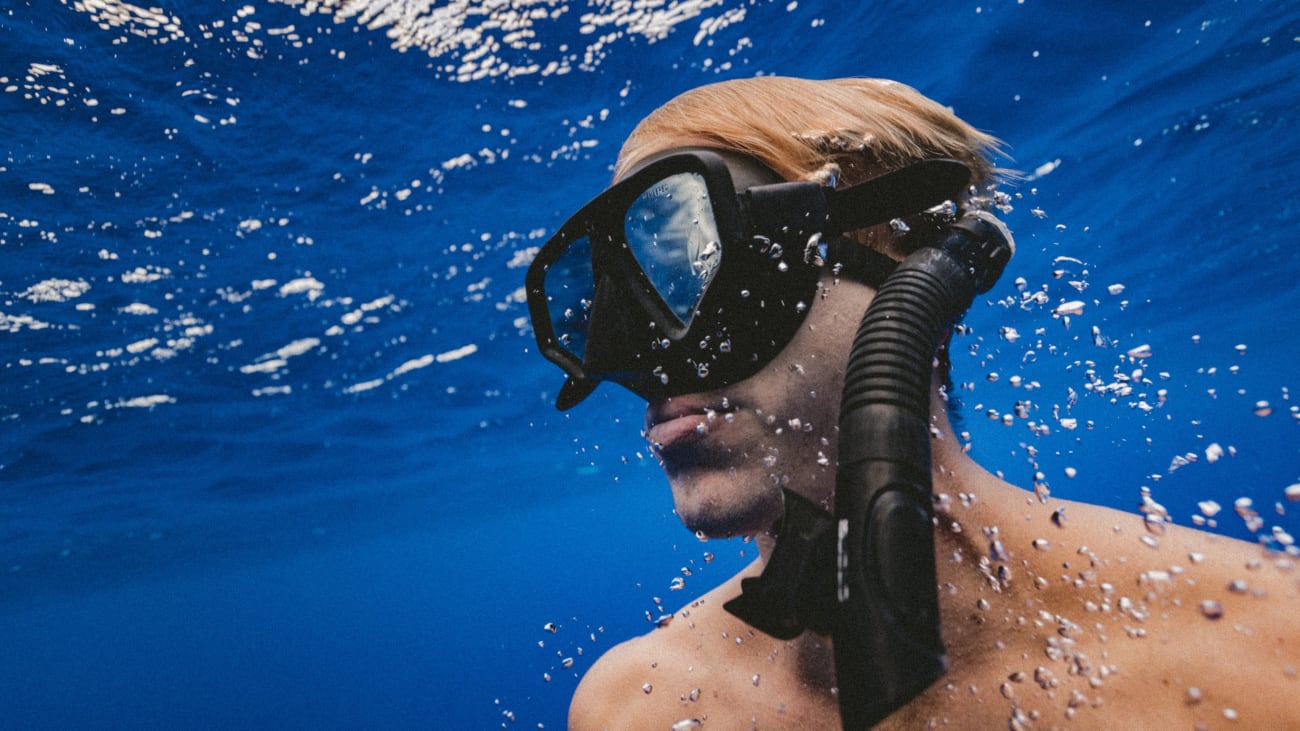 Diving into the water with goggles and a snorkel will open up a world to explore that will surprise you. Menorca is one of the best places to snorkel in the Mediterranean, as its clean and clear waters will allow you to have a perfect view.
The rocks and vegetation that surround its coves attract hundreds of unique species that will make your walk through the water a lot of fun. But, which are the best coves for snorkeling in Menorca?
1. Snorkeling in Cala Morell
The paredes de posidònia of Cala Morell make it a perfect place to get close to the marine fauna of the island and enjoy large schools of colorful fish.
Approach carefully and enjoy this marvel for the senses: this beach is shallow, so it will be easy to swim through and it also has platforms that have been strategically placed to facilitate access to the water. Let's dive!
Where it is: North coast, near Ciudadela - see at Google maps:.
2. Snorkeling in Cala Macarella
What is one of the favorite coves for visitors and Menorcans to enjoy a day at the beach in its fine sands and paradisiacal waters, is also one of the best environments on the island to explore underwater life.
This cove is flanked by vertical walls of rock and vegetation that emerge from the depth of the sea, creating small nooks and crannies where fish seem to play hide-and-seek. Do not hesitate to put on a good pair of goggles and dive into the waters of Macarella to enjoy the best snorkeling.
Where it is: South coast, near Ciudadela and Cala Galdana - see in Google maps:.
3. Snorkeling in Cala Tamarells
Cala Tamarells is actually formed by a set of three unspoiled coves on the east of the island and its turquoise waters and requiring a relatively long walk to access it, makes it not too crowded, even in high season. That's why it's a great place to snorkel and enjoy the seabed in peace and quiet. At depth you will see how the sand is completely covered by a layer of posidonia, the Mediterranean plant, which is the preferred food of many of the species that live there.
Walk through it little by little and enjoy the views and scenery. You can also access it by kayak if you want to avoid having to walk too far.
Where it is: Mahón, in the Albufera des Grau Park - see at Google maps::.
4. Snorkeling in Cala S'Escala
It is very close to the Favàrtix lighthouse, in the north of Menorca, and therefore, it is a virgin area very little frequented by tourists. There you will be able to enjoy a rocky landscape that seems to be taken from another planet and in its rocky bay you will find little depth, so you will be able to see closely the species devouring the posidonia around them.
It is best to explore it on a day when there is little wind to make sure that the rocks do not pose any danger.
Where it is: north coast, near the Favàrtix lighthouse - see at Google maps::.
5. Snorkeling in Los Ingleses Cave
It is not the place where we will find a greater number of marine species, but the beauty of its surroundings is well worth a visit (and a dip). It is inaccessible on foot and by car, so you will have to get there either by kayak or on a boat or motorboat excursion that will allow you to get into its rugged relief.
Once there, you will see its rock formations and the solitude of the place will make you feel like the protagonist of an adventure movie. If you know how to dive, it is also an ideal place to dive to the bottom.
Where it is: North coast, accessible by kayak or boat from Fornells Bay - see at Google maps:.
---
Snorkeling during a kayak excursion.
Going out in kayak will give a sporty and adventurous touch to your vacations, besides it will allow you to reach inaccessible places and will allow you to enjoy the underwater species in a quiet environment. From the Bay of Fornells they organize kayak outings in groups that will take you to virgin beaches to snorkel and enjoy swimming in peace and quiet. They cost about 47 €.
The instructor will provide you with everything you need: kayak, paddle, vest, goggles and snorkel, so you won't have to worry about anything. If you have never been kayaking before, don't worry because they will give you a couple of tricks so you can handle it with ease from the first moment.
Throughout the route you will be accompanied by the monitor, who will guide you to the best spots and will tell you which are the best places to take a dip and snorkel. You will discover the Bahía de Fornells and its pristine beaches and the Cueva de los Ingleses, a real jewel of nature that goes unnoticed by many tourists and that you, on the other hand, you can explore with peace of mind.
How much does it cost to snorkel in Menorca.
Snorkeling as such is free. As long as you have goggles and a snorkel, you can jump in the water and explore on your own. Of course, you may not find the real underwater life that exists in the depths of the coves and rocks on the shore. Joining a boat excursion that takes you to the bottom is a great option for snorkeling: there are options from 28 € to 110 €, depending on the route, duration and the boat you choose.
How and where to see octopuses in Menorca
If you snorkel in the northern coves of Menorca, in its marine reserve you will see, not only octopus but other species such as moray eels and mullets. This makes the north of Menorca a perfect place to snorkel and enjoy the underwater life of the island.
Where is the best place to snorkel in Menorca
Although you can snorkel on the shore of any beach, it is best to go into its **most virgin coves, caves and the depths of the sea. To do so, consider the option of taking a boat trip or a kayak trip either to the turquoise coves in the south or to the virgin beaches in the north, its Bay of Fornells and the Cave of Los Ingleses.
Where is the Maritime Reserve of Menorca?
The north coast of Menorca accumulates the largest number of species on the island and for this reason the Reserva Marítima de Menorca was created more than 20 years ago, which reaches from Bahía de Fornells to Cap Gros.
Can I snorkel in Menorca with children?
:
Of course you can. As long as they know how to swim, the experience has absolutely no risk and they will have a great time discovering the fish and colors they have seen so many times in cartoons and movies. Don't be afraid to take the little ones with you to snorkel because it will be an unforgettable family experience.
Just look for a smaller size snorkel and goggles to make sure they don't get in the water and enjoy the experience comfortably.
Where to dive in Menorca
You can dive both the north coast and south coast of Menorca. To dive in the deep waters of Menorca, as anywhere else, you will need the appropriate certification and the necessary equipment. If you don't have either of the two things but you want to try the experience, you can do a baptism in a swimming pool that allows you to get the experience (and the qualification) necessary to later dive in the sea waters.
Consult in :Diving Menorca: all the options: it is a local company of professionals and marine biologists that make expeditions totally respectful with the environment and the marine fauna of the island. They will tell you everything you need to know to enjoy the experience to the fullest.