14 Things to Do in Madrid in December
Traveling to Madrid in December can be a wonderful experience. With Christmas approaching, the city gradually begins to prepare for the holidays.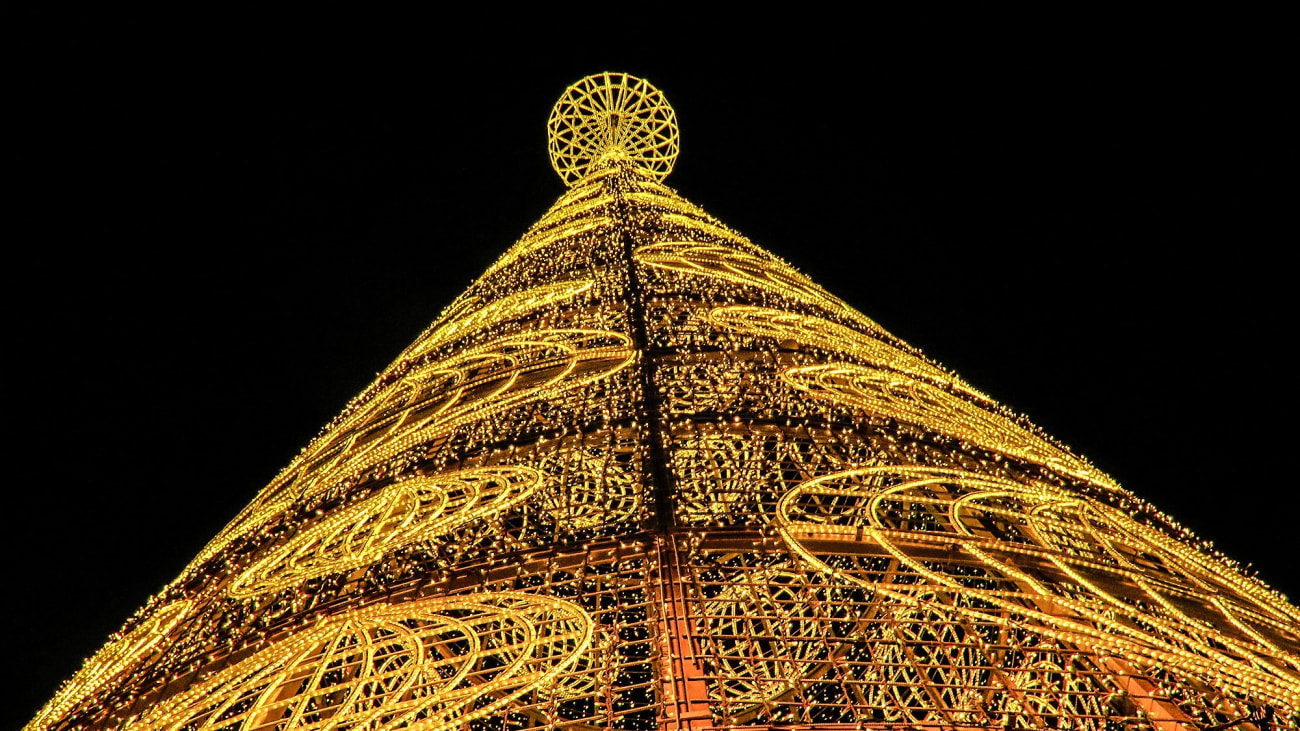 No one doubts that the large number of places to see in Madrid makes visiting it always a great idea. However, there still remains a certain idea that the colder months, such as December, are not the most suitable to approach the capital.
If you are one of those who think that, I can only advise you to change your mind, as the city offers great attractions at this time. In addition, in the last month of the year the temperatures do not get dangerously close to 0º and you can often enjoy the warm winter sun. Read on and discover the best plans in the Villa!
1. Be amazed by the special effects
Are you familiar with the concept of videomapping? If not, I'll explain it to you right away: it is a spectacle of three-dimensional images accompanied by music and animations. During Christmas in Madrid, a monument of the city is transformed thanks to this technology: the Palacio de Cibeles.
The facade of the modernist building becomes a kaleidoscope of colors that will leave you open-mouthed. To get an idea, you can take a look at the official 2021 video.
To immerse yourself even more in the Christmas atmosphere, you can take advantage of another classic of the capital: the bus that runs through the most emblematic streets for travelers to enjoy the lights and decorations. Remember to book your tickets well in advance!
2. Don't give up the terraces
Who said you can't enjoy a terrace in winter? In December, daytime temperatures can be pleasant and if temperatures drop too low, there is an alternative: winter terraces.
In the list below I have compiled the best options in the capital. Most of them are located in the center, although there is no lack of options a bit far from Puerta del Sol. Don't worry, you can easily get there by public transport.
El jardín de Arzábal: it is the restaurant of the Reina Sofía Museum and in its glazed rooftop you will be able to taste an excellent market cuisine that uses high quality Mediterranean ingredients. Despite its large size, it is advisable to book in advance (Calle de Santa Isabel 52).
Villa Verbena: located in the viewpoint of the Casa de Campo, it is perfect if you want to get away from the hustle and bustle and relax on the shores of a lake. Although it opened its doors in 2021, it has quickly become a classic of Madrid's Sundays (Paseo de María Teresa 3).
DoñaLuz: is a rooftop a few meters from Sol. Crossing the door you will enter a colorful space whose decoration takes us to Cartagena de Indias. Take advantage of your stay to enjoy a cocktail and take some panoramic photos (Calle Montera 10/12).
La Antoñita: is the restaurant of the boutique hotel La Posada del Dragón. You can dine in the inner courtyard of a building that preserves part of the Christian walls of Madrid and a horse trough dating back to the nineteenth century (Calle Cava Baja 14).
El Jardín de Alma: a terrace of more than 1,000 square meters surrounded by luxuriant vegetation (Calle Arturo Soria 207).
Saporem: where every dinner becomes a gastronomic experience. If you want to have a snack, you can trust them (Calle Ventura de la Vega 5).
3. Discover the mysterious side of Madrid
In December, the sunset comes after five o'clock in the afternoon and, in a few hours, the last rays of sun leave space for the night. It is the ideal time to take a ghost tour of Madrid.
Like any self-respecting capital, Madrid also hosts spirits and tormented souls. If you want to learn about their vicissitudes, you can take part in an urban excursion that will take you to the foot of haunted buildings. In most cases, the walks are enriched with 3D effects.
The best known stage is the Palacio de Linares, the current headquarters of Casa de América. Its oldest tenant goes by the name of Raimundita. According to legend, she was the daughter of businessman José de Murga and Raimunda de Osoria.
4. Immerse yourself in the colorful world of Circo Price
From the end of November until the beginning of January, the Teatro Circo Price hosts a Christmas show with acrobats, dancers and contortionists.
It has been performed since 2006 and each year delights the people of Madrid with a new production. In 2021, for example, the kermesse told the story of the heroine Cometa and the villain Amargador, the king of a thousand disguises who wants to ruin Christmas.
It is located at Ronda de Atocha 35 and occupies a former cookie factory. For more information about openings and opening hours, I recommend you take a look at the official website.
5. Escape to Toledo
If you plan a stay of about 5 days in Madrid, you can dedicate one of them to make an excursion to Toledo. Its origins date back to Roman times and after the fall of the empire, it was the ancient capital of the Visigothic kingdom.
For many years, Christians, Muslims and Jews lived together peacefully and their temples have survived the passage of time. That is why Toledo is a fascinating city and well worth a day trip.
In addition, on the occasion of Christmas, its streets are filled with lights, markets and cultural events. In the central Plaza de Zocodover, a traditional merry-go-round attracts children and families, as well as the nativity scenes scattered throughout the old town.
6. Enjoy a flamenco show
Flamenco shows in the capital are usually packed with people, which is a good thing because it makes for a better atmosphere. The not so good part of that is that some people run out of tickets.
But the good thing about going to Madrid in December is that you will have more chances to get your ticket and enjoy this wonder. Don't worry, the place will still be full and the atmosphere will be the same.
This activity is a perfect way to get to know the Spanish culture and experience an incredible night. Besides, they usually include drinks and dinner with typical Spanish dishes. Can you think of a better plan to enjoy the night in Madrid? Not for me, really.
7. Discover new museums
If this is not your first time in the Spanish capital, you have surely already visited famous museums such as the Prado or the Reina Sofia. So, this time I want to recommend other less known and different, but also very interesting.
In addition, in December in Madrid is cold, so they are an excellent way to be covered and sheltered without wasting time.
Sweet Space Museum: if you are an Instagram lover, you will love this museum. It has unique and interactive spaces where of course you will be able to take some very instagrammable photos to upload to your networks. You will have a great time, I assure you.
Museum of Illusions: this museum will trick your mind, as it is full of visual illusions that will stimulate your imagination and logic. It is perfect for children, so if you go to Madrid with your family I highly recommend it.
Museo de Las Ventas: the Plaza de toros de Las Ventas is an icon of Madrid and inside it houses a very interesting museum about bullfighting culture. If you are a fan of this world, write it down in your itinerary.
8. Take advantage of offers and brands at Las Rozas Village
Las Rozas Village is a beautifully decorated outdoor venue with 100 boutiques of some of the best brands, both national and international, and all kinds of items (fashion, tableware, accessories...). It is on the outskirts of Madrid and best of all is that it is characterized because the stores offer great discounts, which can reach up to 60%.
The good thing about hiring an excursion to Las Rozas Village is that this includes a gift card of up to 100 € you can spend on the reciento.
Armani, Versace, Calvin Klein and Dolce & Gabanna... If you go to Madrid in December you will be close to Christmas, so it is a very good time to take advantage of the visit and buy some gifts.
9. Warm up with a chocolate with churros
If there is one dish of Spanish gastronomy that is famous all over the world, it is churros, and what better time to try them in one of the best places in Spain than in the middle of winter with a good chocolate?
But I propose something better, combine it with a segway tour to, in addition to please the palate, also please your tourist spirit, because this way you can kill two birds with one stone: know the city and have a drink in the same activity, since the activity includes both.
Also, have you ever tried the segway? It is a very comfortable and easy to use means of transport that will make you discover the city without getting tired.
10. Stroll through the stalls of Paseo de Recoletos
In the last month of the year, the Asociación Madrileña de Oficios Artesanos organizes a flea market that exhibits the best of local crafts. For the occasion, a covered structure is erected on the pedestrian boulevard. Its more than 150 stands display ceramics, jewelry and costume jewelry, hats, toys, brass objects and much more.
It is usually opened on December 1 and dismantled on December 31. The market is open daily from 11:00 to 21:00, while on Christmas Eve it closes its doors at 17:00.
After the walk, you can have a coffee at El Espejo Nouveau. You will recognize it by its elegant modernist terrace.
11. Enjoy another kind of music in Madrid: Gospel.
Since the nineties, Madrid has hosted the most important Gospel Festival in the country. Even if you are not religious, I advise you to buy a ticket to enjoy a unique show. The energy of hits such as "Oh, happy day", "Amazing Grace", "What a friend we have in Jesus" will transport you to the churches of the United States.
In the capital, the event takes place at the Fernán Gómez Centro Cultural de la Villa, a theater in the heart of Plaza Colón. Generally, each concert lasts between one and two hours.
12. Participate in the Santa Claus Run
During Christmas, thousands of elves and Santa Claus invade the streets of the capital. The route of the Santa Claus Race is 5 kilometers long and runs along the Paseo de Recoletos/Castellana or in the surroundings of the Retiro Park.
It is not a sporting activity but a solidarity event that has become a tradition. The price is affordable - between 10 € and 15 € per person - and includes the full costume of Santa Klaus (pants, jacket, belt, hat and beard) or elf (for children under 12 years), a dorsal, a chip and a diploma certifying your participation.
13. Write your New Year's resolutions
The Real Casa de Correos hosts every year a forest of Christmas fir trees. Anyone who wishes can enter the room, write their good resolutions on a piece of paper and hang it on a branch.
The tradition is very appreciated by the kids, so it is a great idea if you are looking for something to do with your children in Madrid. It is very easy to get here as it is located at kilometer zero of Spain: Puerta del Sol.
14. Enter the Congress of Deputies
On the occasion of the Constitution Day (December 6), the Lower House of the Cortes Generales opens its doors to the general public. The visit is free but you must book your ticket in advance on the official website of the Congress and, once under the lions, you must present your ID card or passport to enter.
The tour starts in the lobby of Isabel II, passes through the Salón de los Pasos Perdidos, the Escritorios del Reloj, the Constitution and ends in the Hemicycle.
On the same date you can also visit the Senate. In this case, the tour starts at Plaza de la Marina Española, a small public space within walking distance of the Royal Palace. The tour passes through:
The Old Plenary Hall
The Offices of Honor of the Presidency
The Salón de Pasos Perdidos (Hall of Lost Steps)
The Library
And the rooms dedicated to Manuel Broseta Pont and Manuel Giménez Abad.
Is it worth visiting Madrid in December?
Of course it is! The Christmas atmosphere and the shopping are more than valid reasons to book a ticket. Don't worry too much about the cold, although it is located at an average altitude of 600 meters above sea level, winters are not as harsh as in other locations in Europe.
Clearly, you will find lower temperatures than if you had visited Madrid in autumn, but the worst month is probably January. In December, you will often find clear skies and mild weather in the central hours of the day.