10 Things to Do in Granada in Winter
Considered by many one of the most beautiful cities in Spain, Granada is an ideal city to come at any time of the year to discover it. If you have decided to take a short break in winter, here are 10 plans for you to enjoy it to the fullest.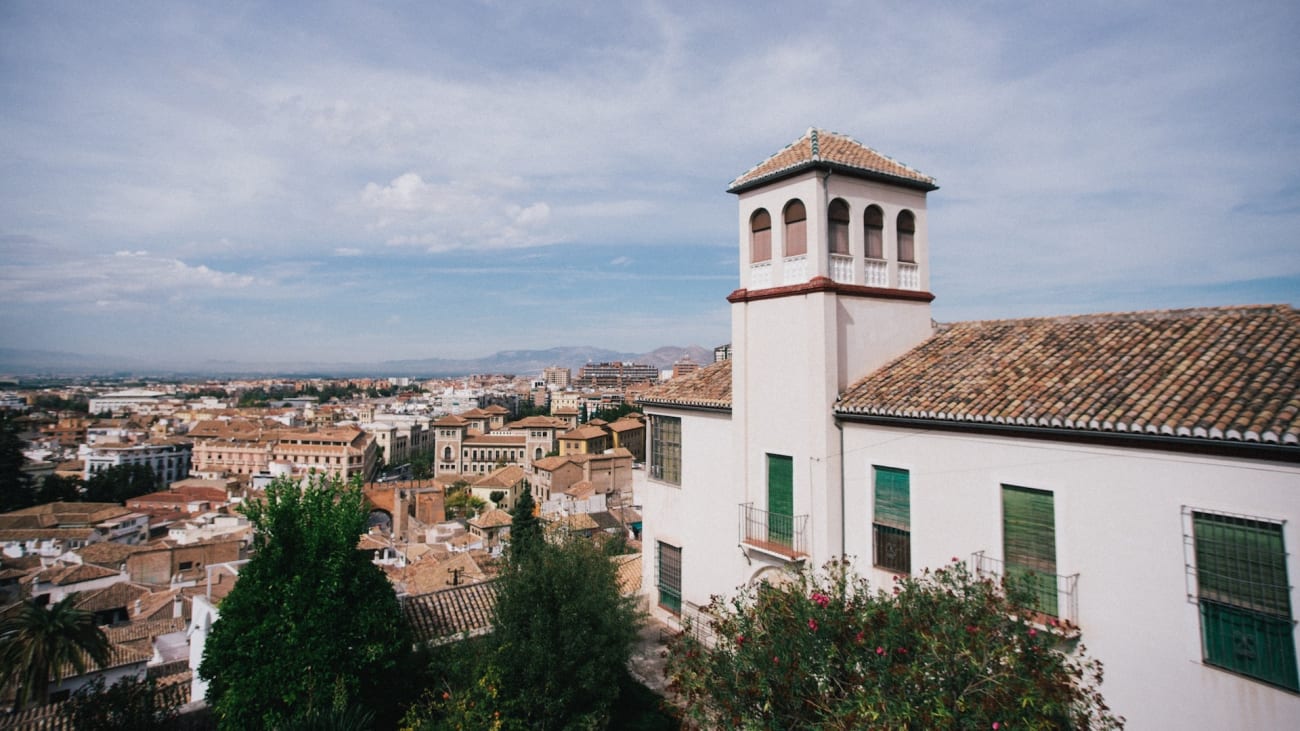 Granada is a city full of things to see and do all year round. Its incredible cultural heritage conquers all tourists who come to visit it. The great Arab legacy that can be breathed in its streets, its folkloric heritage and the warmth of its people are some of the aspects that make it a very popular destination.
If you have decided to ask for a few days in winter to escape from the routine and get to know Granada, let me tell you that you will find a great number of activities. Feel all the Christmas atmosphere of Granada, take refuge from the cold in centenary caves, relax in its famous Hammams or even go to its acclaimed Sierra Nevada are some of the plans that you can not miss, do you want to know them more in depth? Well, I tell you all of them!
1. Celebrate the Feast of the Day of the Taking
Christmas and New Year's Day are two of the most awaited holidays of the winter in all Spanish cities. However, in Granada, in addition to the traditional national holidays, a very important holiday is celebrated during the first days of the month within the Granada community: the Day of the Take.
If you travel to Granada in January you can celebrate the end of the so-called Reconquest by the Catalonian Kings and it is a day full of events and traditions.
The day in particular is January 2 and is a holiday throughout the municipality, coinciding as a continuation of the festivities of New Year's Eve. Normally, all kinds of events are held on that day, such as the pilgrimage to the tomb of the Catholic Monarchs or the procession from the Town Hall Square.
The traditional "Moors and Christians" parades are also celebrated in the city and you can see the parade of the guard and the army from the Town Hall through the main streets of Granada. A very autochthonous and important event for the people of Granada that you cannot miss.
Details of interest
Price: free of charge.
Date: every year it is celebrated on January 2, the date on which "la Toma" took place.
Place: most events are held in the Town Hall Square.
Recommended: if you like history and traditions and want to experience a moment full of meaning for the most conservative Granadinos.
2. Warm up with the San Antón hotpot
If you plan to come to Granada in mid-January and you like to eat, I can assure you that one of the best plans is to go to one of the many restaurants that these days celebrate San Anton with a special menu, such as La Cueva de 1900.
In Granada there is a saint that is celebrated with much more fervor than in other communities and that adapts perfectly to the cold of winter. San Antón, patron saint of animals, is celebrated every year on January 17 and the people of Granada pay special tribute to the figure of the pig. Although it sounds paradoxical, one of the best ways they have found to celebrate this animal has been to popularize a spoon dish that triumphs throughout the city; the pot of San Antón.
It is a stew made from dried beans, rice and various types of pork, ideal for warming up in the cold months. You also have the option of taking one of the tapas tours around Granada since, during the weeks of this month, they are sure to offer tastings of this special stew.
Details of interest
Price: restaurants usually offer full menus for around 30 € per head.
Date: from January 17 until the end of the month.
Place: in any restaurant in Granada you can find during January offer pot of San Antón.
Recommended: if you like to eat and you are a meat lover.
3. Experience Christmas in Granada
Spending Christmas in Granada is undoubtedly an experience that will leave you enchanted, since this city during the holidays knows how to mix the typical traditions with the Andalusian atmosphere that is so popular everywhere.
Throughout the month of December and taking advantage of the arrival of winter, one of the most popular plans is to go to the Christmas markets and participate in the activities that are usually in the Plaza Bib Rambla, Paseo del Violon and Plaza del Humilladero, where they usually mount merry-go-rounds and games for the little ones.
In addition, there are many restaurants that during the night of December 24 organize menus to celebrate Christmas Eve in a special way. Some, like El Cortijo, offer closed menus so you can come with your family and live this special night full of flamenco and Andalusian essence.
Interesting details
Price: the price of a Christmas menu is around 25 € per head and the activities of the Christmas party in the center are usually free.
Date: December 24 and 25.
Place: the Christmas markets and the merry-go-round are usually in the center, in the squares of Bib Rambla and Humilladero.
Recommended: if you have Christmas spirit and want to spend the holidays getting to know Granada.
4. Stroll through the illuminated city
Every December 1st the official lighting of the Christmas lights takes place in Granada. If you plan to come the first weeks of winter to visit the city you are in luck because they are usually on until mid-January and it is quite a spectacle to behold.
The days in winter are usually shorter and if you are in Granada in December you can be strolling at 19h by some of its main avenues or knowing the Albaicin area while enjoying all the light ornamentation.
Beyond the Christmas festivities, the truth is that Granada has a national reputation for all the effort they put year after year to the decoration of lights. Normally, it is in the Plaza del Carmen where they are usually inaugurated and during the whole month of December and January you can enjoy them.
All you have to do is put some warm clothes in your suitcase and go for a stroll through the charming illuminated alleys of Granada.
Interesting details
Price: it is a free activity.
Date: from December 1 and during the first weeks of winter, until the end of January.
Place: the whole center is dyed in color and lights but the most impressive places are the Plaza del Carmen and Paseo de Violón.
Recommended: if you want to visit Granada in a different way and enjoy the decorations that change from year to year.
5. Play like a kid at Juveandalus
If you are looking for things to do in Granada with children, you should know that winter seems to be a season designed for them. Not only because it has all the Christmas festivities to enjoy, but also because it is precisely at this time when one of the annual fairs dedicated to the little ones of the house takes place. This is Juveandalus, a festival that takes place every year at the Fermasa fairgrounds and is aimed at youth entertainment.
This fair attracts families from all over, not only from Granada, but also from neighboring cities and if you come with small children you can't miss it.
You can participate in workshops, contests, storytelling and all kinds of family activities. It also has an enclosure with attractions for the bravest. A whole experience to make your visit to Granada with your family a lot of fun.
Interesting details
Price: the entrance fee is between 5 € and 8 €.
Date: takes place from late December to early January.
Place: at the Fermasa fairgrounds, on Ctra. de Armilla.
Recommended: if you come with children to visit Granada and want to have a fun time with the family.
6. Attend the New Year's concert
If you are spending a few days in Granada in late December and early January and want to attend one of the most anticipated events of the year for the people of Granada, you should definitely come and listen to the live music of the great composers performed by the Symphony Orchestra.
When it is time to say goodbye to the year, many big cities organize events and concerts so that people can get together and celebrate the arrival of winter and a new cycle.
Granada was not going to be less and that is why every year a New Year's concert by the Granada Symphony Orchestra is held at the Manuel de Falla Auditorium.
Details of interest
Price: the ticket price is usually around 20 € and it is advisable to book in advance.
Date: it is usually on January 2, so as not to coincide with the previous holidays.
Place: in the Manuel de Falla Auditorium.
Recommended: if you like live music and want to celebrate the arrival of the New Year in a special way.
7. Take advantage of the winter sales
Winter for many is synonymous with shopping and you can't forget that during this season you can find some of the best bargains on the market.
The winter sales usually begin in early January and usually last three months so, whatever time of the year you come, you can always take advantage of your trip to Granada to see if you can get a bargain.
One of the biggest shopping centers in Granada is Nevada Shopping, where most of the brands are located.
However, if in your city you already have access to this type of stores, the bargain of the sales in Granada you will find it in more artisanal and typical shopping areas like the Alcaicería, full of stalls with the best crafts, fabrics, clothing and decoration in which, during these weeks, you can take real bargains.
Details of interest
Price: depends on what you want to spend, but you can find discounts of up to 75%.
Date: from early January to early March.
Place: the Nevada shopping center is in Avenida de las Palmeras, 75 and the Alcaicería in the street with the same name.
Recommended: if you like to look for the best deals and take gifts and souvenirs of your vacation.
8. Take refuge from the cold to the rhythm of flamenco in Sacromonte
Andalusia is a community that, in addition to all its attractions and tourist interests, has an indisputable heritage; flamenco. In Granada you can find shows and concerts of this popular style throughout the year, but it is precisely in winter when they are most popular.
One of the areas where you can find the best flamenco shows is in the Sacromonte area, where today there are still places installed in caves from hundreds of years ago. I can't think of a better plan to take shelter from the cold than having a good glass of wine to warm up and watch one of these shows so full of passion and strength.
In addition, despite the cold, it is always advisable to visit the Albaicín and Sacromonte areas to understand the essence and heritage of Granada.
Details of interest
Price: these shows usually cost about 25 €.
Date: it is ideal to be able to do it if you come in the winter months to be able to take shelter from the cold.
Place: there are many places that offer shows in the Sacromonte area such as Rocío or Tarantos.
Recommended: if you like folklore and want to see a live flamenco show.
9. Relax and warm up in an authentic Hammam
What could be more appealing in cold weather than a hot bath? Maybe in other destinations you have to wait until you get to the hotel, but not in Granada. The enormous heritage that the city has of all the Arab culture has made them have a deeply rooted custom that drives all visitors crazy: the Hammams.
This is a style of Turkish baths in which you can access an area of thermal baths, saunas and hot pools, drink some green tea with mint and even receive one of the restorative massages that are offered. Sounds good right?
No doubt it is one of the most desirable plans to do in winter and also Granada has some of the best Hammams in Spain.
Interesting details
Price: the entrance fee is usually around 70 €.
Date: it is ideal for the cold months, especially January and February, as it is an activity to warm up and relax.
Location: there are several Hammams in Granada, such as the Al Andalus in Santa Ana street, 16.
Recommended: if you want to disconnect and spend two hours warming up and relaxing.
10. Enjoy the snow in Sierra Nevada
You may have the feeling that Andalusia is a warm region where even the winter is milder than in the rest of the country. But in Granada this is not the case and this is partly due to its location. This makes it an incredible place to go in winter, as you can enjoy not only the snow, but a multitude of winter sports.
The city is located in the foothills of Sierra Nevada, one of the great lungs of Andalusia that has one of the highest peaks, the Mulhacen.
If you are wondering how to get to Sierra Nevada from Granada, you should know that it is only an hour from the city and you can easily get there by car or bus for less than 5 €, although you can also count on a day trip that can take you for a walk around the snowy landscape.
You can also rent a sled or even skis and go on an adventure in this natural paradise.
Interesting details
Price: Organized excursions to Sierra Nevada usually cost around 70€.
Date: Sierra Nevada has snow almost all winter, especially in January and February.
Place: Sierra Nevada
Recommended: if you like nature and want to take advantage of the winter to go to see the snow.
Temperatures in Granada in winter
If you are going to spend 3 days in Granada in winter, you should be aware that it is going to be cold. From the end of December to the end of February, temperatures usually remain stable between 2ºC to 10ºC, with February being the month with the highest percentage of rainfall.
Once we get into March, temperatures start to rise little by little, reaching 15ºC or 16ºC.
Even so, do not be confident and if you come in winter always bring warm clothes, since, except for indoor plans such as flamenco shows, Christmas concerts or relaxing Hammams, most of Granada's attractions are outdoors.
Tourist influx in Granada in winter
The truth is that Christmas is a great incentive that makes Granada is full of tourists most of December and January. However, with the arrival of February and the intensification of the cold, Granada is usually much less crowded with tourists and is much more pleasant to see, despite the low temperatures.
Still, the city is an ideal destination for weekend getaways and there are many couples and families who come as a trickle during these months to see it. My recommendation is that, even if you see less tourism, make sure you book certain visits and reserve in advance, for example, tickets to the Alhambra, one of its main tourist attractions.
Granada is a city that will surprise you at any time of the year but certainly in winter it has something special. The Christmas spirit, the comforting food and that touch of cultural mix will make it an unforgettable experience, are you going to miss it?