10 Things to Do in Granada in December
Travel to Granada in December to experience the festivities, sites and cultural warmth of Andalusia with these delightful plans to enjoy your stay: concerts, restaurants, even skiing!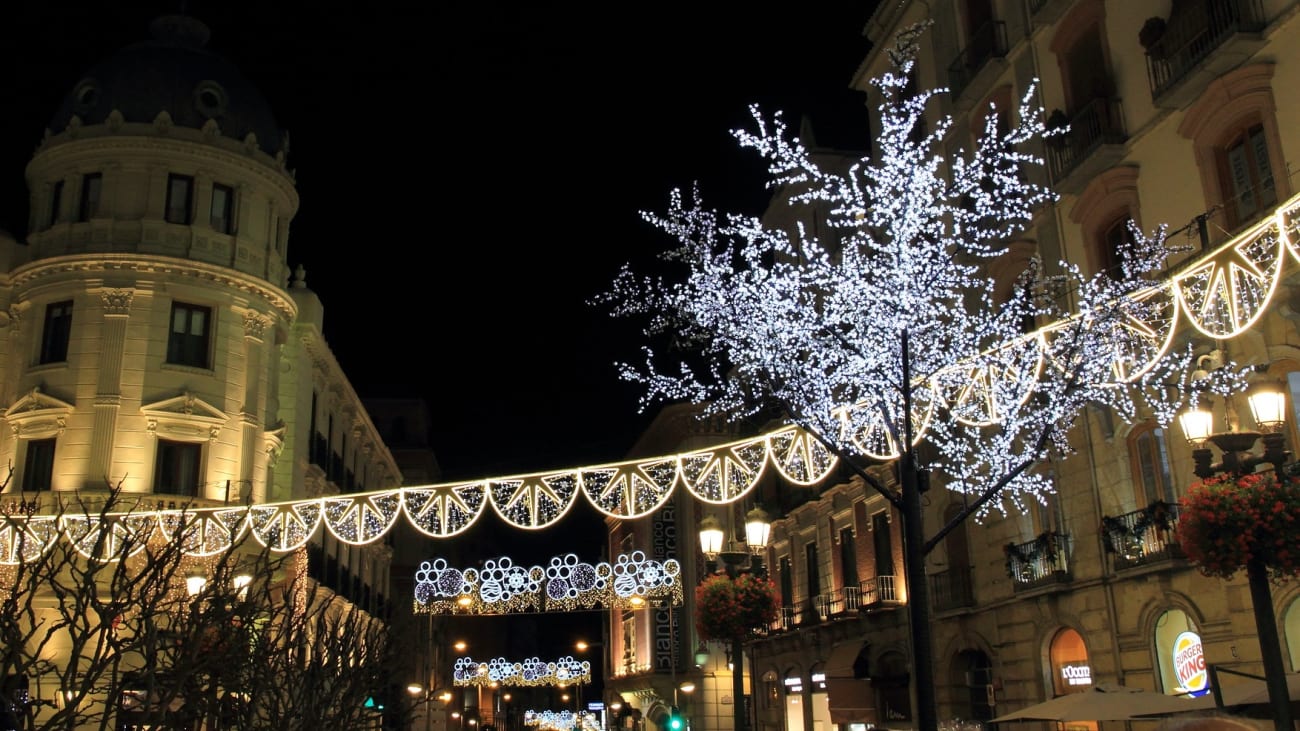 The long-awaited month of December comes to end the year with crucial dates and numerous events to add to your list of things to see and do in Granada. At this time of year the city receives many people with plans to visit the monuments of its historic architecture and its exquisite tapas!
And not only that, after skiing in Sierra Nevada you can enjoy the Muslim treasures and renew yourself in the best Hammam in Granada to finish the day with leisure activities and restaurants. You can also do many other things, below I will tell you what you can not miss!
1. Experience the theater and its Christmas splendor
During the month of December, the Isabel la Católica Theater hosts a series of performances to keep the Christmas spirit alive.
The theater will revive many recognized works, as well as concerts the carols that every December delight the spectators with characteristics of the Granada experience.
This emblematic theater, located in the center of Granada, is the only one that has remained open despite the changes that the city has undergone up to the present.
The different performances will take place throughout the month of December so you can enjoy and choose at your leisure if your travel schedule is tight.
Practical information
Where: Isabel la Católica Theater, Acera del Casino Street.
Price: Depends on the performance
When: Throughout the month of December, usually in the afternoon.
2. Take home a souvenir of the Christmas markets
If there is something typical to do in Granada at Christmas time, it is to visit the Christmas markets. I recommend a visit to the Puerta Real and Bib-Rambla markets. The latter contains many nativity scenes that make it a very emblematic place at this time of the year, because of its location, it is ideal to approach after you have made your visit to the Cathedral.
In Puerta Real, you will see another very popular market that contains many stalls displayed around the Fuente de las Batallas. Here you will find many original gifts, as local crafts are promoted, as well as ceramics, handmade toys and leather, among others.
Don't miss the handmade nougats at all the markets and go to the Christmas convents, they usually have many typical sweets!
3. Experience the festive atmosphere of its streets
Granada is a truly beautiful city, especially when the colorful lights and the smell of roasted chestnuts delight every corner of the streets. Tasting the latter, moreover, is one of the things you can't miss if you travel to Granada in winter.
If your arrival in Granada is in the December long weekend (around the 6th and 8th), you will most likely see the city with Christmas decorations. With the cold weather getting cold, I advise you to make a stop on your route to eat some churros with delicious hot chocolate.
Christmas carol songs and concerts and nativity scenes, as well as square bells, parties and cotillions, will bring the warm atmosphere that will gladly welcome many tourists and locals.
Also, the Christmas decorations include a Ferris wheel to sit and contemplate the view of Granada from above.
4. Enjoy a relaxing arabic bath in the best Hammam in Granada
Temperatures drop in December and there is no better time to soak in a magnificent Arab bath at the serene Hammam Al Ándalus, next to the Alhambra Palace. In my opinion, there is no doubt that this is the best hammam in Granada.
You can spend an hour and a half in the comforting thermal baths and steam rooms while sipping mint tea surrounded by beautiful decorations. You can also opt to enjoy a massage with selected oils or choose your own ritual that includes exfoliating treatments.
5. Skiing in the snow on the high peaks of Sierra Nevada
Those who like skiing already know where to go in Granada. Sierra Nevada, without a doubt, an essential stop for fans of this sport.
With 124 slopes for all levels spread over a very wide area, it is a very fun activity that can take an afternoon, a whole day or more depending on your intentions. It is also one of the best things to do if you are in Granada with children.
I recommend you to make a hotel reservation in advance, especially if you plan to visit Granada between December 6 and 8, as these dates are the ones when most visitors come to learn and practice skiing in Sierra Nevada.
To make it easier, here is how to get from Granada to Sierra Nevada.
In addition, this activity gives you an approach to the Christmas spirit that begins to appear in the snow-covered mountains, with live music, some slides, guided tours, sleigh rides or ice skating.
6. Listen to Christmas carols in the squares of Granada
If you walk through the streets of Granada during the month of December, specifically from the 22nd or 23rd, I recommend you to stop in the squares where stages have been set up. Chances are you will be able to see small free carol concerts.
In addition to the nativity scenes, the carols take the main role capturing the attention of children and parents. At the end of December, the city council of Granada organizes a Christmas song contest in several squares of the city.
If you are not too fond of classical carols, Granada offers other types of Christmas songs of great artistic, anthropological and, of course, touristic interest.
If you have time, go to the Sacromonte neighborhood and book one of the flamenco shows that take place there. If you are lucky, you will be able to listen to the famous traditional flamenco carols of these dates. I assure you that this is a special way to celebrate Christmas.
7. Experience the illumination of Granada
Every year, the Christmas lights dress the streets with colors that set the mood for the Christmas celebration. Trees, pine trees and bells can be seen when walking on the main streets.
The squares do not go unnoticed and are a center where markets with crafts and more lights are displayed, some of them can reach 2 meters, as in Pedro Antonio de Alarcón street, where a simulation of a star shower is usually performed.
In short, Christmas lights will not be missing in Granada, they will even be so abundant that they will be part of the entire landscape, flying over the city in the form of arches and angels.
Traveller Tip

Go up to the viewpoint of San Nicolas, in the Albaicin neighborhood, if you want to have the best views of Granada illuminated for Christmas.
8. New Year's Eve in Granada
You may have decided to say goodbye to the year in Granada (actually, I recommend you to do it if you can). Although the custom is to have dinner with the family, no doubt you will find alternatives to spend a great night.
Would you like to end the year with an incredible dinner? You can enjoy an artistic dinner at La Platea restaurant on José Luis Pérez Pujadas street. It is a very well known place in Granada for its promotion of local artists, whose works accompany a very elaborate menu.
In addition to the key and distinctive concept of this gastronomic experience, the menu prepared for New Year's Eve has a New Year's Eve plan for around 90 €. Highly recommended!
A very recurrent recommendation in Granada is El Claustro, a place that promises another unique experience by sitting down to eat inside a refectory with an amazing 16th century architecture.
A very avant-garde menu in a historic and unique setting, with a very renowned chef, will ensure that your start of the year will be on the right foot. Their New Year's Eve menu costs no more than 140 €, with prices that justify the attention and excellent service for an excellent New Year's Eve in Granada.
After dinner it's time for the party. The City Hall organizes in the Plaza del Carmen a spectacular celebration to welcome the New Year with live music and fireworks.
In addition, the cotillion bags are usually distributed between 22:30 and 23:00. From 00:00 hours on, the fun of partying in countless discos and bars lasts all night long.
9. Discover the Alhambra at Christmas
Although visiting the Alhambra can be done all year round, the truth is that one of its charms is how its vision changes with the different seasons. From the colors of its gardens when Granada is in autumnor spring to the special
or spring to the special activities when you do it at the end of December.
In these last dates, precisely, the Alhambra and the Generalife present activities specifically aimed at families through its Family Christmas program.
More or less from the beginning of the school vacations, around December 22 or 23, you can book itineraries with a playful, educational and creative perspective. If you want to visit the Alhambra with children, these thematic routes will teach them about the Alhambra.
If you want to visit the Alhambra with children, these thematic routes will show them all its attractions in a unique way and focused on their tastes and needs.
To make it more comfortable for them, the visits usually take place in the mornings, usually until 13:00 hours, just enough time to find a good place to eat near the Alhambra.
Unlike when you want to buy the entrance to the Alhambra normal, to book these visits is necessary to do it online and in time. The price is about 6 € for adults and about 3 € for children over 9 years. Children under that age are free.
10. Escape to the Alpujarra
If you like rural tourism, near Granada is the perfect area for you: the Alpujarra. In December, with the winter weather, all the villages that compose it acquire a special charm, without forgetting the advantage of the smaller presence of tourists.
An excursion to the Alpujarra can be the perfect end to your stay, as long as you will be in Granada for at least 4 days.
My advice is to study well the villages that make up the area and how to get there, as some may be more difficult to reach due to the presence of snow.
Weather in Granada
In December, the weather in Granada can reach a maximum temperature of 13 degrees and a minimum temperature of 4.
At night, cooler, it may be necessary to wear warm clothes, especially on cloudy days. If you go up to Sierra Nevada, it is best to opt for thermal clothing.