10 Things to Do in Granada at Night
Located in the south of the Iberian Peninsula, Granada shines with its own light. It is not for nothing that it is one of the favorite destinations for travelers from all over the world, and even for many Spaniards. This time I invite you to get to know another Granada, one that wakes up when the sun goes down. Are you ready?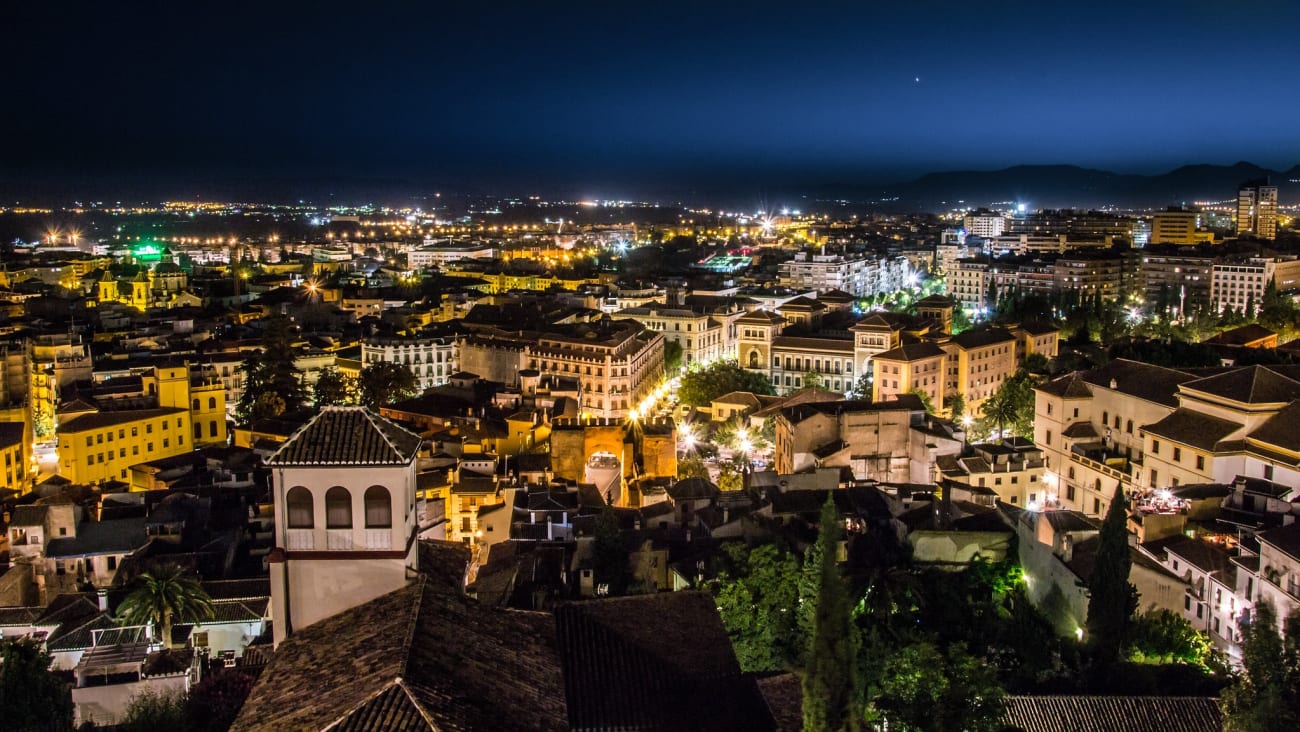 Granada is a truly magical place, the city has an indisputable charm, both day and night, and if you don't believe me come with me on a tour of its tapas bars, a very different and intimate Alhambra, the flamenco dances and its most picturesque neighborhoods. I assure you that you will not regret it.
In this article you will know the nightlife of Granada, its best corners, where to enjoy this other city so different from the daytime. And the fact is that Granada never rests, you will discover that it has something for everyone. If you still don't know the city by day, take a look at everything there is to see and do in Granada, and if you already know it inside out, it's time to try the nightlife.
1. Visiting the Alhambra at night
Surely, if you have been to Granada before, you know the majesty of the Alhambra. This city-monument is one of the wonders made by man. Built on the site of an Andalusian palatine city, its architecture, fountains, gardens and details never cease to amaze. It is one of the most visited monuments in Spain, and undoubtedly one of the most beautiful.
If you travel with children you can not miss visiting it, and tell them stories full of magic, and the experience is not the same if you do it alone, with friends or as a couple, than if you propose to visit the Alhambra with children.
The little ones will feel like they are in a fairy tale in front of the Nasrid palaces and the gardens of the Generalife.
However, you may think that at night this beauty closes its doors, but you are wrong. For some time now, the Alhambra has been open at night for those who wish to reserve their place and make a different kind of visit.
I can assure you that after having seen it many times during the day, touring the Patio de los Leones, the illuminated Nasrid palaces and gardens, at night it is a completely different place.
Being there without the hustle and bustle of the day and without the crowds, watching the columns cast their weary shadows on the calm of the night, is a truly unique experience that you can't miss.
Schedule
The night schedule for visits to the Alhambra is:
From April to October 14: from 10 pm to 11:30 pm.
From October 15 to March 31: from 8 to 9:30 pm.
2. Go for tapas in the old town and El Realejo
Another essential of the nightlife in Granada is undoubtedly going out for tapas. For those who don't know, going out for tapas in Granada is almost a must. You sit in one of the terraces and order a drink, and with it you get a tapa (yes, absolutely free!).
There are many different areas to enjoy this tradition, and of course, many bars. In some you can choose the tapa, in others you can't, but I assure you that if you know where to go there won't be a single one you won't like.
Near the historic center, around the Cathedral, there are several tapas bars, although undoubtedly the most famous for its XXL tapas is La Bella y La Bestia (Beauty and the Beast). The place is quite small but cozy. I recommend that you don't go too late or you won't find a table.
Also in this area is the Bar Los Diamantes, ideal if you like fried fish and other seafood delicacies. Here everything, absolutely everything is delicious.
Just around the corner from La Capilla Real and La Madraza, open since the beginning of the last century (since 1917 to be more precise), is the Bar and Restaurant Los Manueles, another of those that can not miss in our night of tapas in Granada. It is very common that as you go ordering drinks (and leaving your good euros, of course) the importance and size of the tapas is also growing.
Another neighborhood to enjoy this charming custom is El Realejo. Former Jewish quarter of Granada, here you can enjoy some of the most delicious and abundant tapas along with your caña, your beer, or whatever you like to drink.
Bars like La Esquinita are famous for their fried shrimp and other delicacies. Facing the Campo del Príncipe you will find a lot of places with terraces to have a good time.
If gastronomic tourism is your thing, I recommend you to take the tour of the best tapas bars in Granada, and put yourself in the hands of a guide specialized in the subject, which will take you to visit those places that you can not miss for anything in the world.
3. Enjoy a walk through the traditional neighborhood of the Albaicin
One of the most beautiful neighborhoods in Granada, and the oldest. Don't listen to those who say that it is unsafe at night, I can assure you that you can walk until late at night without danger, and you will find many more people who also enjoy the night.
The Albaicin has a reputation for being a bohemian and artistic neighborhood. Strolling through its little streets illuminated with its yellowish light and rediscovering the places you have seen during the day, is an adventure in itself.
One of the must-sees of this night walk through the Albaicín is to see the Alhambra and the Generalife illuminated from above, as well as a large part of the Sierra Nevada from the Mirador de San Nicolás. It is also essential to walk along Calderería Vieja, better known as La calle de las teterías.
You will see that El Albaicín has a lot to offer at night, although the best thing is the walk itself to see that other side of the city. Visiting the neighborhood of El Albaicin and Sacromonte is one of those things we can not miss on our visit to Granada.
4. Listen and see a flamenco show in the zambras of Sacromonte or in the Albaicín neighborhood
To say Granada is to say flamenco. This musical style so famous all over the world was born in this city, more precisely from the caves of the Sacromonte neighborhood, where the gypsies lived for centuries.
As a result of this profane mixture of Muslims, Gypsies and Christians, this very Spanish expression appeared, later popularized by artists such as Paco de Lucia, Tomatito, Camaron de la Isla and many others.
You will see that visiting the Sacromonte neighborhood during the day is one thing, and doing it at night is quite another. If you want to witness a real flamenco show in the same cradle where it was born, you should go to one of the most famous caves, where every night the flame is lit, the glasses are filled and the atmosphere becomes more and more intense.
Some of them are the Cueva de la Rocío, Los Jardines de Zoraya or the Cueva de María la Canastera.
As you can see, flamenco is in the air, and it is not unusual to find singers or dancers in the street.
Both in this neighborhood and in the Albaicín you can enjoy some of the best shows in Spain. Guitars, clapping, foot tapping and gypsy singing, it is impossible that something does not move inside you to witness a flamenco show, and it is not just another musical style, it brings with it in its very root all the suffering of a people.
With this mixture of beauty, delicacy and intensity, it is not strange to come out crying. An experience not to be missed at night in Granada.
5. Live the night of Granada in a discotheque or pub
Granada's nightlife is not only flamenco and tapas, as there is a wide range of discos and pubs with live music if you want to dance until dawn. Granada is a city full of students, many Erasmus students come to study here every year, so you will never be short of places to have fun.
One of the most incredible nightclubs in Granada is Mae West. With three rooms and two floors with very different music and styles, this club is located in the center of the city and is one of the must of the nightlife in Granada, where you can always find good dj's playing live.
Another discotheque with a great atmosphere, although a little far from the center, is Forum Plaza. This place located next to the incredible Parque de las Ciencias of Granada is one of the most sophisticated and elegant of Granada, with sets of renowned DJ's and theme nights. You simply can not miss it if you like to dance and spend an intense night of pure dance.
There are also many bars with live music shows, where you can dance and mingle with the locals. Some of them are Lemon Rock Granada, La Tertulia or, for jazz lovers, Bohemia Jazz Café.
6. Relax in an authentic 15th century Arab bath
If you want to live a different relaxing experience, visit the best hammam in Granada. No matter how many spas and relaxation places you have known, I can assure you that none compares to these Arab baths.
Although these baths can also be enjoyed during the day, at night you will be able to get rid of the tiredness of a whole day of walking around Granada. It is what I call an ideal plan.
In 1998 they were reopened after no less than 5 centuries of being closed! Here you can enjoy an experience through water, with baths at different temperatures, massages and other incredible activities.
You can be sure that you will thank me, since this Hammam located meters away from the Alhambra is something out of this world. Between the massage sessions and baths you can also at all times serve yourself an exquisite tea that will help you relax both inside and out.
If you have never tried an Arabian bath let me tell you that you are missing something. Let yourself be enveloped by the aromas of its hundreds of essences and oils, while the massages and the relaxing sound of the water do their thing, will allow you to get in touch with your inner self.
Practical information about Granada
Hours: The evening hours of these relaxing sessions are not available every day, only on Fridays and Saturdays from 11:30 pm to 1:15 am.
Address: Calle Sta. Ana, 16
7. Enjoy its cultural offerings, cinema and theater
If you are one of those who prefer theater or concerts, Granada has a night for that too. With a large number of venues in the city center and historic center, you can see award-winning, independent plays, concerts and international musicals.
Theaters such as the Alhambra or the Isabel la Católica theater renew their billboard every month, so you can enjoy different shows.
The city always has an important influx of renowned artists, so I advise you to try to buy your tickets in advance.
8. Enjoy a drink with 360-degree views at the B-heaven rooftop
To enjoy the best signature drinks, with all the chill atmosphere of Granada's nightlife, and with the attraction of having one of the best views of the city, you must get to 62 Acera del Darro street, and go up to the most incredible rooftop in the city.
B-Heaven, located on the rooftop of the Hotel Barceló Carmen Granada, is definitely a must on your nighttime visit to the city of Granada. With live music shows, some gourmet snacks and the view of the illuminated Alhambra, this rooftop takes all the plaudits.
The view of the city alone is worth it, but if you add to that the incredible service and a great atmosphere, there's not much more to think about.
To end the day in luxury, B-Heaven Granada is not just a bar, but an experience in itself. Wear your best, because this is where your night begins.
9. Take an unconventional tour of Granada by night
In addition to the free tours that you can take around the city, you can also book a night tour of Granada. These tours are quite atypical and a lot of fun, as the guides usually put special effort into making the tour original in every way.
If you want to live a night tour-adventure in Granada and go through the city with maps and flashlights on your forehead discovering the secrets of this beautiful city, do not hesitate, you will know its other side and you will not stop having fun with the most extravagant guides of Andalusia. 100% recommended.
10. Dramatized night visit to the Cemetery San Jose in Granada
I have left this tour for the end because it is the most curious one. In this guided tour through the necropolis of Granada you will meet some of the most outstanding personalities of the history of Granada, who will take you to incredible places full of history such as the garden of the Alixares, while you learn a little about the city and its past.
The San José Cemetery in Granada is one of the oldest cemeteries in the country, so there are plenty of stories to tell. With the performances of the actors and the commentary of the guides, you will get to know this unique place, and a little more about the history of the region.
I know what you are probably thinking: "this is not for me". Visiting a cemetery is not something you usually do at night, it's true, but I assure you that this dramatized visit to the San José Cemetery in Granada has nothing gloomy about it, quite the contrary.
Thanks to the performances of the actors and actresses you will discover the powerful attraction of the place and you will be surprised how many secrets it can keep. If you ask me, this is a highly recommended excursion.