Best Flamenco Shows in Granada
Flamenco is one of the hallmarks of the city of Granada and in this post I tell you which are the best places and shows of this musical genre that you can enjoy in the Andalusian city.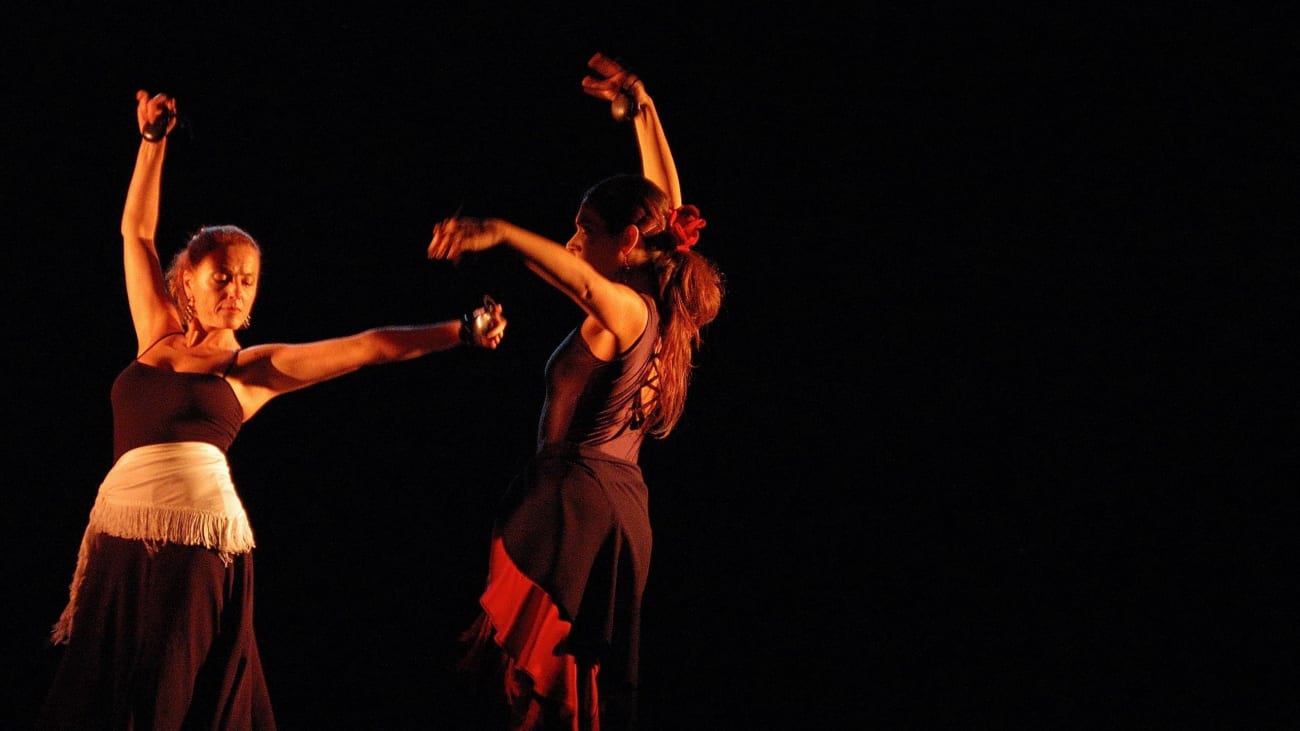 Flamenco is a fundamental part of the culture of Andalusia and also of Granada. The origins of this genre in the capital of Granada date back to the first gypsy communities that settled in the Sacromonte neighborhood. The importance of this neighborhood remains today and in its cave houses are some of the best tablaos in Granada. It is not the only place where flamenco was born, as it spread throughout the city over the years and today you can breathe flamenco in many of its corners.
In this post I will tell you which are these corners. The most important of them, at least. Traditional flamenco "Tablaos", cave houses that are authentic temples of this genre or places that combine the shows with the possibility of tasting the gastronomy of Granada. Since seeing a flamenco show is one of the best plans you can make in Granada, here are the 10 best options:
1. Flamenco show in the cave of the tarantos
I begin this review of the temples of flamenco in Granada with the mythical Cueva de los Tarantos. This cave house in the heart of Sacromonte dates back to the 15th century and has been hosting flamenco shows since 1972. Its performances are considered one of the purest and most passionate in Granada, which makes the tarantos cave one of the best places to enjoy the genre.
They offer two shows a day with a small capacity to maintain an intimate character. The first one at 9:00 pm and the second one at 10:30 pm. Each show lasts approximately 75 minutes and includes a drink for an approximate price of 26 euros per ticket.
They also offer the possibility of combining the show with dinner and even give flamenco classes. You can find all the information on their official website.
Information of interest
Price: 26 euros approximately.
Location: Camino del Sacromonte 9
Shows: usually around 21:00 and 22:30.
2. The Rocio's Cave
The Rocío C ave was founded in 1951, which makes it one of the oldest caves in Sacromonte.
The word "zambra" comes from the Arabic "zumra" which can be translated as "fiesta" and alludes to the festivities celebrated by the gypsy community at their weddings in the 17th century.
This cave is owned by one of the most important families in the flamenco world, the Maya family. Synonymous with flamenco shows of the highest quality.
In the Cueva del Rocio there are shows from Tuesday to Saturday, with shows at 20:00, 21:00, 22:00 and 23:00 hours. The ticket price starts at 15 euros and goes up to 55 euros approximately, including drinks or the possibility of including dinner.
It has an advantage that gives an extra value and is that it offers transfers by minibus from the center of Granada to see the show.
Information of interest
Price: Between 15 and 55 euros.
Location: Camino del Sacromonte 70.
Passes: 20:00, 21:00, 22:00 and 23:00 hours
3. The temple of Flamenco
Already out of the Sacromonte neighborhood we moved to the Albaycin to find more prestigious flamenco tablaos. The first of them is a temple of flamenco and, in fact, its name is the temple of flamenco.
The Flatro111 Company is in charge of making the audience enjoy the show in this place installed in a large cave house. In fact, it is one of the largest in Granada.
There are performances every day. The first shows usually include lunch at 13:30 and then there are shows at 18:00 20:00 and 22:00 hours. Each show lasts about 70 minutes.
The temple of flamenco is one of the best places to see a show combined with dinner, as they have a very varied offer of menus for all tastes. Prices start at 26 euros and can reach 60 euros if dinner is included.
Information of interest
Price: Between 26 and 60 euros approximately.
Location: Calle Pernaleros Alto 41
Shows: 1:30 pm, 6:00 pm, 8:00 pm and 10:00 pm
4. Flamenco Tablao in the Alboreá
The Tablao Flamenco de la Alboreá is one of the best quality-price options to enjoy a good show.
Tickets start at only 18 euros (approximate) and there are two daily shows at 7:00 pm and 8:45 pm. Each performance lasts one hour and includes a cantaor, a guitarist, a bailaor and a bailaora with a lot of art.
The place also offers dinner with the show and is located in the heart of the city just a few minutes from another monument you should visit: the Cathedral of Grandada.
It is, for price, duration of the show and location, one of the best options to enjoy flamenco in a very comfortable way.
Information of interest
Price: From 18 euros.
Location: Calle Pan 3.
Passes: 19:00 and 20:45 hours.
5. Show in the Zoraya Gardens
Although there are many tablaos flamencos that offer dinner + show, the Zoraya gardens are very different in this aspect. Mainly because they are located in a Carmen.
It is a typical Albaycin building with an inner courtyard that, in this case, houses a garden with fruit trees and fountains that make a perfect setting for a dinner with a flamenco show.
In the gardens of Zoraya three daily shows are organized at 18:00, 20:00 and 22:30 hours. Each of these shows lasts one hour.
The price of the tickets starts at approximately 20 euros and it depends on whether you choose dinner, which can increase the price. You can check the options on their website.
Its location is also privileged, as it is just a few minutes from the viewpoint of San Nicolas.
Information of interest
Price: From 20 euros approx.
Location: Calle Panaderos 32.
Passes: 18:00, 20:00 and 22:30 hours.
6. House of Flamenco Art
La Casa del Arte Flamenco is one of the most traditional tablaos in Granada.
Located at the foot of the Alhambra, in the heart of the Realejo neighborhood, it takes less than 5 minutes to get there from the Cathedral of Granada.
La casa del arte flamenco is one of the favorite tablaos for the purists of this genre, since its performances are always faithful to the most classic flamenco.
There are two daily one-hour shows, at 7:00 pm and 8:30 pm. To see this show costs from about 22 euros and the price can also be increased to include dinner.
Information of interest
Price: From 22 euros approx.
Location: Cta de Gomérez 11
Shows: 7:00 pm and 8:30 pm
7. Soleá Show
La Soleá is a flamenco tablao located in a very peculiar place. Specifically, it is located in the bullring of Granada. As a result, it is a place where two of the most representative traditions of Spain, flamenco and bullfighting, are combined.
La Soleá has two shows at dinner time, the first one at 21:00 and the second one at 22:45. Both are approximately one and a quarter hours long.
In this place flamenco is also seasoned with good gastronomy and its dinners with the show stand out. This includes a drink for a price of 26 euros and if you want to add dinner the price rises to 52 euros for a tapas menu or 58 if you want a more elaborate menu.
Information of interest
Price: Between 26 and 58 euros approx.
Location: Monumental de Frascuelo Granada Bullring
Passes: 21:00 and 22:45
8. The Zambra of María La Canastera
La Zambra de Maria La Canastera is one of the oldest and most traditional flamenco tablaos in Granada.
It is located in the heart of Sacromonte in a traditional cave house with a typical decoration of its origins with photographs of the illustrious figures who have passed through this cave. The descendants of María La Canastera are in charge of keeping the flamenco spirit of the place intact.
The capacity of the cave does not reach 100 people and there is only one night show at 21:15, making it one of the most difficult tablaos to get a ticket.
In this case it is highly recommended to book in advance from their website. The price of this purely flamenco show is around 30 euros.
Information of interest
Price: 30 euros approx.
Location: Camino del Sacromonte 89.
Passes: at 21:15.
9. Dinner and flamenco at Venta El Gallo
More than a flamenco tablao, Venta del Gallo is a restaurant with flamenco shows. The typical Andalusian gastronomy is the protagonist and flamenco is the best dressing to enjoy its dishes.
This is not to say that the show is not up to par, far from it. There is only one show a day, but there are up to 4 menus to choose from. All of them with Andalusian dishes and products as a common thread. In this link you can see what menus and products are on the menu.
The show is at 21:00 hours and you can choose to see it only with a drink or with a full dinner. If we only want to see the flamenco show it will cost us about 20 euros and if we want to add dinner, depending on the menu, the prices are around 50 euros.
Another great advantage is that they offer the possibility of including transportation from the center, something to take into account, since the Venta is located very far from the center of Sacromonte.
Information of interest
Price: Between 20 and 50 euros approx.
Location: Barranco de los Negros 5
Passes: One at 21:00 hours from Monday to Sunday.
10. Flamenco Tablao Albayzin
The Tablao de Albayzin, also known as the Tablao de la Reina Mora, is the tablao with the best views in Granada.
This is because its Mudejar style venue is located right next to the famous San Nicolas viewpoint, where you can enjoy the best views of the Alhambra. This is undoubtedly an important addition, but the protagonist is, of course, its flamenco performances.
The single pass to see the show is at 21:30 and there is also the possibility of completing it with a tapas dinner. The show alone costs about 18 euros.
Adding a drink goes up to 25 and with dinner up to 40.
This place also has the option to include a tour of the Albaycin and Sacromonte which is one of the best guided tours that can be done in Granada. And as an extra they also have a chill out area with views of 10.
Useful information
Price: Between 18 and 40 euros approx
Location: Carretera de Murcia next to the Mirado de San Nicolas.
Passes: Single pass at 9:30 pm.