Fuerteventura Boat Tours
Reach the most secluded coves and the open sea. There are dozens of boat routes that set sail every day.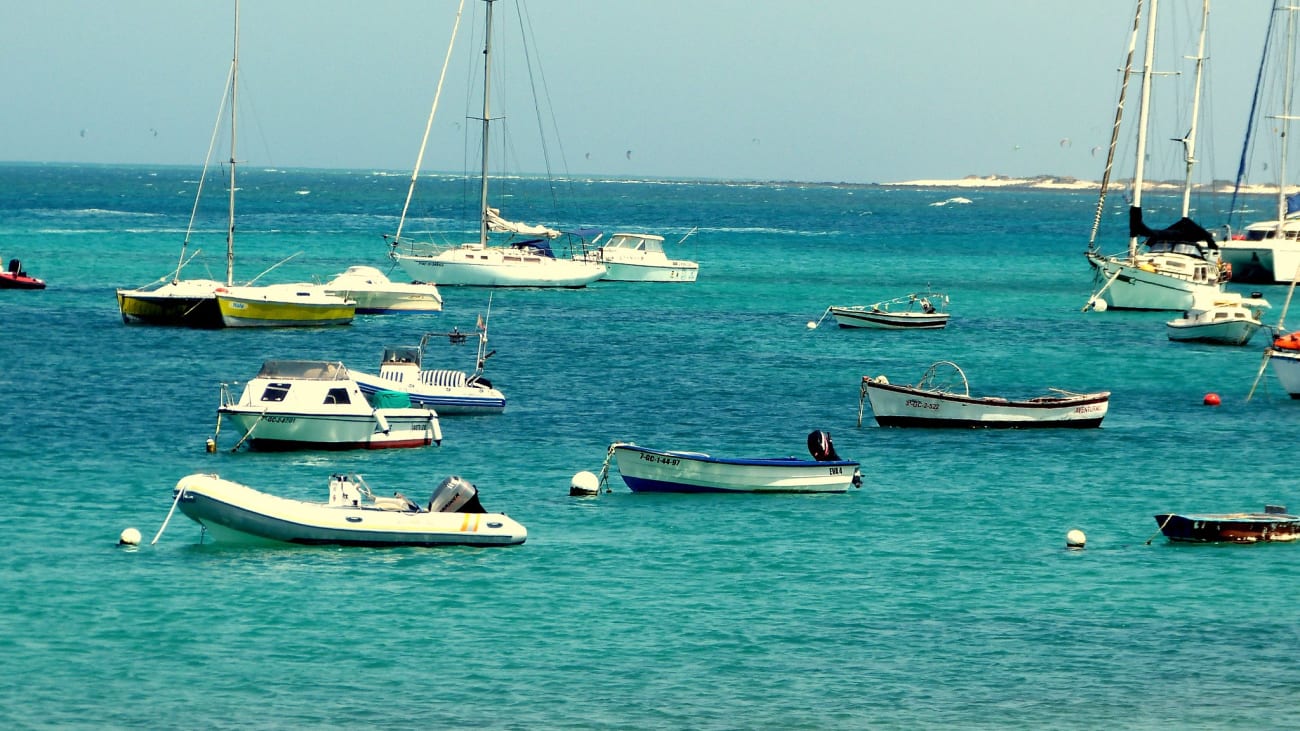 The wild coastline and big waves attract thousands of water sports enthusiasts. If you are not familiar with the wind you have two options: sign up for the best surf lessons in Fuerteventura or take a boat ride.
There are several options available, from catamaran rides to routes aboard elegant Turkish schooners. All include a stop for a dip in the waters. With these credentials, it is impossible not to include sailing in the best things to see and do in Fuerteventura.
1. Catamaran excursion to Lobos Island
Lobos Island is located on the north coast of Fuerteventura, a short distance from Corralejos. In the past, these rocks were home to a large colony of sea lions but nowadays there is not a single one left. This islet is now the realm of birds: species such as osprey, herring gull and grey heron nest here.
The crystal clear waters that surround it are perfect for snorkeling but also for fishing or SUP or kayak routes. In any case, the organized excursions put at your disposal these equipments. Important: there are masks and snorkels for everyone but other equipment is limited in number.
The excursions to Lobos Island from Fuerteventura depart from the port of Corralejo and arrive at the destination after a short navigation. Before returning to Fuerteventura, you will have time to enjoy a seafood paella on board.
Duration: about 4 hours
Price: about 65 €. If you want to spend less, you also have the opportunity to buy an excursion that includes only the round trip ferry tickets. In this case, the approximate cost is 20 €
Starting point: Corralejo
2. Private cruise on a turkish schooner
Also known as a motor sailboat, the Turkish gulet is a traditional wooden boat. The length varies from 15 to 55 meters and can carry up to 25 people.
The model used in the excursions has a large stern area used as a relaxation area. All in all, it is a very elegant way to travel.
Duration:
Price: about 80 €. Also includes lunch (with vegetarian option) and alcoholic and non-alcoholic beverages
Starting point: Morro Jable
3. Dolphin and whale watching in Fuerteventura
This route usually starts on the coast of Morro Jable, a tourist area with good connections to the airport and Puerto del Rosario. Its white sandy beaches are an irresistible attraction for both water sports enthusiasts and tourists in search of the binomial sun / refreshing dip. In the Canary archipelago is populated by whales and dolphins at any time of year. However, in spring and winter the number is even higher. During the boat trip you may encounter the following specimens:
Pilot whale, small in size (up to 8 meters) but very robust. Unlike other cetaceans, they are entirely black or dark gray. It is a very intelligent and sociable animal
Bottlenose dolphin. It loves temperate waters and is therefore a regular in the archipelago. It likes to interact with humans so the probability of seeing it is close to 100%
Orca, is not the most frequent but also passes through the waters of the Canary Islands. Its particularity lies in its social habits. Families are united forever
Sperm whale, it is not a whale but it is huge. In fact, it is the largest toothed animal on the planet. As a habitat, it prefers deep water and therefore, the chances of seeing it increase if the boat ride reaches the open sea
Usually, the price includes a beer or other beverage. Bring a swimsuit because a stop for swimming or snorkeling is planned. To learn more about this topic, I recommend you to read the post that lists the best tours to see dolphins in Fuerteventura.
Duration: 2 hours
Price: between 40 € and 50 €
Starting point: Morro Jable
4. Mini glass bottom boat cruise
An excursion that has it all: boat with transparent bottom, bar, slide to slide into the water, barbecue on board, paddle surfing ... A round plan, cheap and ultimately perfect if you travel to Fuerteventura with children.
Normally, the boats ply the Natural Park of Jandia, a protected area in the southwestern tip of Fuerteventura. Undoubtedly, this is the most unspoiled and wildest part of the island. On this boat, you will have the opportunity to see its rich marine fauna including dolphins, leatherback turtles, breams, flying fish and other species.
After about four hours you will return to the port of departure, i.e. Puerto Morro Jable. If after the boat ride you want to stay here, I recommend some bars where you can rest after the trip:
Sun & Sand Snack and Bar Jandia. If you still have time, I recommend you to try their sandwiches (Calle Bentejuy 4)
Waikiki Restaurant Snack Bar Grill, the views are breathtaking (Avenida Tomás Grau Gurrea 27)
Mis Abuelos Tapas, for a few beers (Calle Nuestra Señora del Carmen 4)
Duration: 4 hours or a little more
Price: around 70 €
Starting point: Morro Jable
5. Pirate ship adventure experience
From the 16th century onwards, Fuerteventura was the target of many pirates. The most famous expedition was probably that of the Algerian corsair Xabán Arráez who came to sack Betancuria, inland city and first capital.
The last attacks took place in the first half of the 19th century and only from then on could the island enjoy greater tranquility.
With such an important history behind it, an excursion on a sailing ship flying the Jolly Roger was a must. What's more, the luggage is made up of a crew in pirate costumes. You will learn how to tie knots, lower the sails or throw yourself into the sea with a rope. Not bad, right?
In case you travel to Fuerteventura with children or with a group of friends, it is a highly recommended option. Usually, the sailing boat leaves twice a day from Morro Jable and runs along the southern coast. You can find more information on the website of Traum Fuerteventura.
Duration: about 4 hours
Price: between 60 € and 70 €. The price includes also a buffet lunch
Starting point: Morro Jable
6. Mini yacht cruise with tapas
To travel in style. Lie back in the sun and enjoy sailing along the Jandia Natural Park. In addition to the classic water activities - snorkeling and paddle surfing - you will be entitled to some tapas accompanied by beer, cava or a delicious cocktail.
The strong point of this experience is the capacity. You will travel with nine other people (at the most), which is ideal to get the most out of this experience.
If you are interested, I recommend booking well in advance. This experience is in high demand.
Duration: between 3 and 4 hours
Price: around 120 €
Starting point: Morro Jable
7. Sailing in a sailboat
Do you love the sea and feel like a more authentic experience? With nothing to take away from a navigation in a motor boat, there is nothing like a sailboat.
Feeling the breeze on your face while holding a helm is a fantastic feeling. Don't worry, the commander will guide you along the coast and leave you at the helm under his supervision.
This route includes a stop for swimming or snorkeling. It is worth wearing a mask and snorkel to enjoy the marine fauna. You will see clown fish, bream, wahoo (you will recognize them by their shades of blue, green and orange) and other species. After the dip you can recharge your batteries with tapas and a cool beer.
You can also enjoy a glass of cava or white wine. The sailboat departs from Morro Jable, a village on the Jandia peninsula famous for its long white sandy beaches. It is located in the south of Fuerteventura, the most unspoiled part of the island.
Duration: about 4 hours
Price: about 80 €. Also includes snorkeling equipment rental
Starting point: Morro Jable
Do the routes include pick up from the hotel?
Yes and no. Let me explain better: as a general rule, it depends on where you are staying. Let's say you have chosen a tour that departs from the port of Corralejo. If your hotel, rental house or B & B is located in the central-northern area, the pick-up is usually guaranteed at the door.
On the other hand, if you are going to spend your vacations in Morro Jable or Costa Calma, for example, the pick up is done in a different way. In this case, the agency will indicate a meeting point reasonably close to your hotel.
When is the best time to take a boat tour?
Thanks to the warm weather in any season of the year, there really is no better time to sail the sea. It is always worth it.
In terms of daylight hours, summer is the best option. On the other hand, if you want to see the cetaceans, it is better to book a boat trip in spring or winter.
Can I do a boat tour on my own?
Yes, there are regular connections between the islands of the archipelago. However, if you do not have much time, the easiest option is Lanzarote.
Ferries depart from the port of Corralejo and reach the Lanzarote port of Playa Blanca. You can choose between three companies:
What happens in case of rain?
Fuerteventura is an island with very little rainfall. In case of heavy rainfall, boat trips are cancelled. If this happens, you have two options: change the date or ask for a refund.
In case you are unlucky, you can do the following activities under cover:
Museo del Queso Majorero, where you will learn all about the most typical dairy product of Fuerteventura (Calle Virgen de Antigua, km 20, 35630 Antigua, Las Palmas)
Go around the island. If you have a rental car, you can spend a day to see the wildest areas (Cofete and Betancuria Natural Park) and inland villages. Betancuria should be an obligatory stop
Admire the graffiti in Gran Tarajal, it is a small village but has many decorated facades
Eat a traditional restaurant. Take advantage of the bad weather to try the Canarian cuisine of El Luchador - Casa Tino Matoso (Calle Gairia, 16, 35638 Valles de Ortega, Las Palmas) or Restaurante Mahoh (Sitio de Juan Bello s/n, 35640 Villaverde, La Oliva).
Can I do this activity if I suffer from seasickness?
If you have never sailed before or are afraid of the sea, I recommend you to take an anti-seasickness pill, at least for the first day.
If you already know that the sea affects you, avoid the sailboat and opt for a more stable catamaran. Alternatively, you can always stay on land and book a buggy excursion in Fuerteventura.
Other advices
Now you know all the most important information to plan your trip. Here are a few last suggestions:
Always wear sunscreen or at least a hat. You don't want to go home with a sunburn, do you?
Drink frequently. Stay hydrated
If you are looking for a more dynamic activity, it might be better to opt for a different one. Personally, I always recommend the best kayaking routes in Fuerteventura
Bring a spare swimsuit
Beware of jellyfish. The waters of the Canary Islands are home to about 40 different species but only a few give a very painful sting. If you get stung, wash the area with saline solution (never with fresh water) and remove the remains of tentacles with tweezers
To avoid fogging up the lenses of your mask you can use an anti-fogging protector such as the Cressi
Want to immortalize your exploits under the sea? Then I recommend you buy a disposable underwater camera. You won't have to spend much, about 20 € is more than enough
As far as possible, do not swim against the current or you will get tired quickly