Best tours to see Dolphins in Fuerteventura
Seeing dolphins is a once in a lifetime experience that for many people represents an unattainable or even impossible dream because of the geographical location in which they live. Fortunately, if you go on a trip to Fuerteventura you will have the privilege of being able to do so if you wish.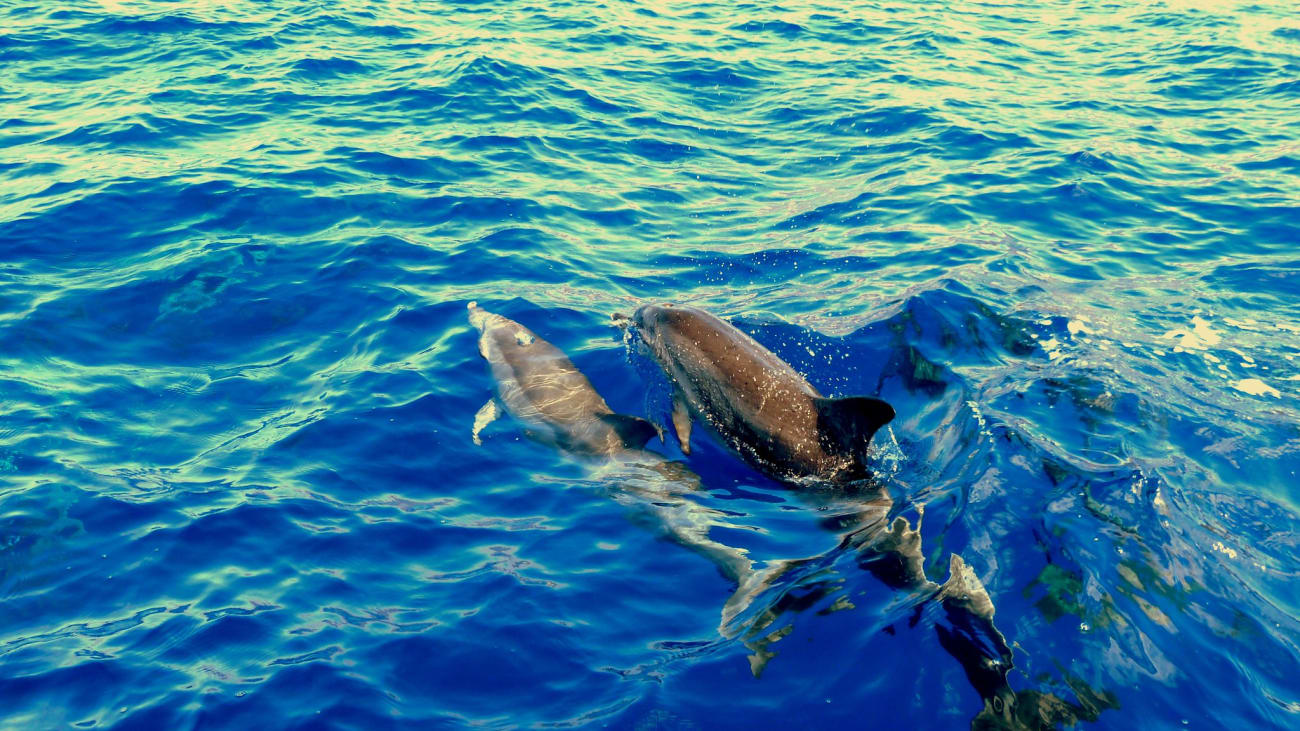 Without a doubt, seeing dolphins on a guided sea excursion is one of the best things to see and do in Fuerteventura. It is a plan that can entertain all members of the family simultaneously and it is also a unique opportunity to see in their natural habitat one of the most beautiful marine species on the planet.
So I invite you to continue reading all the alternatives I have researched for you, because there are several ways to see dolphins in Fuerteventura and each of them stands out for features equally convenient and interesting as the other options listed.
1. Dolphin and whale watching tour in Fuerteventura
The first alternative I can offer you as a viable and recommended idea to see dolphins in Fuerteventura is to take a dolphin and whale watching tour. This is a guided excursion that departs from a port on the island and is focused exclusively on the idea of going to the corners of the coast that are usually a meeting point for these marine mammals.
If it is a trip with these characteristics you can rest assured that it has the proper permits to develop whale watching as a commercial activity. In addition, all the tour staff is highly qualified for the work they do.
This means that it is a sustainable ecotourism tourist activity and there is a real effort behind the tour that seeks to minimize to the maximum the impact they have on nature and on the natural environment to which they are taking the visitors.
When joining an excursion like this you have to know that the most likely port of departure will be Morro Jable. This is because it is the most appropriate natural harbor for boats of all sizes on the Jandia Peninsula. In fact, this type of tours along the coasts of Fuerteventura usually focus on the waters surrounding the Natural Park of Jandia, as the waves and tides make it an ideal place for whale watching.
Keep in mind that the average duration of a tour that only seeks to observe cetaceans without any additional activity is usually an hour and a half and up to two hours maximum. That means that you can have a whole morning or afternoon free to continue enjoying those activities to see or do in Fuerteventura for 5 days. Or for as long as you are deciding to stay in this beautiful island.
As for the number of people on the boat you have to know that it is usual that these are boats ranging in size from medium to small to disturb in the least to the natural outcome of the dolphins on the coasts of the peninsula. So the group usually does not exceed 8 people, including the sailor and the dolphin specialist guide who accompanies them.
Details of interest:
Prices: a guided tour with these characteristics usually costs about 40 or 45 euros and it is also usual that there is a discount of 10 euros for children between 12 and 3 years old. Babies are allowed as long as they are in their mother's arms and everything depends on the availability of lifeguards for their size.
Duration: as I mentioned, since this is a trip that seeks to find a group of dolphins and whales to observe them for a while and then return to the island, it is not necessary to extend unnecessarily for many hours. On average, by the 2 hours of navigation it is likely to have already seen a couple of dolphins and a family of larger cetaceans.
Type of boat: these are boats of a moderate size and the most common is a boat with inflatable rims for the versatility and resistance that characterize them. There are also boats with structures that are entirely made of fiberglass, just like the professional fishing boats, but it is not as usual due to the fact that they are more vulnerable to special care.
Advantages: if you go with a guide specialized in dolphins, you will have the opportunity to know all the details of the dolphins' life. These are very interesting facts and stand out for being very curious and unexpected, at least from what you might associate with the image of a dolphin. Besides, the fact that the trip lasts just as long as it has to, avoids unnecessary stay in the open sea. In which you are exposed to solar radiation and sea sickness.
2. Flounder sailing boat cruises with dolphin sighting
The next option you have at your disposal when you are looking to meet dolphins in their natural habitat in Fuerteventura is the Flounder sailboat and its maritime excursions along the south coast of this beautiful volcanic island. For many people this is a much more complete alternative than the previous one, as it offers you the experience of riding on a luxurious sailboat. That while you also have great chances to see live and live dolphins sailing freely through the waters of Fuerteventura.
The first thing I have to clarify about this option is that it is also intended for very small groups of people, as only 8 passengers are expected. Who would join the captain and his assistant to start sailing on this sailboat that will take advantage of the strong winds of the south of Fuerteventura to explore the most beautiful corners of its coasts.
The departures of these sailboats are also usually from the marina of Morro Jable and many of these tourist itineraries also offer you a pick up directly at your hotel. At least if your accommodation is located in this town on the Jandia Peninsula, at the southern tip of Fuerteventura.
The experience usually includes alcoholic beverages and even meals, but the amounts of all this are configured based on the number of passengers and the issue of whether all belong to the same reservation or not. You are offered binoculars to take full advantage of the visibility of the groups of dolphins that you encounter, since clearly a sailboat is not able to reach in record time the area of the sea that these marine mammals decide to pass through.
This sailing trip also offers you the possibility of taking a swim in the middle of the open sea in those moments when the sails are lowered and the navigation is slowed down for a while. As well as snorkeling in those areas where the captain is sure that there will be sea turtles and manta rays along with all kinds of fish and marine species. The sum of all these details makes this alternative one of the best plans to see or do in Fuerteventura with children, as it offers a much broader and diverse entertainment.
Details of interest:
Prices: it is a slightly more expensive plan than the previous option, as it is a larger and more luxurious boat that also includes drinks and snacks in the service. The approximate price is usually around 80 euros per person, but keep in mind that in the most touristic season of the island the rate can double.
Duration: as this trip also offers you the chance to take a dip in the waters of the Atlantic Ocean surrounding Fuerteventura and being a sailboat is logical that it takes a little longer. On average it usually takes about 4 to 5 hours, but keep in mind that the main purpose of the trip is not to see dolphins although it is part of the itinerary.
Type of boat: as I just told you, it is a sailboat for about 8 people, which also has a small bathroom and a cabin to rest from the trip, very useful for those who have problems with sea sickness.
Advantages: being on a sailboat is a once in a lifetime experience and being able to do it while watching dolphins living in their natural habitat is an even more significant privilege. Therefore this option is highly recommended from my side if you have the possibility to afford this and if you feel you are in conditions to sail on a sailboat for 4, 5 or 6 uninterrupted hours.
3. Dolphin Sighting in Fuerteventura with snorkeling
Snorkeling can be the main protagonist of your day when you are also looking for the possibility to see dolphins during a trip to Fuerteventura. This is something that the tours that try to combine both experiences in the same itinerary have in mind and I can't stop recommending them in this list of options that I have prepared for you.
Basically, they are a combination of the previous alternatives plus a good snorkeling session that tries to be as close as possible to the environment in which these families of marine mammals swim and frolic.
As for the boat chosen, I have to tell you that the most common is a significantly larger boat, as it is almost always used a kind of tourist ferry that allows the entry of about 20 to 40 passengers simultaneously. All interested in the possibility of seeing humpback whales and dolphins in their usual way of life, but also in the fact of being able to get into the water to explore among the waves the beauty of the underwater world of Fuerteventura.
The duration is usually as significant as that of the sailboat and even more, because you share the trip with a larger group of people and all of them will want to enjoy their snorkeling session with the same comfort that you have at your fingertips. The port of departure is also usually Morro Jable and the schedules are usually reserved for the morning stretch due to the fact that it is more convenient for all participants to adjust their day knowing that at noon or early afternoon they will be back on the shores of the island.
Details of interest:
Prices: 75 euros per person is usually the rate assigned for this type of sea tours and the truth is that this rate is very attractive, since most of these boats offer snacks and drinks on board and even the possibility of consuming alcohol for an additional payment at the bar of the ferry.
Duration: 5 or even 6 hours is usually the duration of a trip like this, but the good thing is that you are guaranteed that the visit to the dolphin transit areas is part of the sailing itinerary of an excursion like this.
Type of boat: I compare it to a ferry for a matter of size and mechanical dimensions, but they are really boats designed for these tourist tours. That means that they have no inconvenience in being turned on and off several times in the same day, just like when arriving to the snorkeling area or enjoying the arrival of a family of dolphins on the sides of the boat.
Advantages: this option is clearly one of the best snorkeling experiences in Fuerteventura for the simple fact that it is combined with the possibility of seeing dolphins and whales in the same tourist event.
4. Catamaran sea tour with dolphin sighting included
The last alternative you have at your disposal to see dolphins in Fuerteventura on a guided tour is on a boat that by itself is a true spectacle of engineering and an attraction worthy of being known at some point in your life. It is given in a catamaran, a boat that combines two parallel hulls and which is usually driven by the force of the wind, with sails, just like a traditional sailboat.
There are catamarans with motor propulsion and there are also others that combine engines with sails. Either way, the ones you will meet in this type of maritime tours are configured to have a maximum capacity of 10 people and stand out for the elegance of their designs.
These boat tours in Fuerteventur usually last about 4 or 5 hours approximately and almost all catamarans offer the possibility of snorkeling or swimming in the crystal clear waters surrounding the northern and southern tip of this Canary Island. Some offer hotel pick up if your accommodation is in Morro Jable, as the departure is usually from this luxurious and beautiful marina.
Clearly in this case the dolphins and whales are the protagonists of the event and therefore the captain will always choose navigation routes that bring you as close as possible to the possibility of seeing several groups of cetaceans in a single tour. Many usually offer snacks and drinks within the tour rate, which is convenient knowing that it is not as short as the first alternative I mentioned in this publication.
Details of interest:
Prices: about 80 euros is usually the approximate price for a trip per person on a catamaran along the coast of Fuerteventura with the intention of seeing dolphins and whales along the way. However, it is also very likely that you will get some alternative a little cheaper as well as there will also be others that double this value.
Duration: 4 or 5 hours, but there may be some with shorter trips that only extend for 3 hours during the first half of the day.
Type of boat: as I mentioned before, they are catamarans and some of them have internal cabins that can give you privacy to go to the bathroom, while others are simpler and only have the upper deck in their structure.
Advantages: a catamaran combines the best of a peculiar design with the practicality and beauty of sail propulsion. So if you are passionate about sailing and you are interested in everything that has to do with boats, this is a good opportunity to get rid of the desire to see dolphins in Fuerteventura while also traveling in one of the most attractive boats of today.
What are the types of dolphins and cetaceans you might see in Fuerteventura?
On the other hand, there is the fact that you are almost certainly interested in knowing what are the types of dolphins and cetaceans that you could meet while participating in any of these tours in the waters of Fuerteventura.
That's why I also tell you some of the marine species that are most frequently seen in these tours and this will help you to identify them on your own as soon as you see them swimming on the horizon.
1. Bottlenose dolphins
This is the best known of all dolphin species and is characterized for being a marine mammal with an enviable intelligence and for having a more sociable character than other dolphins.
They are usually grouped in families that stay together for periods as long as two or even three decades. They are easily identified by their fondness for swimming around boats and by their grayish hue. They are relatively large, averaging between 2.5 and 3 meters in size.
2. Killer whales
It is often believed that the habitat of killer whales is restricted exclusively to the cold waters of both polar extremes of the planet. However, this is actually a migratory species and it is possible to see groups of killer whales swimming around Fuerteventura all year round.
Normally, they reach 9 or 10 meters and their average weight is around 5 or 6 tons. It is characterized by being a very skilled predator that allows it to have a diet based on fish, seals, squid and even smaller sharks.
They live in groups that can reach 40 individuals, but it is also possible that they have periods of solitary navigation. They are easily distinguished by their skin that combines a black base with several white spots.
3. Spotted and rough dolphins
Spotted dolphins can be distinguished by their size, which is usually smaller than that of a bottlenose dolphin, and by their skin. It has small black and white spots all over its surface. They are equally sociable and also have the habit of frolicking with any boat that is sailing near their family group.
Rough-toothed dolphins are quite skilled hunters, distinguished from other dolphins by having a narrower snout and pink and white shades on this part of their body, as well as on their belly and throat.
4. Sperm whales
Sperm whales are one of the most impressive marine mammals in the Atlantic Ocean surrounding the archipelago of the Canary Islands. It is quite large, easily reaching 18 to 20 meters in length and 50 tons is an average number for the weight of a sperm whale.
They usually feed on squid and fish at depths of up to 3 km and are commonly seen in groups of no more than three or four individuals because they live in small groups.
5. Humpback whales
It is not so common to see humpback whales on a tour of Fuerteventura's waters, but there have been exceptions and over the years these encounters have become more and more frequent. They are known to be extremely friendly with other dolphins, with other species of whales and also with the boats that come across their path.
It is easy to identify them by the outline of their humpback, although their main distinguishing feature is their habit of performing acrobatics by jumping above the water level and then crashing into the water, creating a gigantic splash.
What do you need to see dolphins in Fuerteventura?
There are no specific requirements for you to participate in one of these dolphin watching tours in Fuerteventura. The truth is that you will not swim with them in their natural environment for safety reasons and you will always be inside the boat while it is sailing from one point to another for the same reasons.
However, one thing I can not fail to recommend is that you take with you enough hydration and plenty of sunscreen. For sea sailing is a perfect occasion to suffer a sunstroke and being in the middle of the sea is a thirst-quenching experience according to the opinions of most expert sailors.
If you feel like continuing to enjoy the sea of this beautiful island beyond the sandy coast you can also participate in the activities in Fuerteventura Kayak. They offer you the possibility to have your own individual boat for short and safe trips.