Best Snorkel Experiences in Fuerteventura
Snorkeling is a perfect water sport for children and adults and allows you to observe the marine fauna and flora live and direct. And Fuerteventura is an ideal place to practice it.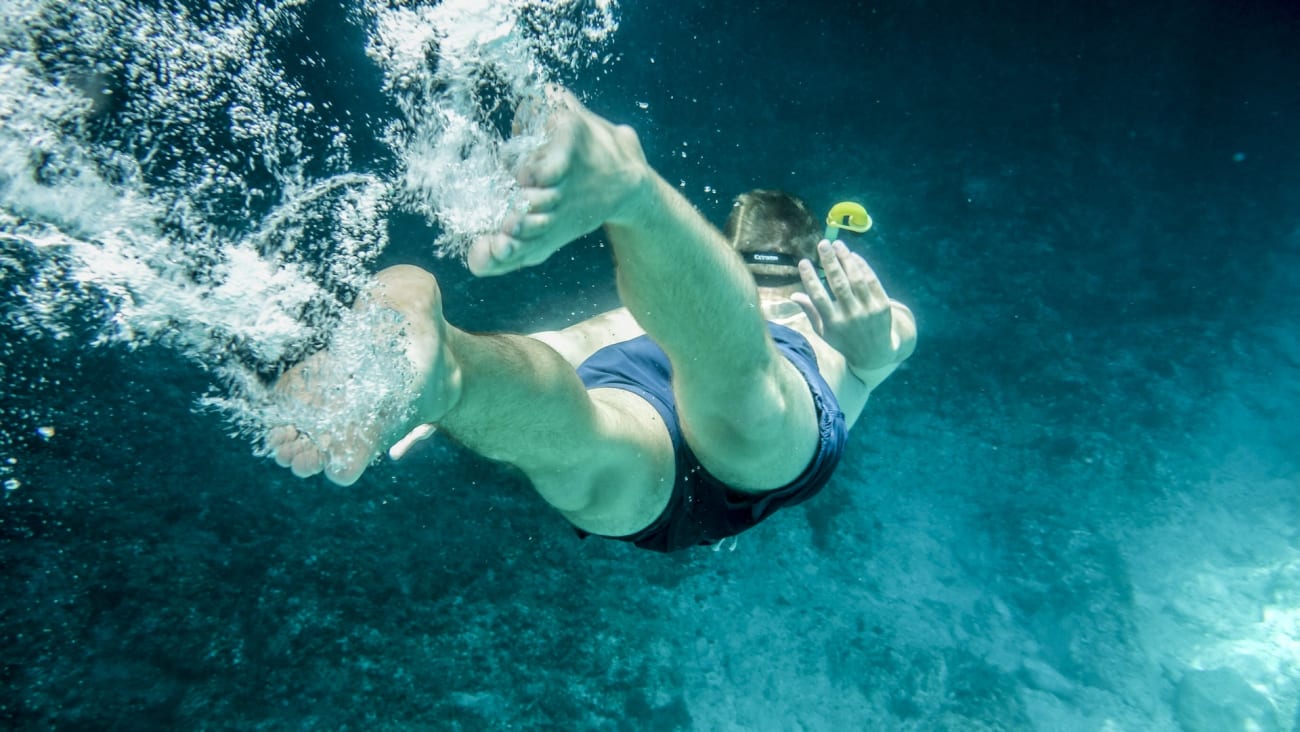 The eight Canary Islands are a great place for snorkeling and other water sports (don't leave the island without trying some surfing lessons). However, Fuerteventura in particular, the oldest island of the Canary archipelago and the one with the most geological interest among professionals, turns out to be the perfect place to practice this sport.
Read on and I'll show you the best snorkeling experiences on the island of Fuerteventura, plus everything you need to know about snorkeling and some tips for you to admire the incredible depths of the ocean. Are you ready?
1. Snorkeling in Costa Calma
Many beginners consider this beach as the best place to get started in snorkeling, as here abound companies that rent the necessary equipment and offer courses with a monitor.
Costa Calma beach has an extension of about 2 kilometers and is located next to the town of the same name. Here it is easy to find starfish, turtles and parrot fish.
In addition to its crystal clear and shallow waters, this beach has a lifeguard service, which also makes it an ideal place for snorkeling with children.
2. Dive with stingrays and sea turtles at Lobos Island
Lobos Island, or rather the "islet", is located at the northern tip of Fuerteventura, about 15 minutes by boat from the dock of El Corralejo. From there boats leave from time to time to transfer passengers, although, if you prefer to arrive at your own pace and without worrying about schedules, you always have the option of taking a water cab.
Any place on this island is ideal for snorkeling, since its waters are very clear and, in general, shallow. In addition, this place has very rich marine habitats and also paleontological sites (with an abundance of marine fossils). This is the natural home of rays and sea turtles, which, if you are lucky, you will be able to admire as they roam freely.
By the way, no, although the name of this island may be misleading, you will not find sea lions (also known as monk seals) here. The island is named after a colony that lived here quite a few years ago, but unfortunately, man's actions have made it no longer exist.
To get here, you will have to take a ferry or hire a tour.
3. Snorkel at your own pace on the beaches of Lobos Island
If you liked Lobos Island, but you prefer to snorkel on your own at one of its beaches, the best ones are Puertito de Lobos beach and La Concha beach, one of the most famous of the island.
Puertito de Lobos beach is great for beginners or people with little experience, as it is a quiet natural pool. But don't worry, marine life abounds here too.
Don't forget that Lobos Island is a protected natural park, so you need a special permit to enter (you can apply for it completely free of charge on their official website).
Remember to bring your own goggles and snorkel, as you won't find any companies where you can rent them on Lobos Island.
If you prefer not to complicate your life, you can hire the boat trip to Lobos Island with one of the companies that organize it. They will process the permit for you and also take out the mandatory travel insurance so that you don't have to do anything.
Normally, the schedules that govern Lobos Island do not usually apply so strictly to the boats that belong to the excursion agencies. So, if you go with one, they will probably let you stay a little longer on the island than if you go on your own. I'll leave it at that...
4. Snorkel among schools of fish in Corralejo
The beaches of Corralejo, which are part of the impressive Corralejo Natural Park, are another favorite spot for snorkelers. In addition, you can get here without the need to take a boat or ask for any permission, which makes it a much easier option.
I recommend that you do not stay in the best known beaches, those that are next to the population and where tourists abound, but that you move away a little. Corralejo has a few kilometers of coves, so walk a little and stroll through them: it will not be difficult to find a quiet place (such as Playa Larga or Playa del Moro).
However, if you haven't brought a snorkel and goggles or it's your first time and you want to learn with the peace of mind provided by an instructor, head to the town of Corralejo, where you will find several companies that offer these services, as well as specializing in offering the best surfing experiences and other water sports, such as windsurfing.
5. Snorkel in authentic virgin beaches
For many, the beaches of the south of Fuerteventura are the best of the whole island. Being further away from the larger population centers, they do not have the same services as other places in the north. However, that makes them much wilder enclaves and sometimes almost virgin.
If you have experience snorkeling and are looking for tranquility and to get away from the tourists, the southern beaches will certainly not disappoint you.
Cofete beach
It is located on the Jandia Peninsula and is a natural paradise. This beach has an extension of 12 kilometers and is surrounded by mountains. To get there, you will have to drive along a rocky road for about 8 kilometers (for convenience, the ideal is to visit it in a 4x4, but it is not really necessary) but I assure you that it will be worth it.
Cofete beach is one of the most special of the island: its golden sand, mountain views and, above all, its crystal clear waters, make it a privileged enclave. Besides being considered one of the most beautiful beaches in Spain, scenes from such emblematic movies as Star Wars and Planet of the Apes have been filmed here.
Keep in mind that this is a place with little influx of visitors, so you will have to take extreme precautions and, as always, check the weather forecast before jumping into the sea.
The beach of Barlovento
Next to the aforementioned beach of Cofete, is its neighbor, the beach of Barlovento de Jandía. It is located a little further north than Cofete and has an extension of about 6 kilometers long. The contrast between the reddish mountains, the golden sand and the turquoise waters of the ocean will surely captivate you.
This one has very similar characteristics to Cofete: it is a wild beach, we could say practically virgin and with little influx of tourists, so tranquility is assured.
Remember that being such a natural environment, air currents can be dangerous so, once again, I recommend that if you decide to snorkel in these waters, extreme caution.
6. Dive next to impressive cliffs in Morro Jable
Morro Jable is a town in the south of Fuerteventura with a lot of tourists and where there are many companies that are dedicated to the rental of equipment needed for snorkeling, in addition to classes for beginners.
In these waters you can see animals such as sea urchins, starfish, octopus and even moray eels. The most recommended place for snorkeling in this area are the cliffs that are located next to the viewpoint of Morro Jable.
You can reach them by accessing from the beach, although if you prefer to enjoy the full experience, you can also hire a boat trip to snorkel in deeper waters. This way you will have the chance to see larger animals in uncrowded waters.
7. Snorkeling in the natural lagoon of La Concha beach
No, I am not talking about San Sebastian, but La Concha beach in El Cotillo. In El Cotillo you will find some of the best beaches of the island and, in particular, I recommend this one for snorkeling.
La Concha beach is protected by a reef of volcanic rock and, depending on the rise and fall of the tide, you will see that shallow natural lagoons are formed on the coast , ideal for snorkeling, both children and adults.
The ideal is to arrive early in the morning so you may have the chance to see cuttlefish, colorful fish and even octopus.
Although you may find sport equipment rental companies, it is best to arrive here directly with your own snorkeling goggles and snorkel.
Why snorkeling in Fuerteventura?
Fuerteventura is a paradise for snorkelers and you will quickly know why. In addition to its privileged climate, with temperatures that allow immersion in the water throughout the year, and the clarity of its waters, which allow you to see the marine flora and fauna even if you are at a great distance, the most remarkable thing about Fuerteventura is its richness and diversity.
In Fuerteventura you can see about 400 species of aquatic life, among which are crabs, sea spiders, starfish and sea cucumbers, but also rays, tuna and a long etcetera.
In addition, its geological antiquity and volcanic past means that you can also see underwater volcanic landscapes, coral reefs and great depth drops. A true underwater paradise.
Snorkeling, a sport that does not require a lot of equipment
Snorkeling has become very fashionable on beaches around the world in recent years. This sport consists, basically, in diving at water level to observe marine life.
To snorkel, all you need is a pair of goggles and a snorkel, which allows you to stay as long as you want with your head underwater. Depending on the areas where you are going to dive, it will be advisable to add fins to your attire and, if you are in very cold waters, it will also be advisable to use a wetsuit.
Fortunately, the average annual temperature in Fuerteventura is around 22⁰C, so you won't normally need any special equipment. In addition, the clarity of its waters, which, in many places, allow visibility up to 30 meters deep, make it a perfect place for snorkeling.
Having said all this, the last thing you need to go diving and enjoy this wonderful sport and its views of the seabed is an underwater camera or a watertight plastic case for your cell phone.
Is it your first time snorkeling? I guide you
If this is the first time you practice this sport, you should know that it is necessary that you know how to swim very well and learn to breathe through the tube, otherwise you could swallow water.
My recommendation is that, the first few times, you do it accompanied by another person with more experience, although this does not necessarily have to be a monitor, and that, above all, you do it in shallow water.
If you still don't feel safe trying it alone, don't force yourself! There are many places on the island where you can find schools that offer courses for beginners with an instructor and that will teach you how to snorkel safely.
They will also give you tips on how to take care of the seabed so that your dive in these waters does not pose a danger to any species.
Tips for snorkeling
Whether you have experience in snorkeling or it is your first time, it is important that you check the weather forecast for the area where you plan to snorkel before the dive. Be aware that an unexpected storm or storm surge can cause dangerous currents - don't gamble!
It is important that you try to touch the sea floor as little as possible, thus helping to protect it and its flora and fauna. Also, try not to disturb the marine species and, above all, do not touch the fish or feed them!
Although in Fuerteventura there are many other perfect activities to do with children, snorkeling is also perfectly compatible and many of them love it. Just keep in mind that caution is always the most important thing! So, it never hurts for children to wear a life jacket, even in shallow water.