How to Get to Porto from Lisbon
The 300 kilometers that separate Lisbon and Porto, two of Portugal's most important cities, make it very easy and appealing to visit both. What is the best way to do it?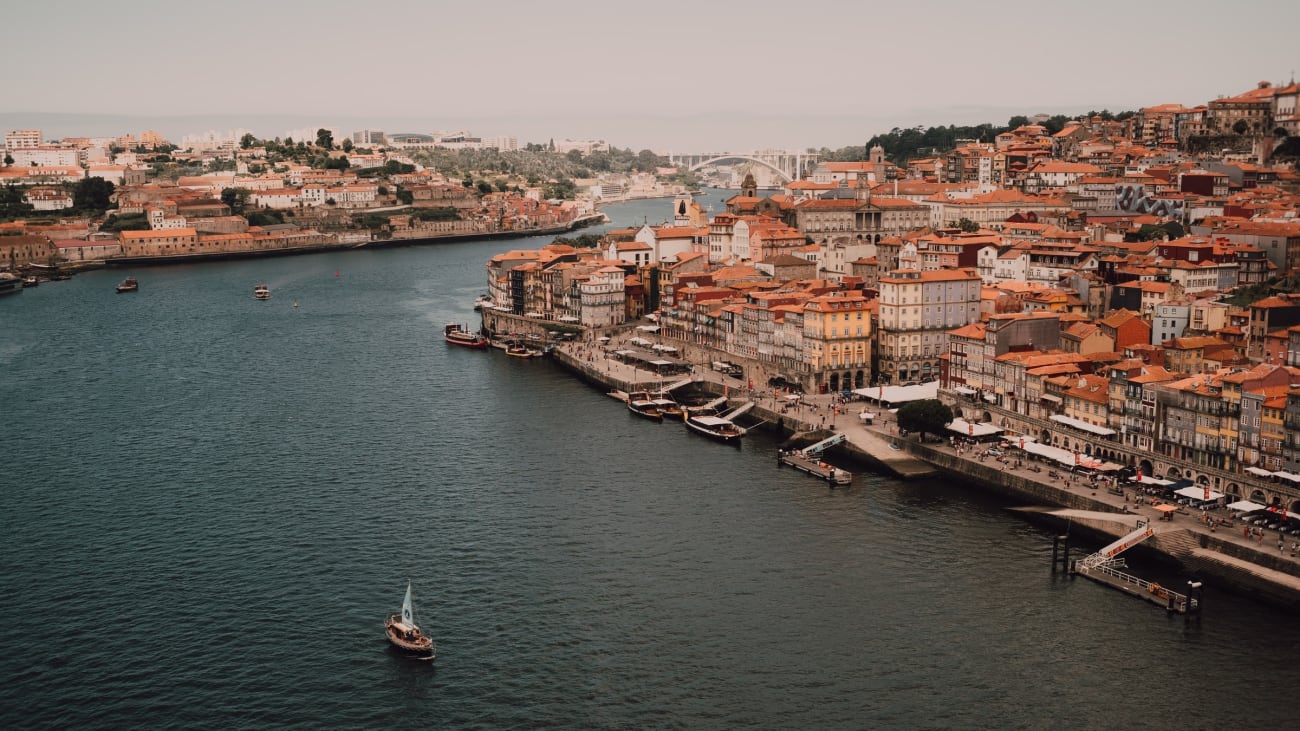 Are you traveling soon to Portugal to discover Lisbon? Being as close as it is to Porto, you should not miss the opportunity to visit this other Portuguese city. Only 300 kilometers away, the distance between the two can be covered by bus, train or even plane. The alternatives are many, but depending on the comfort you are looking for, some may interest you more than others.
It is clear that an organized tour is the most exclusive, personalized and enjoyable option, but for tighter budgets there are other means, such as the public bus. I've been doing some research to summarize the advantages (and disadvantages) of each mode of transport, so you can start planning your trip.
Getting from Lisbon to Porto on an organized tour, the best option
The short distance that separates Lisbon and Porto can become very long if you do not plan your trip well. Why? Because you have to control schedules, means of transport, transfers... To avoid problems, I advise you to book an organized tour that picks you up in Lisbon and takes you directly to the center of Porto. This way you won't have to worry about missing trains or buses or, worse, time going from one place to another.
The great advantage of these excursions is undoubtedly to go from one point to another without intermediate stops or transfers, but the comfort during the journey is another aspect to take into account. What do I mean? Traveling by public transport sometimes means that the seats are uncomfortable, that there is no air conditioning in summer or heating in winter or even that you have to stand up. Booking a private tour ensures that none of that happens and that you can enjoy your trip to Porto even before you arrive in the city.
Sounds good doesn't it? It will when you see the different alternatives you have depending on your budget or the exclusivity you are looking for.
Organized excursion to Oporto in private transportation with door-to-door service
Without a doubt this is one of the most exclusive services you will find if you want to go from Lisbon to Porto. Why? Because a private vehicle, just for you, will pick you up at your hotel (or any other point of the city you choose), will take you to Oporto in approximately two hours and, at the end of the day, will return you to your accommodation. Of course, the price is somewhat high (from 225€), but if you are traveling to Lisbon with children, it is a very convenient option.
The truth is that it is the most direct alternative, so if you do not want to waste time and make the most of your day in Oporto, you should consider it. In addition, it usually includes transportation service also within the city. What do I mean? Your driver will be your guide and will take you to the most interesting places in Oporto, without the need to walk long distances or take public transport.
Interesting facts
Price: 225€ approximately
Duration: about two and a half hours (approximately 10 hours of excursion, no overnight stay).
Disadvantage: you have to adjust to the timetable of the excursion.
Recommended if you want to save worries and not waste time on public transport.
Excursion to Oporto from Lisbon by shared bus
Looking for a cheaper but equally exclusive option? You can always book a shared coach tour, in the vehicle you will travel with other travelers, but you will arrive equally fast (in about two and a half hours) to Porto. The price is more affordable (around 80€) and, once at your destination, you can stay on the bus and listen to the guide's explanations while you go around the city.
However, keep in mind that the coach will pick you and the rest of the group up at a common meeting point in the center of Lisbon, so you will have to travel there. However, there are no intermediate stops along the way, so it is still a direct alternative.
Interesting facts
Price: 80€ approximately
Duration: about two and a half hours (approximately 10-12 hours of excursion, no overnight stay).
Disadvantage: you must share the trip with another group of people.
Recommended if you want the comfort of an organized excursion at an affordable price.
How to get from Lisbon to Oporto by train, a good value for money alternative
Traveling by train is always a fast and quite comfortable alternative; the Lisbon - Porto route is a good example of this. For a fairly cheap price (from 25€) the Portuguese train service gives you up to two options to make the journey between these two cities in about two and a half to three hours.
What I like about traveling by train in Portugal is that most of them are very modern and comfortable. For example, for the route between Lisbon and Porto they all have free wifi, which is great for checking for delays or just planning everything you are going to do and see when you arrive. Tickets can be purchased at the stations or on their website; keep in mind that in high season they are full, so get them well in advance.
The Alfa Pendular train
The first option, the Alfa Pendular, is the fastest, but also somewhat more expensive. For about 30€ (one way) you can get from the Portuguese capital to Porto in about two and a half hours. Beyond these data, I like it because the seats are very comfortable and you will have space to stretch your legs.
The journey flies by without many intermediate stops, which on the other hand means that it only passes through Lisbon Oriente station. In Porto it stops at Campanha, which then has very good connections (without having to pay more) to Sao Bento, the central station.
You don't have to worry about availability either, as being a high speed train it is fast and has several departures a day. You can check the timetable on the official website.
The Intercity train
This line of the intercity train takes a little longer (approximately 3 hours), as it is not a high-speed train. However, its price is lower (from 25€ one way) and the seat is also assigned, so there is no danger of having to stand up. Another advantage is that there are two stops in the city of Lisbon (Santa Apolonia and Oriente), so it can be more accessible depending on where you are staying.
In Oporto you will arrive at Campanha station, from where you can then go by public transport, for the same price, to other parts of the city such as Sao Bento. These intercity trains have more than 10 departures a day, but make several intermediate stops and are not as modern, but not uncomfortable.
Interesting facts
Price: between 50 ¤ and 70 ¤ approximately
Duration: about three hours
Disadvantage: you will have to travel to the train stations.
Recommended if you want to travel comfortably and for a good quality-price ratio.
How to travel to Porto from Lisbon by bus, a cheap option
The cheapest option to go from Lisbon to Porto is by bus (approximately 20€ each way) but it will take you much longer (from four hours). If you still prefer to use this means of transport, Rede Expressos has more than 20 departures a day to choose from, so you can leave early in the morning (from 7am) and return to Lisbon in the late afternoon (until midnight). Don't worry about comfort, as they are modern vehicles.
Depending on the time you have, you can choose between one bus line or another. The 50, for example, is much faster (less than four hours) and can also be used to get to Fatima from Lisbon. If you don't mind making more stops and taking a little longer to get to Oporto (about four hours) you can consider lines 11 and 53.
In any case, you can take the buses from Lisbon's Sete Rios station and they will drop you off at Rua Alexandre Herculano in Oporto, very close to the center. Be careful, the ticket cannot be bought from the driver, so be sure to buy it online or at the station ticket office.
Interesting facts
Price: approximately 40€.
Duration: about three to four hours
Disadvantage: the journey can be long.
Recommended if you are looking for an economical alternative
How to get from Lisbon to Oporto by car, an option that can be expensive
During your trip to Lisbon you are going to rent a car to move around different cities? Or maybe you have arrived in Portugal with your own car. It is not a bad option to take advantage and use it to go also to Porto, but I hope you know that the tolls are expensive (around 25€) and the system to pay them is a bit complex. However, if you decide to go by road you can do it in about three hours.
The rental price is around 15€/day, so it is cheap, the problem is that the tolls are very high and are automatically charged thanks to license plate recognition. That is to say, you will not find physical barriers on the road, but the car will be recognized and then the rental agency will give you a receipt. You should take this into account and consider it as part of the cost to go from Lisbon to Porto, you do not want surprises or fines!
Traveling with your car or with a rental car, if you have a driving license issued by a European country, you will be able to move freely in Portugal. The only thing is that if you use your car and you don't have ViaT, you will have to buy the toll device at an EasyToll terminal.
Interesting facts
Price: from 40€ (rental and tolls)
Duration: about three hours
Disadvantage: the price of the tolls and their payment system.
Recommended if you have rented a car for your trip to Portugal.
Going by plane from Lisbon to Oporto, a quick alternative
Surely if you have looked for flights connecting the cities of Porto and Lisbon you thought it was very cheap (10€ each way) and fast (about 1 hour). Well, it is, but it is not as suitable an alternative as it seems. Why? Because the airports are further away than any train or bus station (about 30 minutes) and you have to go with time to pass the control. In total, the trip will take about 5 hours.
Lisbon airport is 20 minutes away from the city, and Porto airport is 30 minutes away. These are not long distances and there are good connections, but if we add the two hours in advance with which you have to arrive, it is too much. My advice is that you should only travel by plane if you are traveling with luggage and you are going to spend more than one day in Porto.
Interesting facts
Price: 20€ approximately
Duration: about one hour
Disadvantage: you have to arrive at the airports almost two hours in advance.
Recommended if you are going to spend more than one day in Oporto and you are traveling with luggage.
We compare all the options to go from Lisbon to Oporto
Organized tour (private vehicle)
Duration: two and a half hours (approximately)
Price: starting at 200€.
Highlight: without intermediate stops and with personal driver.
Organized excursion (shared coach)
Duration: about two and a half hours
Price: starting at 80€.
Highlight: direct trip by air-conditioned coach
Train
Duration: about three hours
Price: starting at 50€.
Highlight: good value for money
Bus
Duration: approximately four hours
Price: starting at 40€.
Highlight: available until midnight
Rental car
Duration: about three hours
Price: from 15€/day (plus tolls)
Highlight: freedom of schedules and movements
Plane
Duration: about one hour
Price: starting at 20€.
Highlight: recommended if you are going to spend several days in Oporto.
Other excursions
You may be interested to know that from the Portuguese capital depart the best excursions to other cities such as those that take you to Sintra, Fátima, Évora or also Arrábida and Sesimbra, two fishing villages with natural landscapes where you can practice outdoor activities such as snorkeling, kayaking or even take a cruise to see dolphins.