10 Things to Do in Krakow in August
Summer may be almost over in August, but Krakow still has plenty of outdoor activities and events to enjoy. Do you want to know which ones?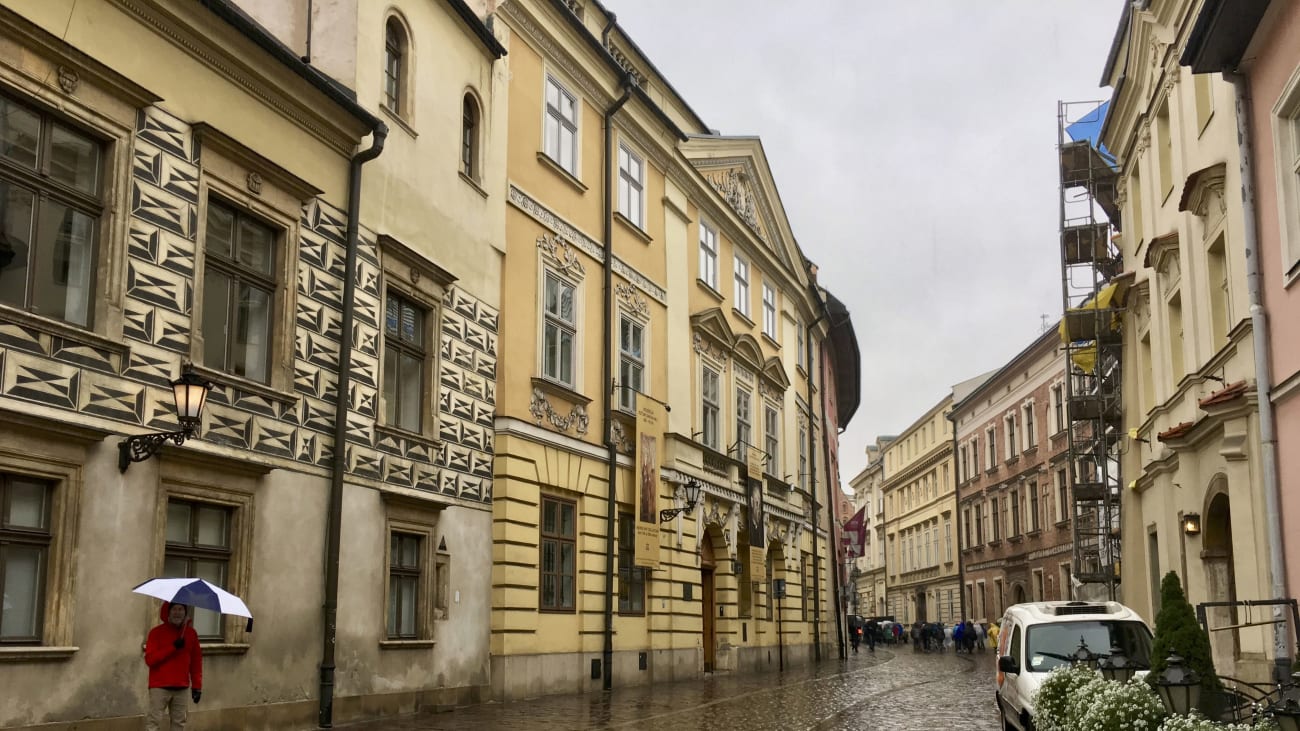 Are you planning a trip to Krakow? If you have chosen to go in August, you will like what I have to tell you, because during this month there are several festivals and events that take place there and with which you can delve into the gastronomic, musical and natural culture of the city.
Although it is true that August is high season and there is usually more tourism, the temperatures are good for being outdoors. For this reason I want to propose plans where nature has a leading role, although there are also some much more lively and urban alternatives. Which ones are you up for?
1. Taste Krakow's gastronomy at the Pierogi Festival
Don't know what pierogi is? Don't worry, because as soon as you set foot in Krakow you will taste this typical dish. In addition, if you go in August you will have the opportunity to taste the different types during the Pierogi Festival, a celebration in which these dumplings or boiled dumplings of Polish origin are the protagonists.
A unique opportunity to taste the traditional dish of Poland
In mid-August, Krakow' s restaurants bring out their most creative side and elaborate even richer and more surprising combinations of pierogi. This Polish delicacy is made of stuffed dough, like the famous dumplings, and traditionally mashed potatoes, cheese, egg... Over the years this recipe has been reinvented and during your trip to Krakow, especially during the Pierogi Festival, you can taste many varieties, even some sweet to take as dessert.
What to choose among so many alternatives? My advice is to take advantage of every day and let yourself be guided by the smell that comes out of each stall and fills the Krakow Market Square, where the Festival is held.
Accompany every meal with the best music
Do you only eat during this festival? It is clear that eating is a fundamental and essential part, but during those days the streets of Krakow are filled with traditional music to accompany the gastronomy.
What is the best pierogi?
The Pierogi Festival is held to taste this typical dish, but also to reward the culinary innovation of the participating restaurants. How? There are two prizes: one awarded by a professional jury, and another based on the opinions of the attendees. Who will you vote for?
A gastronomic feast
Once you've tried a few pierogi, you'll want to know the recipe, they're so delicious! To learn it, nothing like attending one of the workshops or gastronomic tours around Krakow that are organized during the festival by the best chefs in Krakow.
In my opinion, this festival is a unique opportunity that you cannot miss, as you will connect with Krakow and its culture through its gastronomy. Believe me, there is nothing better (or tastier).
2. Follow the rhythm of Polish folklore during the Summer Arts Festival
Did you know that Krakow has been the cultural center of Poland for many years? And it still is, which is why every August folklore groups, choirs or orchestras gather in the city to participate in the Summer Arts Festival, a celebration of traditional Polish music and dance.
In mid-August, therefore, the city fills with art and does so as a great tribute to Polish customs. Krakow is a city full of life throughout the year and it is never a bad time to go, but I assure you that these days you will feel its rhythm running through you as you walk through the different stages of the festival, which are usually the squares or churches of the city.
3. Dance to the rhythm of rock at Live Music Festival
Since 2006, before it was called Coke Music Festival, every August music fills Krakow. And not just any music, because this festival is attended by some of the best known groups on the planet, especially hip-hop and rock, such as Post Malone, Macklemore or Muse. For two or three days you can attend several concerts and even sleep at the festival campsite.
Over the years the Live Music festival has changed quite a bit. Previously it was sponsored by Coca-Cola, hence its former name, and was held at the Wisła Kraków stadium. However, in recent years the venue is the Aviation Museum. Wherever it is, it is a festival where you will enjoy good live music and, being held in Kraków itself and not elsewhere nearby, it allows you to get to know the city during the day and then dance to the music at night.
4.. Accompany your visit to Krakow with classical music
If I had to choose a soundtrack to accompany my trip to Krakow I would choose classical music, without a doubt. The atmosphere of the city, the cobbled streets, the low buildings... No wonder Krakow has been organizing a classical music festival every August since the 70s. In addition, the locations are usually emblematic and historic buildings in the old part of the city, such as the churches of Krakow, so do not be surprised to be walking around and hear a concert in the background.
Music in Old Krakow is a tribute to all the musicians who visited the city years ago, such as Liszt or Rubinstein. Perhaps they were as inspired in Krakow as the artists who come to the festival to play today.
Although the festival is international, most of the performers who attend are Krakowers, so if you're around in August, you'll have a chance to get a taste of the city's culture. Don't think it's all early music, as there is also room for more modern compositions.
5. Celebrate Polish history during Polish Armed Forces Day
Krakow is a city full of history and it is never a bad time to get to know it. An important date is August 15, when Poland's Armed Forces Day is celebrated. This event commemorates their victory against the Russian army in 1920. Although most of the events around this occasion are political in nature, my advice is to take advantage of this day to get closer to the history of Krakow and Poland.
Even though on Armed Forces Day there are no activities to join, that is no excuse to omit the significance of this day and the importance that the victory over the Russian army had for the Poles. Being Krakow one of the most important cities in Poland, walking its streets can help you understand not only its memory but also that of the whole country.
My advice, especially if you are only going to be in Krakow for a few days, is to book an organized tour with the presence of a guide. This way you won't miss anything and you will discover all the facts that have left their mark on Krakow. Strolling through its streets you will surely understand much better the role that wars and battles have had in the country.
6. Get a closer look at Jewish culture at the Tisha b'Av
As you surely know, Krakow is a city where Jewish culture has always been part of its history. In fact, before World War II this community represented a quarter of the population.
Although Jewish holidays are not part of the Polish calendar, you may be interested to know that, normally, August is celebrated on Tisha b'Av, a day that commemorates some of the hardest events in the history of the Jews, such as their expulsion from Spain or the destruction of their First Temple.
Knowing the specific date on which Tisha b'Av will take place can be complicated, since it is marked by the lunisolar calendar. However, it is usually in August and that is why I think that, if it coincides with your trip to Krakow, it is a good time to take a tour of the Jewish quarter of Krakow. There is no better way to understand how two cultures have been able to coexist for so long and also the terror caused by the Nazi occupation.
7. Get to know the rural world of Krakow in Zakopane
Surely one of the reasons why you have traveled to Krakow, in addition to seeing the city, is to take a well-deserved vacation and rest. Maybe you didn't know it, but just three hours away from this city is Zakopane, the favorite summer destination of the Polish people and that you can also enjoy in August, the month in which temperatures allow hiking trails through the mountains and stroll through its streets.
Zakopane has a lot of historical significance for its role in Polish nationalism, but it is also a place to relax and connect with the most rural part of Poland. Being so close to Krakow, I highly recommend booking an excursion from there to discover its wooden houses and mountain trails.
Stroll through the city of Zakopane
Have you ever been to a fairytale town? Zakopane is just that. Its low, wooden houses with sloping roofs have created an architectural style of their own and are the perfect setting to spend a summer morning, when temperatures allow you to be on the street and on the terraces.
Hiking in the Tatra Mountains
If Zakopane is known for anything, it is the Tatra Mountains, which act as a natural border between Poland and Slovakia. On your visit you can take the cable car to the top, an option I love because you can see from above all the green that covers the land.
Once you are at the top you can follow one of the marked trails that run through the National Park. August is a good month to do some of these itineraries, since the weather is nice and you will not find slippery floors because of the rain; instead, on your sides there will be leafy fir trees accompanying you along the way.
8. Embark on an adventure on the Dunajec river descent
Fancy an adventure? August is the perfect month to embark on one and descend the Dunajec River, which is located in one of the most beautiful natural environments in Krakow. During the summer months the lush vegetation will accompany you during the 15 kilometers of the tour.
Besides being the border between Poland and its neighboring country, Slovakia, the Dunajec River is a beautiful landscape to navigate and to know the Pieniny Natural Park, one of the oldest in the world. During the itinerary you can admire the rock formations on the banks as you approach the castle of Niedzic, where legend has it that there is an Inca treasure.
Take advantage of this excursion not only to enjoy nature, but also to sunbathe on the deck of your boat.
9. Cool off and take a swim in the Bagry Pond
Krakow is a somewhat hot city in August. Temperatures are generally mild, but there may be days when it gets above 30 degrees. In that case, what better than going to the beach? You got me, Krakow doesn't have a beach, but it does have the Bagry Pond, which acts as a beach and you're going to love it.
The entrance to this artificial pond, built on an old gravel mine, is free. In addition to bathing in its fresh waters, you can also rent aquatic vehicles or even watch a nautical competition. As it is on the outskirts of Krakow and can be easily reached by city bus or car (parking is available), expect to meet many other people who, like you, want to cool off on hotter days.
10. Extend the last hours of the day on the banks of the Vistula River
One of the best things about traveling to Krakow in August is to take advantage of every last minute of its almost 13 hours of daylight a day. This month is the last one in which you can enjoy the daylight saving time in Krakow, so do not think twice and finish some of your days having a glass of wine or a picnic on the banks of the Vistula River.
This place usually attracts many students, although going in August, when classes have not yet started, you will have more tranquility to lie on the grass or sit on one of the benches while you have a drink or a snack; a perfect plan if you go with children to Krakow as the little ones can play and move around at their leisure.
If you prefer to take a boat ride on the river, it is also a great option, plus you will have a nice view of the sunset.
Weather in Krakow in August
The month of August in Krakow leaves mild temperatures, between 16ºC and 29ºC, although some summer days in Krakow can exceed 31ºC. On the other hand, rainfall is scarce, so you can visit the city without fear of ending up wet. If you are worried about the heat, don't be, as the higher temperatures are usually accompanied by more cloud cover so that the sun is not overwhelming.
Another of the wonders of traveling in August is that daylight lasts long enough, from five in the morning until almost eight in the evening, so you will have enough time to visit Krakow.
The number of tourists in Krakow in August
If you are going to go to Krakow in August you have to know that it is high season, so I recommend you to book tours and tickets in advance. The good weather and the summer vacations attract many tourists who like you want to discover this Polish city, so the prices of transport and accommodation may also rise.
If you want to ensure your visit to very touristic sites such as Auschwitz, it is better to buy tickets in advance, although Krakow has many other attractions. In general, it is a city to stroll around, to get lost in its streets and to relax in its parks and green spaces, so I recommend you to visit them also to escape from those places that are more crowded.
Are you looking forward to August in Krakow? No wonder, when you arrive there are many plans and activities waiting for you. Which ones are you going to go to?