11 Best Things to Do in Krakow with Children
If you are traveling to Krakow with children, don't think that they will get bored, because there are many activities and museums specially designed for them, they will have the time of their lives!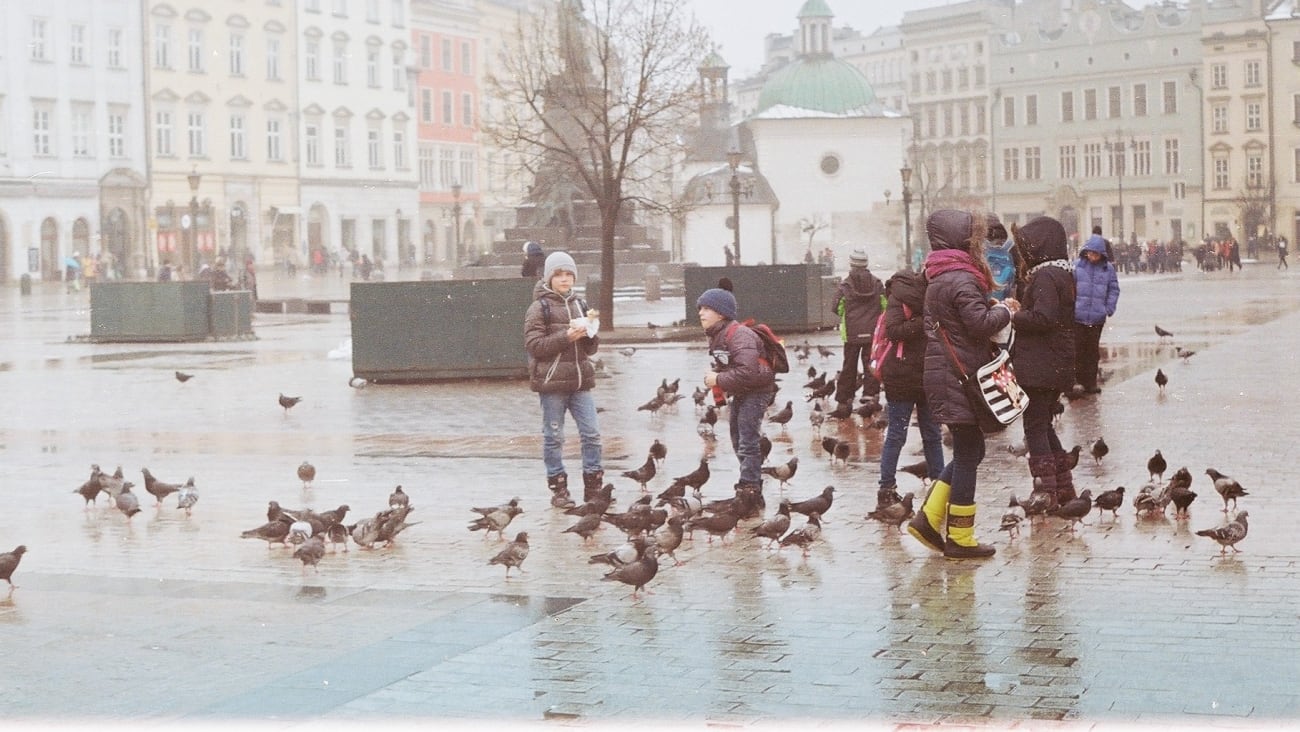 Legends, stories, fun, games... Krakow is a city with a lot to offer to all kinds of tourists, even the youngest ones. From historical museums with a different air to water parks and medieval castles, the Polish city ends up enchanting the most childish spirits. I'll tell you what you can't miss if you 're visiting with children.
1. Little adventures in the Wieliczka Salt Mines
Among the galleries and passages of the Wieliczka Salt Mines, children will feel like explorers in search of treasure. Beyond its historical value, there are many sculptures, monuments and legends that will appear during the visit.
Since it is one of the most famous tourist attractions in Krakow, to avoid having to wait in a long line that tires the little ones before even starting the visit, I recommend buying tickets for the Wielicza Salt Mines in advance. This way, you can also book a tour with a specialized guide who will tell all the stories and peculiarities of this place, something that will keep the kids more interested.
In general, this tour is always very popular with the whole family, as it is something different, and has discounts for children under 12 years old. Still, I recommend you take a look at some specific tips for visiting the salt mines with children, because there are aspects you need to plan before you go, such as bringing an alternative to the stroller if you are traveling with babies.
2. Go back to the Middle Ages at the Underground Museum
Krakow is a city that seems to have been taken out of the Middle Ages, so it is very likely that children will be curious to know how life was lived in those times and how we have changed. To solve all their doubts, nothing like a visit to the Underground Museum, where they can learn in an interactive and fun way how was the Middle Ages in Krakow.
Although most historical museums tend to bore children, this one has maps, recreations, lights, sounds ... that help to create a didactic and entertaining atmosphere while discovering the archaeological finds that have been recovered from the ancient city, such as funerary objects or remains of the pavement. In addition, there are usually also temporary exhibitions that narrate other historical events. Of course, you will have to go down a few steps, so keep that in mind if you have a stroller.
In addition, one of the great advantages of the museum is that the price is quite cheap (it has a family voucher of about 48 zl) and there is even one day a week that is free, but I do not recommend you to go that day because it is usually crowded and children will not enjoy the same.
3. Meet animals of all kinds at the Krakow Zoo.
If your kids love animals, have you thought about booking a ticket to the Krakow Zoo on your trip? Your children will surely love to see large predators from a distance, but they will also have the opportunity to get up close and feed those cute animals. And without a doubt what will catch their attention will be the freedom with which the pink flamingos and peacocks walk around the enclosure.
Although it is one of the oldest zoos in the world (it was founded in the 15th century), it is also one of the best, as it has been modernized to accommodate more than 1000 animals and even breed rare species.
However, I have to warn you that it is a bit far from the city and, although you can easily get there by bus 134, a much more comfortable option especially if you are traveling with children is to buy in advance a ticket to the zoo which also includes transfers to the hotel.
4. Experience an adventurous day at Energylandia
On the outskirts of Krakow you have another must-see amusement park. We are talking about Energylandia, an amazing place where your children can enjoy more than 60 attractions, several roller coasters and a large water park. In addition, there are packages that include, besides the tickets, the transfer to and from the park by minibus. A great experience for you and your family!
In Energylandia you can enjoy 5 different themed areas:
Fairytale Land: this is the fairytale zone, ideal for the youngest members of the family.
Family Zone: suitable for all ages, this area is perfect for the whole family to enjoy.
Extreme Zone: Are you a risk-taker? This zone is for you.
Dragone Zone: if your kids are fans of dragons, they will definitely love this zone.
Water Park: a water park for the whole family - great!
Plus, by booking your Energylandia ticket a minibus will pick you up and drop you back at your hotel in Krakow and you can enjoy a range of complimentary drinks and snacks. What more could you ask for?
5. Discover the Dragon at Wawel Castle
Are your kids obsessed with dragon and castle stories? Well, I have the perfect excursion to leave them open-mouthed during your trip to Krakow: the Wawel Castle. In addition to the fact that the building already invites you to enter and discover the legends that are housed in it, the little ones will be amazed when, towards the end of the visit, they meet a dragon.
To reach the Dragon Cave you will first have to visit the other rooms of Wawel Castle, which also hold secrets and stories of knights. The building dates back to the 14th century and, before the capital of Poland was moved to Warsaw, it was home to the kings of the country.
Before leaving the castle, you will enter through a tunnel that is actually a passage that connects to a famous cave. There there is a large sculpture in the shape of a dragon throwing a flame. Legend has it that this dragon terrorized the people around the castle for years until a cunning shoemaker tricked him into eating a sheep full of sulfur.
6. Fun and games at the Pinball Museum
Kids love to play games, so let them spend an afternoon at the Pinball Museum in Krakow. Adults will also enjoy reminiscing about your childhood among the dozens of arcade machines in this special museum. But don't let this word fool you, here it's not just about seeing, but also about playing.
Being a fully interactive museum, children will enjoy like never before trying out all the machines and discovering games that, although at first they will find "old-fashioned", will end up getting them hooked. If you are calculating all the coins you will need for them to play, do not worry, with the price of admission (approximately 20zl for minors and 40 for adults) there is free access to all the machines. It will be hard to get them out of there!
To top it off, getting to the museum is already an adventure because of the place where it is located. It is located near the Old City, but to enter you will have to go through an alley that leads to a back door. Without a doubt, it is like a trip back in time for children and for those who want to feel like children again.
7. Water fun in Wodny Park
Traveling to Krakow in summer or traveling to Krakow in winter, Wodny Water Park is always a fun and perfect option for the kids (and the rest of the family). Being mostly indoor, inclement weather is never a problem to go down its slides, take a dip in its pools or relax in its saunas. In addition, it has specific areas for the little ones, among which the pirate island stands out.
Although it is not a huge park, it is the largest in Poland and in fact it is quite complete. Why do I say that? Because it has attractions for all ages, so any child will be welcome, from the youngest to the beginning of adolescence. Meanwhile, parents can keep an eye on them from the hammocks or take turns to go to the sauna.
Keep in mind that during the summer months it is usually more crowded, since its outdoor area (Aquapark Beach) is also open. In addition, the price is somewhat more expensive (during the rest of the year general access costs approximately 80 zl/hour for three people).
8. Visit the Wax Museum and visit the most important Polish personalities
Have you ever taken your children to a wax museum? If the answer is no, maybe your visit to Krakow is the time to change that. The Wax Museum in this city is fairly new, having opened in 2016 in order to present the most important people in Polish society in the face of World Youth Days.
It's normal for kids to get tired of long historical tours of cities, so visiting this museum can be a much more entertaining alternative. They will discover who are the people of reference in the country, as well as other famous people, and you can tell them why they are there or what have been the contributions of John Paul II, Maria Teresa of Calcutta or the footballer Robert Lewandowski.
The entrance fee is also quite affordable (about 30zl) and children under 7 years are free. It may not be an activity to dedicate a whole day to but, being close to the city's Market Square, you can go to the museum after visiting it.
9. Discover a Krakow built with Legos at HistoryLand
Do your kids get bored during historical tours and excursions? I'll give you a solution: Historyland. It may still be a history museum, but when Legos are involved, fun takes center stage and kids are less reluctant to visit this museum.
In addition to being able to take a tour of Krakow's history through Legos, you can also put on virtual reality goggles and transport yourself to the Jasna Góra monastery. There is no better way to learn how Krakow has changed over the years, especially during World War II. Without a doubt, you and your family can't miss this visit, which is also a great value (approximately 100zl for a family combo of 2 adults + 2 children).
Of course, the last stop had to be a playroom full of lego blocks so that the little ones can build their own figures and capture everything they have learned.
10. Walk among the street artists on the Market Square
Sometimes we don't need big excursions to have a great time with our children. Krakow's Market Square is a case in point; it has numerous attractions that will keep the whole family entertained, such as street performers or food and craft stalls.
Being the center of the city, the Market Square is always full of life. It is also a pedestrian area, so you won't have to worry about cars if one of your children suddenly runs out after a pigeon or to get close to one of the musicians playing there.
After all that hustle and bustle they will surely get hungry, so you can buy them a typical Krakow bun, the obwarzanek, or try the menu of one of Krakow's restaurants.
11. Fly in the Aviation Museum Lotnictwa Polskiego
Children might be a bit wary if you tell them you are going to a museum, but once they get to the Aviation Museum they will forget all their doubts. Why? Because the whole place is quite impressive and allows the little ones to get up close (and even inside) various airplanes and helicopters.
As it is an open-air museum, children will have all the freedom in the world to move and run among the huge collection of old aircraft, including those from the World Wars and the Soviet fleet. To make the visit even more special, they can put on their helmets and sit in the cockpit of some of the most legendary aircraft; they will feel like real pilots!
When is the best time to visit Krakow with children?
Although Krakow has its charm all year round, I won't kid you, the winter months can be quite cold. Despite the wide variety of indoor activities to do in the city, such as visiting museums or Krakow's best churches, Krakow is best enjoyed outdoors, among its parks and streets. Cold, rain and short daylight hours are not the best travel companions, trust me, so it's best to go in spring.
The cold can be freezing in Krakow and children can have a hard time if they have to be walking or queuing in bad weather. By going in the months between April and September, for example, the little ones will enjoy themselves and you won't have to worry about them catching a cold. The only month in winter when I would advise you to travel to the Polish city is in December, when the lights, markets and Christmas decorations in Krakow are up, the kids love them!