12 Best Restaurants in Krakow
When it comes to gastronomic offer Krakow is a city with a lot to offer Do you want to know the most beautiful corners and where the most delicious food is served? Here are all the details!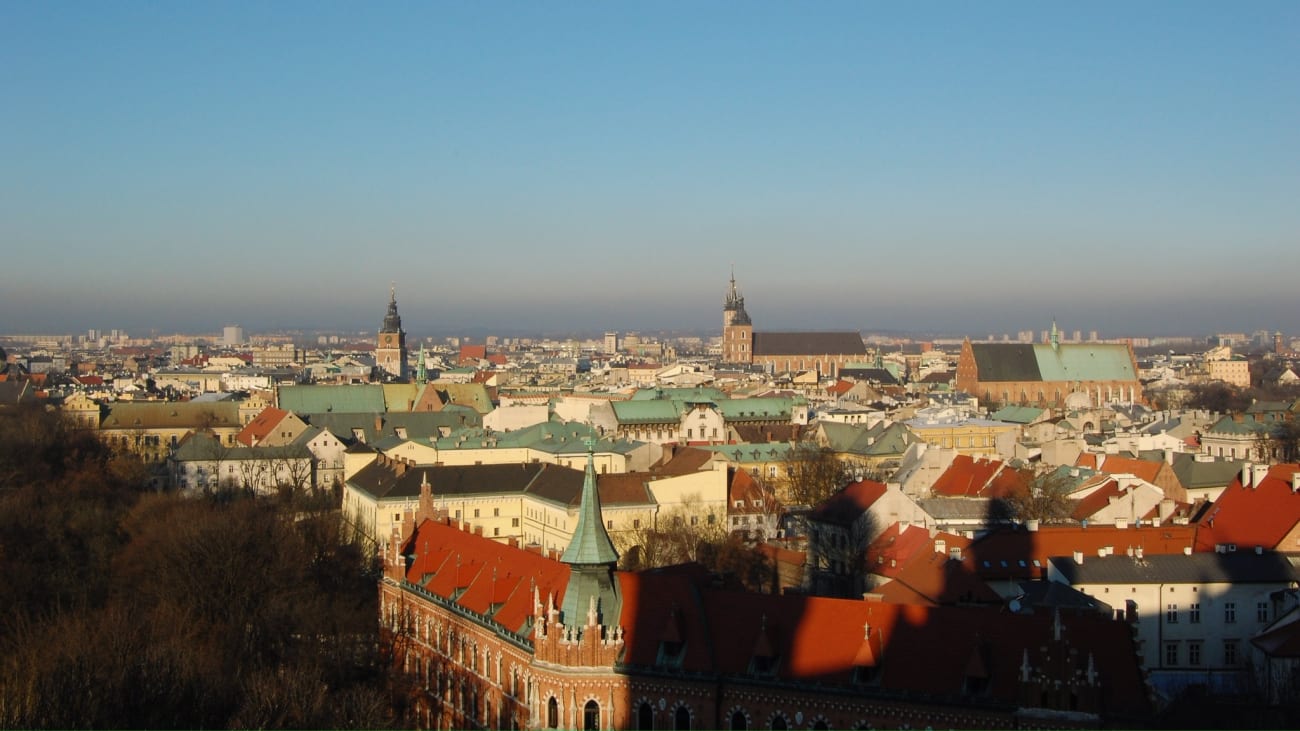 After visiting the Auschwitz concentration camp from Krakow, take a trip to the Wieliczka Salt Mines or visit the Krakow Castle. Next on the list of things to see and do in Krakow is to enjoy a good meal.
The gastronomic offer in the city is not only rich in flavors but also very diverse; that's why I share with you a list of my favorite places that includes traditional Polish food, international cuisine, French food and even a delicious Argentine asado. Bon appetit!
1. Sąsiedzi
Located in a picturesque basement in the Jewish quarter of Kazimierz in Krakow, this space is characterized by its 19th century architecture. Restauracja Sąsiedzi defines itself as a restaurant designed for lovers of elegant food. In its menu you will find mainly Polish dishes with some international food options, if you are looking for a relaxed and unpretentious service; hand in hand with high quality cuisine this is an alternative you should try. They have a terrace area for outdoor dining.
Useful information
Address: Miodowa 25, 31-055
Price range: It has an average price range of 10€ to 13€ per dish.
Opening hours: Wednesday to Friday from 15h to 21h; Saturdays and Sundays from 12h to 22h.
You can consult the menu of Restauracja Sąsiedzi
2. Cafe Botanica
A beautiful place to have breakfast in the old town of Krakow is Cafe Botanica. Its gastronomic offer ranges from classic English breakfast, European breakfast, omelet and even quiche. If you do not want to go for breakfast, consider a visit to enjoy a coffee with a delicious dessert, it is ideal if you visit Krakow with children. The interior space is beautifully decorated thanks to its structure made of exposed brick and the addition of beautiful plants in every corner.
Useful info
Address: Bracka 9, Old Town,
Price range: It has a medium price range with breakfasts from 5,50€ and full lunch menus from 13€.
Opening hours: From 09h to 23h every day.
You can check the menu of Cafe Botanica
3. Wentzl
Wentzl is a tradition in Krakow, this establishment located in the Old Town near the Krakow Market Square dates back to 1792. Wentzl's interior can be defined in one word: elegant, with its beautiful oil paintings, fine oriental carpets and ancient architecture made of wooden ceilings you will feel like royalty. The gastronomic offerings are exceptional, with dishes such as foie gras flavored with cognac and duck fillet glazed with honey.
useful information
Address: Rynek Główny 19
Price range: It has a medium price range, the main dishes range from 10 € to 20 €.
Opening hours: From 13h to 23h every day.
You can check Wentzl's Menu
4. U Babci Maliny
U Babci Maliny is a restaurant with several branches both in Krakow and in the city of St. Sovino, the branch on Szpitalna Street, located in the old town, is possibly the most popular and one of my favorites. Highly recommended for budget travelers who want to eat traditional Polish food; the gastronomic offer includes soup, pierogi, potato pancakes and much more.
useful information
Address: 38 Szpitalna Street
Price range: Completely accessible, the main dishes are around an average cost of 8,7€.
Opening hours: From 12h to 23h.
You can check the Menu of U Babci Maliny
5. Bell pepper
If you feel like enjoying a delicious Argentinean asado, Pimiento is one of the favorite alternatives for the citizens of Krakow. They have two locations in the city, one in the Old Town and the other in the Kazimierz area, both of which are spectacular. The gastronomic offer includes a wide variety of steaks with options to suit all budgets, their menu also includes some vegetarian offerings and a collection of South American wines that I recommend you pay attention to.
useful information
Address: Stolarska 13
Price range: The price range is medium to high, although some main dishes start at 8,7 € others easily reach 30 €.
Opening hours: Every day from 12h to 23h.
You can consult the Pimiento Menu
6. Cyrano de Bergerac
One of the best alternatives in Krakow for a good dinner is Cyrano de Bergerac, located in the old part of the city, it is a restaurant specialized in authentic French food and also one of the oldest and nicest wine cellars in the city. On the walls you can find works of art made from delicate tapestries that give the atmosphere a romantic and intimate space; additionally they have an area of tables on a terrace, ideal for a relaxed lunch or dinner if you visit Krakow in the summer.
Useful info
Address: Slawkowska 26
Price range: The price range is medium to high with main courses up to 30€ on average.
Opening hours: Every day from noon to 23h.
You can check the menu of Cyrano de Bergerac click here
7. Pizza Garden
Rated by tourists and locals alike as the best pizza in Krakow, upon entering Pizza Garden you will find a large brick oven, the place where the delicious creations are created. The chef learned his culinary skills in New York City; due to the popularity of the place the peak hours are really busy so you might have to wait in line to get a seat but it is totally worth the wait.
Useful information
Address: Rakowicka 1.
Price range: It has an economic price range with an average of 5€ per dish.
Opening hours: Tuesday to Friday from 15h to 21h; Saturday to Monday from 13h to 21h.
You can check the Pizza Garden Menu
8. Krako Slow Wines
Krako Slow is a small wine bar and restaurant that serves lunch with an excellent quality-price ratio. Its location less than 100 meters from the Schindler Factory makes it the ideal choice for lunch after a visit to the famous museum. The gastronomic offer of the place focuses on its wide collection of wines, although you can also find beers and coffees; as for snacks you will find salads, sandwiches, delicious shashlik, Georgian or Armenian style kebab and hummus sandwiches.
Useful information
Address: 6f Lipowa Street.
Price range: The prices in Krako are in a range between economic, with a lunch menu from 6,5€ and the dinner menu at 13€ on average not including drinks.
Opening hours: Every day from 12h to 22h and Friday, Saturday and Sunday until 00h.
You can check the menu of Krako Slow Wines
9. Karakter
Located in the Kazimierz area is a nice restaurant characterized by its elegant, discreet and beautifully illuminated interior. The service is excellent and the gastronomic offer at affordable prices allows the visitor to enjoy a delicious lunch without major risks. You will find a menu with farm-to-table meals, including unusual main dishes such as escalope of horse gizzard and bull's testicles.
Useful info
Address: 17 Brzozowa Street
Price range: Inexpensive to medium with full menus starting at 8,7€.
Opening hours: From 12h to 23h, Fridays and Saturdays until 00h.
You can check the Karakter Menu
10. Miód Malina
Miód Malina is a charming restaurant located in the former Stadnicki Palace, its colorful and fun interiors take the dining experience to a new level so I recommend having lunch or dinner at this establishment if you are in Krakow on vacation for three or four days. Take a seat next to the vantage point to enjoy the view, you can order some wild mushrooms in cream sauce or any of the options on the menu that include duck or veal; considered the specialty of the house.
Useful info
Address: Grodzka 40.
Price range: It has a medium price range with menus ranging from 9 € to 18 € on average.
Opening hours: From Sunday to Wednesday they work from 12h to 22h; from Thursday to Saturday extended hours until 23h.
You can consult the Menu of Miód Malina
11. ZaKładka Food & Wine
If you are looking for a nice, affordable and quality place consider visiting ZaKładka Food & Wine; the concept of this establishment is of a French bistro so its food, although simple, the influence of this country is evident. You can expect courteous but formal service, an excellent wine list and a gastronomic offer focused on veal, rabbit, fresh fish and delicious mussels. Their vegetarian food is also very interesting and is considered by many to be the best in the area.
Useful info
Address: Józefińska 2.
Price range: It has an affordable medium price range with dishes with an average cost of 9,8€ per dish.
Opening hours: Monday to Thursday from 1 pm to 10.30 pm; Friday to Saturday from noon to 9 pm.
12. Art Restaurant
Located in the same Kanonicza Street, qualified as one of the oldest and most beautiful streets of Krakow; Art Restaurant is one of the most elegant places and with the most ambitious gastronomic proposal of all Wawel. It is also an excellent alternative for dining in the historic center of the city due to its strategic location just minutes from the Market Square.
Art Restaurant is all about white table linen, sumptuous décor and first class service; if you find yourself in Krakow celebrating an important anniversary, consider Art Restaurant to honor the occasion. Depending on the time of year you choose for your trip to Krakow, you can request an outdoor table. The menu stands out for its use of farm-fresh ingredients and unusual touches in its dishes.
Useful information about Krakow
Address: Kanonicza 15
Price range: It is a bit more expensive than other alternatives presented in the listing, but the value for money is totally worth it. Main courses are available from 15€; the tasting menu from 55€.
Opening hours: Every day from 11am to 10pm.
You can consult the menu of ArtRestaurant
Typical dishes and tips for eating in Krakow.
If there is something that characterizes Polish food is its simplicity in its elaboration; although the most typical meals are not very colorful, the explosion of flavors is really impressive.
Dishes you must try on your next visit to Krakow.
If you want to live the full experience, you should add one or two local dishes or desserts to your meals. This small list includes delicious food that you should try; most of them you will find in restaurants and some of them are street food.
Beet soup- A nutritious Polish staple is their beet soup; a broth that includes chunks of beet, cream and vegetables that can be served with potatoes and vegetables.
Casserole. A street dish known as the best binge food in Poland. It consists of a stale baguette topped with mushrooms and cheese, toasted in the oven and toasted in the oven and drizzled with tomato sauce. The best place to eat it is in Plac Nowy in the Jewish area of Krakow.
Sour rye soup. Known as żurek, this delicious, one-of-a-kind rye soup includes sausage, potatoes and boiled hard-boiled egg.
Hunter's stew. If you visit Krakow in winter, this is a dish you must try. It is a rich stew that includes meat in abundant quantities and cabbage. It is prepared by pickling leftover sausage, meat, onion and mushrooms.
Pork knuckle. The knuckle or knuckle of pork is a true Polish delicacy, it is prepared with a pork thigh, which can be boiled, stewed or roasted, but with the meat always directly on the bone.
Tips and advice for tipping in Krakow
Although tipping in Poland is considered an act of personal preference, it is widely used in many places such as eating establishments, you will find tip jars in almost every bar and delivery boys, messengers or tacit can expect a tip from you when the service is exceptional. When visiting a restaurant in Krakow take into account the following elements.
Since tipping is considered optional it is never included in the bill.
If you say "Thank you/dziękuję" to the waiter when you hand over the cash, it is implied that you want him to keep the change. If this is not your intention, save the thanks for later.
Poles mostly leave the tip in cash on the table when leaving. The percentage is usually 5 to 10% of the amount consumed.
The most usual is to round up the amount of the bill by adding a few zlotys; if your consumption is 47.80 zlotys, round it up to 50 zlotys and calculate the amount of the tip.