How to Visit the Jewish Quarter in Krakow
If you visit this European city, you have a mandatory stop in the Jewish Quarter or Kazimierz, a UNESCO World Heritage Site and a transcendental place in Polish history and in the Jewish history of the world. Keep reading because I tell you what to see and what to do in this place.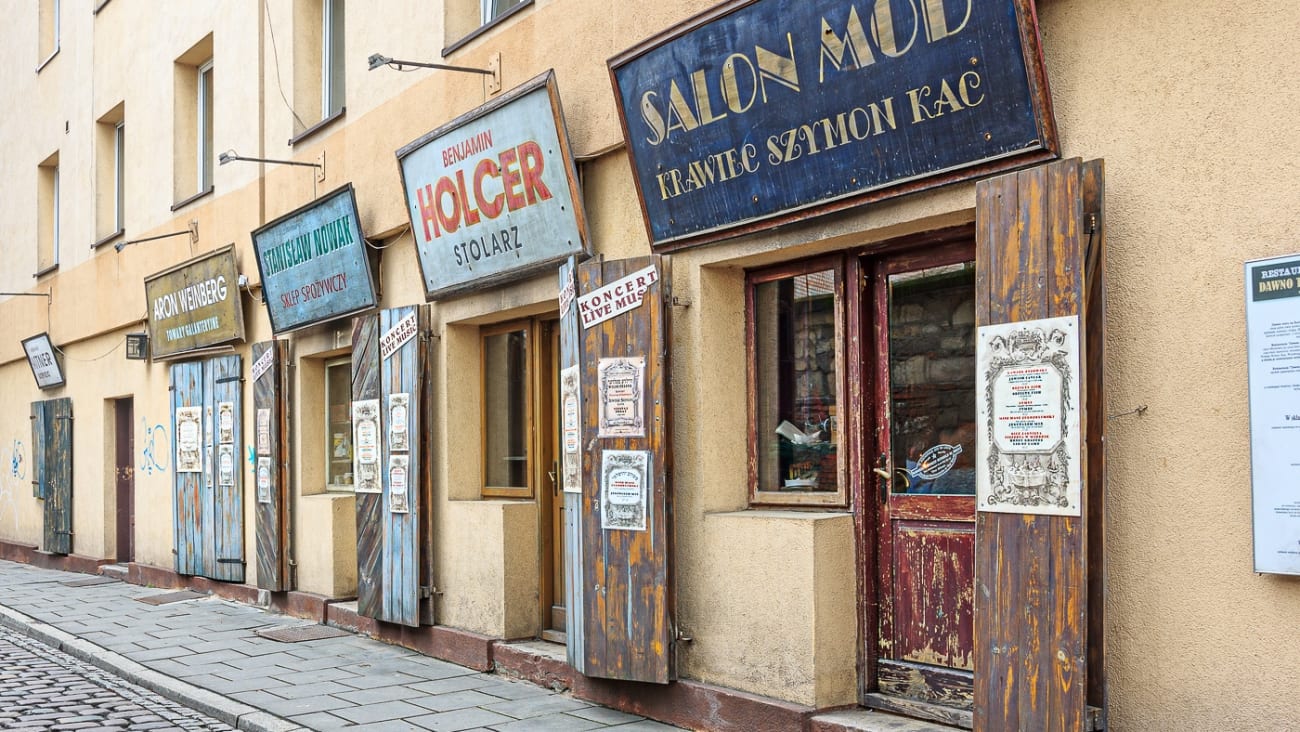 Poland was the largest Jewish community in Europe before World War II, with more than 3 million Jews. Visiting Krakow's Jewish Quarter is not an easy tour, of course. It is a place that holds memories of a tragic chapter in Polish, European and world history.
But it is undoubtedly at the same time an opportunity to connect with history, through our own footsteps. From Szeroka Street, the Old Synagogue, Nowy Square or the Jewish Museum of Galicia, learn how to do it.
1. Take a guided tour of the Jewish Quarter
I highly recommend taking a guided tour of the Jewish Quarter of Krakow. This will allow you to explore in a more detailed way the cultural and historical richness of this area of the city, guided by an expert.
In addition, it can also be an economical option, since in many cases guided tours include entrance fees to specific attractions or places in the area you are visiting. In this case, you can include in your guided tour the Oskar Schindler Factory.
2. Szeroka Street Tour
Undoubtedly the heart and soul of the Jewish area of Kazimierz. A place from where to start your tour, because here are located four of the seven synagogues of the whole neighborhood. These are:
Remuh Synagogue
Popper Synagogue
Upper Synagogue
Old Synagogue, the oldest synagogue in Poland.
If you saw Steven Spielberg's movie, Schindler's List, this street served as the Zgody Square of the Krakow ghetto. In addition, every year in this street is held the closing concert of the Festival of Jewish Culture, which is organized in Krakow since 1988 between late June and early July.
In addition, in this street you can find cafes, restaurants and other local stores to connect with the Jewish tradition and discover one of the most representative neighborhoods of Krakow.
3. Visit the Jewish Museum of Galicia
A place set up to commemorate the victims of the Holocaust and to pay tribute to the Jewish culture of the area of Galicia (Galicia), a Central European region divided between Poland (Western Galicia) and Ukraine (Eastern Galicia).
Around the museum you find other sites of interest such as the Old Synagogue (Stara), the Museum of Urban Engineering, the Isaac Synagogue and the Remuh Synagogue.
The museum offers visitors a permanent photographic exhibition on the victims of the Holocaust.
Useful information about Galicia
The museum is open daily from 11 am to 6 pm.
The entrance fee for an adult is 16 zł equivalent to approximately 3.50 euros.
On the official website of the museum you can get your tickets online and avoid queues when visiting the museum.
4. Visit the Corpus Christi Basilica
In Krakow you will find the largest number of churches in all of Poland and this one is on my list of must-sees to visit. It was built in the 14th century and is one of the largest religious buildings in Krakow.
An ideal place for those who like religious architecture, because you can appreciate in it, gothic and baroque details, and see up close the largest organ that exists in the city.
Undoubtedly, visiting the churches of Krakow is another of the unmissable plans that must be included in your itinerary.
5. Enjoy a stroll through the vibrant Nowy Square or New Square
It's not all museums and churches, there should also be space for more relaxed tours to enjoy the modernity of a neighborhood that has been transformed and offers a lot of good vibes to visitors from all over the world. This is the case of Nowy Square in Krakow's Jewish quarter.
It was formerly known as the Bird Market Square. Now in these facilities you will find food stalls where you can taste the traditional zapiekanki, a loaf of bread to which you can put a little bit of everything like mushrooms, ham, cheese and vegetables that you like. Very tasty and very cheap. Perfect to make a stop on your tour and recharge your batteries.
If you also like street markets, after lunch you can take a look at the antique market in the square, ideal to take home some souvenirs of your trip.
6. Have a beer in one of the most famous local bars
I have always believed that it is very important to connect with the local culture, beyond visiting the tourist attractions that are recommended to us. That's why I love on my travels to visit traditional restaurants and bars and talk to the people who live there. They turn out to be the best guides in the end. In Krakow's Jewish quarter you are spoiled for choice.
7. Old Synagogue (or Stara)
A must if you want to visit the oldest synagogue in the whole Polish territory. It was built in the 15th century and had to be renovated several times. The Nazi regime used this place as a warehouse. At the end of the war it was restored and today houses the Jewish collection of the Historical Museum of Krakow.
On your visit to this place you can appreciate an exhibition of traditional objects and instruments used in the celebration of Hanukkah.
Useful information about the synagogue
The synagogue is open from Tuesday to Sunday from 9 a.m. to 4 p.m. in winter and closes at 5 p.m. in summer. On Mondays it has special opening hours from 10 am to 2 pm.
The entrance fee is 10 zł per person and on Mondays admission is free.
8. The Synagogue and Remuh Cemetery
The Remuh Synagogue is perhaps the smallest synagogue of all those you can see in the Jewish Quarter, and also when you visit it you have access to the cemetery. It is an austere place but it will connect you completely with the Jewish tradition in a very nostalgic way that is difficult to explain.
The name Remuh comes from Moses Isserles, a prominent intellectual and rabbi of the time (16th century). In its original construction it had a Renaissance style, then it was destroyed by the Nazis, who used to use these sacred places as warehouses.
This Synagogue remains active and when visiting it you can explore closely what is a bimah, the square iron space in which the Torah, the holy book of Judaism, is read. You can also see a hejal, a small cloth-covered trunk where the Torah is kept.
Traveller Tip

If you visit this Synagogue, be aware of the required dress code, as in most cases you will be required to wear simple clothing and modest, reserved garments that show little skin.
9. The New Cemetery
For many people it may seem strange to include cemeteries in a list of travel recommendations. However, there are many examples around the world of cemeteries with details that make them attractive to travelers. The New Cemetery in Krakow' s Jewish quarter for me is one of them.
It was opened in 1800, when the Remuh Cemetery was closed. After the Nazi invasion the cemetery was closed and its gravestones were used as building material. In the 1950s the reconstruction of this place began, which today houses about ten thousand graves, memorials of Holocaust victims, many of them built with pieces of tombstones that were recovered.
The cemetery is open all week, except Saturday, from 9:30 am to 6 pm. Admission is free.
10. Podgórze, the old Krakow Ghetto
I included this place in this list because although it is south of the Vistula River, it is the other area of the Jewish quarter that I consider important to know, because this is where the ghetto of the city of Krakow was established.
Both Podgórzyn and Kazimierz were independent districts of Krakow before the 18th century. Today this place is one of the districts of the city, especially for young university students and professionals. A place that has also become home to families with small children.
If you visit Podgórze, you will have within walking distance the famous Oskar Schindler Factory, a place you will definitely want to visit for its historical impact.
11. Father Bernatek Bridge
Of course I could not forget a recommendation for romantic travelers. You know that in almost every European city you will find a bridge from which hang padlocks left by lovers. In Krakow this place is the Father Bernatek Bridge, which connects the districts of Kazimierz and Podgórze. Two areas that are known as the Jewish District and the Old Jewish Ghetto, respectively.
The bridge was opened in 2010 and has a length of 130 meters. Some call it, as expected, the "bridge of love". No cars cross this bridge. You can only cross it on foot or you are also allowed to ride a bicycle.
Undoubtedly there are many things to see and do in the Jewish quarter of Krakow. But I also want to recommend that you include in your trip to the city other places that are a must if you want to explore the rich culture and history of this city. The Auschwitz Concentration Camp is one of them. A visit that may not be suitable for any type of traveler, as it requires a special sensitivity. I recommend this article with 10 tips to visit Auschwitz from Krakow.