10 Things to Do in Krakow in October
October is a good time to visit Krakow: the city is no longer crowded with tourists and temperatures are still pleasant. In this post I tell you the best cultural and outdoor plans to make the most of your visit.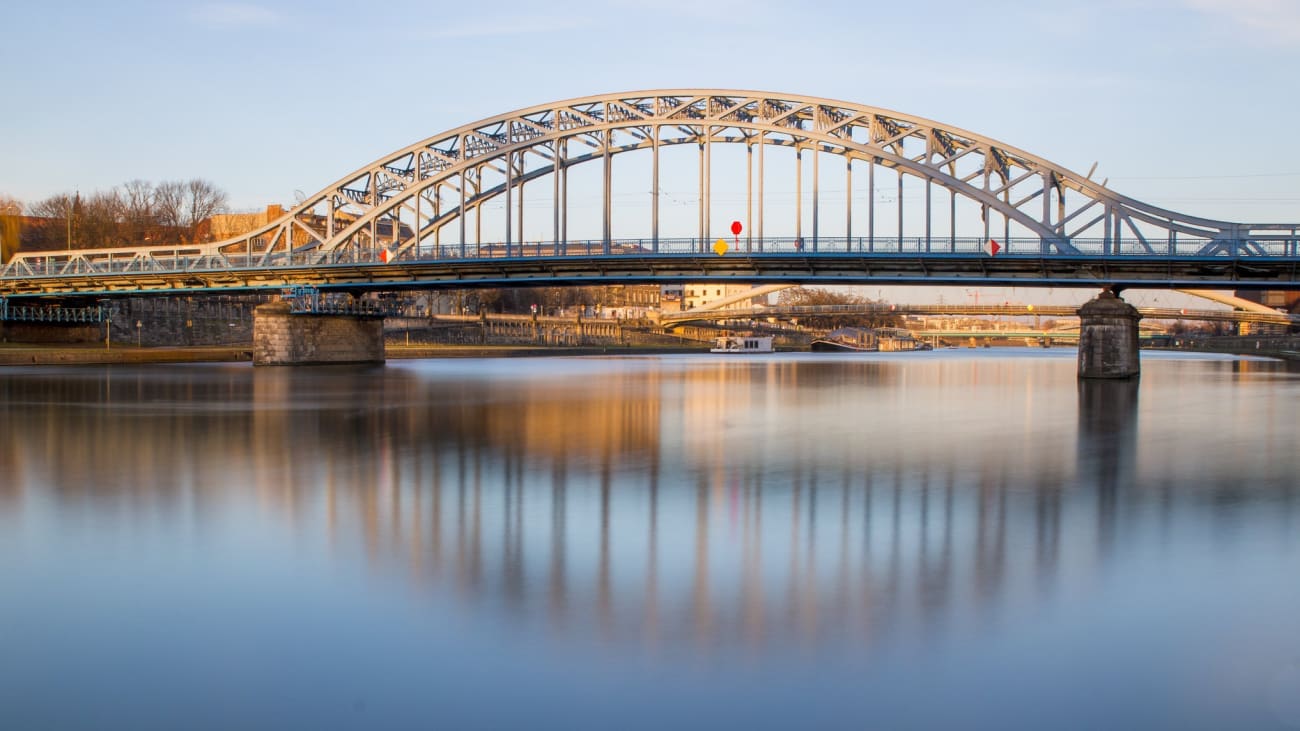 Whether you are a lover of culture, outdoor sports, or just like to walk around the cities, Krakow in October is a good choice. Temperatures usually hover around 10 degrees Celsius and although it often rains, you still have enough sunshine to enjoy an unforgettable trip.
In Krakow there is always a lot to see and do. In this post I tell you the cultural proposals of the city in October (you have theater, lots of music, books) and the best outdoor proposals in the city before winter arrives. If you are one of those who do not want to miss anything when you travel, keep reading!
1. Enjoy the Krakow Music Festival in a unique environment
Krakow is a historic, medieval city. This makes it an unbeatable setting to host the Krakow Music Festival.
In the city center, in Rynek Square (imagine the setting: between the Gothic Basilica of St. Mary and the King's Castle) and the surrounding churches, this international festival of choral and orchestral music is held between the end of September and the beginning of October.
In addition to the music, the places where the concerts are held create a unique atmosphere. If this cycle of church concerts whets your appetite for more, take a look at the ten most beautiful churches in Krakow.
Interesting facts
Where are they located? In the historical center of the city, in Rynek square and surroundings.
When? Five days of concerts at the beginning of October. You can go to one concert or attend the whole festival.
Price? Prices vary according to the concert or the number of concerts you want to attend. You have all the alternatives on the festival website
Is it necessary to book? Yes, the number of places is limited.
I recommend it if... you enjoy concerts in historical sites.
2. Find your next story at the International Book Fair
The Krakow International Book Fair is the most important publishing event in Poland. If you like books and everything related to the world of publishing, you can't miss this event that takes place at the end of October at the International Exhibition and Convention Center Expo Krakow.
The Krakow International Book Fair is a very popular event: visitors from many countries come to the city just for this event. If this is your case and you want to know how to get there from the airport, follow these tips for your trip to Krakow.
In addition to exhibitors with newly printed novelties from all over the world, you can enjoy talks and meetings with publishers, translators, booksellers and book lovers. And of course the authors, who are there presenting their works and talking to readers. A perfect plan to get your hands on the latest books and get them signed.
Interesting facts
Where? At the International Exhibition and Convention Center Expo Krakow. The address is Galicyjska 9.
When? The exact dates change every year, but the Fair is held in mid to late October.
Price: Check the Fair's website to confirm prices each year.
Do I have to make a reservation? Yes, tickets are sold out.
I recommend it if... you are a book lover.
3. Get swept away by the music of the 7 x Gospel Festiwal
The first thing that comes to mind when thinking of gospel is African-American culture, but Krakow's religious tradition makes the city the perfect place to celebrate this incredible gospel festival.
With the support of the Polish Ministry of Culture, the organization of the festival is going to reach the 20 convocations. Most of the artists are of Polish origin, but other nationalities are not excluded. If you are interested in this music, there are also lectures, meetings, workshops... and above all a lot of rhythm.
Interesting facts
When does it take place? Mid-October.
Where will the concerts take place? The concerts in this series are held in various places, such as the Krakow Hall (address: Al. Focha 40) or the Pauline Monastery (at ul. Skaleczna, 15).
Price: Many of the concerts are free. I recommend that you check the organization's website for exact details.
Do I have to make a reservation? For concerts where reservations are possible, I advise you to do so.
I recommend it if... you are in the mood for an unforgettable musical evening.
4. Be amazed at an experimental theater series
Throughout the month of October a festival for lovers of the performing arts is organized in the Rotunda Center theater. It is called the Kraków Theatrical Reminiscences and is a cycle of experimental and avant-garde theater that has been held since 1975.
In the program you can find every year the best of Polish theater along with some proposals from other countries. Every year the program is organized around a specific motif or theme. For more than 40 editions it has been filling the halls with new ideas to tell stories on stage. It is sure to get a round of applause.
Interesting facts
Where? Many performances are held at the Rotunda Cultural Centre, located at 1 Oleandry St., although the organizers try to include new venues every year.
When? When: Although the specific dates vary from year to year, the festival is held throughout October.
Price: Prices vary depending on the show you are interested in.
Do I have to book? You can buy tickets at the box office, but I advise you to make a reservation so you don't miss the show you want.
I recommend it if... you are interested in contemporary Polish culture and performing arts.
5. Discover your hidden treasure at the Krakow Flea Market
Whenever I go to a city I always like to visit its markets, and the markets that are organized outdoors in Krakow are mythical. You can find everything: antiques, vinyls, souvenirs, rarities of all kinds. Let yourself be surprised by the stalls and the atmosphere, it is a unique way to get to know Krakow.
October is the perfect month to rummage through the stalls: without the hustle and bustle of the high season and with temperatures that still allow you to enjoy the outdoors. The flea market is held on Sundays at the Market Hall (Hala Targowa). Don't miss it!
Interesting facts
Where is it? At the Market Hall (Hala Targowa).
When? On Sundays.
Price: Free of charge.
Is it necessary to make a reservation? No, the market is held in a large open-air area. Just go there and start enjoying your Sunday.
I recommend it if... you love to find rarities and small treasures.
6. Get amazed by new sounds at the Unsound festival
The Unsound festival is a showcase for contemporary music of new creations. It was founded in 2003 and since then has been growing even internationally. Its experimental style makes it difficult to classify and has built a reputation for pushing innovative styles.
These concerts are quite an experience. If you're interested in contemporary music, great, I'm sure you know what I'm talking about. If you feel like giving it a try, the Unsound Festival is a unique opportunity to get started in musical experimentation. Enjoy!
Interesting facts
Where to go? The festival's concerts are held at various locations in Krakow. It is famous for reusing abandoned spaces as concert halls.
When? Mid-October.
Price: Prices vary depending on the concert you are interested in.
Is it necessary to book? Yes, it is better to buy your ticket in advance.
I recommend it if... you enjoy being surprised by new experiences.
7. Visit a classic: Sacrum Profanum Festival
The Sacrum Profanum is a very special music festival
held in Krakow in October. It is famous because in addition to offering the public masterpieces of classical music, it also includes in its program jazz music and a wide repertoire of 20th century music. It is one of the most famous cultural events in the Polish capital and has more public support.
The aim of the festival, which has been held since 2003, is to disseminate musical culture and enjoy a varied and select program. If you are a music lover, you can not miss it.
Interesting facts
Where: At the ICE Kraków Congress Centre. At the ICE Kraków Congress Centre. The address is ul. Konopnickiej 17.
When? Early October.
Price: Prices vary depending on the concert you want to attend.
Do I have to make a reservation? Yes, reservations are required.
I recommend it if... you want to treat yourself to a good concert.
8. Tour Krakow on two wheels
Krakow is a perfect city for bike lovers. The streets are perfectly adapted so you can get everywhere on two wheels and October is the perfect month to tour it like this: it's not crowded like in summer and not covered with snow like in winter. Besides, it's a very flat city, so you don't have to go up and down hills to see the old facades of the center.
You can take a beautiful tour of the city center, cycling through the old town and Planty Park (the largest park in the city). You can rent a bike at many points in the city.
Interesting facts
Where to rent a bike? In the center of Krakow there are many places to rent bicycles.
When? Check the weather forecast before planning a cycling trip. October is a very good time to enjoy this activity, but there is a possibility of rain.
Price: You can rent a touring bike for about 40 zlotis for about 5 hours.
Is it necessary to make a reservation? In general it is not necessary.
I recommend it if... you are a good cyclist and enjoy cycling.
9. Take home a unique souvenir: the sunrise in Krakow
There are four mounds around the city of Krakow. The best known is called Kopiec, is located in the district of Nowa Huta and is a historical place, as legend has it that there lie the remains of Princess Wanda, who drowned in the Vistula River.
Leaving aside the legend, what is clear is that from its top you can see the sunset or sunrise over the old city. It is a worthwhile visit and October is probably the last time of the year when you can enjoy this excursion. The winter months are too cold, and Krakow's sky is often covered with clouds, so it is not so appetizing to start the day outdoors. Take advantage of this opportunity if your visit coincides with a week of good weather!
Interesting facts
Where? The Wanda mound is located in the Nowa Huta district of Krakow.
When? In Krakow, the sunrise is around 7 am in October.
Price: It is free.
Is it necessary to make a reservation? No, the entrance is free.
I recommend it if... you want to take an unforgettable view.
10. Enjoy the city on the banks of the Vistula River
Visiting Krakow in October gives you the possibility to alternate cultural plans such as theaters or museums with other outdoor alternatives, which you will not be able to do if you travel in winter. If you add to this that the city has very beautiful corners, such as the banks of the Vistula, you can take advantage of the last days of autumn weather to enjoy a picnic.
The river that runs through Krakow is a perfect park to take a break and get to know the city in a quiet way. Eating on its banks, sitting on the grassy benches, is a Krakow summer classic that you can still enjoy in October. Just bring a picnic blanket to sit on the grass and a coat.
Or, if you already have plans for lunch, you can enjoy a break in this beautiful landscape and play sports or take a walk at your leisure before the landscape is covered in snow.
Interesting facts
Where to go? In the section of the city that bathes the Vistula.
When? Whenever you want, weather permitting.
Price: It's free.
Is it necessary to make a reservation? No, the entrance to the park is free.
I recommend it if... you like to observe the cities quietly and discover how their inhabitants live.
Krakow temperatures in October
October is the beginning of the middle season for tourism in Krakow. After the warmth of summer, the weather has started to turn cold. However, it is not yet winter, so you may be lucky and your trip may fall on days of up to 18 degrees. In that case you will be able to enjoy the beautiful walks around the city on foot.
In any case, it will most likely be cold. The average October temperature in Krakow is around 9º during the day (at night, the average temperature drops to around 5º). It is usually cloudy and raining about half of the days of the month. I recommend that you check the forecasts a week in advance so that you are well prepared.
Cracow tourist arrivals in October
Most tourists choose summer to visit Krakow, so in October you can enjoy the city without crowds. In addition, the winter cold has not yet begun (the snow season in Krakow usually starts in November), so it is a good time to get to know this city.
Of course, the hours of sunshine are no longer the same as in summer. They are still long compared to the winter months, but at 19:00 it is already dark. One advantage you can enjoy if you choose October to see Krakow is watching the leaves fall from the trees. Polish autumn offers the visitor an uncrowded city with good weather for traveling.
Prices in Krakow in October
Remember that in Poland they do not use the euro, so it is important to withdraw money in ATMs (agencies sometimes charge extra fees). That said, Krakow is not an expensive destination. On the contrary, it has low-cost flight companies and, once in the city, you can stay and eat at a reasonable price.
The high season has ended in October, so you can find accommodation for a more modest price than in August. Krakow is a very touristic city, so you have a wide offer: you can find a double room in well located hotels for about 50€ per night, and if you don't mind not staying in the historical center, you can find a room for about half that.
Do you find these tips useful? Here I tell you everything you need to know to travel to Cracoviabienprepared and avoid mishaps on your trip.
What to pack to visit Krakow in October
Krakow in October has a weather that is changing from summer to winter. It is the end of the tourist season, which starts in May. Chances are that it will already be cold and you will encounter clouds and rain. Therefore, I recommend you to be well prepared: Pack a thin sweater in your suitcase like the ones you are wearing in Spain at this time of the year, but don't forget to pack winter clothes as well. Of course, your suitcase will depend on what you are planning to do in Krakow in autumn.
.
To enjoy your trip, it is essential that you pack warmly if you visit Krakow in October. I don't just mean a good coat: bring a hat and gloves, a good raincoat or umbrella and a change of shoes. This way you will be able to enjoy the city comfortably, without getting (too) cold. It is unlikely, but sometimes snowfalls come ahead of schedule and cover Krakow in October instead of November.
And if you still don't have your dates set and are deciding when is the best time to travel to Krakow, I'll tell you all the pros and cons of each season, so you can choose the perfect time for your trip.
Alternative plans to visit Krakow in October
Krakow is a city with a lot to offer It has history, architecture, nature, gastronomy... and October is the perfect time to enjoy it. In addition to the plans I just told you about, I think you might be interested in these alternatives:
When you travel to Krakow, there are some excursions that are really worth it, such as the visit to the salt mines They were declared National Heritage by UNESCO and are an impressive excavation 300 meters below the ground just 12 kilometers from Krakow. If you have time to make a trip out of the city, I recommend it 100%.
One activity that I really like when I travel is to take a gastronomic tour. Polish cuisine is varied and surprising. Let yourself be conquered and... enjoy!
I recommend you to find out about the tours that organize excursions around the Polish capital. It is a very convenient way not to miss anything.