10 Things to Do in Cusco at Night
Do you want to explore Cusco by night? Dare to walk its streets, visit its viewpoints and, above all, enjoy its nightlife.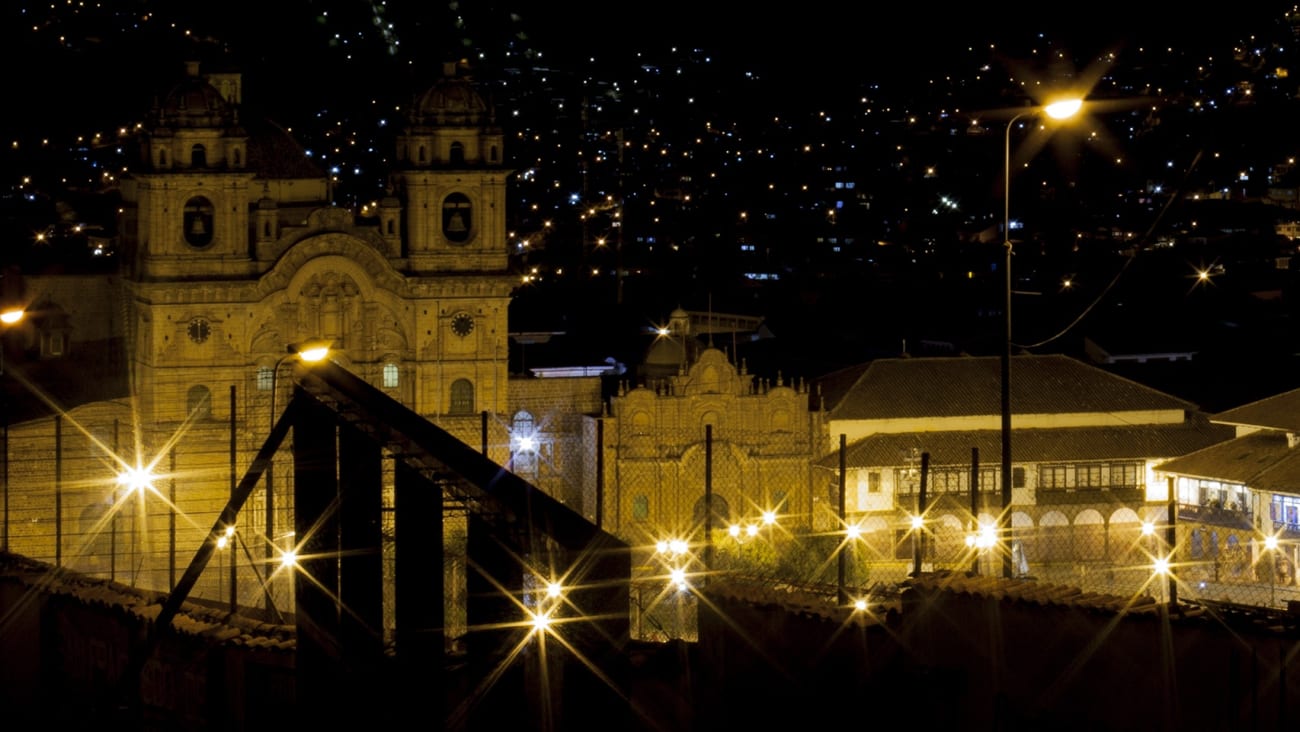 Among the things you can do in Cusco, the nighttime activities certainly stand out. Although many of them can also be done during the day, the night gives them a mystical and magical touch that is worth living. From walking the streets to entering museums or exploring the viewpoints, Cusco has many surprises for you.
The nightlife is very active in this city. You can visit bars and discos and have a great night out. These places offer a variety of drinks and food that you will surely love. If you prefer to cook yourself, a night cooking class will be the best option for you.
1. Take a night tour of Cusco
Taking a tour in Cusco at night is one of the experiences you must have during your visit to this mythical Peruvian city. You will have the opportunity to explore the main tourist attractions and most famous sites, and at night you will see a different perspective than during the day! It will be like getting to know a different place.
Normally, for this kind of tours, you should meet at a central point of the city. You should arrive on time and wait for all the tourists who have signed up for this plan. When everyone has arrived, your guide will take you on a tour of Cusco. Generally the tour starts in the historic center of the city.
You will pass by the San Francisco square and see the botanical garden. You will continue the tour until you reach the National College of Sciences and Arts and then the Arch of Santa Clara. If you take the tour before 7:00 p.m., you will have the opportunity to pass through the San Pedro Market.
Other points that are usually included in this tour are the Plaza de Armas, the cathedral and the church of the Society of Jesus. Finally, you will pass by the Calle del Sol, the palace of the Inca Pachaquteq, the church of Santo Domingo and the temple of Qoricancha. The whole tour lasts approximately two hours and is always on foot, so you should wear a good pair of shoes.
2. Visit the Plaza de Armas
Cusco's Plaza de Armas is one of the most emblematic sites in the city. Although it is usually a frequent destination during the day, exploring it at night has a more special touch. After dark, the square is illuminated and everything around it, including the cathedral, looks amazing. This square is often included in Hop on Hop off Bus tours, so you can take advantage of these tours to get to know it.
The colonial architecture of this site and its surroundings have the power to transport visitors to a bygone era. Near the square you will also find a variety of activities and places worth visiting, especially restaurants. You can take advantage of the occasion and try a delicious Peruvian style dinner.
Some of the places offer a lively atmosphere with live music. Others are handicraft stores that you can buy and take home as souvenirs. It is worth noting that this plaza is often included in city tours, so you can save time and money by booking one of these tours.
If you don't feel like doing a tour of the entire city, stopping by the plaza during sunset is a great way to end your day. Besides, of all the activities you can do in the surrounding area, the best experience is perhaps simply sitting on one of the benches in the square and enjoying the atmosphere and watching the locals stroll around.
3. Visit the Pre-Columbian Art Museum
Among the best museums in Cusco is the Pre-Columbian Art Museum which closes its doors at 10 pm. If you are looking for things to do at night in Cusco, this is one of the best options. The cost of a visit to this museum is approximately 5 €.
In the Pre-Columbian Art Museum you can see an impressive collection of Peruvian pre-Hispanic art. Among the objects you will see are jewelry, textiles, metal and ceramic articles, among others. All were meticulously crafted by the ancient peoples of this country.
In addition to seeing the vast collection of art, you can learn about Peruvian history and culture. The museum guides will explain all the details and important facts about the history, so ask as many questions as you can! Take advantage of this opportunity to learn and have a very enriching experience.
One of the most outstanding advantages of visiting this museum at night is that you will find fewer people than during the day. This will make your visit calm and relaxed, you will be able to see all the exhibits at your leisure!
Interesting details
Price: around 5 €.
Hours: daily from 8:00 am to 10:00 pm. The maximum entry time is 21:30 h.
Location: Plaza de las Nazarenas 231, Cusco, Peru.
4. Tour the neighborhood of San Blas
Among the best activities you can enjoy in Cusco are the night tours through the San Blas neighborhood. This place has a charming bohemian atmosphere full of magic and music. You can walk through its streets illuminated by lanterns and colonial facades.
In addition to its picturesque atmosphere, the neighborhood of San Blas has a history that dates back to the time of the Inca Empire. Back then its name was T'oqokachi, which means "salt cave". Just like today, important families dedicated to craftsmanship and architecture lived there.
As you go through the San Blas neighborhood, you will see different stores and workshops that stay open until late at night. There you will find handmade products made with textile or metallic materials, and even multiple works of art. Don't hesitate to buy one and take it home!
Among the specific sites you can visit in this neighborhood, the Church of San Blas stands out. Its structure is simple, but it is worth a visit. After visiting this church you can choose one of the restaurants, bars or cafes in the surrounding area to enjoy a good dinner. This way you can end an excellent day in Cusco.
5. Visit the viewpoints of Cusco
In the surroundings of Cusco there are a variety of hills that offer breathtaking panoramic views of the city. You can visit the viewpoints at night to see the city fully illuminated and admire the scenery. Thanks to the variety, you can choose the one that is closest to your hotel so you can move without any problem.
One of the most popular viewpoints is San Blas. It is located in a large square with fountains and benches from where you can watch the sunset over the city. It is also located a few kilometers from the popular stone of the 12 angles, very popular in the city.
Another good option is the viewpoint of San Cristobal, located near the main square. Thanks to the height of its location you can get an excellent panoramic view. You can reach it from Cuesta Suecia and Don Bosco Street. Other famous viewpoints are the Santa Ana, Cristo Blanco and Pachacutec viewpoints.
Exploring these sites you can appreciate some of the best views of Peru. I recommend going at sunrise or sunset to enjoy the best colors in the sky.
6. Attend a folkloric dance show
Peruvian folkloric dances are a must see show when you visit Cusco. This is an activity that you can enjoy during the day or at night. During the presentations, you will be able to see the colorful costumes of the dancers and their varied choreographies. Everything you will see has a deeper meaning in the culture of this country.
The average cost of these shows is around 15 € and they have a maximum duration of two hours. You will usually find these dance performances in restaurants near the Plaza de Armas and the price quoted includes dinner and drinks. This way, you can enjoy a delicious dinner, good music and dancing.
Usually these presentations include six dances and 10 songs. Each song is performed with Andean instruments. Some presentations tell stories of the region, so in addition to being entertained, you can learn a little more about Cusco.
Some of the dances you are likely to see are the scissors dance and the huayno. The first one is full of color and the "Danzaq" dances with two scissors in his hands. The second type of dance, the huayno, is the most popular and is usually performed at various festivities and carnivals. It is considered a dance of courtship or falling in love.
7. Take a Peruvian cooking class
In this list I have mentioned some plans that include a Peruvian dinner, but would you like to prepare it yourself? With a cooking class in Cusco you can learn a Peruvian recipe, cook it and eat it all in one night. If you love cooking, you will love this experience!
Generally, these classes are taught in local restaurants by professional chefs. When you attend one you will be able to choose from several dishes to prepare. Choose one that is easy to make to make the evening more enjoyable. While you prepare the meal, you can talk with your classmates and the chef.
This way you can learn about the secrets of Peruvian cuisine to apply when you are back home. When the food is ready, you can enjoy your meal on a terrace or near a window overlooking the streets of Cusco. If you are traveling as a couple, this can be an entertaining and romantic activity for both of you.
Some of the dishes that are usually prepared are the classic ceviche, lomo saltado, tallarines a la huancaína or tacu tacu. If you are interested in learning how to prepare Peruvian desserts, you should let the chef know in advance. Some of the options you can prepare are mazamorra morada, picarones or turrón.
8. Camping at Rainbow Mountain
Camping can bring multiple health benefits and what better place to do this activity than Rainbow Mountain. This famous tourist destination is located a few hours from Cusco and you can access it in a short excursion. Normally these excursions have an average duration of two days and cost approximately 400 €.
If you travel with a professional guide and with a group, you will not have to worry about carrying tents or other special equipment. As you go along the trail, you will be able to listen to your guide explain important details and facts about this site and the reason for its impressive colors.
Before sunset, you can make several stops along the way to appreciate the scenery. Take as many pictures as you want! Finally, you will arrive at the specific camping area. There you can sit down, rest and share with the rest of the group. Enjoy the sunset and watch the starry night sky.
The next morning, get up early to see the sunrise. Without a doubt, this will be an unforgettable experience! After breakfast, you will start your journey back to the city. Before arriving, there is always a stop for lunch. The best thing about doing these tours from Cusco is that the organizers include everything you need so that you are always comfortable.
For hiking and camping activities, it is advisable to wear special shoes that are comfortable and allow free movement of the feet. Clothing should also be comfortable and cool, so that the tour is easy and uncomplicated.
9. Watch the night sky at the Planetarium Cusco
Cusco is known for being a city with beautiful scenery. In addition to the mountains and beautiful panoramic views, the city offers beautiful night skies. For this reason, I recommend you to take an astronomical tour to explore the stars that illuminate the night of this corner of the planet Earth.
Being located in the Peruvian Andes, this city has a privileged location when it comes to stargazing. You can find clear skies and areas with little light pollution, which allows you to observe the stars more clearly. To do this astronomical tour, you must book the experience at Planetarium Cusco.
The guides and experts of this planetarium are the best suited to help you explore the night sky. They usually organize trips that include transportation from a place near your hotel to the planetarium facilities. There you can receive an informative talk, watch projections on a large screen and then observe the stars through special telescopes.
While you do this observation, the guides will tell you the history and curious facts behind each star or constellation. In addition, you will love being in this planetarium, as it is surrounded by natural landscapes. You will enjoy a quiet night, away from the noise of the city and full of the magic of Cusco's night sky.
Details of interest
Price: around 25 €.
Hours: from 6:00 p.m. to 8:00 p.m.
Location: Fundo Llaullipata, Road to Sacsayhuamán Km2.
10. Visit bars and discos in Cusco
In Cusco you can also visit different discotheques and night clubs ideal to spend the night with friends. There is a plan for everyone, whether you like to dance, sing or just drink, in this city you will find the ideal plan for you.
One of the places I recommend is La Chupitería: the shot bar. Here you can enjoy small shots of liquor and good music to dance until late at night. You can also order food to accompany your drinks and have a better night.
If you prefer a more relaxed and quiet place, ideal for eating and drinking, I recommend you to visit Mollys Irish Bar Cusco. This place stays open until one o'clock in the morning, so you will have to go back to your hotel at that time.
Finally, you can take into account the offer of karaoke places in the city. There are really a lot of places you can visit. For example, Vocé Karaoke, Woodstock Karaoke and My Way Club Karaoke. Most of these bars close their doors at 3 am.