Cusco in 3 Days: a guidebook for getting the most out of your visit
Visiting Cuzco for three days is an exciting and intense tourist experience, where you will be able to see beautiful landscapes, learn about the Inca culture and taste rich gastronomy.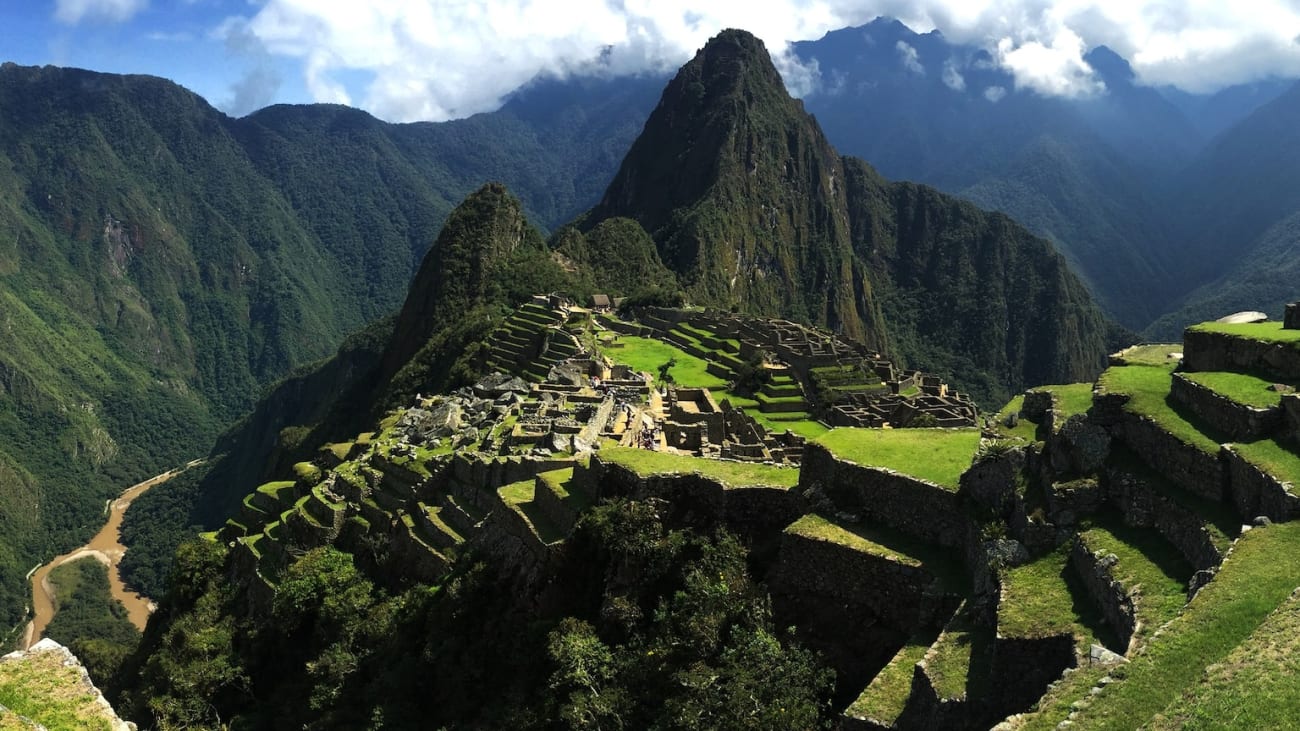 In Cuzco for three days you can live incredible adventures, full of history, while you can learn much of the Inca culture. During this time you will be able to visit iconic places such as the Plaza de Armas in the center of the city, Sacsayhuaman and Machu Picchu.
But you will also have the opportunity to visit the Sacred Valley of the Incas and the town of Ollantaytambo, which will leave you with a pleasant impression when you see its beautiful landscapes. On the trip you will also get to know the daily life of the Peruvians, while living an immersive experience in Peruvian art, music and gastronomy, which will lead you to know some of the best things to see and do in Cuzco.
Day 1: San Pedro Market, Plaza de Armas and Sacsayhuaman Fortress
On the first day of a three-day itinerary in Cuzco you will go to visit the San Pedro Market for breakfast and right after that you will go to see the Plaza de Armas, a main square in Cuzco where you can see some of the colonial and historical architecture of the city. Afterwards, you will have lunch with modern dishes based on traditional Peruvian flavors and after finishing your lunch you can go to explore Sacsayhuaman, an Inca fortress with impressive stone walls and beautiful views of Cuzco.
Visit the San Pedro Market
To start your first day touring Cuzco, you will have to leave your hotel around 8:00 to go straight to the San Pedro Market, which is an excellent option to have a traditional breakfast and take the opportunity to get to know the place, which is also quite iconic in the locality.
The market offers a wide variety of gastronomic options, including fresh fruits, juices, empanadas and traditional Peruvian dishes. Surely this market tour will leave you wanting to participate in one of the best Peruvian cooking classes in Cuzco.
Since the market hours are Monday through Sunday, between 6:00 and 18:00, you can stay for a little more than an hour and a half to two hours, while enjoying breakfast and touring the stalls. If there is one thing you will love about this market, it is its vibrant and colorful atmosphere, with local vendors offering their wares and tourists exploring the place.
Visit the Plaza de Armas and the Cuzco Cathedral.
Leaving the San Pedro Market, you will go straight to the Plaza de Armas which is located in the historic center of the city and features impressive colonial architecture, but is also a place that stands out for its great historical importance. To fully explore the Plaza de Armas and its surroundings, I recommend you to dedicate at least two hours, so you will be finished touring the square around 12:00.
At the end of your tour of the square, it will be the ideal time to visit the Cathedral of Cuzco, also known as the Cathedral Basilica of the Virgin of the Assumption, which is located just inside the Plaza de Armas. It is one of the most popular tourist attractions in the city. You can buy tickets to the Cathedral to visit it around 12:00 noon, and you can even take a guided tour inside, which will last just under an hour.
During your visit you will see a mix of colonial and renaissance art, including paintings from the Cuzco School, as well as an impressive collection of gold and silver work and religious relics. In addition, your guide will tell you details about the impressive architecture of the site, its library and its internal museum, which houses religious art objects and other historical treasures.
Lunch at Chicha by Gaston Acurio
When you leave the Cuzco Cathedral around 13:00, you will surely want to look for a place to have lunch, and the place I recommend you to visit is Chicha by Gaston Acurio. This is a locally famous restaurant that offers modern interpretations of traditional Peruvian dishes.
You can order especially traditional Peruvian dishes such as ceviches or even lomo saltado. All the food can be accompanied with a drink popular in the region. Right after the meal you can go to enjoy the other sights of Cuzco.
Exploring the Sacsayhuaman Fortress
After having lunch, you can continue touring part of the Peruvian city and for that, you will have to go to know one of the most interesting attractions of the city, which is none other than the Inca Fortress of Sacsayhuaman. It is an impressive structure that has huge stone walls and offers breathtaking views of the city.
The fortress is located about 2 kilometers north of Cuzco, so you can choose whether to get there by car or walk from the city to the fortress. The Sacsayhuaman Fortress closes every day around 17:00, and as you will enter it shortly after 14:00, you should be out by about 16:00, taking into account that you will stay to explore for about two hours.
During the visit, you will be able to admire the impressive stone walls and explore various sites, such as the ceremonial altar and the Lightning Temple. You will also be able to enjoy beautiful views of Cuzco from the top of the fortress, so you should consider going to the Sacsayhuaman Archaeological Park to enjoy the Inca culture and history.
Tour of Barrio San Blas and dinner in Pachapapa
Back in Cuzco you will surely want to eat some dinner, so there is one place I recommend you to go and visit and that is the Pachapapa restaurant. It is a place known for serving Andean food in a cozy and pleasant atmosphere. It is located on Plazoleta street in the San Blas neighborhood, so maybe before eating you will want to walk around the neighborhood. There you can try different traditional dishes, from meats and stews to stuffed potatoes and chicha morada.
The restaurant is open until 21:00, so you can enter around 19:00 to enjoy your dinner before going to rest at your hotel or lodging place. If you want to try a more adventurous menu, I also recommend eating the trout ceviche or the guinea pig pate.
Day 2: Excursion to Machu Picchu
During your second day in Cuzco you will do several interesting activities, but mainly you will hike to Machu Picchu. This day will start early, as you will have to leave for Machu Picchu. This is one of the most iconic attractions in Cuzco, which is why I recommend you dedicate the whole day to visit it.
When you get back to the city, I recommend you to have dinner and recharge your batteries in a famous restaurant in Cuzco, called Cicciolina. Besides being able to taste very good Peruvian food, it will be the beginning of a fun experience in the nightlife of Cuzco.
Going on an excursion to Machu Picchu
The trip will start early in the morning, when you will embark on an excursion to Machu Picchu from Cuzco. You can do this trip in two ways, one of them is traveling aboard the train, from where you will be able to enjoy the incredible views of the Andean landscapes as you approach this wonder of the world. In some of these excursions you will have the opportunity to have breakfast on board the train.
Another way to get to Machu Picchu is by private car or private bus that will take you to this wonder of the world. Once you arrive at Machu Picchu, you can explore the citadel on your own or with the help of an expert guide who will give you all the information about the history and culture of the place. You will also be able to see the Sun Gate, the Temple of the Sun, the Temple of the Three Windows, among other iconic places of the citadel.
The best thing about doing this type of guided tours is that in some of them you will have access to certain restricted areas, such as the iconic Huayna Picchu or Machu Picchu Mountain, from where you can enjoy and take pictures of breathtaking views of the citadel and the surrounding Andean landscapes. This experience usually takes a little more than five hours.
Spend the afternoon and evening exploring the center of Cuzco
Upon your return to Cuzco, there are many other things you can do in the city to continue exploring. I recommend you sign up for a tour of Cuzco in which you can go to interesting places within the city in the rest of the afternoon, and even take advantage of the sunset to enjoy the city from another point of view. If you want something more relaxing, I recommend visiting some of the spas and wellness centers that are quite popular in the city.
Dinner in downtown Cuzco
For dinner I recommend you to visit Cicciolina, which is a popular restaurant in Cuzco thanks to its delicious Peruvian food and cozy atmosphere. The best thing about this place is that you can go with the whole family, or with friends, taking into account that it offers both options of dishes to share and individual dishes.
To enjoy this place you will have to go between 12:30 and 15:30, although if you want to have dinner you will have the opportunity to go between 18:00 and 22:30. You have to know that you will have to pay around $20 per person to enjoy a main dish and a drink.
Day 3: Maras and Moray, Sacred Valley of the Incas and Ollantaytambo
During your third and last day in Cuzco you will visit some places like Maras and Moray, the town of Ollantaytambo and the Sacred Valley of the Incas. In Maras and Moray, you will see the impressive Inca agricultural terraces and learn about the importance of agriculture in the Andean culture.
In Ollantaytambo you will see well-preserved buildings and fortresses. And of course throughout the day, you will have the opportunity to enjoy delicious traditional Peruvian dishes with the influence of other cuisines, to complete an excellent last day in this city. But to enjoy the whole itinerary, you will have to leave your hotel no later than 8:00.
Visit to Maras and Moray
As you know, you will start your day visiting Maras and Moray, two Inca sites that are located in the Sacred Valley, very close to the city and that have a giant historical and archaeological importance for the culture of Cuzco. Maras is known for its impressive Inca agricultural terraces, while Moray offers a unique insight into Inca agriculture and salt mining.
To travel between Cuzco and Maras and Moray I recommend you sign up for an organized tour or private cab. During the trip you will have the opportunity to visit these two places along with other tourist attractions in the Sacred Valley of the Incas.
I recommend that to visit Maras and Moray, you spend at least a couple of hours or a little more. In fact, if you want to do a guided tour, you would have to dedicate a little more than half a day, but as it is a short itinerary, it could take you a little more than two hours to get to know the place.
Sacred Valley of the Incas
Along with the excursion to Maras and Moray, I recommend a guided tour of the Sacred Valley of the Incas, where you can explore the ruins and archaeological sites of the region. Among the sites you cannot miss in this place is Pisac, which shows you its ruins and its vibrant market inside the town of the same name.
To visit the Sacred Valley of the Incas I recommend you also dedicate about two hours in which you can visit the town of Pisac and its famous Inca ruins, as well as explore the local market, to buy handicrafts and local products and keep as souvenirs. Even during this tour you will have the opportunity to go to Urubamba, which is a good place to taste the local gastronomy, or you can also stop in Chinchero to learn more about the Andean textile culture.
As this is such a touristic area, I recommend you to take advantage of a quad tour in Cuzco and its surroundings, which will take you to visit interesting places like these. Undoubtedly an experience you can not miss on your tour of the city.
Ollantaytambo
During the same tour, and if you take a guided excursion, you will have the opportunity to continue your way to Ollantaytambo, a picturesque village located about 30 kilometers from Pisac. Here, you will be able to explore the impressive Inca fortress and temple, two archaeological sites that are well preserved and full of history.
Once in Ollantaytambo, you will need approximately 2 to 3 hours to explore the main archaeological sites and enjoy the sights and culture of this place. That is , you will enter the town around 15:00, to stay until a little later than 17:00.
At that time, it will be time to return to the city of Cuzco, to enjoy the rest of the afternoon, have dinner and rest at your hotel or accommodation.
Dinner in Kion
When you arrive in Cuzco, your watch will surely mark a little after 18:00, so it is time to find a place where you can have dinner, that is why I recommend you to visit Kion, where you can enjoy the fusion of Asian cuisine with Peruvian ingredients in a cozy atmosphere. It is a well known place where you can enjoy delicious dishes and a varied schedule that adapts to different needs.
As for Kion's schedule, you should know that you can visit it until 22:00, taking into account that its closing time is around 23:00 every day of the week.
After enjoying a good dinner in this place or in any other place you choose if you want to try another type of cuisine, it is time to go to your hotel or place of accommodation, to rest and sleep to leave very early back home. You also have the option of going to know a little more of the nightlife of the Peruvian city, but this will be your decision.
With this last activity of your choice, you end the three-day itinerary through the city of Cuzco in Peru, so you can return home with the certainty that you have enjoyed and known many of the most interesting places in the city; but at the same time, you will be much more eager to return.