How to Visit Les Invalides in Paris and Napoleon's Tomb
The Invalides is one of the most important ceremonial spaces in France. Conceived as a military residence, today it is visited by thousands of tourists as the mausoleum of Napoleon Bonaparte. Are you going to miss a place with so much history?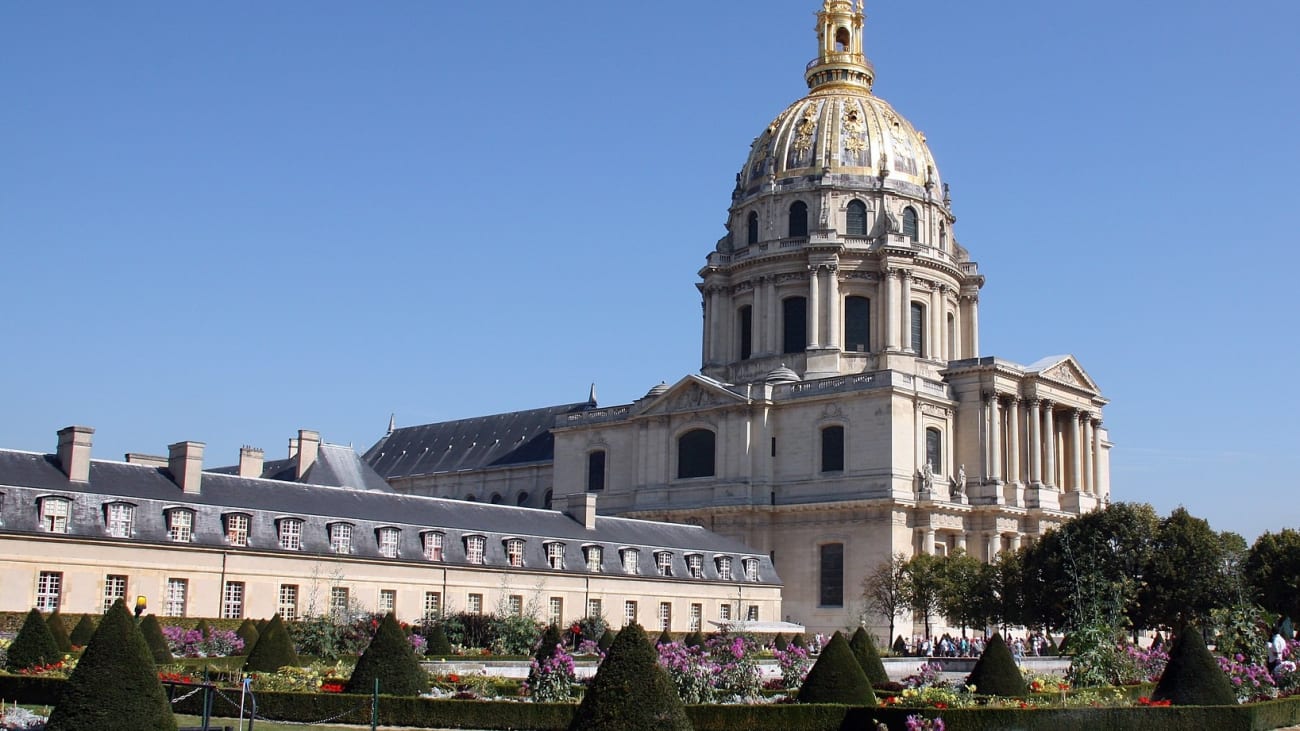 The history of France has had too many episodes ranging between monarchy and republic. A good part of them involve different military movements and that is why, among the things to see and do in Paris, there will always be many monuments and military sites. The National Palace of the Invalides is one of the most famous of them all, because it is a large building with phenomenal architecture that was conceived as a residence for retired military.
The French armed forces made use of this space as a hospital and shelter, but that is not why it is so well known. The most important thing is that under the great dome is the mausoleum of Napoleon Bonaparte, one of the greatest protagonists of the French 18th and 19th centuries who became emperor. You can also visit different museums such as the Army Museum or the Museum of Plans and Reliefs, while enjoying one of the most beautiful buildings in the city. Are you going to miss it?
How much do tickets to the Invalides Museum cost?
Come on; this can in no way be an excuse. General admission is usually around 14 €, which is a very decent rate for all that this site has to offer. From 17:00 h, or two hours before closing, depending on the date, you can enjoy the whole complex with a reduced admission that costs about 11 €.
But there are more possibilities to save. Children under 18 years, as well as children under 26 years living in a country of the European Union, members of the French armed forces or other European countries and also people with reduced mobility have free admission so if you are visiting Paris with children, it is an excellent alternative.
How to get tickets for the Invalides museum at the ticket office
To enter the Invalides Palace, you have to pay a ticket that you can also buy directly at the box office. Although the museum itself recommends buying tickets online to avoid queues and wasting time on this, you will always have the opportunity to buy them there directly, without inconvenience. You just have to approach the north entrance or the south entrance, where there will be ticket offices for ticket sales.
On the north side, the ticket office is located next to the Esplanade des Invalides, while, to the south, on one side of the Vauban square. In particular, you have to pay attention to the opening hours, because the ticket offices on the north side usually open at 10:00 am and close at 17:30 pm, although on special days they can extend their service to the public. Those on the south side only open Tuesdays, Saturdays and Sundays at the same time.
Are tickets to the Invalides museum included in any of the city's tourist passes?
Of course! This palace is one of the most important architectural constructions in Paris and for that reason, its entrance is included in tourist passes such as the Paris Museum Pass. This pass allows you to visit more than 50 museums throughout Paris and its cost depends on whether you buy it for two, four or six days. The two-day pass is just over 50 €, the four-day pass is around 65 € and the six-day pass is around 80 €. This pass can also be purchased at the museum's ticket office.
If you are going to visit many museums in Paris, do not hesitate to save through one of these passes. But if you want an option where you can choose beyond museums, then you can buy the Paris Passlib, in any of its plans: Mini, City, Explore or Prestige, because in all of them you can go to the Army museum in Les Invalides. This pass allows you to select a few activities from a long list, so you can also visit other monuments and tours.
Are there special tickets for children?
No need: children get in for free. Anyone under the age of 18 gets free admission to the Invalides complex, both to the mausoleum and to the museums and the church. But not only: children under 26 years of age who can prove through a document their residence in a country of the European Union can also enter for free.
If you were wondering what to see and do in Paris with children, Les Invalides should be among your choices if your priority is the budget. When it is something at a higher level than a regular visit, children's tickets are priced, but still at a reduced rate. This is the case, for example, for workshops, recreational visits and guided tours, with a reduced rate of approximately €8 for children under 18 years of age. In the case of adults, these figures reach about 15 €, so the children's discount is too advantageous to pass up.
Are there guided tours of the Musée des Invalides and is it worth it?
Of course there are and they can be very valuable to your experience but, like everything else, it will depend on what you are looking for. If you know little about history and want to learn, my advice is to select a guide who will surely be willing to contextualize every detail you will see in both museums, as well as in Napoleon's mausoleum and the church. No doubt that will be worth it, because you will learn and understand everything in much better detail.
The Army Museum itself provides you with guided tours organized by themselves, through their partner Cultival. In that case, the entrance fee for adults is around 20 €, while for children under 18 it is around 8 €. But if you go in a large group and if that group is composed of children under 26 years, there are many reductions depending on the day and the number of people to whom the guided tour is made.
Anyway, hiring a guided tour is not essential to enjoy and learn about history. It is enough to understand the texts in English or French in the museums, as well as to follow the indications to reach Napoleon's tomb under the dome. Nothing to fear, it's all very simple.
How to get to the Invalides Museum
Whether by metro or suburban train, the Invalides Museum is within easy reach, via lines 8 and 13 of the metro and line C of the RER system, the city's main suburban train network. Specifically, I recommend getting off at the Invalides station, which is part of these three lines and, after walking a few minutes, you can reach the north entrance of the complex. But it is not the only one.
You can also stay at La Tour Maubourg station on line 8 of the metro or Varennes station on line 13 which are closer to the Invalides itself, but not necessarily to the entrances. I recommend that, if you are entering from the south side, you get off at one of these two stations. Neither of them will be a problem and don't worry if you don't know how to use the Paris metro yet, because the system is quite intuitive once you understand its line map.
If knowing your way around Paris seems like a challenge, there is nothing to fear. The fact is that Paris has one of the largest metro and suburban networks in the world, so this palace, which is a bit far from the city center, has no difficulty in connecting with the whole urban fabric.
If you are coming from or going to the suburbs, line C of the RER will be perfect for you; and if not, you won't have any problem using the metro. On the other hand, if you get to use a bike as part of a tour or the Vélib' service, you should know that there are four stations around, so you will be able to arrive and depart comfortably by bike.
Finally, you may be on a package of one of the city's best tourist buses. If that is the case, be sure that Les Invalides will be on one of the routes, so you can use it to come and go, depending on the schedule. For that, it is important that you check the route with the company you choose.
What not to miss at the Invalides museum
The whole Invalides complex is not a traditional museum, so the last thing you should miss is the tomb of Napoleon Bonaparte, former French revolutionary leader turned emperor who scourged half of Europe. This is undoubtedly the most important part of this entire building, because around the crypt are also the mortal remains of other relatives of Napoleon.
Although it is the most important section of the Invalides and specifically, the Army Museum, not the only one you should take into account. I recommend that you also, within this museum, do not miss the collection of antique armor and weaponry from both world wars.
This will allow you to see the evolution of all military weapons in France. An ideal way to complement this learning is at the Museum of the Order of Liberation, where you should not miss the exhibits dedicated to the leadership of Charles de Gaulle in World War II.
Additionally, if you visit the Museum of Plans and Reliefs, you should not miss the relief plan of the fortification of Bayonne that you will get just as you enter and which is one of the most impressive of the entire museum. There are numerous collections here, although the exhibits are usually temporary and vary; but in general they focus on reliefs of fortifications and military constructions in different parts of France throughout its history.
How much time do you need to visit the Invalides museum?
I recommend that you spend no less than half a day to visit this entire palace, especially if you want to do more than just visit Napoleon's tomb. At the Army Museum, you can easily spend about two or three hours, depending on how thoroughly you want to see each of the exhibits that explain the evolution of the French armed forces.
On the other hand, the other two museums, the Order of the Liberation and the Plans and Reliefs are much smaller, but have really exciting exhibitions, so I would recommend that you do not miss the opportunity and spend at least an hour each, to see them in great detail.
To all this, you have to add that, regardless of the museums, the Invalides is one of the most beautiful palaces in all of Paris. Seeing this site deserves your attention, so you can detail its dome, but also its internal gardens and rooms. It is a magnificent space to take pictures and delight you. None of this is at odds with the possibility that you make an express visit of about two hours, especially if you have no major interest in the themes of museum exhibitions.
Opening hours of the Invalides museum
The Army Museum, the main part of the entire Invalides Palace, opens at 10 am and closes at 6 pm; although on Tuesdays they have a special nighttime day that has them close at 9 pm. On this night access day, you can only enter the dome of Napoleon's tomb, the temporary exhibitions, the department dedicated to Louis XIV-Napoleon, among a few others.
If you are interested in visiting only the palace to know its structure, you should know that it works in the same schedule of the Army Museum, which depends on it. This is also true for the Museum of Plans and Reliefs, which, however, closes at 5 pm between October and March, the coldest months. For that reason, if you visit Paris in winter, it is important to leave a little in advance.
Throughout the year, the only days the museums and the palace are closed are January 1, May 1 and December 25, so you will have almost any day to visit. Also note that the ticket offices close half an hour before the closing time of the museums and the palace, so try to plan your entrance at least at 5:30 pm. My advice is to go in the morning so you can leave around 2pm and enjoy lunch nearby.
Traveller Tip

Occasionally, the church is closed for liturgical reasons or even, the Army Museum may close for military commemorations. This is very unusual, but it is important to find out before you go so you don't get a fiasco.
Tips for visiting the Invalides museum
The Invalides is one of the best palaces in Paris and to get the best experience, you have to take into consideration a number of details:
About the influx of tourists: although it is not the most central place to visit, it receives many tourists and that is why I recommend you try to visit it as soon as it opens, at 10 am

If you are not very familiar with Parisian public transport, try to study a little before the map of the metro or RER, so you arrive without confusion to the station.

If you can buy tickets online and skip the possible queues, it is best. Remember that the south entrance, including its ticket office, is only open on Tuesdays, Saturdays and Sundays, so there may be more crowds at the north entrance and that can cause delays in your plans.

Do not forget your smartphone or camera to immortalize this space, because you can take many photos, although with certain limitations.
This is the Invalides museum store
Are you a fan of museum stores, souvenirs, diaries and pens? Well, in the Army Museum which is the main institution of the National Palace of the Invalides, you can find a wonderful shop-bookstore, where in addition to having the traditional souvenirs, will be at your fingertips also more than 2 thousand reference guides of own collections of military history.
For that reason, if you are looking to learn about military history, this is your site. Please note that the store is open between October and March, from 1pm to 5pm from Monday to Friday and from 11am to 5pm on Saturdays and Sundays. On the other hand, between April and October, they are open from 10 am to 6 pm, every day of the week.
Although this is the only store, in the Museum of Plans and Reliefs you will find another bookshop, which offers a collection of in-depth studies of plans-reliefs, medieval fortifications and French forts in general, as well as other works in English, so not everything will be restricted to French. And you want to take home some souvenirs? Here you can buy the most original ones, because you will have from children's games, to models to build, historical figures, medals, miniature cannons and many other things. Are you going to stay without buying something?
Where to eat near Les Invalides
Whether before or after your visit, eating is important, particularly if it's lunch. So, you have different options. Inside the Invalides National Palace itself, there are two very select restaurants or cafes that, depending on your budget, can be a great option.
At the Café-restaurant Le Carré des Invalides you can buy pastas for about 10 €, sandwiches for just over 6 € and even lunch menus that, depending on what you order, range from 7 € to 20 €.
The other alternative, inside Les Invalides, is the Salon de thé Angelina which is really close to Napoleon's tomb and is more of a cafe or as its name says, a tea room offering French pastry delicacies, sandwiches and drinks. This cafe only works in the warm months, between April and November, because it is in the garden and its cost is higher.
Au Canon des Invalides, located at 54 Rue Saint-Dominique, is your best option if you want to have lunch and save on a traditional restaurant. To get there, you have to walk a few streets and you will find a place where you will undoubtedly be full for just over 13 €. You will have a complete meal, with an international menu based on meats, side dishes, drink and dessert.