How to Get to Bruges from Brussels
Bruges is very close to Brussels, close enough for you to get there and spend the day walking through its magnificent streets. I tell you how to get to Bruges from Brussels.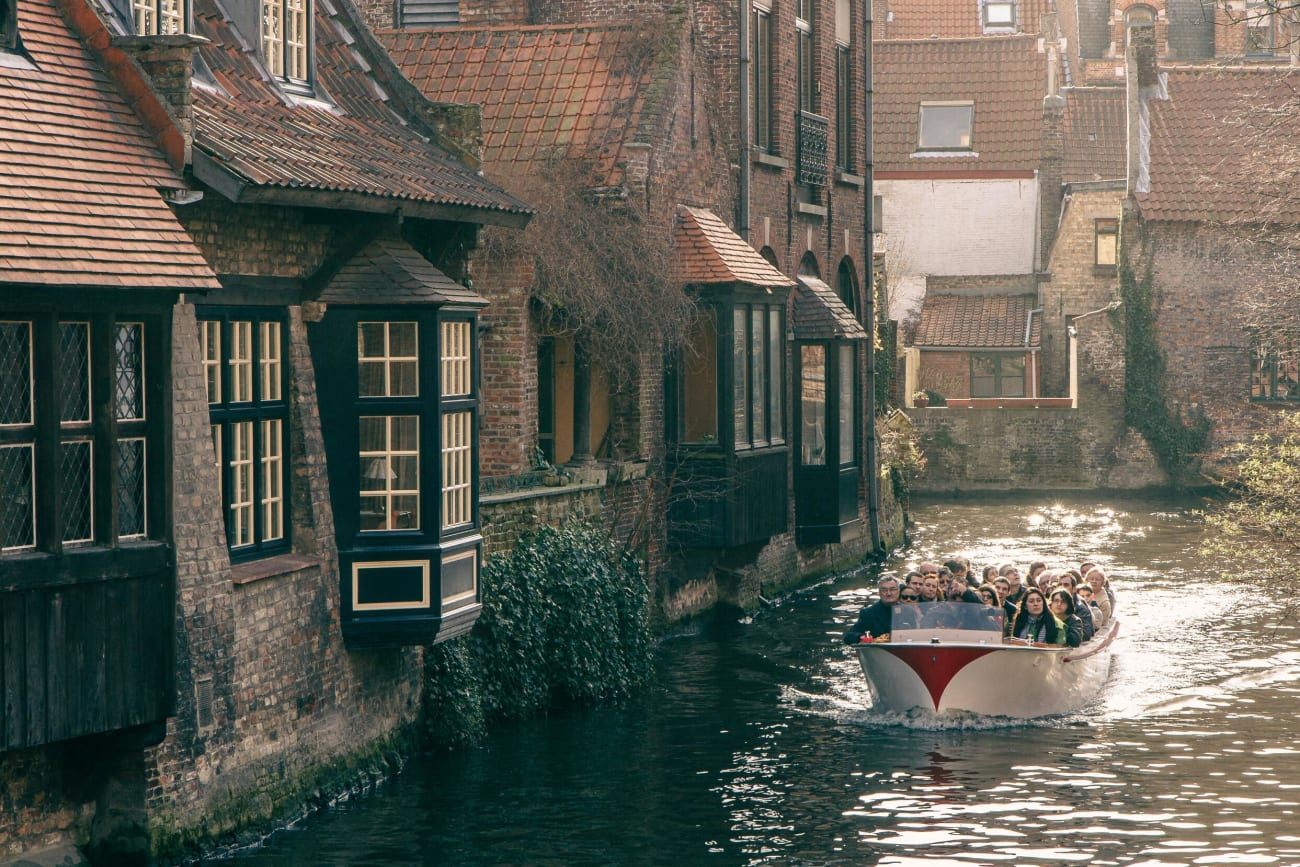 During your trip to Brussels, you will probably consider strolling through the cobblestone streets and canals of charming Bruges.
Thanks to the fact that only 100 km (62 miles) separate the two cities by road, you can make the trip in the same day. How? Take note.
Get to Bruges on a guided tour organized from Brussels
If you plan to spend a day in Bruges, the most convenient way is to join an excursion to Bruges from Brussels. It will take you just over an hour to get there and the trip is done by private bus, which makes it very fast and avoids unnecessary waiting at the train or bus station.
The meeting and departure point is usually a central location in the city of Brussels, so it is most likely to be very close to your hotel or accommodation and you can get there on foot.
In addition, the departure times are very convenient, ranging between 8:30 and 10:00 am. An hour later you will have arrived at your destination.
If you wish, there are also tours that add (on the way back from Bruges) a stop in Ghent. This does not add too many kilometers to your journey and will allow you to see the best of both cities in one day.
How to get to Bruges by train from Brussels
Another option to move between Brussels and Bruges quickly and comfortably is the train. As it happens with practically all the capitals in Europe, Brussels is very well connected thanks to the train, which arrives and departs from its central station in the center of the city.
The frequency of trains to Bruges is relatively high, you can find about 3 trains every hour during the day.
The only thing to keep in mind is the timetable: the last return train leaves Bruges around midnight and does not leave again until about 6 am.
Keep this in mind if you don't want to spend a night out waiting for the first train back to the city! Regarding the price, for less than 30 euros you can get a round trip ticket and the journey time is one hour. You can check more details about the prices in my article about the prices of the excursion to Bruges.
If you prefer, you can visit Ghent during your day trip to Bruges. It is best to do it in the afternoon and of course, you can also arrive by train (it is less than an hour from Bruges and less than an hour from Brussels).
How to get to Bruges from Brussels by public bus
The public bus is another option that Brussels offers you to get to Bruges. It is a little cheaper than the train and the journey takes a little longer (it can take up to an hour and a half).
This is probably the most complicated option if you are planning to visit Ghent in the same day. In that case I recommend you to take the train to avoid wasting too much time in traveling between cities.
How to get to Bruges from Brussels airport
If you want to head for the charming city of Bruges as soon as you land in Brussels, you can do it directly from the airport: you won't need to go through the city.
There are direct trains between Brussels airport and Bruges for 22 € and depart every 15 minutes, so it is a simple and relatively cheap journey for those who do not want to waste a second to start enjoying the beauty of the city of canals.
How to get to Bruges if you have rented your own car in Brussels
Usually you have rented a car at the airport and you may want to leave from there. In that case, the journey time is a little less than an hour and a half if there is no traffic. The roads are in perfect condition and the directions from Brussels airport to Bruges are very easy.
If, on the other hand, you are already in Brussels and wish to reach Bruges by car, the journey time is about an hour and a half, but may vary depending on traffic (especially if you are leaving from a relatively nearby area). Again, the roads are perfect and very well signposted.