Where to Eat during your Day Trip To Bruges
If you are organizing your trip to Bruges and do not want to leave anything to improvisation, take note of where and what to eat during your stay in the city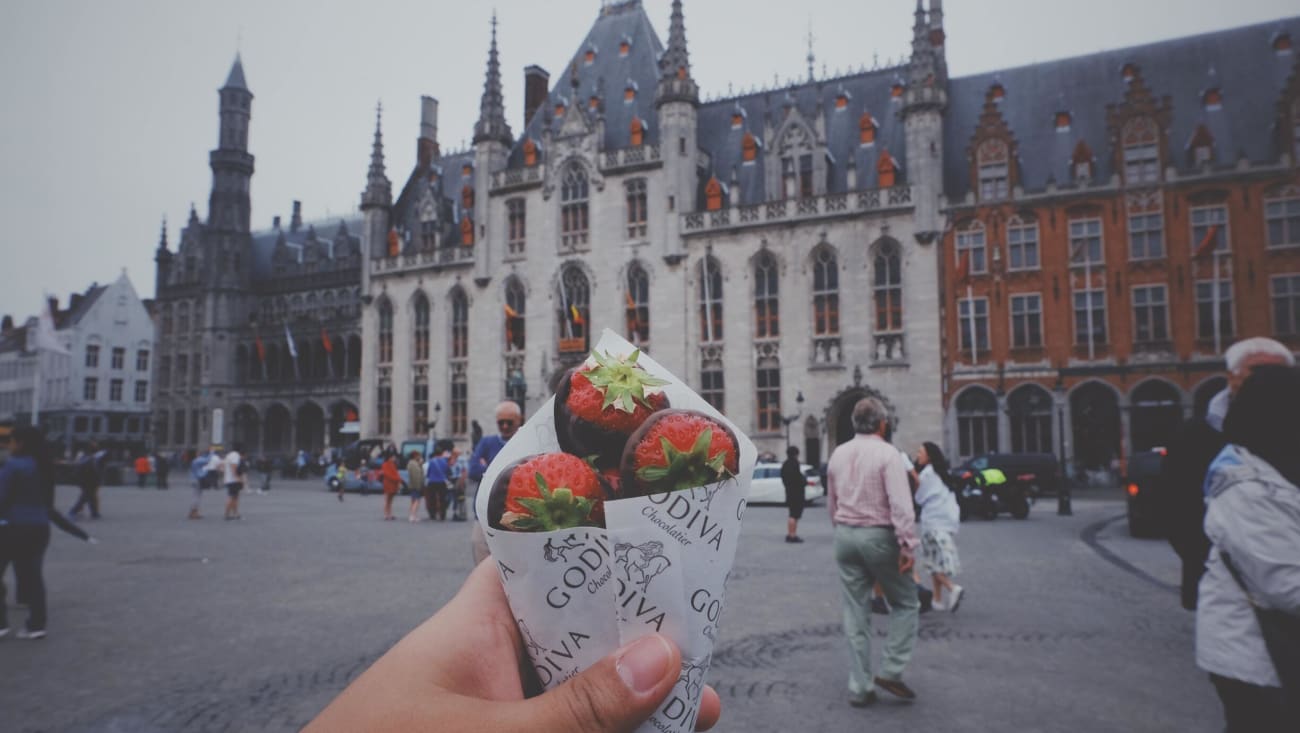 Whenever you go to Bruges, there is a Belgian menu waiting for you. In winter, look for the warmest places and the most hearty dishes to help you withstand the cold. Have a good beer to wash down the meal and whatever you do, don't leave without trying their chocolates.
If you have booked a excursion to Bruges from Brussels, you will have free time to choose a restaurant, enjoy the most typical dishes and feel like a Belgian. I will help you to choose so that you leave there with the best taste in your mouth.
1. The classic Belgian soup to take shelter from the cold
If you visit Belgium during the coldest months of the year you will have noticed that the temperatures are quite low. To make sure the cold doesn't dampen your visit, you'll need a good hot meal to help you get your strength back.
And for that, nothing better than a classic Belgian soup accompanied by a piece of good bread and the typical croutons. At Soup you will find just what you are looking for and also at an unbeatable price. The soup of the day costs about $ 8 and if you want to accompany it with half a sandwich, the full menu will cost you around $ 11.
In addition, they are fast and super friendly. Eating here will definitely boost your mood before you continue touring Bruges and knowing its streets and its people.
2. The best Belgian breakfast is at Tattie's and you can eat it at any time of the day
Juices, croissants, toasted bread, all kinds of teas and coffees... If you are one of those who enjoy breakfast like no one else, you won't mind stopping by Tattie's at any time of the day and have a brunch to your liking.
The place is very small, it can't be cozier, and it's the favorite of Belgians (you just have to see the love they give them in the reviews on the Internet!) Special mention should be made of their bread rolls, which are baked there every day by their loving owner.
Indulge yourself and "have breakfast" at Tattie's at any time... Don't they say that breakfast is the most important meal of the day?
3. Fish, meats, and gourmet wines at Réliva: the most delicious organic restaurant in Bruges
Réliva: are big words: here you will find a menu with natural and high-quality products, a super varied menu and an exquisite service.
The quietness of the street in which it is located will get you in the mood: in Réliva everyone speaks softly, the place is beautiful and the food is delicious. Isn't this the best recipe to enjoy a good menu during your trip to Bruges?
Let the staff (they are all locals) recommend you the freshest products of the season. Finger-licking good, believe me!
4. Chez Albert's waffles need no introduction
In Belgium, you also come to eat sweets, and among them, the waffle is the Belgian king. You will see thousands of places, both in Brussels and Bruges, ready to prepare you a good waffle with all the love in the world, but for a particularly good one, go to look for those of Chez Albert.
My favorite will always be the one with strawberries and cream (and of course, a bar of good Belgian chocolate). A piece of advice? Find a little bench overlooking a square or canal that has stolen your heart and don't hesitate to sit for a while and enjoy it looking at the horizon and watching the people passing by. It will be one of the highlights of your trip, for sure.
5. Taste an exquisite beer at Le Trappiste
If you are organizing your trip to Belgium, whether you like it or not, you will end up tasting (and enjoying) their craft beers (I didn't even know there were so many different types of beer!). Summer or winter, good cold beer will warm you up, especially if you drink it at Le Trappiste.
Its atmosphere of medieval tavern (which is 800 years old!!!!) and the beauty of its walls and stone arches will make you travel in time, forget what time it is and enjoy a good beer as the Belgians do.
They also have an online store and a beautiful collection of bottled beers in bottles and cans of different shapes and colors that you will want to take home in your suitcase (even if they are already empty!).
6. Binge on mussels in Poules Moules
If you want to live like a Belgian for a few days, you'll have to eat like a Belgian. And that means indulging yourself with mussels during your visit to Belgium. After having tried several places, my favorite is undoubtedly Poules Moules:.
The place could not be more authentic, both inside and on its cozy terrace. You can order not only mussels but also all kinds of seafood (again, always be advised by the staff) and you will not leave without having licked your fingers.
You will be able to combine them with soup of the day and of course, with fries (yes, yes, you read that right). In Belgium, any excuse (and menu) is good to eat fries.
7. Fries can also be gourmet, at The Potato Bar
And following the most deeply rooted Belgian tradition, it's the turn of the acclaimed French fries. If you want the best (because talking about fries, there are different kinds), don't hesitate and go to The Potato Bar.
You will find an industrial place ready to make you salivate with each of their delicacies: their crackers and burgers are the best and the fries, served with the toppings you choose from the menu, will not leave you indifferent.
You can also try their fried eggs. After all, you'll be walking around Bruges all day and it's okay to skip your diet for a day, don't you think?
8. The best Belgian chocolate, at The Old Chocolate House
And the last place in the ranking, because the best is always left for last, is the sweet ending of the day. There will not be a day in Belgium in which you do not fall into the temptation of snacking in one of its chocolate shops. On your way through Bruges, the best I can recommend is The Old Chocolate House.
Their chocolates and sweets, perfectly displayed in showcases and delicate shelves will make you dream of taking it all home. And I don't blame you. Take the opportunity to take home some sweet souvenirs to surprise your family and friends when you return from your trip.
The presentation more than lives up to the taste. What I can't promise you is that those chocolates will travel home without you devouring them first!