11 Things to Do with Kids in Brussels
Also known as the capital of Europe, Brussels is a safe, walkable city with entertainment options for children of all ages. I'll tell you all about it!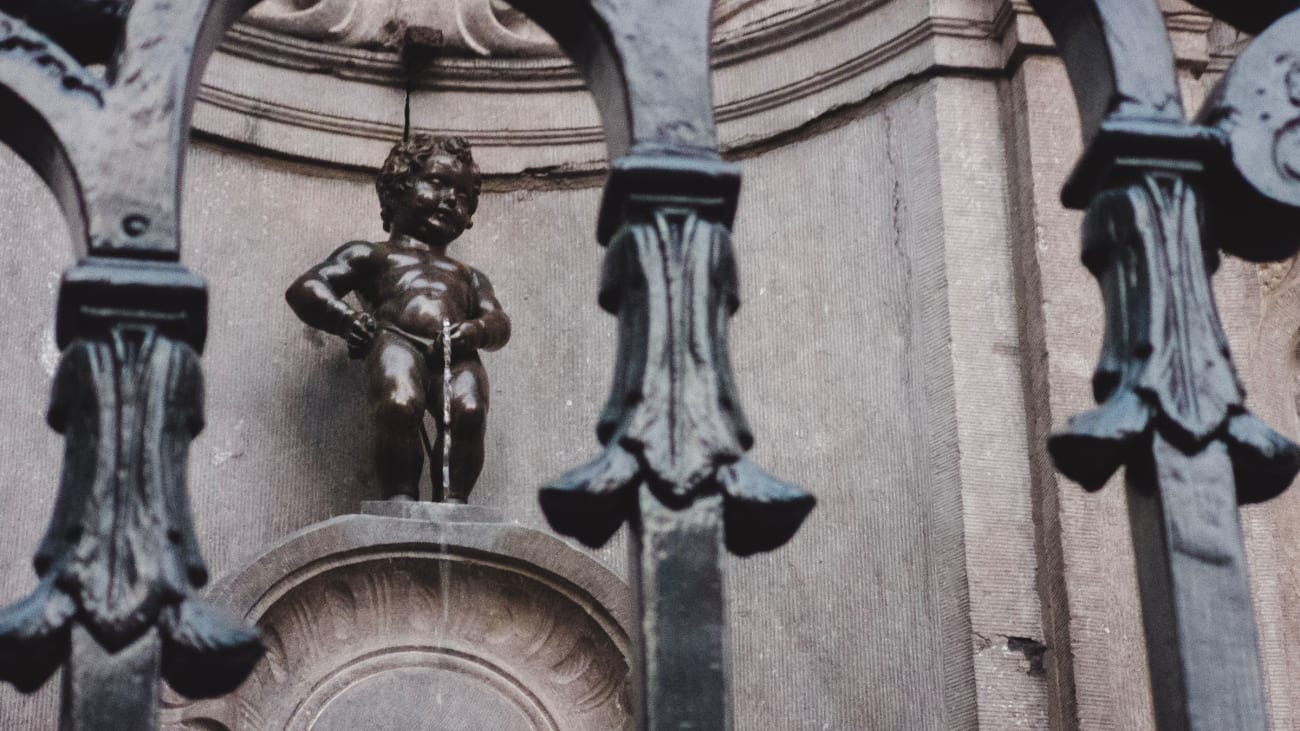 Beyond the traditional monuments, parks and the rest of the many attractions of Brussels, the Belgian capital has a large catalog of activities that can make this experience a great adventure for your little ones.
Educational museums, spaces with interactive tours, amusement parks and various immersive activities designed especially for the youngest, the Belgian capital is definitely a huge field of wonderful discoveries to keep its youngest visitors entertained.
1. Follow the Manneken Pis route
A fun route to encourage children to walk, is the famous Manneken Pis, Jeanneke Pis and Zinneke Pis route. Find these funny statuettes of a boy, a girl and a puppy peeing is a good excuse to convince the little ones to walk around the city and enjoy everything to visit in Brussels
If you are traveling with little time and want to optimize the experience to the maximum, a tour in one of the tourist buses in Brussels can be ideal for the whole family. This option, besides being comfortable, allows you to get to know the city at your own pace and decide which places are best suited to what you are looking for.
2. Visit the Atomium
If this replica of an atom magnified millions of times is already impressive for you, imagine for a child. A visit to the Atomium in Brussels is highly recommended. I advise you to get your tickets in advance and not miss this experience.
While the program offers permanent exhibitions of interest, what will matter to the younger ones is the experience of the visit itself. In a futuristic setting with light-filled nooks and crannies to explore, special workshops, eye-catching street furniture and passageways between the spheres, this may be just the activity you've been looking for to relax while they have a great time.
Information of interest:
Hours: Monday to Sunday from 10:00 am to 6:00 pm. Last admission allowed at 5:30 pm.
Price: Adults pay 20€, students 12€ and seniors over 65 17€. Young people (taller than 115 cm and under 17 years old) 12€ and children under 115 cm are free.
Address: Pl. de l'Atomium 1, 1020 Brussels.
3. Visit the Autoworld Museum of Brussels
If you are a motor lover, you can not miss the Autoworld Museum in Brussels which has one of the most diverse collections of cars in the world with over 300 specimens, including models ranging from the late nineteenth century to the present.
Horse-drawn vehicles, gas, steam, diesel, electric. The most interesting thing is that you can get on them and take pictures, so it is an ideal activity to go with the little ones of the house.
In addition, with your ticket you will be provided with an audio guide that will give you information about all the models. Don't hesitate. Don't miss the opportunity to ride in a 1928 Bentley, a Bugatti Type 23 from the 1920s or in the classic Mustang and Corvette, so popular in the 1950s and 1960s in the USA.
4. Travel back in time with your visit to Train World in Brussels
And another essential visit for the little ones at home is the ' Train World ' (Train World), where you will enter the oldest railroad network in Europe. A unique interactive experience in which you will be aware of the heritage and historical significance of the Belgian railroad system, which belongs to the Belgian National Railway Company.
In this space you can enjoy an exhibition of old photographs, books, documentaries and a collection of objects of the time. In addition, you will have the opportunity to visit an exhibition of steam locomotives, where you will see and interact with some historical gems such as the Pays da Waes model, dating back to no less than 1844.
A journey into the past to understand the evolution of the railway system, from its beginnings to the present day, including the electrification of the Brussels-Charleroi line.
5. A waffle workshop, the essential plan
The sweetest plan of all is to take a waffle workshop in Brussels with a master chocolatier who will guide you through the whole process and to whom you can ask any questions you may have. You don't need to be a cooking expert or have previous experience to participate in this activity.
This workshop includes the utensils and ingredients for the waffle batter. But best of all, you can take the recipe with you to surprise your guests every time you organize a snack. What are you waiting for to book your workshop? Don't forget, Belgian waffles are the best!
But this is not the only option, as you can also choose to book a chocolate workshop, where you will discover all the secrets of Belgian chocolate making at the Choco Story Museum and attend a demonstration. In addition, you will prepare a personalized bar that you will be able to take away with you and enjoy a chocolate tasting.
6. Visit the Museum of Musical Instruments
I also suggest one of the most fun and classic sound museums in the city and that is the Museum of Musical Instruments. With a display of more than 7,000 instruments from all over the world, this museum is a favorite for children as the exhibit is interactive and allows you to hear the sound of each one through headphones.
Information of interest:
Price: children under 18 get in for free. admission for adults costs 15€.
Hours: open every day except Mondays from 9:30 am. Access allowed until 4:30 p.m.
Address: Rue Montagne de la Cour 2 - 1000 Brussels.
7. Visit the Museum of Natural Sciences of Brussels
An experience not to be missed is a visit to the Natural Science Museum of Brussels which has one of the largest collections in the world on dinosaurs, and with several visual and multimedia experiences on 400 species of animals, human evolution and science in general that make children connect immediately.
I have no doubt that this is one of the best museums in Brussels, which also offers specially designed programming for children, including supervised tours, vacation camps and themed birthday parties.
Information of interest:
Hours: Tuesday to Friday from 9:30 am to 5:00 pm, Saturday and Sunday from 10:00 am to 6:00 pm.
Price: children and teenagers between 4 and 17 years old €5. Adults pay €13, seniors over 65 and people with special abilities pay €10.
Address: Vautierstreet, 29. 1000 Brussels
8. Tour Europe in miniature
And right next to this space, there is another attraction that you can't miss with the little ones: Mini Europa, a miniature park that reproduces to scale about 350 emblematic points of the old continent.
In Mini Europa you will find a garden adorned with exotic bonsai and dwarf trees. This interactive experience is a tour of the greatest wonders spread across the 27 countries that are part of the European Union, such as Big Ben, the Eiffel Tower or the Roman Colosseum, among others. I guarantee fun, but also quality time and learning for everyone.
In the park you also find restaurant area, rest areas and the Spirit of Europe pavilion, an enclosed space to discover little known aspects of the European Union.
Information of interest:
Opening hours: Monday to Sunday from 9:30 am to 6:00 pm. Access allowed at 17:00 hours.
Price: children under 115 cm are free, up to 12 years old €12.30. Adults pay €17.30.
Address: Av. du Football 1, 1020 Brussels.
9. Get to know Planckendael Zoo
There is nothing more fun for a child than wandering through open spaces and marveling at the wonder of the wild world.
Although located on the outskirts of the city, Planckendael Zoo is easily accessible by public transportation. However, I recommend that you plan your visit early in the morning to spend a good part of the day in this activity.
The space offers a brilliant variety of wild animals in the style of a nature reserve, useful for children to understand the need for conservation and care of the environment. There are also rest areas with restrooms, sandboxes, hanging ropes and children's games. A memorable experience that, I assure you, they will remember for the rest of their lives.
Information of interest:
Hours: Monday to Friday from 10:00 am to 5:00 pm, Saturdays and Sundays from 10:00 am to 6:00 pm.
Price: children between 3 and 11 years old €25, between 12 and 17 years old €29. Adults pay €31.
Address: Leuvensesteenweg 582 2812 Mechelen, Muizen. It is a 10-minute drive from Brussels.
10. Explore the Toy Museum
Located in a huge mansion near the Parc de Bruxelles, the Toy Museum holds one of the most interesting collections of toys from around the world. If your plan includes visiting museums in Brussels, this one should be on the list to visit with children.
About 25,000 toys of all kinds dating from the mid-19th century to the present day are spread over the three floors of the building and come from 33 countries on four continents. In addition, you can attend puppet shows and traveling exhibitions every month.
It will be amazing for everyone to learn the story behind each piece and discover with nostalgia the games present in the childhood of our grandparents and ourselves. The good thing is that they are within reach of children who can play and touch everything they want.
Information of interest:
Hours: Tuesday to Friday from 10:00 am to 7:00 pm, Saturdays and Sundays from 2:00 pm to 6:00 pm.
Price: children under 6 years free, between 6 and 18 years €5.50. Adults pay €8.
Address: Rue de l'Association 24, 1000 Brussels.
11. Visit the Walibi and Aqualibi amusement parks
Walibi is one of Belgium's best-known amusement parks and obviously one of the most exciting experiences for the little ones. With adrenaline-filled adventures suitable for teens and adults, as well as an exclusive children's ride area, this is another ride for the whole family to enjoy. The park is open from April through September, with July and August being the busiest months.
And if water is your thing, very close to this park you can find Aqualibi, the water slides and pool version of an amusement park. The place is closed and the pools are heated, so they are suitable for rainy or cold days. I advise you to check the website, as in low season it is usually not available.
Both places are located about 30 kilometers from Brussels and the most convenient way to get there is by train. You can check departure and arrival times of trains to and from Brussels, as well as prices and availabilities on the Brussels Train page.
12. Visit to the Smurf Village
As if it were a comic book in the real version, 1,500 meters of exhibition will be the ideal setting to dive into the world of The Smurfs. Guided by Papa Smurf, you will learn about one of the most popular animated franchises in the world. This exhibition is only available at certain times of the year, which you can confirm on the official website. The tour lasts about an hour and is open to the public from 10 am to 6 pm.
From the perspective of a little bluish being that you become when you step on the place, the exhibition is designed so that through virtual reality you can cross magical waterfalls, fly on the back of a stork or escape from the cage in which Gargamel, the villain of the series, captured you.
I recommend you visit the official store, where you can find different objects to remember the experience: T-shirts, mugs, books, toys and video games to complete the expedition and enjoy a little of the open air of the neighboring Grand Place of Brussels.
Information of interest:
Hours: Monday to Sunday from 10:00 am to 6:00 pm.
Price: children €7, adults €10.
Address: Hall 4 of Brussels Expo, Place de Belgique.
13. Take a tour of Technopolis
This interactive science and technology museum is located approximately 22 kilometers from Brussels and is specially designed for children.
At Technopolis all activities are based on experimentation and children from 4 to 80 years old are welcome to participate in fun scientific tests and demonstrations, on a journey of exploration through science and technology.
I recommend buying tickets online. The easiest way to get there is by train from Brussels Central Station to the city of Mechelen.
Information of interest:
Opening hours: open daily until 22:00.
Price: children under 4 years are free, between 4 and 11 years €14.50. Adults pay €19.50.
Address: Av. de Tervueren 188A, 1150 Woluwe-Saint-Pierre.
14. Enjoy different outdoor activities
Outdoor activities are always a pleasure for children. From playing among gardens, riding on swings or going down slides to overcoming obstacles and enjoying a sand park, all these attractions are available in Brussels for the whole family to enjoy.
The offer of playgrounds in Brussels is wide and you can take family walks and breathe fresh air in the middle of your itinerary.
Visiting the great murals of Tintin, Asterix or The Smurfs that adorn the city center, is another unmissable plan to enjoy with the kids. While walking or cycling through the heart of the city, you can admire this immense living museum that pays tribute to the great Belgian cartoonists.
My latest recommendations
Brussels is a safe city, but it doesn't hurt to take care of your personal belongings and keep an eye on the kids. Many of the activities I recommend will require the accompaniment of an adult for children under 12 years old.

Some of the museums in Brussels have special programming for children throughout the year. I recommend you consult the official website of the Brussels Museums, where you can find updated recommendations on exhibitions and special programs.

From experience I suggest you think ahead of every move, as we don't want to have to wait hours to enter somewhere. Take advantage of young children's sleeping schedules for long journeys and keep identity documents handy.

If you are traveling with children there are , I recommend that upon arrival you hire private transportation for trips from the airport to Brussels and vice versa. This option helps you travel more calmly and comfortably, especially if you are traveling with babies or small children.

I recommend that before traveling to Brussels, read the article what to see and do in Brussels so you can be aware of the great diversity of plans for which you can choose.
And don't forget lunch time
For everyone traveling with children, planning meal times is something very important to optimize time and better enjoy all the tourist attractions. To start the day, my option is that you look for the accommodation to have the option of cooking on site or breakfast included and I give you a good reason for this: you can have different breakfast choices according to your family's tastes, save on meals, avoid waste and save time.
For lunch and dinner and depending on the area you are in, check the virtual guides specialized in family restaurants to choose your best option. One of the best rated is ChezLeon, located in the central area of Brussels and defined as the "most Belgian restaurant in Belgium". The staff attends dressed in the typical costumes of the country, the menu includes typical delicacies for all tastes, but the best thing is that it offers free food for children under 12 years old.
Keep in mind that Brussels is the capital of waffles, one of the favorite dishes of children and adults for snacks. I recommend booking a Belgian Waffle Workshop, where the whole family can learn how to prepare it. The price of admission covers the class, supplies and ingredients, and remember that you have the fun! Just keep in mind that during the daily excursions, you may come across chocolate, ice cream and pastry shops of all kinds, so there is no shortage of options.