Visiting Gent during your Day Trip to Bruges from Brussels
If you are organizing a trip to Bruges, do not forget its neighbor Ghent: its canals, the majesty of its buildings and its atmosphere will make you fall in love at first sight.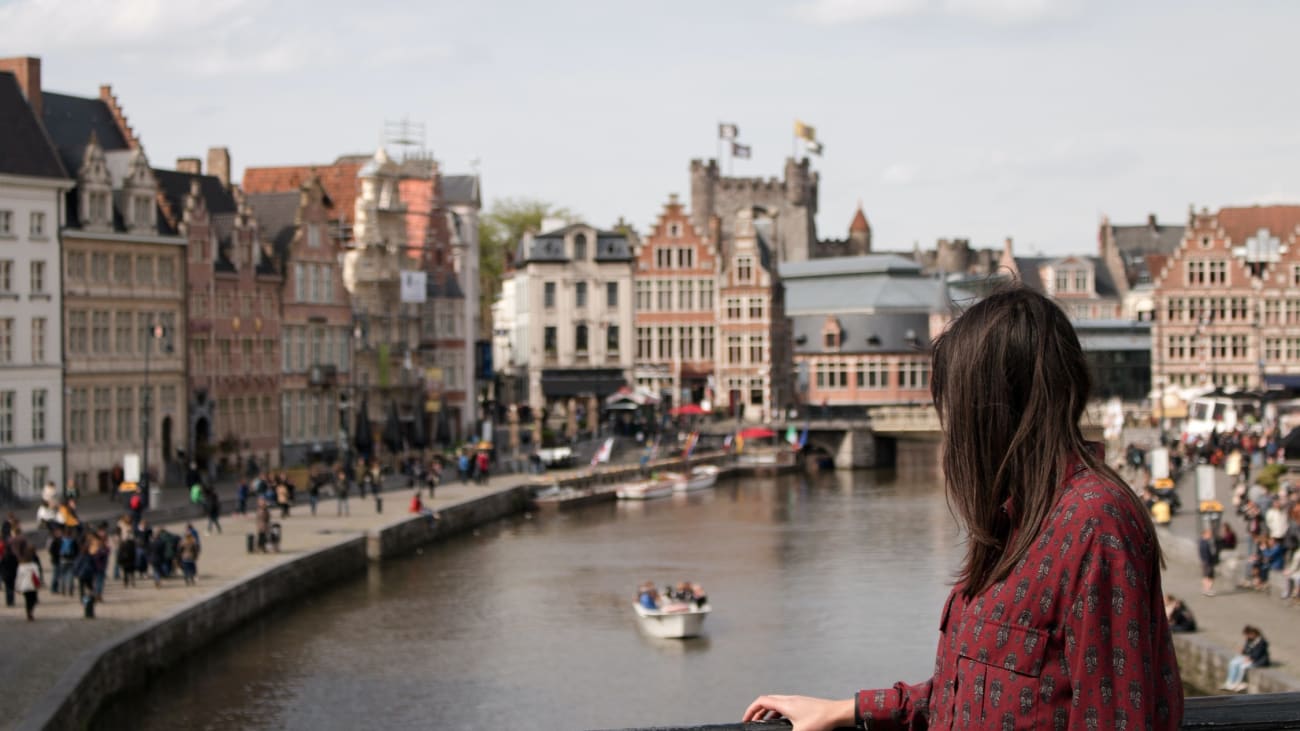 Belgium is the ideal size for you to visit not only the capital, but also architectural gems such as Bruges and Ghent during your trip, even if you have a tight schedule.
Fortunately, Bruges and Ghent are less than an hour away by train, bus or car, so take the opportunity to get to know Ghent.
The best option
Visit the two most important cities of the Flanders region in one tour.
Enjoy a full day tour, guided by an expert guide in history. Tour Bruges and Ghent, and marvel at these fairytale-like destinations.
If you are traveling through Brussels, an excellent option to make the most of your Belgian stay is to visit Bruges and Ghent on a guided tour. These two cities are accessible, small and very picturesque, which makes them an ideal day trip.
You will travel in a comfortable bus with a professional guide to the first stop of the tour: Ghent. There you will be able to visit landmarks such as the Cathedral of St. Bavo, the Belfry of more than 90 meters high and the Church of St. Nicholas, among others. Then you will continue on to Bruges. In this medieval and charming city, you will visit the Bruges Cathedral, the Burg Square and the mythical Lake of Love, ideal to take a thousand pictures.
Before returning to Brussels, you will have free time to enjoy at your leisure, buy gifts and why not, some delicious traditional chocolates of the region.
Recommended if... if you have just enough time for sightseeing in Belgium and want to take the opportunity to visit two emblematic cities, without worrying about transfers and schedules.
How to visit Ghent during your trip to Bruges
The short distance between the two cities means that many of the excursions to Bruges from Brussels also include in their itinerary a visit to the neighboring city of Ghent.
This is undoubtedly the most convenient way to visit both cities in one day and you won't have to pay extra. On Hellotickets, for example, a day trip to Bruges and Ghent costs 45€ per person.
If you prefer to do the visit on your own, the budget you will need will be a little higher. In that case, it is best to take the train, as it will allow you to make all the trips in the shortest time, although you will have to take into account the waiting times at the stations.
How long does it take to get to Ghent from Bruges?
If you are in Bruges, you will reach Ghent in less than an hour, by train or by road. With such a short distance, Ghent will be the finishing touch to a dream day visiting Bruges.
If you want to have more details about the excursion to Bruges and Ghent from Brussels, I recommend my article so you can better organize your getaway.
Is it worth stopping in Ghent during a trip to Bruges?
Yes, of course! If you only have one day, do not stay with the desire and join an excursion that takes you to see the best of the two cities. Both cities are quite big enough to visit in a few hours and their historic center and main attractions are concentrated in a few kilometers, which makes them easily "walkable" in one day.
If you only have one day, I recommend that you consider joining an organized tour, as it will allow you to save time and not worry about the logistics and waiting for public transport.
In addition, you will be accompanied by a guide who will make sure you do not miss the key places of each site, will explain the local customs and culture and will give you the recommendations you need to spend a perfect day discovering Ghent and Bruges.
In case you have more time and can dedicate a couple of days to visit both, you can go more relaxed in your walk and enjoy getting to know them at night, something that also makes them unique and special.
How long does it take to visit Ghent on a tour to Ghent and Bruges?
If you visit Ghent during your tour to Bruges and Ghent from Brussels, estimate that you will spend approximately two to three hours in the city. This will be enough time to tour the historic center, see the canals and get a good feel for the culture and way of life.
In addition, the guide will give you some explanations about the most important monuments, such as its imposing castle and will also share with you the history of the city.
Normally the stop in Bruges is usually longer, because it concentrates a greater number of points of interest and is usually the key visit in the tour. Either way, you will still enjoy it.
If you prefer to visit Ghent on your own, you can decide how much time to spend there: if you only have one day for the trip, spend a few hours there in the afternoon on your way back from Bruges, but if you have more time, don't hesitate to spend a couple of days in Bruges and Ghent so you can spend the night in one of the two cities.
How to get to Ghent from Bruges
To get to Ghent from Bruges you have several options: you can travel by private bus if you have decided to join an organized tour, by train or by bus. If you prefer, you can also arrive by car, if you have rented one upon your arrival in Brussels.
In any case, the trip from one city to another does not take more than an hour. The roads are in perfect condition and very well signposted and the frequency of trains and buses is quite high, there are several every hour. Keep in mind that the service is interrupted at midnight until 6 am the next day.
If you want to know more details, you can read my article on how to get from Brussels to Bruges, where I also tell you how to make the stop to visit Ghent.
What to see in Ghent if you have little time
Ghent Cathedral: I recommend a brief visit to its interior. The inside is as impressive as the outside, if not more so, it is spectacular!
The Castle of the Counts of Flanders hides much of the history (and legends of the city). If you do not have time to see the inside, at least come to surround it on the outside. A real trip back in time.
Very close to the castle is the Patershol district, which was once a very popular working class area and today is home to the trendiest restaurants and terraces of the city.
Vrijdagmarkt Square, one of the most central and popular in the city. If you are lucky, you may catch one of the markets that are usually mounted there periodically.
Tour its canals, on foot and by boat. Taking a cruise along the canals of Ghent is a great idea. Boats usually leave from various points of the city and will allow you to discover its streets and facades from a different point of view (while you rest your legs and regain strength).
In general, enjoy its architecture. Ghent is a stately and majestic city, and the atmosphere of its streets is unique. Take a walk through the area that most catches your attention and just discover its corners, facades and centuries-old buildings that you will find on your way.
If you go on Sunday, buy flowers at the Kouter Flower Market, a real blast.
Where to eat in Ghent