13 Things to Do in Brussels at Christmas
Unless you have a grinch personality, you won't be able to avoid the temptation to experience all that Brussels has to offer during the most magical time of the year. Here's what not to miss at Christmastime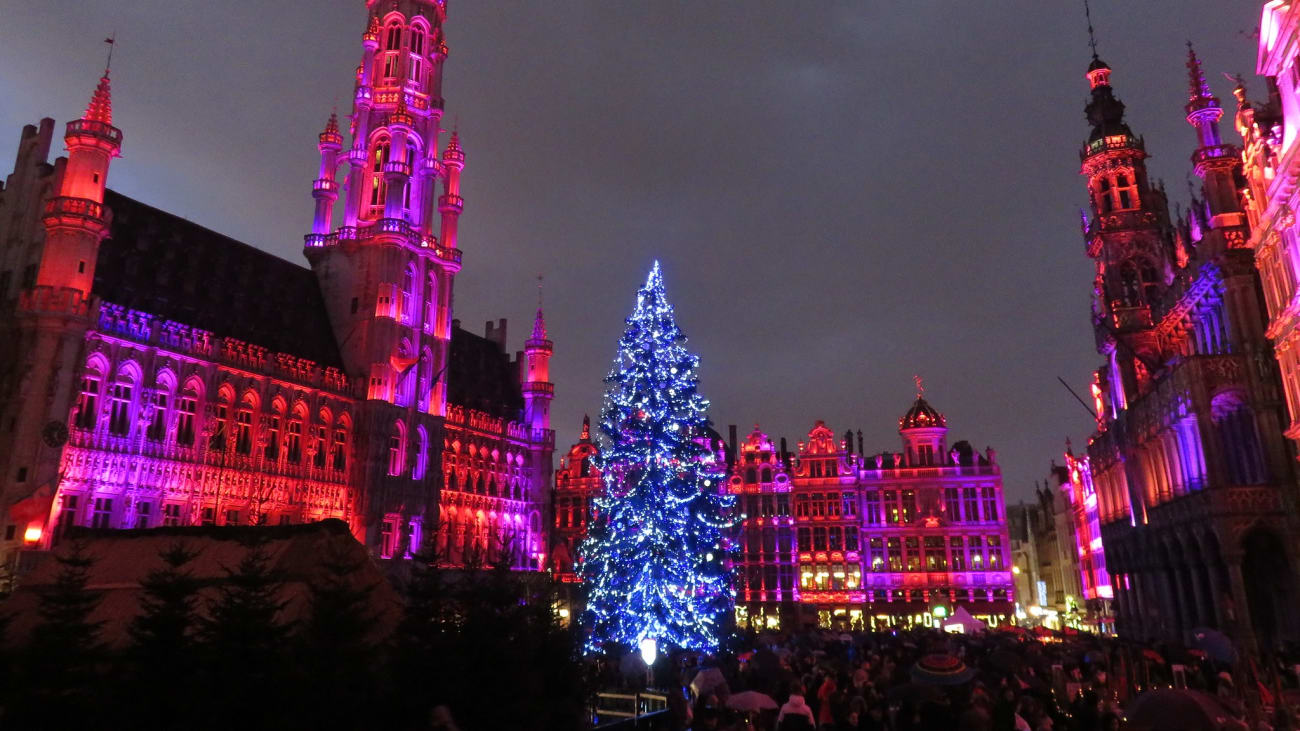 Of the many things to see and do in Brussels, Christmas becomes a busy season, with activities for the whole family to enjoy, plus plenty of options if you're visiting the city with children.
From the traditional Christmas markets to the Christmas light show, Brussels is loaded with Christmas action. Ready to take note? Let's get started!
1. Escape on an excursion to Bruges
Another magical place at Christmas time and only an hour or less drive from Brussels. Taking a trip to Bruges from Brussels during this season can be a great idea, as it is a city that also illuminates its streets, bridges and canals.
The best thing is that if you visit Bruges with children and during this season, you will have many options. A boat ride or find good restaurants to eat will be the perfect complement to your family Christmas.
Of the many things to see in Bruges, I recommend not to miss a tour of its Market Square or Grote Markt, with its active market since 958 and declared a World Heritage Site by UNESCO.
2. Be dazzled by the Atomium
An ideal plan for Christmas is the Atomium, one of the icons of Brussels. With no less than 103 meters high, this futuristic building imitates a giant stainless steel atom.
Inside it hides an exhibition space where you can see a selection of more than 400 photographs of Belgian history. In addition, with your ticket you can enjoy access to the Design Museum and its exhibition Plasticarium, which includes a series of objects from the 70s and pieces made from this material.
And best of all, from the Atomium you will have a panoramic view of Brussels, where you will get the best pictures of your trip. And if your visit coincides with lunch, you can eat in the restaurant while you enjoy this wonderful view.
3. Tour Brussels by sightseeing bus
Booking a tour of Brussels by tourist bus is another ideal proposal if you visit Brussels with children at Christmas, as you can get a view of the city in a comfortable and flexible way, escaping from the cold, and move quickly between the main attractions of the European capital. In addition, it includes an audio guide for both adults and children, so that you know in detail the history and curiosities of the city.
You can purchase a 24 or 48-hour ticket and you will have unlimited access to the two existing routes (red and blue), being able to get on and off whenever you please depending on your travel plans.
In addition, these buses offer Wi-Fi on board and have their own app so you can navigate interactively.
Blue route
Michel-et-Gudule Cathedral.
Belgian Comic Strip Center.
Botanical Garden.
Place Charles Rogier.
Basilica of Koekelberg.
Church of Our Lady of Laeken.
Royal Castle of Laeken.
Royal Greenhouses.
Atomium.
Magritte Museum.
Place Sainte-Catherine.
Manneken-Pis.
Grote Markt.
Red route
Mont des Arts
Palais des Beaux-Arts of Brussels
Sablons district
European Palace
Place Royale
Coudenberg Palace
Museum of Musical Instruments
Horta Museum
Royaux des Beaux-Arts de Belgique - Oldmasters Museum
Magritte
Fin-de-Siècle
Constantin Meunier
Royal Museums of Art and History
Parc du Cinquantenaire
Etangs d'Ixelles
4. Become an expert chocolatier
In my opinion, the most fun activity you can have in Brussels at Christmas is a chocolate workshop. At this time of the year when sweets take center stage, and together with a team of professional master chocolatiers, you will discover all the secrets of Belgian chocolate making at the Choco Story Museum and attend a demonstration.
In this workshop you will also learn how to make all the classic sweets such as bonbons, pralines and you will make a personalized chocolate bar, following the instructions of the experts, who will guide you through the process.
In addition, the ticket includes an audio-guided visit to the Choco Story Museum and, best of all, you will enjoy an exquisite Belgian chocolate tasting.
5. Stroll through the Saint-Hubert Galleries
The shopping plan can not be missed at Christmas. This route is ideal, not only to buy a Christmas gift, but also to visit a place that will captivate you with its architecture and history. Inaugurated in the mid-nineteenth century by Leopold I, here you can find shops and terraces to have a hot drink and enjoy the Christmas atmosphere.
This place is usually included in the guided tours offered in the city. Definitely not to be missed on your list of things to see in Brussels. The galleries are divided into three sections: Gallery of the King, Gallery of the Queen and Gallery of the Princes, and its extension is approximately 200 meters.
In addition to cafes and luxury shops, in these galleries you will also find one of the newest museums in the city, as is the Museum of Letters and Manuscripts, which has more than eighty thousand documents divided into categories such as history, literature, art and science. So if your Christmas plan in Brussels also includes visiting a museum, I recommend you to include this one. Others you can also opt for are the Autoworld Museum of Brussels, the Cinquantenaire Museum of Brussels and the Museum of Musical Instruments of Brussels.
6. Enjoy the sound and light show in Grand Place
If there's one thing you can't miss at Christmas, it's lights, and in Brussels you'll have them all. Besides the fact that the stage is nothing more and nothing less than the Grand Place, the central square of the city, considered by many as one of the most beautiful in the world.
It is a 360 ° light and sound show that illuminates the entire square and each year presents a different theme, as part of the great Winter Wonders festival or Winter Wonders or Pleasures, which takes place in the city during the winter. So if you visit Brussels this winter season, you won't need to wait until December, as this show usually starts in November and runs until January.
This show usually repeats throughout the night, every 30 minutes, so you can always catch it on your walk through Brussels. Don't forget your camera to take the best Christmas postcard in the spirit of the season. You can also take advantage of one of the Brussels tours to get to know this marvelous square, although you will surely pass by it more times during your trip.
7. Participate in the "Winter Wonders" Festival
"Plaisirs d'Hiver", in French, is how the city's Christmas festivities have been christened. An event with an extensive program of cultural activities including fairs, open-air concerts, ice-skating rink and much more.
The events and attractions of this Christmas festival in Brussels take place every day from 12 pm to 10 pm. Except Christmas Eve and New Year's Eve when the activities only run until 6 pm.
Many of the festival activities are free of charge, as they are organized by the City of Brussels. I recommend you to ask at your place of accommodation for a map and the official program of the festival so you don't miss anything and know in which attractions you have to pay entrance and which ones are free of charge.
8. Take a picture next to the giant tree in the central square
On the Grand Place, in addition to the beautiful lights, you will also find a giant Christmas tree, approximately 18 meters high. Every year, the municipality of Dilbeek donates one of its pine trees to the city of Brussels to decorate the square during the season.
Do not miss the opportunity to take a picture in this place and take the memory that you were in one of the most beautiful squares in the world. In addition, and being responsible with sustainability and responsible consumption, the Belgian city plants 10 new pine trees every year.
9. Skate on an ice rink
If you like Christmas movies, such as 'Home Alone', and some others we've enjoyed this season, you won't want to miss the opportunity to skate on an ice rink and get into the Brussels Christmas spirit, with Christmas carols playing in the background to get you in the mood. Plus, you'll do it with Christmas carols playing in the background to get you in the mood.
This rink is located in Place de la Monnaie (Place de la Monnaie ), one of the most important squares in the center of Brussels and also home to the Royal Theater of the Monnaie and the headquarters of the Belgian National Opera.
10. Attend a carol concert
Nothing inspires the Christmas spirit more than a Christmas carol choir. In Brussels during these dates you have the opportunity to attend concerts with choral groups that will cheer you up with the most famous carols, such as the traditional 'Silent Night'.
The Brussels Carol Concert is an annual event held at the Royal Conservatory of Brussels, where you can enjoy a concert by a children's choir and guest artists. Admission to this event costs approximately 20€ for adults and 15€ for children under 14 years old. The money raised each year is destined to different social works.
You can also attend the Anglican church of the Holy Trinity of Brussels, located in the center of the city, which holds an annual festival of Christmas carols, with the participation of a symphony orchestra.
11. Visit a Christmas market
Beyond the traditional shops, Christmas markets in Europe have their own personality, and walking through them is an experience full of magic. In Brussels you have several options to take a stroll and buy a gift for your loved ones or have a warm drink while enjoying the lights of the city.
Markets of Marché aux Poissons and Saint Catherine Square
Perhaps the largest and my favorite for the great variety, and where you will find a large number of Christmas booths, plus a merry-go-round to bring out your inner child, or if you are traveling with small children, enjoy some family time. In addition to handicrafts, toys, jewelry and other goodies, here you can also find booths with plenty of dining options.
Try the best of Belgian gastronomy and other international alternatives. I recommend you try the tartiflette, a dish based on potato, onion, bacon, cream and cheese, of French origin and that will be perfect to accompany your Christmas tour.
Around the city you will find other Christmas markets, such as the one in the Grand Place, and the one located at the Brussels Stock Exchange. You will also find some local stalls, next to the ice rink. In general, during Christmas, Brussels invites you to stroll through its streets, where you will not be able to avoid the temptation to buy something for you and your loved ones.
12. Enjoy a Christmas dinner in a hotel in the city
A perfect plan, whether you spend Christmas Eve in the city or not. Throughout the month of December, many hotels offer to the general public dinners with Christmas menus in their restaurants, as well as musical shows and entertainment for the whole family.
I recommend visiting The Dome, located in Plaza de la Moneda, where some multimedia shows and cartoons are projected for young children. Some hotels like The Embassy Room Brussels are known for organizing Christmas themed parties, where you will have guaranteed fun.
My recommendation is to check the agendas of hotels, bars and restaurants, because they will surely have something special to celebrate this Christmas season.
13. Participate in the "Christmas Jumper Day"
A curious and supportive tradition that has crossed borders and whose origin is in English-speaking countries. This trend has also conquered Belgium and other countries. Promoted by the Save the Children organization, this playful activity invites families to wear a wool sweater with Christmas details, the more striking the better, on the last Friday before Christmas Eve.
The idea is to invite people to reflect on human values and raise awareness in society in general, especially children and young people about the situation of vulnerability in which other children in the world find themselves. Some schools and cultural centers open their doors, with family programming and the possibility to make donations and gifts for communities in need.
Other alternative plans
As you can see, there are many things to see and do in Brussels In addition to the purely Christmas activities that I have pointed out, during your stay in Brussels you can also do the same activities as the rest of the year. However, I recommend that if you are going to visit a museum check on their website if they are closed on the holidays.
Guided tour of the city on foot or by bus
Christmas in Brussels is quite an event, so you will have plenty to see and do. If you're traveling as a family, or even alone, you won't want to miss a thing. I recommend booking a guided tour of the city, which will give you a more organized agenda for touring Christmas Brussels and leaving no corner unseen.
You can do it on foot or take a tourist bus through the city, which will guide you through the must-see places on this Christmas route.
Visit the city's museums
Europe's diplomatic capital has a lot to offer in terms of cultural and artistic agenda. So I recommend that you include in your itinerary a visit to one of the museums in Brussels, which will surely have special programming for the whole family this season.
Check the agenda of each museum and schedules, which may change for the Christmas season. It will be an ideal plan to explore some of the most important museums in the city such as the Museum of Medicine or the Museum of Musical Instruments, and enjoy their spaces more quietly, compared to other times of the year such as summer, where the tourist influx increases.