The 7 Best Chocolate Tastings You Have to Do in Brussels
If you are in Brussels it is essential to take a tour of the most famous chocolate shops in the city and let yourself be seduced by the best chocolate and chocolates of the city.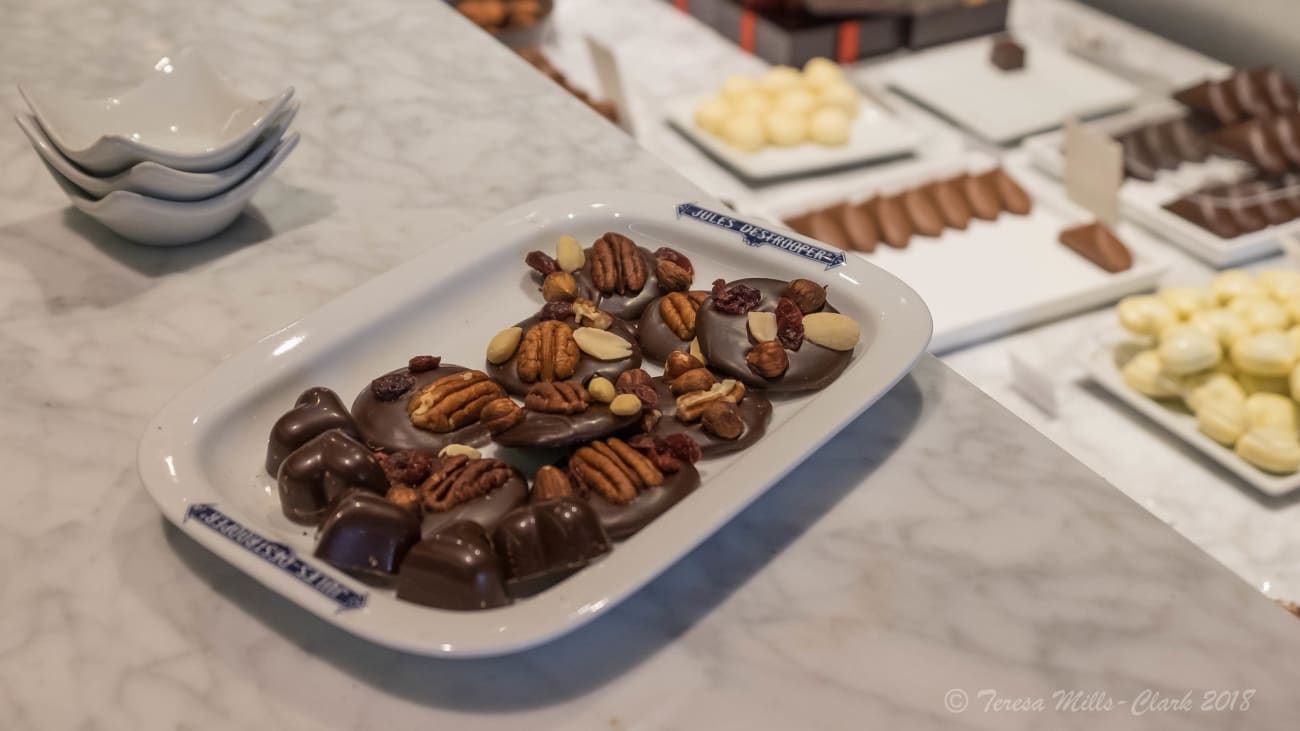 The number of chocolate shops in Brussels is astonishing. Most visitors tend to head to the most famous chocolate stores such as Leonidas, Mary's, Godiva and Planete to opt for the best chocolate tastings. However, the historic is not always the best, so it doesn't hurt to visit other, less popular chocolate shops either.
The chocolate tastings have a duration of between 30 and 45 minutes and a price that does not go below 30 € and can even go up to 75 €. Generally, if you go with your family or in a group the cost per person is lower. And if you dare to do one of them, you will not only learn how the chocolates are made, what ingredients are included and what varieties there are, but you can even have the chance to participate in the elaboration. Are you up for it?
1. Tasting Tasting + Brussels Chocolate Workshop
One of the most famous chocolate-related tastings in Brussels is the so-called "Brussels Chocolate Workshop" where you will learn how to make your own gourmet cocoa delicacies. Starting from scratch and with the help of a professional instructor, you will make the two most typical types of Belgian chocolate, pralines and mendiants, and learn some easy and authentic methods that you can imitate to create more than 30 dark chocolate treats.
This tour lasts 2.5 hours and you will also have the opportunity to have a cup of hot chocolate and a tasting of different kinds of chocolates.
The tour costs 38€ and includes all the ingredients and equipment, as well as the help, teachings and techniques of the professionals, the tasting and a box of 30 chocolates.
Price: 38 €.
Duration: 2.5 hours
Highlights of the tour: Learning
What the tour offers: Includes ingredients and equipment and a box of 30 chocolates.
2. Brussels waffles and chocolate crepes tasting (small group)
Chocolate waffles are another great protagonist of Belgian gastronomy. This tasting is intended to visit the best waffle shops in Brussels during a 2 hours tour. Of course, the ones you will taste the most are the Belgian waffles or Brussels waffles, which are famous all over the world and usually have a thick, crispy dough and larger holes. They also have the characteristic of having a very rectangular shape and are served hot to bring out the flavor of their chocolate chips or syrup.
These waffles are also served by some street vendors; what's more, one of the graces of this tour is to be able to compare the street flavors with the flavors of the great Brussels waffle shops.
This tour costs 55€ and includes tastings, learning in the waffle workshops, a tour guided by an expert, 10% discount on products purchased on your own in one of the visited waffle shops and two hours of gastronomic experience.
Price: 55 €.
Duration: 2 hours
Tour highlights: Learning about Belgian waffles and a wide variety of different kinds of chocolate waffles to try.
What the tour offers: Includes tastings, an expert-guided tour and 10% discount on products purchased.
3. Enjoy a tasting with a chocolate expert
Taking a tour in the company of an acclaimed chef with an in-depth knowledge of the culinary art of making Belgian chocolates is more than an experience, it is a privilege. In this 2 and a half hour tour, which costs 65€, you will visit some of the most famous workshops in Brussels where you will see how these delicious products are made and you will be able to taste different products. In these workshops, almost the entire process is done by hand, as creativity is key to stand out.
After this inspirational tour, it's time to get down to work. Generally, in small groups, you will elaborate simple Belgian chocolate derivatives. You will then take your handmade creations home as a gift for your family and/or friends. Everything is included in the tour, both the chocolates and the material used to make them.
Price:65 €.
Duration:2,5 hours
The best of the tour: the fact of visiting different workshops of creation of Belgian chocolates and entertaining activities with the company of an expert.
What the tour offers: Almost the entire process is done manually and everything is included in the tour.
4. Walking tour and tasting in the chocolate shops of Brussels
With this tour you will learn about the culinary culture of Brussels and its love affair with chocolate on a walking tour led by a guide. You will pass by the Royal Palace, located near the best chocolate shops in the city, and you will be able to go into some chocolate boutiques for a **tasting** of different chocolates and chocolates as the tour progresses. The idea of this tour is to get to know the best chocolate shops in Brussels such as Godiva, Pierre Marcolini, Chocolaterie Elisabeth, Wittamer, among others.
The tour will focus mainly on the areas near the Grand Palace, the Royal Palace and the Houses of New Art, will last 2 hours and will cost 50€. The tour includes small groups, expert Belgian guides, and a pleasant walk through the most important chocolate shops in Brussels. An ideal tour to get to know Brussels and taste its chocolates.
Price:50 €.
Duration:2 hours
Highlightsof the tour: Wide variety of chocolates to taste in a small group and the experience of visiting the best chocolate shops in Brussels.
What the tour offers: Includes small groups for those looking for more direct attention.
5. Small group chocolate tasting tasting tour of Brussels
With this small group tour you will have the opportunity to visit five of the best chocolate shops in the city of Brussels and have a tasting of the best Belgian pralines, truffles and chocolates. In addition, you will also learn some lessons about why Belgian chocolates are so tasty and appealing worldwide. Also, with this tour you will receive an extra 10% discount on any purchase you make in any of these 5 chocolate shops.
The tour costs 39€, lasts two hours and during the tasting you will have the chance to taste at least 8 samples of pralines/truffles from different chocolatiers and brands.
Price: 39 €.
Duration: 2 hours
The highlight of the tour: Tasting at least 8 samples of pralines from different brands.
What the tour offers: Ideal if you are looking for a small group. In addition, you will have the chance to taste at least 8 praline/truffle samples from different chocolatiers and brands and receive a 10% discount to use at five major chocolate shops.
6. Private tasting tour with local guide through chocolate shops and workshops
On this private tour you will discover the chocolate buying points of the city and some historical places of interest related to the art of chocolate. The walking tour lasts 3 hours and costs 70€, includes the company of the guide, treats and the opportunity to ask any questions you may have to the chocolate artists.
On this tour you will meet the manufacturers in person and get information about the craft of chocolate making. In addition, you will be lucky enough to do a tasting of at least eight treats based on your judgment and the guide's recommendations. If you are going to Brussels at Christmas, this tour should be one of your top things to do; you will enjoy the experience even more.
After the truffle and praline tasting, you will attend a chocolate making workshop where you will learn the secrets behind the sweets. The delicacies that will be made in the workshop will be distributed among the members of the tour.
Price: 70 €.
Duration: 3 hours
The best of the tour: Private tour just for you and your group.
What the tour offers: A private tour with the company of a guide to ask all your questions, a tasting of at least eight sweets and recommendations from the guide.
7. Self-guided tour and tasting at Marcolini Chocolaterie
If there is one chocolate factory that is complete enough for a self-guided tour, it would be the Marcolini Chocolate Factory. This chocolate factory includes an option similar to a "menu" where you will be lucky enough to taste a wide variety of creations, hot chocolate, chocolate coffee and blends between drinks and truffles. For this option you will not need a guide, you simply enter the chocolate shop and choose the "menu" you are most interested in tasting. I recommend you to do this activity with children, as the chocolate shop is very spacious and serves both inside and outside.
Pierre Marcolini is perhaps the most famous Belgian chocolatier who is still around to innovate and shape his brand. Throughout Belgium, you will find a dozen locations of Marcolini outlets. At least four locations of this chocolatier are in Brussels. The main one is just 5 minutes from the Grand Place and is the one I recommend the most.
Inside you are going to find a tea room to have a Belgian tea and combine it with a selection of hot chocolates. Their hot chocolate is seriously spectacular, thick to the point that it sticks to your lips. The macarons are also quite good; however, I recommend you try the salted caramel. For more information on Marcolini's "menu" varieties visit the Pierre Marcolini website. And if you want a change of pace, you can book a menu at the Hard Rock Café in Brussels.
Marcolini chocolate shops opening hours: 12:30pm-7pm weekdays and 11am-7pm on weekends.
Price: 20-50 €.
Duration: not defined
Highlights of the tour: A very complete tasting experience.
What the tour offers: A tasting of a wide variety of products.
Extra information about the tours and tasting in the chocolate shops
Before I start, I want to point out that chocolate tasting is definitely one of the things you have to do on your visit to Brussels, the chocolate capital of the world, and I'll mention some useful facts about the Brussels chocolate scene. The chocolates here are called pralines, and almost all of them are sold by weight. But if you buy only a few, then the price is per chocolate; usually the limit is between 3 and 4 units.
There is a very famous alley near the Grand Place that is full of chocolate shops, ideal for not going too far from the center. In that area most of the owners and workers speak perfect English. They usually have the habit of giving away a free chocolate after you order something, sometimes even when you come in. You will see how friendly they are in explaining the variety of chocolates they offer. Remember that quality is not synonymous with a very high price, so look carefully and do not get carried away by appearances.
An ideal plan if you are going to see Brussels in 4 days. However, if you are looking for less hustle and bustle and more comfort when it comes to making chocolate tours and visiting chocolate shops, you should opt for an excursion to Bruges, or better yet, to the city of Ghent. Less choice, but more convenience.