10 Things to Do in Brussels in the summer
Brussels is a wonderful city that has a summer of pleasant temperatures. The heat never becomes oppressive, making it the perfect climate for touring the city and enjoying outdoor activities.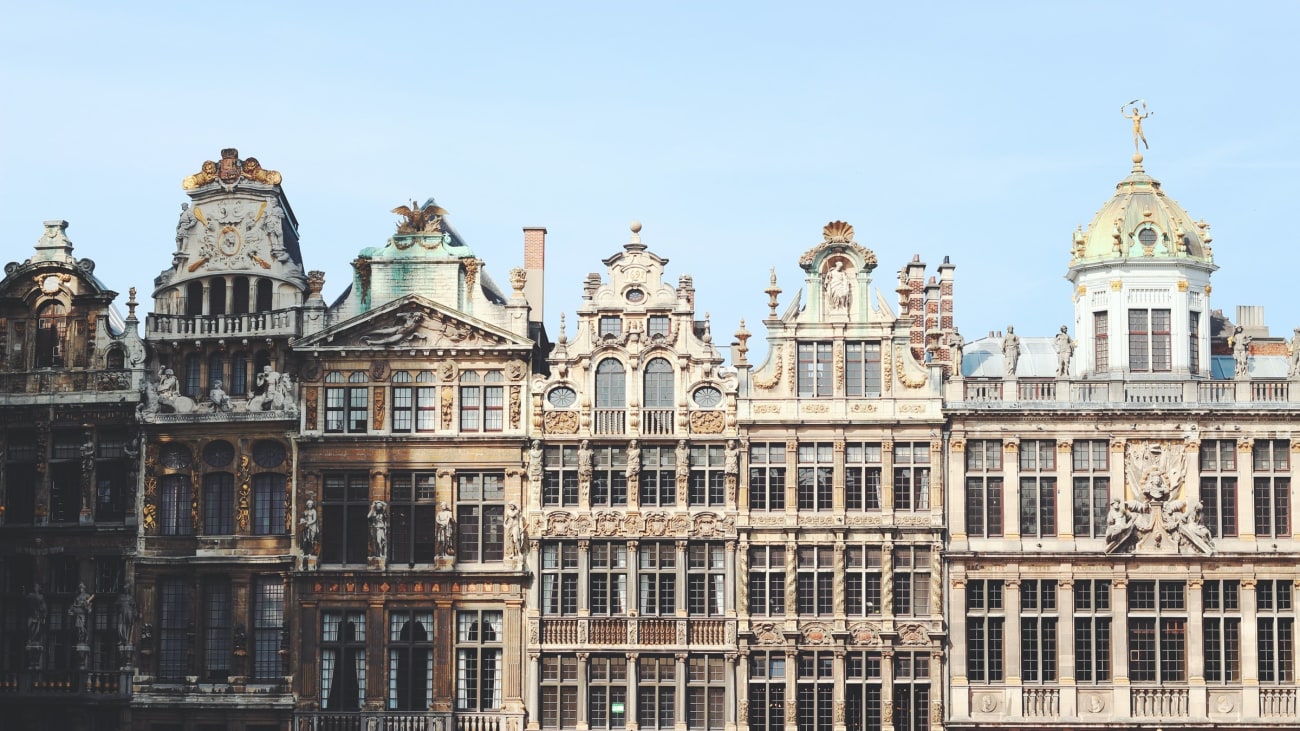 If you are planning to visit Brussels in the summer season, you will enjoy a very different face than in winter. If the city is already very lively and full of activities, in this season of the year you can also enjoy its outdoor spaces and mild days.
In addition to preparing your tour of the most important attractions to see in Brussels, I recommend you take a look at the 10 ideas of things to do in the summer season in the Belgian capital.
1. Visit the most beautiful Rooftop in Brussels
Summer is short but intense in Brussels, and the perfect opportunity to enjoy the outdoor Rooftop that the city has. In another time of the year you would freeze, but you are lucky enough to be able to enjoy a cocktail while contemplating these amazing views from the highest terraces of Brussels, don't miss this opportunity! Here is a list of the most recommended rooftops.
Perché Rooftop Bar
This bar is located on the top floor of the Jam Hotel. Perché Rooftop Bar is known for its modern decor and youthful atmosphere.
In an environment with good music and cocktail menu, and a very varied snack, you can enjoy the views of the European capital around a very glamorous pool.
Hours: open daily from 15hs to 22hs.
Location: Chaussée de Charleroi 132, 1060 Brussels
Jardin Rooftop
Here you will find a perfect place to end a day of sightseeing, very close to the historical center. Jardin Rooftop is a huge rooftop with incredible views, where you can find a wide menu of beers, cocktails and wines.
But if drinking is not your thing, they also offer cheese boards, cold meats, burgers or even croquettes to complete the menu. Its customers are varied throughout the day, as you can find both families having lunch and couples having an aperitif.
Hours: open every day from 12hs to 22hs
Location: Rue du Marché aux Poulets 7, 1000 Bruxelles
Boho Rooftop Bar
If you feel like enjoying cocktails, music and slowfood, follow your instinct and visit the terrace of the NH Collection Brussels. Here you will find the Boho Rooftop Bar with a fantastic panoramic view of the Brussels skyline.
Opening hours: open only in June, from 7pm to midnight.
Location: Boulevard Adolphe Max 7, 1000 Brussels
Secret Rooftop by Warwick
If your day in Brussels ends near the Grand Palace, you will find yourself just a few meters from the Warwick Hotel. From here you can watch the sunset while sipping the best cocktails in its comfortable area full of armchairs and tables. Secret Rooftop is waiting for you and wants to be part of your itinerary through the city.
Hours: open Tuesday to Saturday from 4pm to 10pm
Location: Rue Duquesnoy 5, 1000 Brussels
Albert Summer Rooftop
Albert Summer Rooftop is located on the rooftop of the KBR Museum, with direct views of the Mont des Arts, a real privilege in the city of Brussels.
Hours: from 12hs to 19hs
Location: Place du Musée 1, 1000 Brussels
2. Stroll through the best parks of Brussels
Brussels is one of the European cities with the most green spaces per inhabitant and in summer they become the perfect place to relax from a busy day of sightseeing, as well as to see a bit of the local life of the city.
In this list I leave you a selection of the most valuable parks in Brussels, either for the beauty of its green spaces, for its monuments or for its recreational areas. Shall we take a look at them?
Garden of the Cambre Abbey
If you want to take a romantic stroll or maybe you simply want to get away from the crowds and find some peace, visiting these beautiful gardens can be a very good idea. With an incredible Cistercian abbey inside, they are the perfect place to relax, especially at sunset.
Location: Rue du Monastère 1 1050 Ixelles
Botanical Garden
The Botanical Garden of Brussels mixes design styles from different origins, creating an exemplary urban green space, with a great variety of trees and plants.
Location: Rue Royale 2361210 Saint-Josse-Ten-Noode
Florist's Garden
In this garden, besides enjoying a very particular green space, you will also have panoramic views of the city of Brussels. A stimulus for all the senses.
Location: Rue Jean SobieskiAvenue- des Robiniers 1020 Laeken
Cinquantenaire Park
The Cinquantenaire Park is very famous in the city because within it you can find different museums of great recognition, such as the Autoworld, the Museum of Military History, the Museum of Art and History and the Pavilion of Human Passions.
It was inaugurated in 1880, on the occasion of the commemoration of the anniversary of the independence of Belgium and, since then, it has become a protagonist of the city. The monuments, its large fountain and its playgrounds make it a very valuable space.
Location: Park of the Cinquantenaire 1000 Brussels
Leopold Park
Within the Leopold Park, you can also find the Solvay Library, the Museum of Natural Sciences and the House of European History. It has a very calm atmosphere, and has a cafe, Grand Central, with a very convenient terrace to spend the afternoon.
Location: Rue Belliard 1040 Etterbeek
La Sauvagère Park
This park is not only renowned for the beauty of its green spaces, but also because you can find a small lake with swans, many swings, an enclosure with birds and other farm animals. It is very picturesque and children simply love to visit it.
Location: Avenue de la Chênaie 83 1180 Uccle
3. Go shopping in the open-air markets
On summer days we don't feel like being cooped up and the markets of Brussels become a very attractive option to spend the morning or afternoon, to see products of all categories and to take something as a souvenir or to eat on the go.
Not only will you find colorful fruits, fresh baked goods and products that come directly from the farms, but you will also enjoy their filmy atmosphere, as the bustle and dynamics between traders and shoppers are almost a movie to watch at all times.
If you are thinking of following my advice, here is a list of what I consider to be the best open-air markets in Brussels.
Stockel
This market specializes in fruits, vegetables, meat or fish. But what makes it special and very lively is its variety of flowers, which will make you feel in the middle of spring.
Days: Tuesday, Thursday and Saturday.
Location: Pl. Dumon, 1150 Woluwe-Saint-Pierre, Belgium.
Gare du Midi
This market is considered one of the largest in Europe. And no wonder, since you can find absolutely everything in its stalls. And when I say everything, I mean even spices from Africa, delicatessen products and clothing, among others.
Days: Sundays
Location: Avenue Fonsny, 1000 Brussel, Belgium.
Chatelaine
This market is smaller and not as popular as the rest of the list, but its homemade products and small producers are really a delight that you must try. I recommend the cheeses or their baked cookies, very tasty, and what everyone who visits it is looking for.
Days: Wednesday afternoon
Location: Avenue Fonsny, 1000 Brussel, Belgium.
Place du Jeu de Balle
If you want to find something more exotic in the markets, then I leave you with this recommendation. The Belgian flea market is very famous and could be the place where you find that treasure that is waiting just for you.
It is known to all as the old market and its more than 300 stalls offer a wide range of objects, furniture, textiles and accessories. It has also become a tourist stop for those who love vintage and second-hand products.
Days: Monday to Sunday
Location: Place du Jeu de Balle, 1000 Brussels, Belgium.
4. Book a cruise on the canals of Brussels
There is a public transport service that allows you to navigate the canals of the Seine River and see the city from another angle and perspective. The Waterbus will allow you to choose between several routes depending on the area of the city you want to explore and the time you have available, of course.
I recommend you to take your tour in the morning or at sunset. The tours last 2 hours and you will be able to enjoy the Brussels summer at its best.
5. Take a "Comic Strip Route"
Summer days are ideal for strolling around the city. Even more so if the city is Brussels, full of treasures and corners to discover. The comic murals are part of the urban landscape of the city and there are about 60 frescoes hidden throughout the center. A great plan in your summer itinerary is to find each of them and take a picture.
You can find the maps with the locations of the frescoes on the website of the city of Brussels, download them to your phone and start the adventure. If you prefer you can also buy the map at the tourist offices for a price of about 2.5€. Are you ready to play?
6. Escape from the heat in the city's swimming pool
Flow is the name of the pool that is temporarily set up outdoors in the city of Brussels. In the summer season everyone wants to cope with the high temperatures and being able to visit a swimming pool is a very attractive option.
Don't hesitate to get your swimsuit ready and enjoy this beautiful 17-meter long pool, right next to the canal in Anderlecht, near the Pierre Marchant bridge.
7. Discover Brussels by bike
If you are looking for a different alternative when it comes to getting to know Brussels, cycling around Brussels can be fun, and a good opportunity to include exercise in your vacation. Brussels is a capital that is very well prepared for cyclists, so it is very convenient to get around in this way.
You can opt for a bike rental or simply use the city's bicycle system. Check out the different suggested tours throughout Brussels and choose the area of the city that interests you the most.
8. Go to Mont Des Arts to watch the sunset
The star hill of the city of Brussels, Mont des Arts, will allow you to have a panoramic view of the entire city center. It is a very popular spot at sunset, as everyone wants to contemplate this unique postcard.
You will also find the renowned bar Coucou Brussels, where you can enjoy its hammocks and a perfect menu for this time of the day with different signature cocktails. Sounds good, doesn't it?
9. Climb the Atomium
While you can visit the Atomium all year round, in the summer months you can enjoy the views from the top sphere. Climbing the Atomium is an activity you can't miss during your visit to the city of Brussels.
Atomium is the most famous monument of the city and the symbol of Belgium. It was inaugurated 60 years ago, and instead of going out of fashion, more and more people want to visit it.
Do not hesitate to buy your Atomium tickets in advance as many tourists visit it every day.
10. Enjoy the concerts in the Citizen's Garden
The European Parliament organizes these summer concerts every year. In this event, all kinds of artists are presented to encourage the use of outdoor public spaces and, in addition, to disseminate music. You can listen to singers from the likes of Mischa Maisky to emerging talents such as Elen Shahinans. All are welcome with the same goal: to enjoy the art.
From Monday to Friday at 1pm there will be classical, opera and jazz concerts. Remember that you can't reserve your place, but the number of attendees is limited, so arrive early.
Summer temperatures in Brussels
Traveling to Brussels in summer is a very good option, as temperatures are mild and do not usually exceed 20 degrees Celsius. In fact, daily maximum temperatures are around 21 °C and rarely drop below 14 °C or exceed 29 °C. Truly a pleasure for anyone wishing to vacation in the city.
But remember to always have an umbrella ready. In Brussels, virtually every month has its fair share of rain, and in summer it's even a bit heavier.