Visit Alcatraz in San Francisco
Get ready for a hair-raising visit to the world's most famous prison - here's how to get tickets!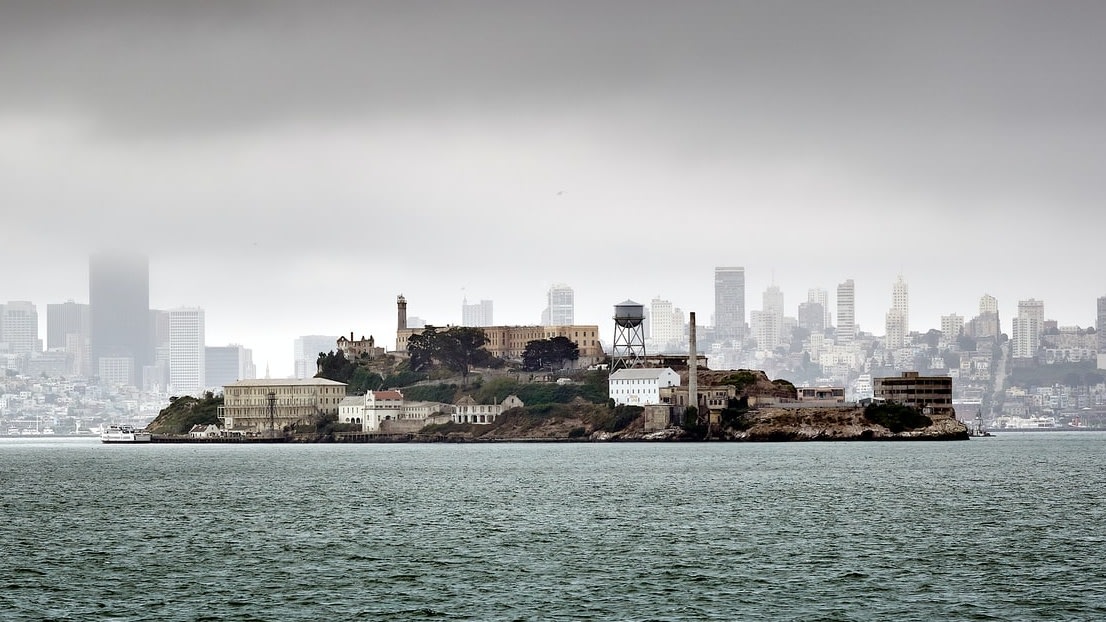 You don't always have the opportunity to visit a prison as iconic as Alcatraz: within its walls, Al Capone served his sentence while playing the banjo for other prisoners, among whom no one managed to escape from this prison despite the various escape attempts scattered throughout its history.
1. How to buy Alcatraz tickets
Visiting Alcatraz is something you can't miss on your trip to San Francisco. I tell you how to get the best tickets to Alcatraz and some tips and tricks to visit it.
2. Tour of San Francisco with visit to Alcatraz
This complete tour of San Francisco and its bay includes tickets to Alcatraz with the official audio guide, making it a highly recommended option as it is a two for one experience. You will start the day visiting the main points of San Francisco, you will take a one-hour tour of the beautiful redwood forest of Muir Woods, and in the afternoon you will take the ferry to the famous prison.
Tour route
Fisherman's Wharf: the old wharf famous for its sea lions
Muir Woods National Monument: a redwood forest for which San Francisco is famous.
Chinatown: the largest and most colorful Chinatown in the United States
Pacific Heights: San Francisco's most upscale residential neighborhood with panoramic views of California.
North Beach: an area with a lot of charm and Italian heritage.
Mission District: San Francisco's bustling Latino district
The Castro: LGBTQ+ area of the city with plenty of bars and restaurants.
Twin Peaks: here you will see the most beautiful views of the city and its skyline.
Haight-Ashbury: the neighborhood where the hippie culture began in the '60's.
Fort Point: a military fort located under the Golden Gate Bridge.
Golden Gate Bridge: an architectural marvel that is synonymous with San Francisco.
Alcatraz: the prison on an island in San Francisco bay
As you can see, this is a quite extensive and complete tour, with stops of between 10 and 15 minutes at each site and a one-hour walk in Muir Woods. The only downside of this tour is that the entrance fee to Muir Woods is not included (it costs $15 per person, about 13 euros).
Duration: 10 hours
Price: $ 185
Recommended: If you want to combine a complete tour of San Francisco and a visit to Alcatraz.
3. Muir Woods and Sausalito tour with a small-group visit to Alcatraz
This tour of Muir Woods and Sausalito with a visit to Alcatraz is another option to visit Alcatraz if you have already toured San Francisco or prefer to do it on your own, in which you will take a tour of Muir Woods National Monument and its surroundings, where you will be amazed by the majestic sequoias of this natural park.
You will then visit Sausalito, a seaside town across the bay from San Francisco, famous for its fishing pier, its floating houses on the water, and its charming atmosphere. On your return to San Francisco, you will head to Pier 33 where you will board the ferry to Alcatraz. With entry included in the tour and the official audio guide, you will be able to explore the island at your leisure and discover the impressive history of this famous prison.
Tour route
Golden Gate Bridge
Muir Woods National Monument
Sausalito
Alcatraz Island
Duration: 7 hours
Price: $ 158
Recommended: If you prefer to see San Francisco on your own and book additional tours for a guided experience
Alex's Traveller Tip

Visiting Alcatraz in the afternoon is most popular with tourists, but it's also the time when you'll get the best views of San Francisco and the place takes on a special kind of magic.
4. What is the visit to Alcatraz like?
The famous Alcatraz prison ceased to function as a penitentiary in 1963, was abandoned for a few years and in 1972 the island was declared a United States National Park. Upon arrival at "The Rock", you will receive a brief informative talk about the history of the prison and its importance today, and then you will be allowed to start the tour up the small hill to the entrance of the prison.
Inside the prison, you will be given the official audio guide in which ex-convicts and prison guards narrate part of the tour through the cells, which gives the tour an authenticity and interest far beyond a conventional audio guide.
The self-guided tour lasts about 45 minutes and takes you throughout the prison, where you'll see the cells, guardhouses, and common areas, while hearing the amazing story of Alcatraz's most dangerous inmates and how they lived in this prison.
Highlights
The courtyard
Seabird colonies
Ruins of guards' houses and officers' clubhouse
The oldest lighthouse on the West Coast
Duration
The visit to Alcatraz usually lasts between 2 and 3 hours, plus the ferry ride (a total of 30 minutes combining the round trip). If you go on an organized tour, the length of the tour will depend on the itinerary, and if you visit Alcatraz on your own you can extend the experience as much as you want.
Schedules
In case you are going to visit Alcatraz on a tour or a full experience, it is always usual to visit Alcatraz in the afternoon, which is, in my opinion, the most beautiful time (although the most touristy too).
5. How to get to Alcatraz on your own
If you are visiting Alcatraz on your own, please note that the first ferry to Alcatraz from Pier 33 departs at 8:45 AM and runs every 30 minutes until the last departure at 6:30 PM. Please note that the last ferry is always full as the sunset visit is a very popular activity.
The last ferry back from Alcatraz to San Francisco is at 21:25 PM. Don't miss it! You'll have to swim back to San Francisco. Just kidding, there are some independent boaters and water cabs that will take you back to the city, but they may charge you pretty steep prices.
How to get to Pier 33
The ferry to Alcatraz departs from Pier 33. In case you are visiting Alcatraz on your own, these are the best ways to get to the pier:
By tourist bus: one of the stops of the San Francisco tourist bus is Pier 33, so you can combine in one day a bus tour with a visit to Alcatraz quite easily.
By streetcar: The Powel-Mason and Powel-Hyde lines terminate at Pier 45, from where you can walk to Pier 33 in about 20 minutes.
By city bus: Bus F is the most direct bus to Pier 33, getting off at the Bay Street stop. Buses 8, 39, 82x, and 88x also drop you off within walking distance of Pier 33.
6. Tips for visiting Alcatraz
First of all, take a jacket or light jacket if you visit Alcatraz in summer, even if it's sunny, it's usually breezy and cool on the island.
From the ferry there are some very nice views of the bay, San Francisco, and the Golden Gate Bridge, so you know it's going to be a perfect spot to add a couple stories to Instagram.
If you want to avoid most of the tourists and still see Alcatraz in beautiful light, go on the first ferry instead of in the afternoon.
Book your tickets or your combined tour in advance, as this is a very popular attraction and tickets sell out quickly.
7. Other activities that may be of interest to you
Visiting Alcatraz on your trip to San Francisco is a must, but don't forget to fully explore the city, its most beautiful corners, and its surroundings. For this I recommend you read about the best tours and excursions from San Francisco, and book an experience to make the most of your vacation.
I also recommend you to do a San Francisco Hop On Hop Off bus tour. Do you think this is a very touristy thing to do? That's because you don't know all the advantages of doing this kind of tours. Read more about them and you'll learn a trick or two to get around San Francisco like a pro.
Frequently asked questions
How early should I book an Alcatraz Tour?

Tickets are available for purchase as early as 90 days before your desired visit date, so the smart thing is to grab them as early as possible or as soon as you can as they can sell out pretty quickly.

When does Alcatraz open to the public?

Alcatraz is actually open to the public every day, except Christmas, Thanksgiving and New Year's day. As far as departures go, times vary depending on the kind of tour your taking: The earliest tour (Early Bird) leaves at 8:45, while the latest tour (Night Tour), returns at 20:45 (21:25 on some dates).

How long does it take to visit Alcatraz?

The whole experience of visiting Alcatraz will take about 3 hours, comprising the ferry ride to the Island, taking the audio tour, exploring the rest of the former prison and returning to Pier 33.