Best Tours and Day Trips from San Francisco
Getting to know San Francisco and its surroundings on your own is a great plan, but if you are accompanied by a specialized guide, it takes to a whole another level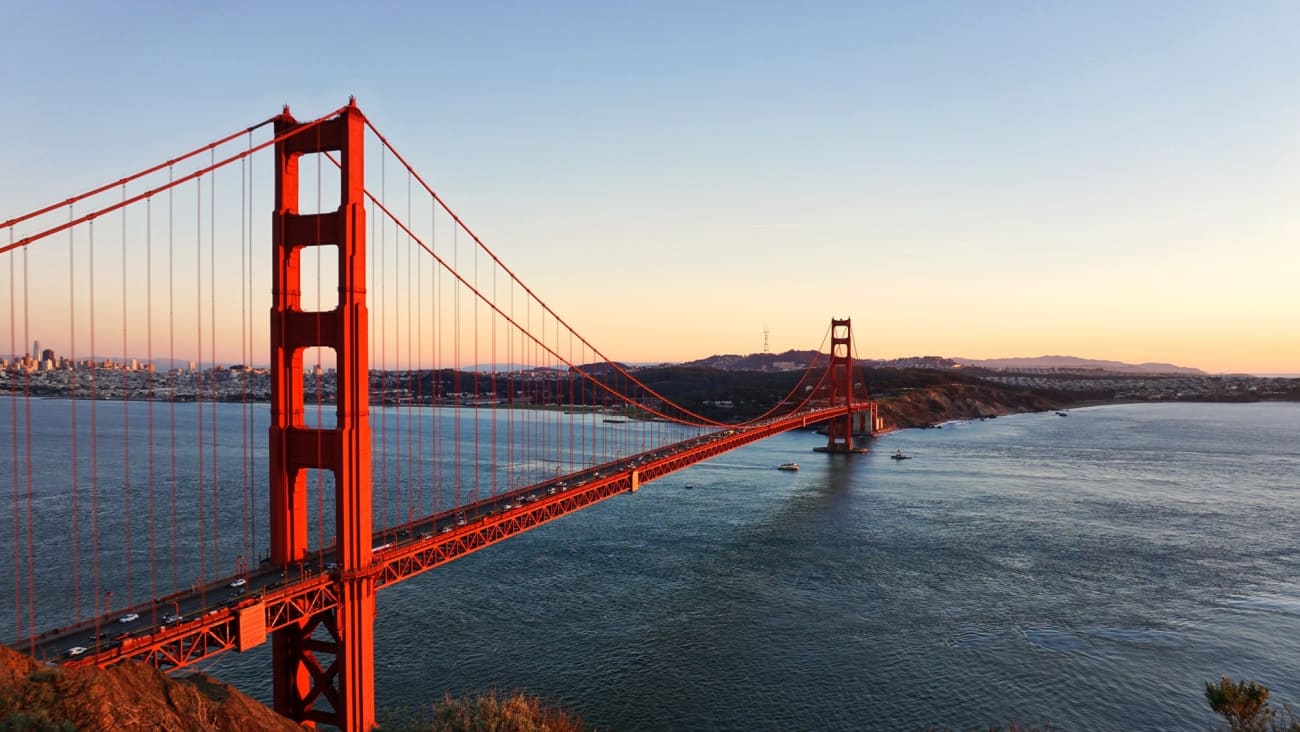 San Francisco is one of the most unique cities in the United States and without a doubt my favorite on the West Coast. The image of its iconic bridge shrouded in mist, its steep streets that you can travel by streetcar, its diversity, its food (being hungry in San Francisco is one of the best things that can happen to you), and its relative variety of plans make a vacation in the city a perfect plan. Here are my must-sees in the city:
1. Alcatraz, Muir Woods and Sausalito Tour
Three of San Francisco's most powerful attractions combined into one activity. For almost a full day, you'll go in a small group to Alcatraz (tour includes ferry tickets, admission to the iconic prison and audio guide), and explore Muir Woods and Sausalito, both with a professional guide and on your own for part of the experience.
I would say that the best thing about this tour of Alcatraz, Muir Woods and Sausalito is that it is an all-in-one tour in which you save transportation between the different points included in the tour, but the fact that it includes a guide to know in depth the history of these places is also another of its strengths.
Duration: 7 hours
Recommended: If you are short on time in San Francisco or have just arrived in the city and want to see the most iconic sights first.
2. Small-group tour of San Francisco's financial district
In this tour of San Francisco's financial district in small group you will pass by the headquarters of a lot of technology companies known worldwide: Google, Facebook, or LinkedIn. You will also visit SalesForce Park, a floating park built in the heart of the city where companies like Slack or Yelp have their offices.
This is a very specific tour in which you can experience first-hand the atmosphere of one of the most vibrant areas of San Francisco, with a guide who will tell you juicy anecdotes about this cradle of entrepreneurship.
Duration: 2 hours
Recommended: If you are passionate about the history of the technology companies that dominate the world today.
3. Golden Gate and Alcatraz Cruise
If you want to take a boat ride around the entire San Francisco Bay, this is the experience for you. You will not enter Alcatraz, but you will take a tour around its island and pass under the Golden Gate Bridge.
The cruise departs from Fisherman's Wharf and you will have the option of taking an audio guide with you at all times to get to know everything you see. In addition, the ship has WiFi and you can order drinks to enjoy the ride. You can reserve online your tickets for the Golden Gate and Alcatraz cruise, which I recommend to make sure you enjoy this experience on your trip to San Francisco.
Duration: 1 hour
Recommended: If the weather is good in San Francisco and you do not want to visit Alcatraz inside (in this case I recommend a cruise with entrance to the famous prison).
4. Go San Francisco Pass
The Go San Francisco Tourist Card is a day pass: you choose the number of days of validity of the card and within that period you can visit all the attractions you want that are included in the pass.
I recommend you purchase online the Go San Francisco Pass, but first take a look below to see what's included and if it's worth it for your trip. Choose a 1, 2, 3 or 5-day pass, with which you will have free access to San Francisco's main attractions (among others):
What is included
San Francisco Tourist Bus
Madame Tussauds Museum
California Academy of Sciences
Golden Gate to Bay Bridge Cruise
San Francisco Dungeon
Aquarium of the Bay
Ripley's Believe It or Not!
San Francisco Bay Cruise
Exploratorium Museum
Oracle Park
Bicycle rental
San Francisco Zoo
San Francisco Museum of Modern Art (SFMoMA)
USS Pampanito
Young Museum
Walt Disney Family Museum
K1 Karting San Francisco
GoCar Tour
Asian Art Museum
Contemporary Jewish Museum
Berkeley Botanical Garden
Beat Museum
Duration: depends on the validity you choose.
Recommended: If you are one of those people who travel to the fullest, wanting to see as many things per day as possible to make the most of your vacation.
5. San Francisco Tour by GoCar (Early Bird)
:
If you like to get up early to start exploring the city before anyone else, the GoCar tour of San Francisco will allow you to rent an electric car with a GPS that will guide you around San Francisco and its main points of interest.
After an orientation on how to drive the GoCar, you will be able to travel freely around the city or follow the route proposed by the GPS. Something you should know is that the electric car has two seats and the price of the experience is per car, not per person.
Logically, this experience has its requirements: the driver must be 21 years old or older and have a valid driver's license. The passenger must be at least 4 years old. Also, something important is that you have to leave a deposit of $ 500 to rent the car or $ 150 if you take out insurance.
Duration 3 hours.
Recommended: If you prefer to visit the cities on your own, and you want to do an alternative tour of San Francisco.
Alex's Traveller Tip

Take a general tour if you will be in San Francisco for a short time, and a more specific tour if your visit will last more than a week.
6. Day trip to Napa with wine tasting and gourmet lunch on the Wine Train
This is the premium experience you have to live on your trip to San Francisco if you are a wine lover. This is an excursion to the Napa Valley, known worldwide for its vineyards, which you will reach on a restored historic train, the Wine Train.
From the train, you can admire the beauty of the Napa region, enjoy a gourmet lunch and coffee in the dining room, and get off at a winery of your choice for a wine tasting and a taste of the local produce.
It's all included in the excursion to Napa with wine tasting and gourmet food on the Wine Train: the round trip from San Francisco to Napa by train, and also lunch and tasting, so if you're a fan of all-inclusive experiences this is a perfect option to spend part of the day in one of the most sought-after places on the West Coast.
Duration: 8 hours
Recommended: If you are traveling to San Francisco on a budget and love wine or premium experiences.
7. San Francisco Hop On Hop Off Bus Tour
2 different routes, freedom to explore San Francisco and optional add-ons: this is what the tour of San Francisco by Hop On Hop Off bus offers, for which you can purchase a day pass and comfortably tour the must-see attractions.
With the premium options, you can take a night bus tour of San Francisco or a streetcar tour of Sausalito. All options include a walking tour of Chinatown, making it a very complete experience whichever itinerary you choose.
When you make your Hop On Hop Off bus reservation, you will receive a confirmation in your email and you will only have to show it on the bus when you get on.
Daytime Route Stops
San Francisco Visitor Center
Washington Square - North Beach
Clay Street
Market Street
Union Square
Hilton Hotel
Civil Center
Alamo Square
Haight Ashbury
Golden Gate Park
Palace of Fine Arts
Marina - Hollow Cow
Lombard Street
Pier 39
Stops on the night route
SS Jeremiah O'Brien
Madame Tussauds
The San Francisco Dungeon
Ferry Building Marketplace
Pier 39
Duration: 1 or 2 hours
Recommended: If you have just arrived in San Francisco and don't know where to start visiting the city or as the last tour before ending your vacation.
8. Private and customizable tour of San Francisco
If you want to discover San Francisco for real and go past the most touristy sites, in this private and customizable tour of San Francisco you will have a local guide who will take you to off-the-beaten-path places of the city in a customizable tour.
Besides being able to visit the main places of the city, you will discover its neighborhoods from another perspective, which is perfect as a starting point for your trip, since from there you will be able to travel around the city with a lot of tranquility and security.
Duration: 2 to 6 hours
Recommended: If you don't like traditional group tours and prefer an experience with a host instead of a tour guide.
9. Before booking a tour
Think about the number of days you will be spending in San Francisco. If you are staying less than five days, it may be worth taking a more general tour to make sure you see everything important.
If, on the other hand, you are staying for more than a week, it is best to do a more specific tour or a tour of a specific area as you are sure to have time left over to see the key points of interest on your own.
At the time of booking, you will receive an email with the confirmation. Unless otherwise indicated, it will be enough to show this email to the guide to access the tour.
All tours have a meeting point and a return point. My advice is to plan well what to do after the tour, and the best idea is to see what is around the return point. You can probably ask your guide for advice on what to do afterwards, but it doesn't hurt to see a couple of options!
10. Tips for visiting San Francisco on a tour
:
Wear comfortable shoes! San Francisco is a hilly city and not dressing appropriately shows. The weather is somewhat changeable and quite windy, so it's a good idea to bring several layers that you can pack in a backpack if it's hot.
San Francisco is a city where fog is very frequent. At first, you will love it and find it very magical, but after a few days, it can become a bit heavy. Although it is unpredictable, make the most of a clear day as it will allow you to see the city cleanly and without veils.
To see the sunset and the best views of San Francisco, Twin Peaks is a must for people visiting the city and even more if it is for the first time. This place has nothing to do with the mysterious town of the TV series, it is a place full of peace and light where you will undoubtedly enjoy a very pleasant time.
How to get to Twin Peaks: the best way is to take the metro (K, L or M lines) to Forest Hill station and then take the 52-Excelsior bus to the intersection of Marview View and Skyview Way. From there, walking to the overlook is an easy task.
11. Other activities you may be interested in
Only one of the tours I have mentioned above includes the entrance to Alcatraz, but in case you want to do one of the other activities and visit this iconic prison on another tour or on your own, here are the best ones: tours and tickets to Alcatraz.
Frequently asked questions
How long does it take to visit Chinatown?

It is easy to spend a day roaming around the streets of Chinatown and its many details. Most tours are 3 hours and will let you browse the tiny markets, shops and food stands for authentic crafts, pottery, and exotic Asian products.

What are the best walks in San Francisco?

Some gorgeous walks in San Francisco are Harry Street in Glen Park, the Ingleside Terraces, St Francis Wood, Ocean Beach, and the San Francisco City Hall area.

What else can I do around San Francisco?

Try west coast delights at Ferry Building (Embarcadero), hike Lands End, watch fortune cookies being made at Chinatown, get a burrito in the Mission, visit the Musée Mécanique filled with vintage arcades, visit the Japanese Tea Garden, or have an Irish coffee at Buena Vista Café.