10 Best Restaurants in El Escorial
If you are spending a few days in Madrid, you should not miss the opportunity to visit the nearby town of San Lorenzo del Escorial. Once you have seen its famous monastery, a good plan is to eat in some of the restaurants that I am going to recommend.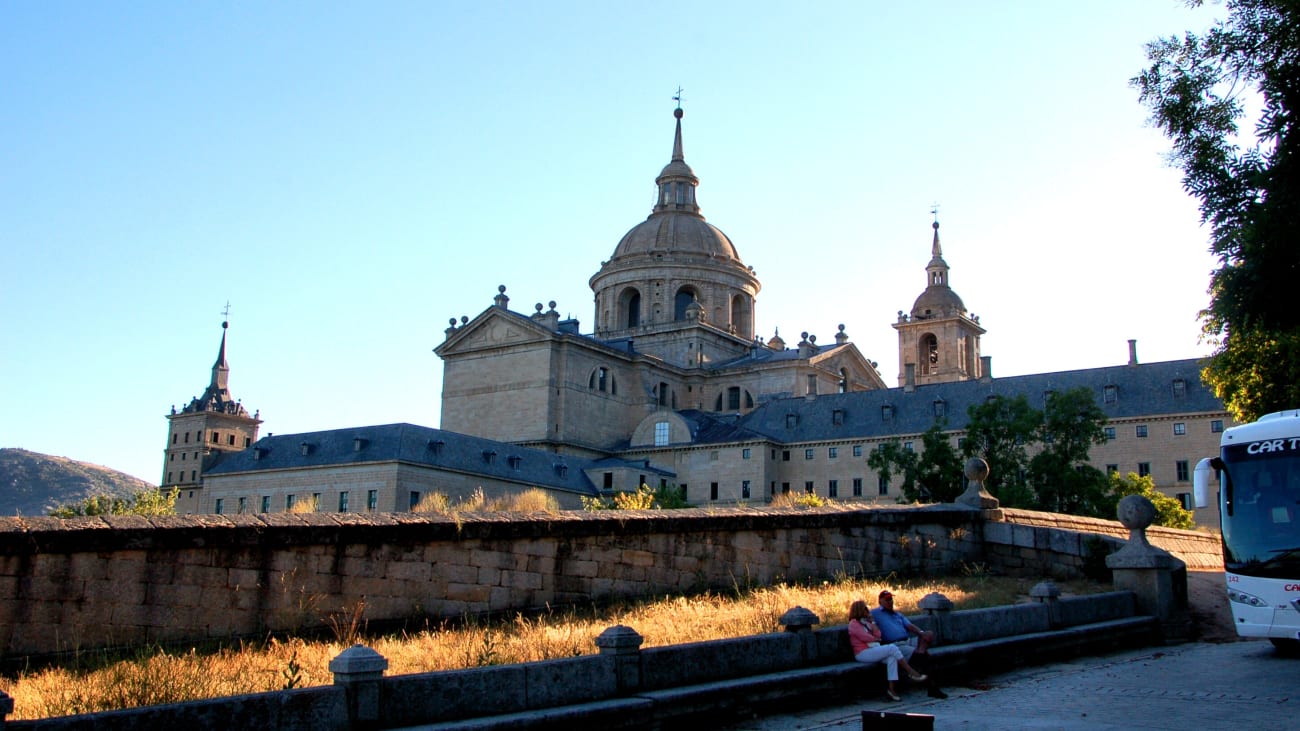 Among the many things to see in Madrid is the nearby monastery of El Escorial. Although several days are necessary to get to know the Spanish capital in depth, I advise you to include in your plans an excursion to this great example of Spanish Golden Age architecture.
The visit to the Monastery and Royal Site of San Lorenzo de El Escorial, named World Heritage Site by UNESCO, will take you several hours. It is most likely that you will still be in the town at lunchtime and you will have to look for a restaurant to do so. Fortunately, you will be able to choose between several of them of great quality, including one with a Michelin star if you want to treat yourself.
1. Try a stew at Charolés
To go from Madrid to El Escorial you will find several options, but when planning the return trip you should reserve time to have a good stew in one of the emblematic restaurants of the town: the Charolés.
Located a few meters from the monastery, this restaurant has become one of the most recognized in the whole community thanks to its commitment to traditional food. In addition, the restaurant itself will be very pleasant, with its wooden beams and stone walls.
Depending on the season, you can sit in one of the interior lounges or on the pleasant terraces.
Although its fame comes from its special stew, in this restaurant you will be able to try other typical dishes of the area, such as tripe or beans with clams. Likewise, the meat dishes are also highly recommended, from the chops to the cheeks.
Given the popularity of the place, I recommend that you book well in advance, especially in high season.
Practical information about Charolés
Address: Calle Floridablanca 24
Price per person: about 35 €.
What you can't miss: without a doubt, its stew.
2. The best restaurant for the most carnivorous: the Asador del Rey
After seeing all that El Escorial has to offer, it is time to get your strength back. In the historic center of the town is the Asador del Rey, one of the most prestigious restaurants in the area.
One of the attractions of this place, in addition to its gastronomic offer, is its terrace. If you book in advance you can sit on it and enjoy the views of the monastery itself.
In the purely culinary aspect, this restaurant specializes in meats cooked over firewood with a style learned in the best steakhouses in Segovia. Among its dishes are the fantastic roasts of lamb or suckling pig, as well as beef. All accompanied by excellent wines and topped off with homemade desserts.
As if all the above were not enough, the steakhouse is distinguished by the great service provided by all its staff.
Practical information
Address: Calle Floridablanca 10
Price per person: between 25 and 40 €.
What not to miss: although all their meats are fantastic, I recommend you opt for the suckling lamb.
3. A different vision of traditional food at Vesta Taberna
If you have done any tapas tour around Madrid you will already have some idea of what the typical gastronomy of the area is like. In El Escorial, specifically in Vesta Taberna, they have given a different touch to these recipes for you to enjoy them even more.
The restaurant is also committed to local cuisine, as all its dishes are made with natural seasonal products from the same area.
Vesta Taberna is located near the monastery, in the historic part of town. Its interior room is not too big and is decorated in a rather simple way. In my opinion, the best thing to do is to try to make a reservation on their fantastic outdoor terrace.
Unlike other restaurants in the area, Vesta Taberna offers a menu of tapas and raciones that can be eaten at the bar. Another option is to order à la carte, whose dishes change depending on the market. Finally, they also offer a tasting menu (reservation required) that changes daily.
Practical information
Address: Calle Xavier Cabello Lapiedra 2
Price per person: the tasting menu is about 45 €, while eating a la carte can cost between 25 and 30 €. If you just want some tapas, for 10 € you can try some of them.
What not to miss: it is difficult to choose, as everything is great, but I recommend you try the mushroom croquettes, meatballs and ceviche.
4. A great value for money in Cava Alta
When preparing your visit you should take into account aspects such as the monastery's opening hours and, if you plan to eat in the area, reserve your table in advance. A great option is the Cava Alta, one of the most typical and popular restaurants near the monument.
Its cuisine is inspired by the traditional recipes of Madrid, but with a modern touch very well applied, something that has made dishes such as tripe are considered among the best in the community. If you prefer, you can also try other more transgressive dishes such as lasagna with bolognese, boletus, veal and black truffles.
The quality-price ratio of Cava Alta is one of the best in the whole area, something to which the excellent service and the friendliness of the staff undoubtedly contribute.
It also has an extensive wine list and the option of ordering some of its great tapas and half portions at the bar.
Practical information
Address: Calle del Rey, 41, next to the Cocheras del Rey.
Price per person: about 35€ per person, although if you prefer tapas it will be cheaper.
What you can't miss: without a doubt, their callos a la madrileña with an original touch.
5. Mesón La Cueva: excellent food in a spectacular setting
Surely when you finish your tour of El Escorial you will have been enchanted by its historical heritage. If, in addition, you go to eat at Mesón la Cueva, it will seem that the visit has not yet ended.
This inn is located in one of the most beautiful buildings in El Escorial. Specifically, it is the former Posada de las Ánimas, built in the eighteenth century and is preserved in perfect condition.
The restaurant's bar is on the first floor of this four-story building, while its dining rooms (a total of four) are on the second floor. Its menu is based on traditional Castilian food, with dishes such as eggs with sausage, croquettes, Castilian soup and red meats.
In addition to the interior dining rooms, the restaurant has a large terrace. Its well-deserved fame is also due to the great service provided by the always attentive waiters.
Practical information
Address: Calle de San Antón, 4
Price per person: the restaurant offers a menu from Tuesday to Friday for 19 €, as well as a special menu for about 30 €. If you prefer to eat a la carte it can cost you around 40 or 45 € per person.
What not to miss: the sirloin steak with cabrales sauce is hard to beat.
6. Treat yourself to a luxury at Montía, the Michelin star restaurant
If you have decided to make an excursion from Madrid to El Escorial and want to treat yourself to a good meal, your choice is clear: the restaurant Montia. Located in the center of the city, its recognition with a Michelin Star is a guarantee of its high quality.
The menu of this restaurant is characterized by using the products of the Sierra de Guadarrama to present a very creative cuisine. Given its commitment to seasonal products, the menu changes a lot depending on the season.
One of the aspects that most care in the restaurant is the pairing. For this they have a great wine list with some very interesting surprises.
On the other hand, the whole team of the restaurant is always ready to serve customers and explain each of the dishes that are part of the menu. The only problem is the difficulty of finding a free table, so it is mandatory to book well in advance.
Practical information
Address: Calle de Juan de Austria 7
Price per person: the restaurant offers two different closed menus. The first one, called Menú Largo, costs about 95 €, while the one called Menú XL goes up to 110 € approximately.
What not to miss: in this case, the menu changes continuously, so you will have to rely on the mastery of the chefs.
7. An economical option for eating out in El Escorial: Fonda Genara
After paying for the tickets to see El Escorial you may prefer to eat somewhere not too expensive. In the town few options are better in this regard than Fonda Genara, which offers different types of menu for all budgets.
In addition, the restaurant also stands out for the place where it is located: an eighteenth century building decorated in Elizabethan style. Inside you will find several sofas, Elizabethan furniture and walls decorated with engravings and paintings of famous people.
The food at Fonda Genara is described as a mixture of traditional and creative cuisine. If you like stews with a different touch you can not miss the ones offered in the restaurant, such as white beans with slaughter or stewed lentils.
Practical information
Address: Plaza de San Lorenzo, 2
Price per person: Fonda Genara offers a weekday menu for about 15 €, while the weekend menu (where you can choose between 14 starters and 12 main courses) costs about 25 €.
What you can't miss: if you like spoon dishes you should go for their white beans. Do not miss their homemade desserts either.
8. Try some of the burgers from Al punto Hambgourmet
Although hamburgers are usually associated with fast food and not very good quality, Al Punto Hambgourmet has managed to make this dish absolutely delicious thanks to the use of the best meats from the mountains of Madrid. This, together with their spectacular sauces, give each of their burgers a unique flavor.
When ordering your burger you will be able to choose between the different types of meats they offer, as well as between the breads they put at your disposal. Of course, the same goes for the sauces and the garnish, although I advise you to choose the homemade potatoes. At every step you will be advised by the staff so that you know exactly what you are going to eat.
If you are a beer lover, the restaurant also offers an interesting selection of special varieties.
Of course, the place is quite small, so it is highly recommended to book in advance, especially if your visit to El Escorial takes place during a weekend.
Practical information
Address: Calle Teniente Tejel, 1
Price per person: between 10 and 20 €.
What not to miss: you will be the one to select each of the ingredients to make their perfect burger, but their spectacular beef is truly unforgettable.
9. Homemade food at Las Viandas
In the Plaza de la Constitución is the restaurant Las Viandas, a classic of the city specializing in homemade food. If you have gone to Madrid in autumn and you are lucky enough to have good weather the day you go to El Escorial, you can try to sit on the terrace of this place to contemplate its views of the monastery while you eat something.
Their traditional recipes are really spectacular, from the cocido (stew) to their rice dishes, including tortilla or torreznos (bacon). As you can also order half portions I recommend you to share them with your companions to try more dishes from their menu.
The service is really attentive and the value for money is possibly one of the best in town.
Practical information
Address: Plaza de la Constitución, 2
Price per person: about 20 € per person
What not to miss: although the stew is excellent and their meats are of great quality, this time I am going to recommend you to try one of their homemade desserts. If they have it on the menu, do not hesitate to try their homemade hazelnut nougat ice cream.
10. The place where escurialenses eat: Mesón Los Candiles
As soon as you arrive at this restaurant you will realize that it is less frequented by tourists visiting the monastery than others located in the more central area. This does not mean at all that their dishes are not of great quality, as both the raw materials and their preparation are excellent.
The friendliness of the staff also contributes to make the dining experience at Los Candiles a very pleasant one. In addition, if you have traveled to Madrid in winter it is very possible that you will have lunch in this restaurant with the pleasant warmth of its fireplace.
The restaurant's menu consists of very traditional dishes and you can choose from several types of grilled meat and fish. Finally, be sure to try their great desserts.
Practical information
Address: Calle Galarza S/N
Price per person: about 20 € per person
What not to miss: the restaurant has a menu for 20 € which includes several dishes and a drink. If you prefer, it also has a fairly extensive menu.